Day 51: Split Pea Soup, Crab Cakes, & Saint Honore
Today's menu was delicious! It was also really fun to plate and put together—even if there were a gazillion components and little details in each dish. I bring you our first course of the day—Split Pea Soup.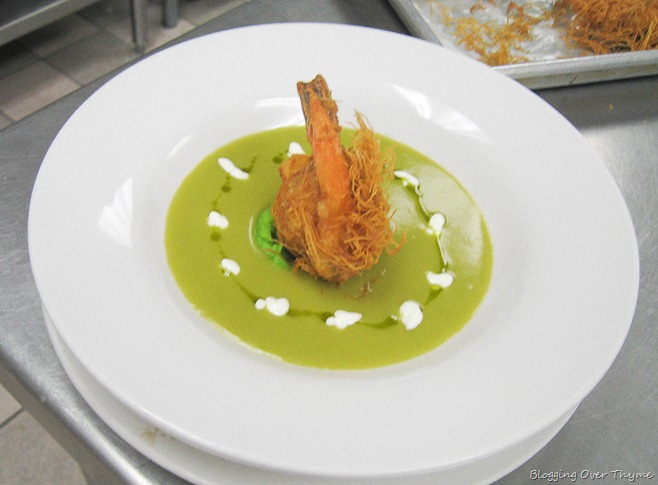 I don't know why (since I love all lentils and beans), but today was my first time cooking split peas. The soup itself was pretty straight-forward to make. We started by sweating leeks (characteristic of all potages) and celery. We then added a small amount of diced bacon, for flavor, and proceeded to add our split peas and chicken stock and cooked this, simmering, until the split peas were tender.
At this point, I pureed it through the vitamix (luckily, we have upgraded to these from our horrible basic blenders in Phase I) and passed it through a chinois. And then came the little trick! Because split peas can sometimes end up a very dull, brownish green color, we actually added in literally a drop of green food coloring. I know, it sounds weird…but it was such a minute quantity and there is absolutely no way you could detect it from sight or taste. To hold the soup and prevent a film from developing (a common problem with pureed soups), we always cover the pots with heavy duty plastic wrap. It works like a charm!
Obviously, the soup had a few other components as well—our garnish was a fried shrimp, which we dipped in a batter of eggs, jalapeno, spring onion, and shallot, and wrapped in kataifi, which is shredded phyllo dough. This was then fried. I've never heard of kataifi before today, but it is such a cool product to use, because it adds a lot of texture and crunch, without adding a lot of flavor!
You are probably wondering how the heck the shrimp stood up in the bowl like that, without falling over and getting mushy. To accomplish this, we placed a small amount of pea puree (using a small circular mold) in the center of the bowl, surrounded this with soup, then gently pressed the fried shrimp into the pea puree. We garnished the soup with chive oil (provided for us) and sour cream. Fun to look at and delicious to eat!
Our main course of the day was a nice change of pace. We served a crab cake with a greek salad garnish, tossed in a simple sherry vinegar and olive oil vinaigrette.
Unlike most other crab cakes, we did not use breadcrumbs or eggs to bind the crab meat together, but actually used scallop mousse (scallops + heavy cream)—which contributes more to the overall seafood flavor of the dish and lends it a really nice and smooth texture. I loved this idea, because I want crab cakes to taste almost entirely of crab, not other fillers.
Into our lump crabmeat and mousse mixture, we added a mixture of sautéed red and green bell pepper, garlic, shallot, with old bay seasoning. Once we molded the crab cakes, we chilled them, before searing them in clarified butter. Yum!
The greek salad was a really nice addition (and something I never would have thought to pair with crabcakes before now), because it added a nice salty, acidic quality to the creamy, rich crab cake.
And, last but certainly not least, our dessert: Saint Honore, a very traditional French dessert that incorporates pate sucree (sweet dough), pate a choux, pastry cream, caramel, and whipped cream. This dessert was pretty time-consuming, I must say. Luckily, we had leftover pate sucree to use, which made it a bit easier. However, the rest was all prepared during production!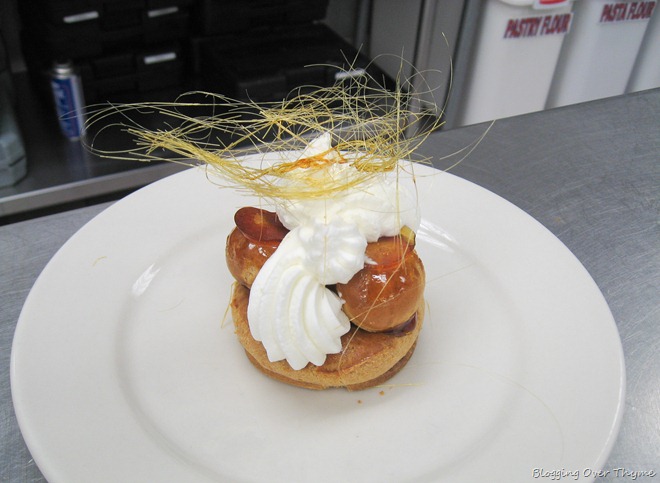 Basically, the dessert involved rolling out a round disc of pate sucree, piping a circle of pate a choux around the disc and baking this. Meanwhile, you also bake traditional pate a choux balls—which you then pipe with pastry cream (with the addition of rum). You then use caramel to "glue" these onto the base (of pate sucree + pate a choux)—making sure to make a flat disc of caramel on the top of each. The center of the base gets filled with leftover pasty cream, and then whipped cream is added.
Once we made our caramel, we also got to try our hand at making spun sugar. The trick is to have cooled (but not cold) caramel, and then using a fork to drip the caramel down in very thin strands, which you grab repeatedly towards yourself. The sugar quickly dries and you are left with beautiful spun sugar. Easier said than done, I must say! But I think my partner, Jim, and I figured it out in the end…
Unfortunately, this dessert left me with a teensy burn on the tip of my finger (from dipping the pate a choux balls into the caramel). I wasn't alone—4 other people in my class (10 total) ended up burning themselves at some point or other. Caramel burns are soooo painful (my sister almost had to get a skin graft from one she acquired from another student at culinary school), luckily mine was very small.
All in all, it was a very eventful day. We also got to briefly check out the new Phase I Culinary students! It was weird, but it is also an amazing reminder of how far we have come in just three months. We also got to say hi to Chef Somchet, Chef Brian and Ashley again, the first time since starting Phase II. Overall, it was a good day and way to start the second week!
This post contains affiliate links, which means that I make a small commission off items you purchase at no additional cost to you. Please read my
privacy policy
for more information.