Day 52: Avocado Soup, Flank Steak, & Orange Chocolate Tart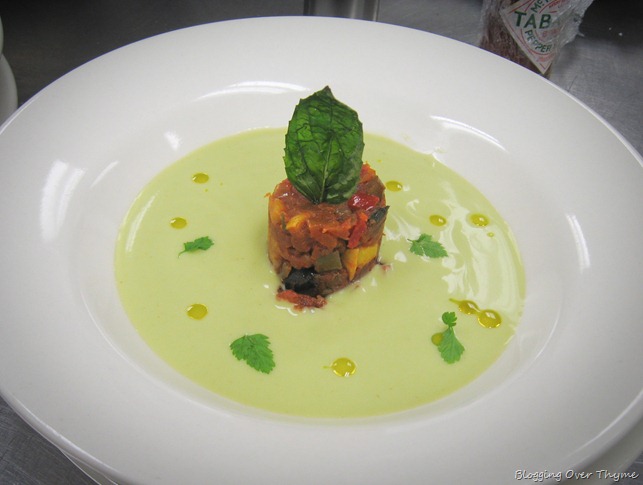 I'm not sure if it was the day or the menu (or just lack of sleep), but today felt particularly exhausting. The menu wasn't quite as delicious as yesterday's, but it was still very good! And we learned a few more neat tricks from Chef Patrice too, which is always fun.
This seems to be soup week or something, because we had another one on the menu, except today's was a chilled avocado soup. I've never had an avocado soup before, but it makes sense given how creamy avocadoes are. It was actually fairly simple to make (the trickiest part was seasoning it well and having the right consistency) and contained avocadoes, lime juice, chicken stock/water, cumin, a little bit of tobasco and worcestershire sauce, and cream.
In phase II, we do a lot of production in the afternoon, sometimes for the next day's menu. In today's case, we had prepared ratatouille, made yesterday, that we used in the center of the dish and molded with a ring. We topped this with a fried basil leaf (made in the microwave—one of those tricks I mentioned!) and a little bit of chervil leaves and curry oil, which we was made during demonstration today. Flavored oils are so much fun!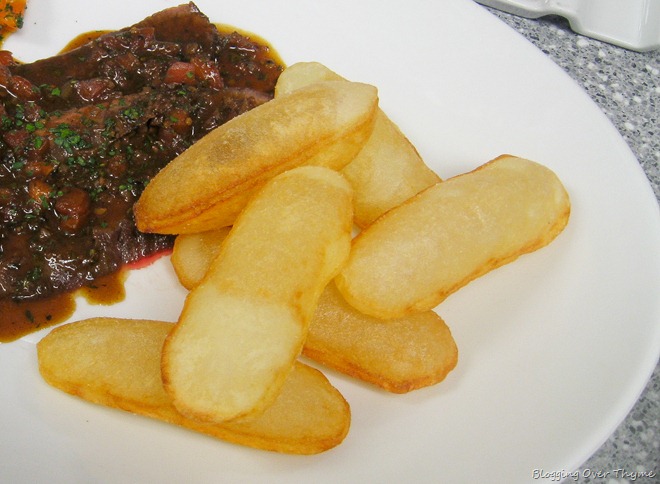 Our main course was pan seared flank steak topped with a diable sauce, which we made by fortifying demi glace and adding a reduction of shallots, crushed, peppercorns, red wine vinegar, and white wine. We finished it with tarragon and some chopped tomato. It is supposed to be quite acidic. Not my favorite, but it goes well with the meat.
We also made carrots vichy. It is a very traditional dish from the Vichy region of France (famous for its spas and sparkling water). These carrots are cooked with sparkling water! Pretty cool. We also added in shallots and finished it with lots of finely chopped parsley. They were good!
Of course, no meat dish is complete with out a new potato dish as well (this is probably our 20th potato dish of the program so far??). These were pretty awesome, though, I must say. They are called potato souffles (puffed potatoes). It is a very difficult process to explain in words, but essentially potatoes are sliced thin and then double fried (in a very specific way). The moisture in the potato, if done correctly, ends up creating steam in the center of the potato slice and puffing the sides out, creating this delicious crunchy, hollow fried potato balloon. Light and irresistible! **You can read more about the back story to this dish here.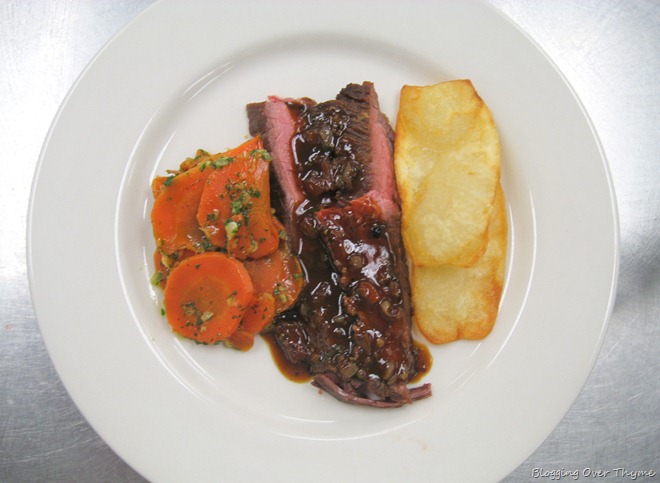 Our dessert was a very delicious orange chocolate tart—which unfortunately I didn't photograph too well. For this dish, we made (for the first time) a chocolate pate sucree dough, blind baked the tart shell, and proceeded to fill it with an orange/chocolate custard.
We topped this all off with orange supremes and brushed it with apricot glaze. Hmmm…I'm already thinking of ways you could mix this up!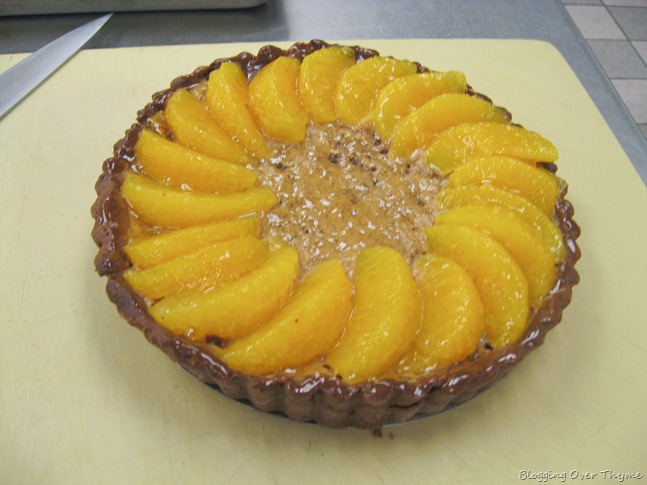 Unfortunately, it was difficult to slice and didn't up plating that well because the orange segments and whipped cream quenelles kept falling all over the place (this was actually my last-minute plate for myself—which I gobbled up), but we all tried our best.
Let me tell you, making a tart dough, blind baking and baking a custard (and decorating) was difficult to accomplish beautifully in roughly 2.5 hours. If only there was more time…however, according to the chefs daily mantra "make it happen…".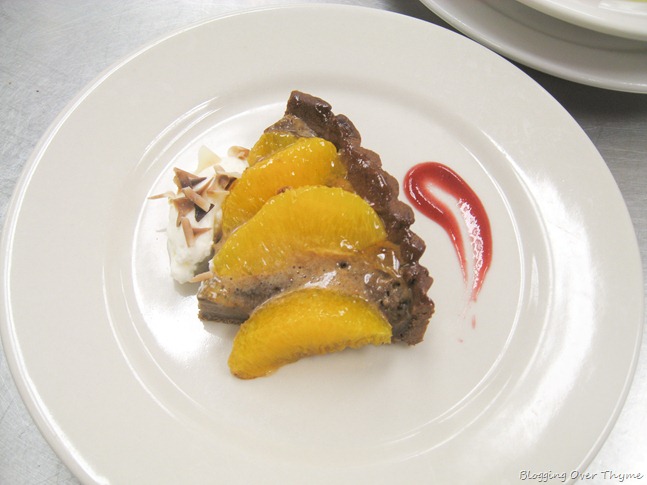 We spent the afternoon tourneeing a gazillion (in reality, like a 100) various vegetables for a dish we are making for tomorrow's menu. We also got together the ice cream base (crème anglaise) for our dessert tomorrow! It involves basil. Enough said.
Off to eat dinner, write up my daily recipes, and go to bed!
This post contains affiliate links, which means that I make a small commission off items you purchase at no additional cost to you. Please read my
privacy policy
for more information.