Day 56: Banquet Challenge
Today was our banquet challenge, where we made a six-course meal to serve 75 people at school, including the Phase I and II pastry and culinary students, as well as the teachers and front of the house.  This was all accomplished in a little bit less than 4 hours, so it was definitely fast-paced, but a lot of fun!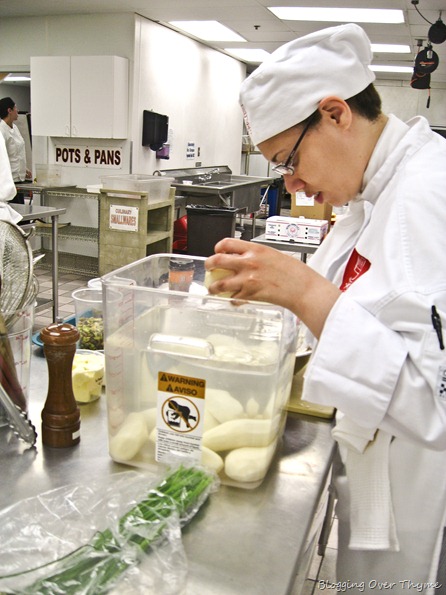 Partner of the day, Tasha, counting her peeled potatoes—all 25 of them!
The previous day we actually had the opportunity to volunteer to work on whichever dish we wanted to (therefore, we did not work in our regular team).  Best buddy, Tasha, and I decided that we both wanted the canapé + first-course dish.  Primarily motivated by the fact that it is a delicious dish!
We also liked the fact that it would allow us to be finished with our component at the beginning and have a chance to help others with the rest of the meal.
This morning, we were briefed (shortly) on all our dishes and Chef Patrice demoed (and made) our mid-course amuse buche of GrapeFruit Tarragon Champagne granite (shaved ice).  So good!  We then immediately went into the kitchen to start working on our dishes…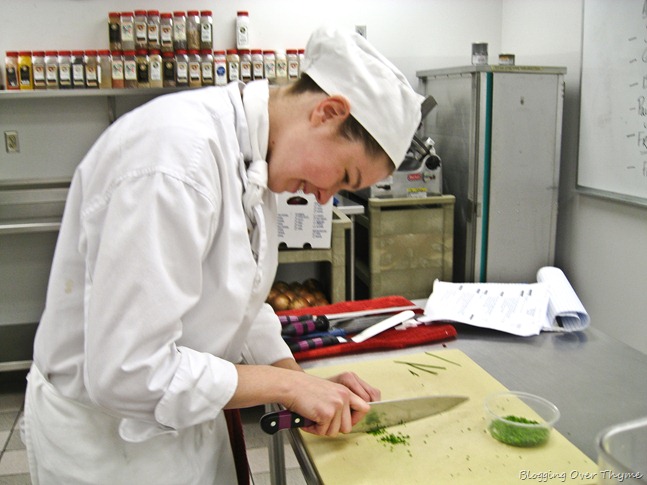 Preparing our Mise En Place & Chopping Chives
As for our course, the two of us were responsible for making a duck pate canapé served on crouton (the pate was previously made, but we were responsible for preparing the crouton, and putting it all together, topped with an aspic and garnish of cornichon).
Our primary responsibility was the first course:  house-smoked salmon (done a few days prior using the cold smoker) served on a potato crust with goat cheese with a garnish of finely chopped hard-boiled eggs, capers, and red onions, alongside a green salad with caramelized pistachios.  Regardless of its simple description, we were working hard the entire time to get it done by noon.
Obviously, everything had to be done in very large quantities to be able to serve 75 people (plus about 10 extra servings for good measure)!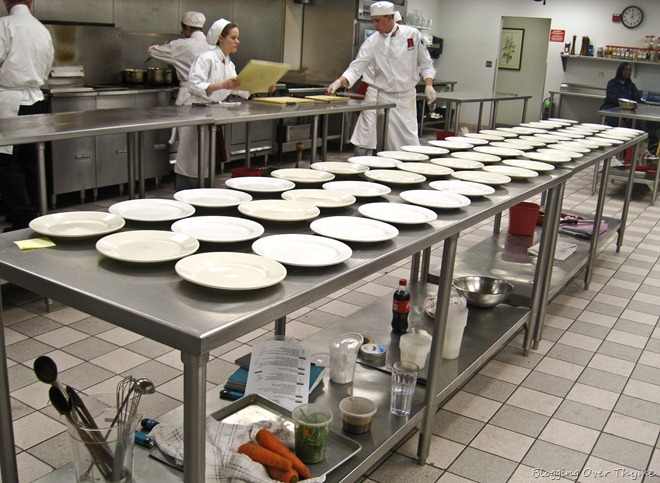 Kitchen cleaned up and all the plates set up for the first course of the banquet!
The most time-consuming part of our dish was the potato crusts—"pommes darphin"—because they needed to make 25 of them in total.  We made pommes darphin several times in Phase I (and it was on our second exam).  We made today's much thinner to serve as a base for the smoked salmon. They require close attention, the right temperature pan, lots of clarified butter, and careful flipping!
Because the potatoes oxidize quickly once julienned with the mandolin (luckily, neither of us cut ourselves—that thing is dangerous!), Tasha and I were managing about 5 small pans of pancakes at a time at the stove, while the other was occasionally rushing back to the table to shred more potatoes.  It took a long time to do all 25.
Unfortunately, when we were nearly done, we discovered that some of ours had gone past the point of repair (they actually weren't too bad, but they were a bit too crispy and brown) while staying warm in the oven and we had to do about half of them all over again.  That's what happens when there is oven temperature miscommunication, oh well.  Somehow we were still able to get it done in time!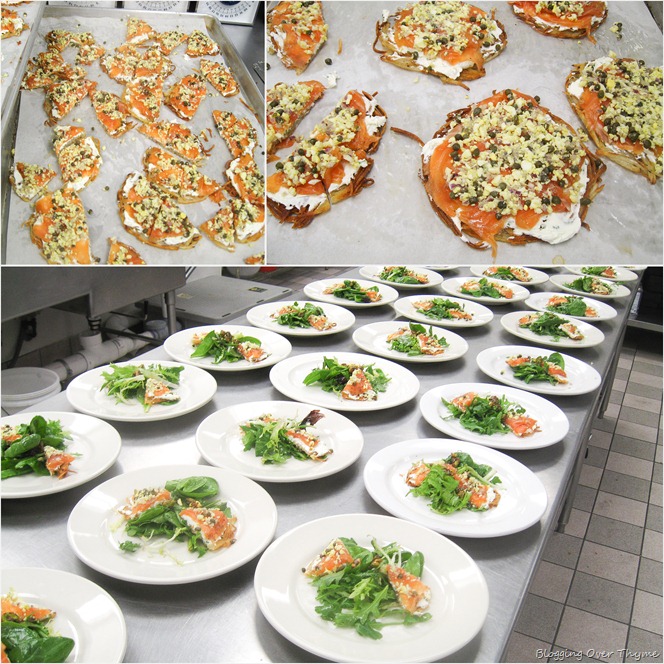 Once the potatoes had cooled, we spread them with a goat cheese mixture (which we seasoned with chives, garlic, salt and pepper) before topping it with the smoked salmon and garnish.  We then sliced them in little triangles for the salad.  So delicious, hmmm…
During service, our entire class worked as a team at two separate tables (with Chef Patrice's telling us where to be and how to  organize ourselves) to plate everything as an assembly line and get it out as quickly as possible to be delivered to everyone.  To serve the salad quickly, we all donned gloves and dressed multiple bowls of salad and dishes it out with our hands.  Quick and much easier than using tongs!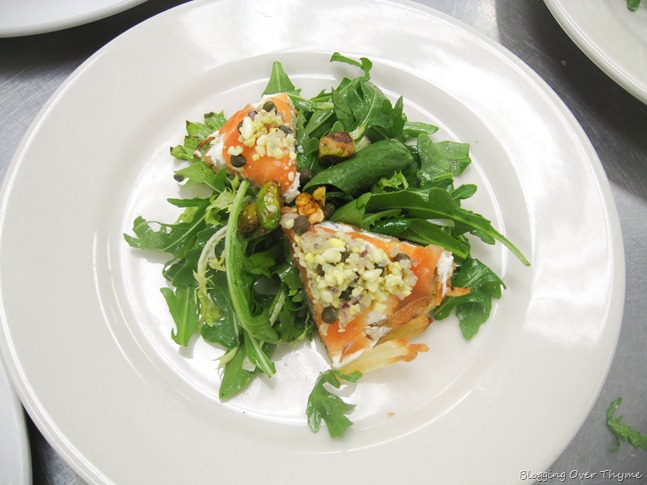 Unfortunately, I can't share a lot of cooking details on the rest of the banquet's dishes, because I was not personally working on any of them.  But I can say that they were all delicious! 
Our second course (prepared by Hannah & Lyndsay) was a bacon-wrapped monkfish seared and served on French lentils withBeurre Blanc sauce and a fried beet garnish.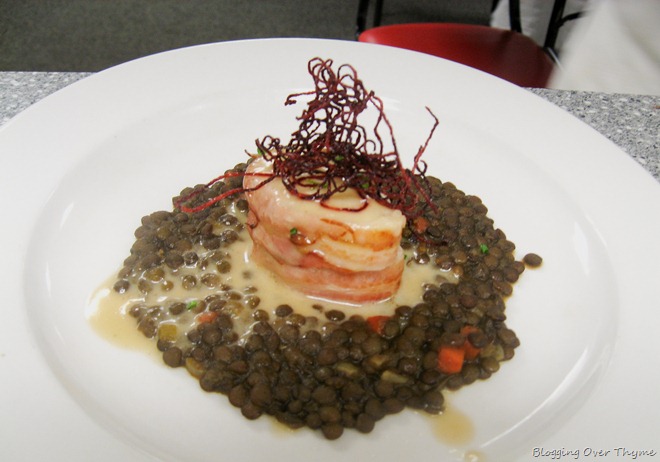 Our monkfish was followed by our granite (shaved ice), which we had prepared and set up prior to service to hold in the freezer.  The great thing about serving a savory type amuse buche like this is that it buys you a bit more time to put together the main course.  Very helpful, indeed.
Our main course was a roasted lamb shoulder (deboned and rubbed with harissa, cumin, & Raz El Hanout—a Moroccan spice blend) alongisde petite ratatouille, served in a roasted tomato, pommes dauphinoise (gratin, which included parmesan, gruyere, and cooked leeks—so good!), and green beans, wrapped with a ribbon of carrot.   I barely snagged this picture before it was out of the kitchen!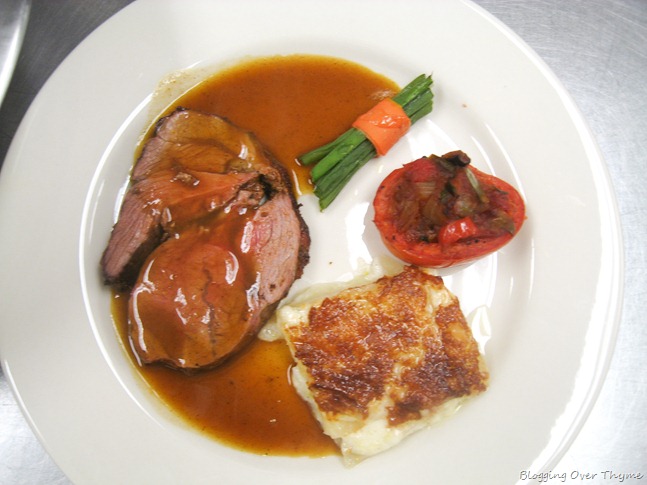 Lastly, we served a warm Apple Brioche pudding with a Bourbon caramel sauce, spun sugar décor and quenelle of whipped cream.
I remember this so well from eating it during Phase I and it was just as good as I remember!  It was moist, rich (without being too sweet), and something that I will definitely make again in the future.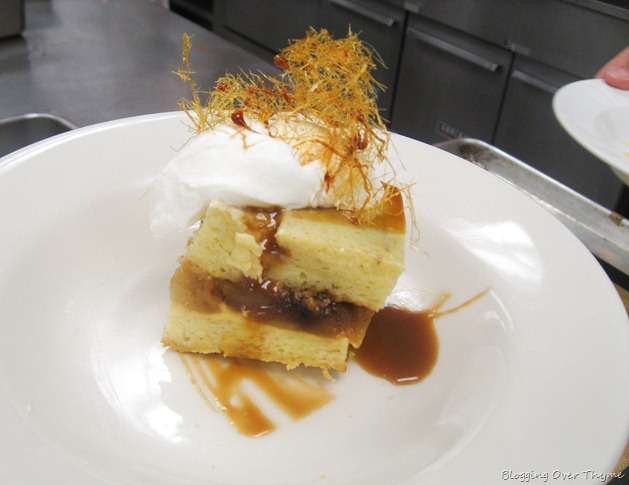 Overall, it was a really fun change of pace and I loved the chance to work and plate as an entire class together.  It felt much more cohesive, organized, and fun!
Plus it was pretty gratifying to see all (only ten!) of us could cook and serve in such a short amount of time to so many people.
After we served everything, we were able to grab a bunch of everything and we all went outside to the picnic table to relax a bit and eat the fruits of our labor.  Luckily, since our class is so small, we all fit.  Fun times!
Back to the usual routine (and teams of 2) tomorrow!  We will also learn our ingredients for our second Market Basket (our first official real one), which will take place Friday and be judged by a visiting chef.  I'm nervous!!
This post contains affiliate links, which means that I make a small commission off items you purchase at no additional cost to you. Please read my
privacy policy
for more information.