Day 57: Salad Nicoise, Pork Tenderloin, & Crepe Suzette
Phew!  Week 3 (of Phase II) is officially over and I survived the second Market Basket today.  These past three weeks have been challenging, exhausting, and full of information, but I can already tell that I will learn a lot over the next two months.  That being said, I am very happy that the weekend is here.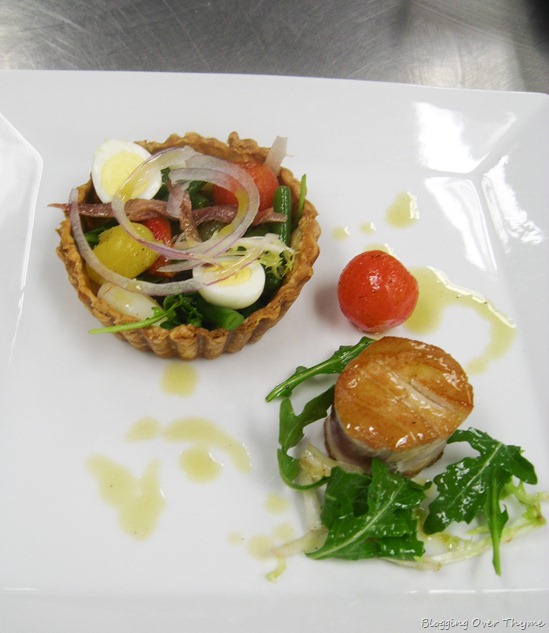 Thursday's menu was a time-intensive one!  Our first course, a classic Nicoise Salad involved a lot of different components that all needed to be cooked separately, seasoned individually, and assembled at the last minute.  A nicoise salad traditionally includes tuna, green beans, olives, hard-boiled eggs, red onion, tomatoes, anchovies, peppers, and potato.
We made a very modern presentation of Nicoise salad, but still included all the regular components.  It just looks more fun and tastes better!
Our main salad components were served in a puff pastry shell (which we made using leftover puff pastry trimmings).  We filled this with a small amount of dressed mixed greens.  To make all the individual salad components tiny, we hard-boiled quail eggs, tourneed tiny potatoes, cooked green beans and sliced them into small strips, blanched and peeled yellow & red cherry tomatoes, and roasted peppers, which we then cut into julienne strips.  We layered everything in a precise way to showcase the ingredients.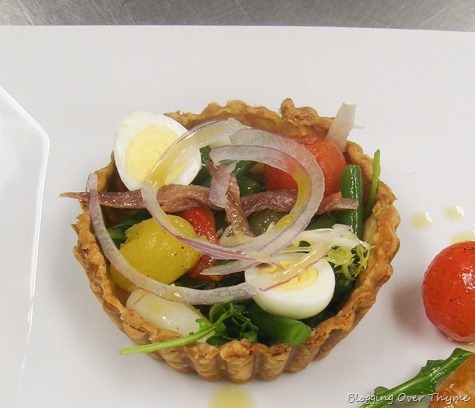 And, as you can probably tell from the photo above, instead of using canned tuna (classic version), we used very good quality (sushi-grade) tuna tenderloin, which we rolled tightly into a log, using plastic wrap, then chilled and cut into small medallions to achieve a sear on both sides, but keep it rare in the center.
I wouldn't say Nicoise salad is the most delicious dish in the world, but this presentation and version definitely made it more exciting and fun.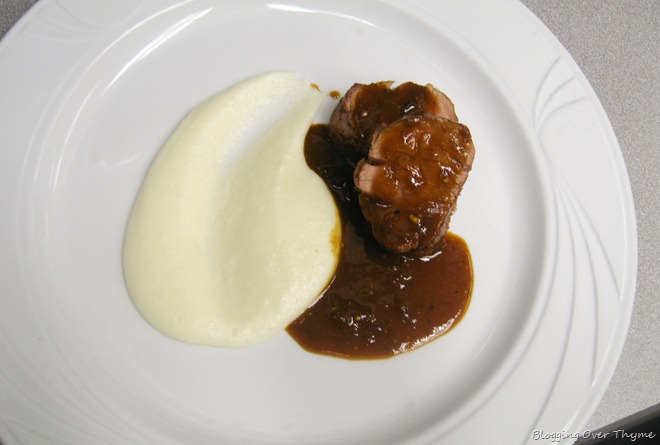 Our main dish was a pork tenderloin, which we served with a pan sauce made with shallots, white wine, pork trimmings, and Espagnol sauce (concentrated & fortified brown sauce).  After we strained it, we added in a small amount of Dijon mustard and sliced dried prunes.
To go with it, we made incredibly rich and smooth mashed potatoes (Pommes Mousseline).  Let me tell you, these potatoes probably contained more cream and butter than actual potato.   I ended up even passing mine through a tamis (large sieve) to make them extra smooth.  To make sure they stayed extra creamy, we even reduced the cream over the stove top (which removes the natural water content) and makes it that much richer and thick.  I know that calories are the last thing on the agenda when it comes to French based classical cooking, but I can't even contemplate how many must have been in ours!   I'm not sure if the small serving size makes up for it either, in all honesty.
Lastly, we made a relatively simple (but time-consuming in the sense that we had to make a lot of crepes) French dessert of crepes suzette.  We also learned the trick of using browned butter in our crepe batter, which makes it that much more flavorful.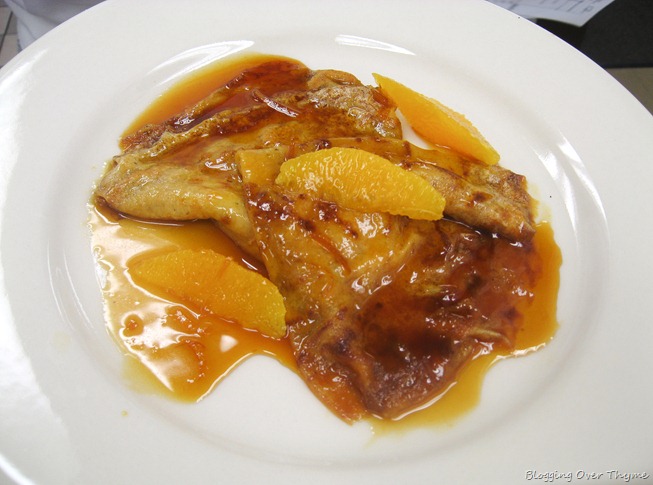 The sauce, which we you end up placing folded crepes into, is made with caramelized sugar, fresh squeezed orange juice, zest, and Grand Marnier, which is flambéed.  We also finished it with a small amount of butter (surprise, surprise!).
Yummy!  And a very simple dessert, especially since you could easily make the crepes long beforehand and put it all together at the last minute.
Thursday afternoon, we went back into the classroom for an externship panel, from recent graduates, who gave us a synopsis of their experiences working in the restaurants, shared advice, and answered any questions we might have.  We also learned the ingredients for our second (and first official) Market Basket challenge for Friday, which were:  eggs, chicken, & tempered chocolate.  Unfortunately, I don't have any finished plate pictures again, but I'll share what we ended up making in my next post!
Tomorrow I will be going to my first stage (working interview) at a restaurant in the area!  For the sake of not sharing too many details, I'm going to hold off on the names of the restaurants until after I decide where I will be officially going.  I will be arriving at 1:00 pm and staying through service.  I am nervous, excited, and intimidated!  Details to come…
And now, I am off to bed to catch up on some much-needed rest!
This post contains affiliate links, which means that I make a small commission off items you purchase at no additional cost to you. Please read my
privacy policy
for more information.