Day 55: Steak Tartare, Paella, & Souffle
This past weekend whizzed by and I can't believe another week has already begun!  Check out a quick synopsis of Friday's class (our 1st Market Basket) at the bottom of this post…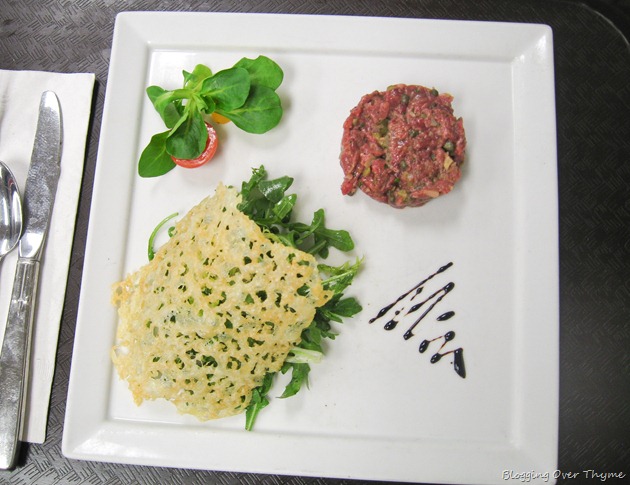 Today's menu was another busy one.  Our first course was a classic Steak Tartare, which is a combination of raw lean, red meat (we used top round), mixed with a lot of acidic components, such as lemon juice, cornichon, capers, dijon mustard, red onion, Tabasco and Worcestershire sauce, all binded with raw egg yolks.  Obviously, since we are using raw beef and egg, it is critical to use the freshest ingredients available and be extra mindful of temperature and sanitation.  You also mix everything together at the last minute!
I think I have tasted beef tartare maybe once in the past, it is not my favorite thing in the world.  The idea of raw beef freaks me out a bit—especially given all the health scares that occur nowadays.  However, it was a pretty dish nonetheless!
We served it with a arugula salad topped with a parmesan tuile.  These are literally made by putting grated parmesan in a circle shape on a silpat, baking it until it is lightly golden, and very quickly molding it by draping it over a bottle.  The trick is to move super fast and have everything set up.  Pure parmesan.  Hmmm…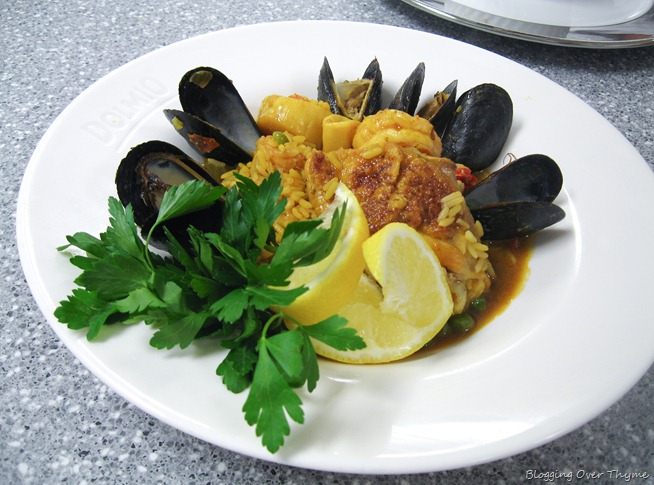 Our main course was a paella, which included chicken, mussels, shrimp, squid, and scallops.  It was quite delicious!  To make it extra flavorful, we made a very flavored stock prior to cooking it, with chicken bones, vegetable scraps, seafood scraps (shrimp shells, etc.), fumet (fish stock), and chicken stock.
Lastly, our dessert of the day was a chocolate & Grand Marnier souffle.  This was our first time making souffles in Phase II (we made both a savory and sweet one in Phase I) and everyone's were more successful for some reason or other.  We learned that the basic base of a souffle is pastry cream (made with flour, not cornstarch).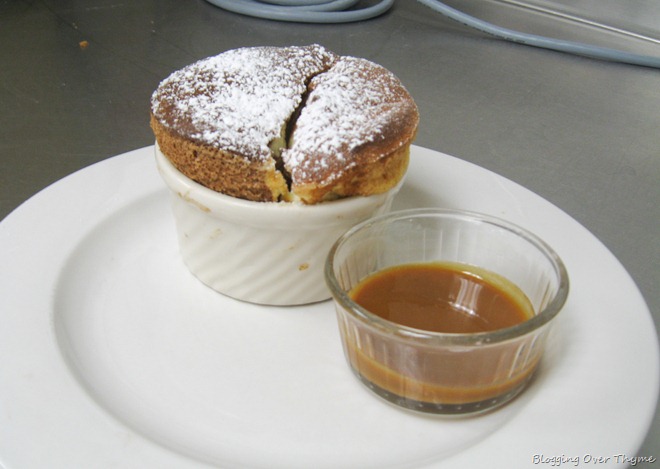 To make these extra special, we actually used folded foil to separate the soufflé into two halves—one side chocolate, the other Grand Marnier.  It made for a fun presentation, unfortunately it is difficult to tell from the picture above! 
We also served this with a caramel sauce.  The traditional way of serving soufflés is to serve with some sort of sauce and poke a hole in the soufflé in front of the customer and pour the sauce right in.  Pretty yummy, although by the time we had time to eat them ourselves, they were no longer as fluffy or warm.  Oh well. 
We spent the afternoon discussing tomorrow's banquet challenge (!).  We are responsible for serving a 6-course meal to 75 people in the entire school, including  the Phase I Pastry & Culinary students are taking sanitation classes for next two days.  It seems like so long ago, but also just like yesterday…I specifically remember feeling very intimidated by all the food, thinking that we would one day be doing all of that ourselves.  Well tomorrow is the day!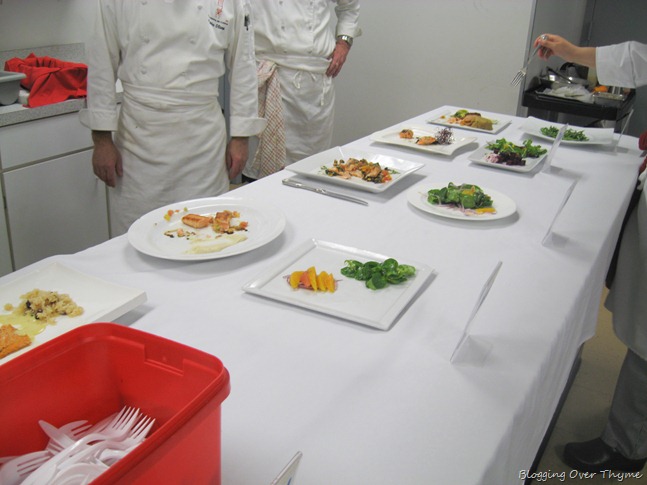 Now onto our first Market Basket challenge, which was last Friday!  One of the biggest changes in Phase II is that we now will have market baskets nearly every week.  Basically, the day before each market basket, we are presented with several ingredients, which each has to used at some point in a 3-course meal.  We have the afternoon to come up with our ideas with our teammate and the next morning, we execute the menu.  For each Market Basket, visiting chefs from around the area come to school and judge our plates right in front of us (and the rest of our class!). 
Last Friday was our first Market Basket.  Due to the half-day and it being our first one, we had a mini one-course (main dish + side) challenge using salmon as our main ingredient and judged by director, Chef Francois.  Jim and I ended up serving a Grilled Salmon Filet with Lemon Parsley Sauce, topped on a bed of roasted zucchini/summer squash.  For our side, we made a simple Baby Spinach Salad with Orange Vinaigrette, Toasted Almonds, Orange Segments, and Red Onions.  Overall, we had pretty good feedback (except our roasted squash, apparently Chef Francois is not a fan of roasted vegetables and said they were a bit bitter). 
This coming Friday, we will have our second Market Basket (three-courses) and be judged by an actual chef!  Yikes. 
Back tomorrow with an update on our Banquet Challenge! 
This post contains affiliate links, which means that I make a small commission off items you purchase at no additional cost to you. Please read my
privacy policy
for more information.