Day 59: Omelettes, Trout Meuniere, & Barquettes
Woops!  After spending all day at my stage on Saturday, I spent the rest of the weekend recovering and preparing myself for an even busier upcoming week.  Not only do I have my fourth theory and practical exam this week, but I have an event—Cochon 555–I'm volunteering for on Sunday, as well as another stage set up for Monday.  I am exhausted just thinking about it all.
For that reason, I am going to hold off on providing details about my first stage until next week.  In all honesty, I was freaked out for the first several hours, mostly because I was given more responsibility than I had expected going into it.  The good news is that I got offered the externship there at the end of the night!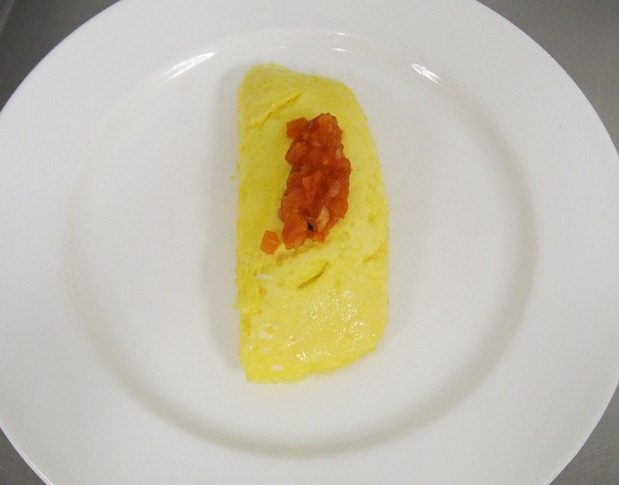 Today's menu was quite delicious!  Our first course was an omelet filled with tomato concassee (cooked roughly chopped tomato and onion).  Why are we reviewing omelets again??? Well…it was strongly hinted that it will be part of the practical exam this week.  The trick with an omelet is to not gain any color and have it been a little runny in the inside. 
Our main course was another dish that we have prepared in the past!  Except obviously with new sides and a slight twist.  We made trout filets with meuniere sauce (brown butter, lemon juice, parsley).  We also added in some sauteed mushrooms and leftover sliced artichoke heart.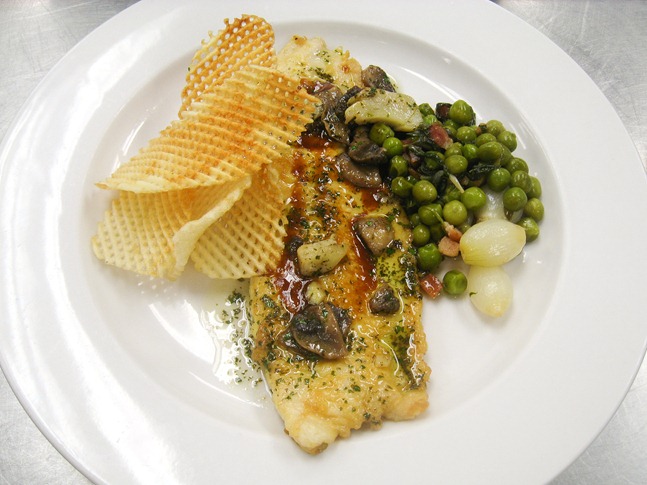 To go with, we served peas which were prepared with some sautéed bacon, pearl onions, chicken stock, and lettuce—weird, huh?  It was ok.  I often find that bacon overpowers anything and everything.  I would probably be considered a leper for thinking that way though! 
We also made another new potato dish—pommes gaufrette—which are basically waffle chips.  To achieve that classic waffle texture, you use the bottom blade of a mandolin, and rotate the potato 45 degrees between each slice.  We then fried them in 350 degree oil.  Cool!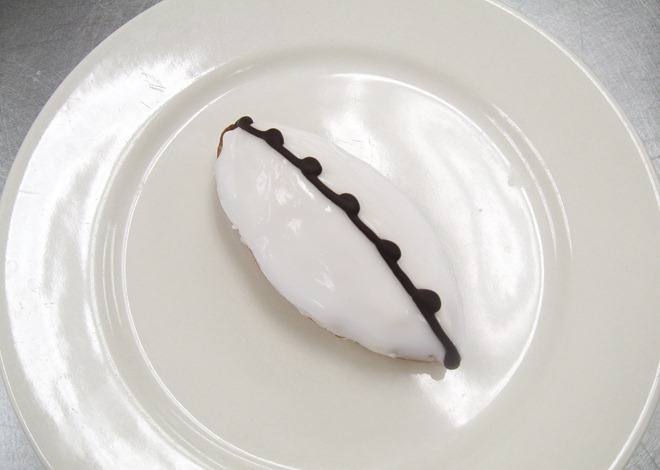 Last, but not least, we made barquettes ("boat shaped" pastries) for dessert.  This is a very classic French pastry that comprises of a pate sucree tart shell that is filled with frangipane (almond filling) and baked.  Using an offset spatula, you then carefully place on the top Italian meringue buttercream (which is flavored with chestnut puree and rum). 
This then gets refrigerated to set, before finally being dipped into fondant—icing sugar, not the rolled cake variety.  The trickiest part is tempering the fondant correctly, otherwise it will not set properly and maintain its shine.  A difficult dessert to describe without more pictures.  Very sweet, but also much more delicious than I expected it to be!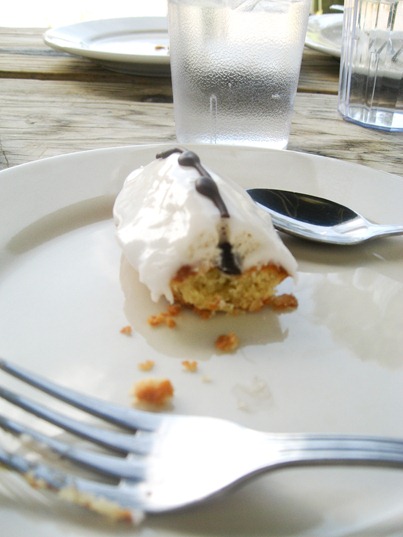 During the afternoon, we tried to get a bit of prep done for the following day's menu by making seafood sausages by hand. The sausage mixture comprised of cooked seafood (combination of crayfish meat, crabmeat, scallops, shrimp, and salmon) and seafood mousse (cream, scallops, salmon).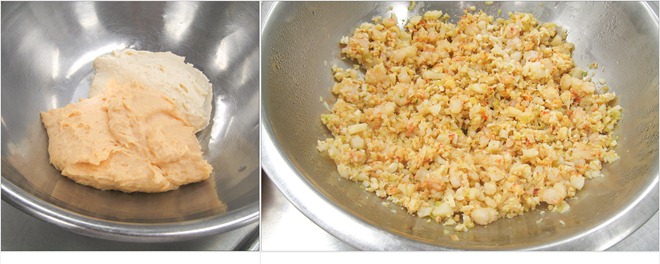 Let me tell you, it is a very interesting process to watch and we were all laughing hysterically by the end of it.  Clearly, we are all very mature…
Here is Chef Patrice demonstrating!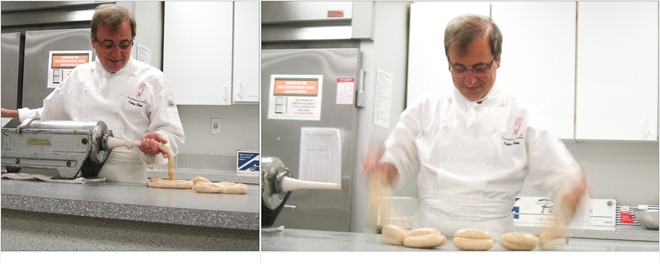 After that, it was our turn!  Obviously, it is kind of a gross and un-photogenic process, but worth capturing nonetheless.  It was a bit tricky, but we got the hang of it.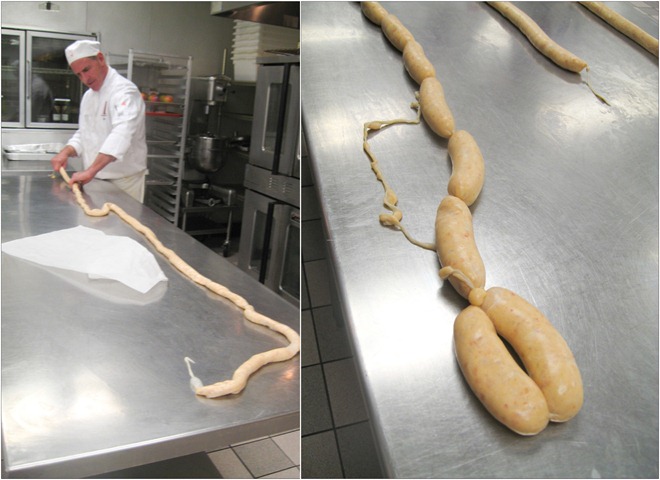 After making and shaping our sausages, we poached them in very hot water (not boiling).  Tomorrow we will sear them and serve them with homemade pasta!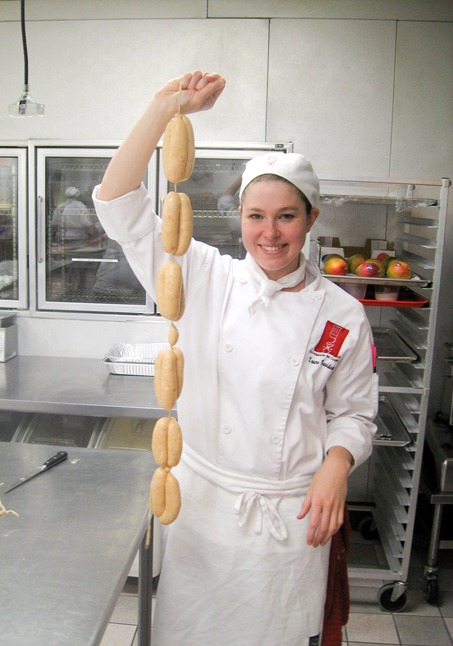 That pretty much sums up the day!  Now I am off to start studying for my next theory exam…
Until next time!
This post contains affiliate links, which means that I make a small commission off items you purchase at no additional cost to you. Please read my
privacy policy
for more information.