Day 6 & 7: Sanitation
The last two days of Week Two, Wednesday and Thursday, were completely devoted to sanitation in preparation for taking our ServSafe Food Manager certification.  I'm not going to lie…it wasn't exactly riveting material to sit through for 7 hours + a day.  However, it was interesting and definitely important to learn about.
Our sanitation days were led by a ServSafe instructor, who literally started class on Wednesday with the following question, "Who in here has had a foodborne illness in the last year??"  Fellow classmate, Hadley, and I, immediately looked at each other and whispered under our breath, "Well this is gonna be a fun two days…"
We soon learned, despite our lack of response, that several of us have had one (most likely without our knowledge), since about one of out six people get one each year.  Really enlightening and disturbing, no?  We also learned that cantaloupes are the leading foodborne illness related food.  I was kind of pleased about my already-existing aversion to melons at this point in lecture.
The biggest lesson of our two days of sanitation was the importance of time and temperature control with potentially hazardous foods.  Basically, the temperature danger zone is anywhere from 41 degrees to 135 degrees, so it is important to keep cold foods cold and hot foods hot—not to mention cooling certain foods in a very specific way.  There are tons of rules with regard to cooling down foods, storing and receiving food in commissaries, and the layout and design of kitchens, in terms of hand washing sinks, cleaning and sanitizing sinks, etc.   I'll try not to bore you with any of them, but lets just say that it's quite complicated.  I felt like some of the information we learned was common sense, but some was quite technical and involves a lot of careful attention to detail.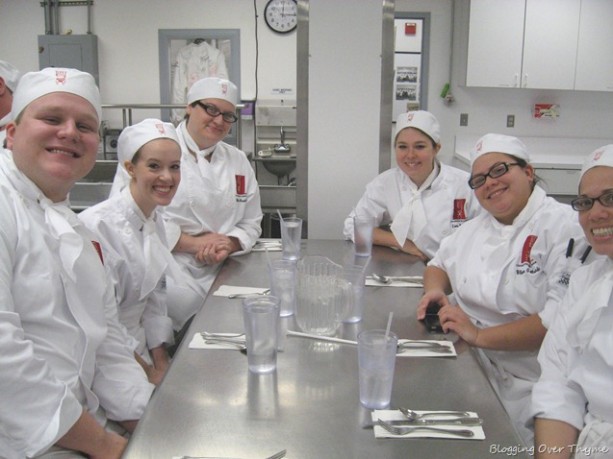 From Left to Right: Hadley, Lindsey, Julia, Me, Blanca, & Tasha
Our instructor was definitely a show-and–tell kind of guy and had lots of incredibly disgusting photos (from his personal experience inspecting restaurant kitchens) to demonstrate the importance of everything we learned about.  We all kept groaning with each additional one.  The words 'worms', 'defecation', 'lawsuits' and 'parasites' were mentioned far too often for my liking and I kept getting more and more revolted by the thought of any food as the class continued…
He wasn't exactly a big "foodie"—which didn't help.
Which was highly unfortunate, because we had a feast ahead of us for lunch that day—which ironically included many of the foods he had discussed that day.  As a special and never-happening-again treat, the Phase II culinary students prepared a banquet for us, which included SIX COURSES!  Yes, six courses.  They were all great and very impressive, if not a bit intimidating, since we all realized that we would be making meals and dishes like this soon enough…
Course 1: Amuse bouche of toast with pate and aspic (which is basically a meat jell-o) topped with olive.  Blurry picture, unfortunately!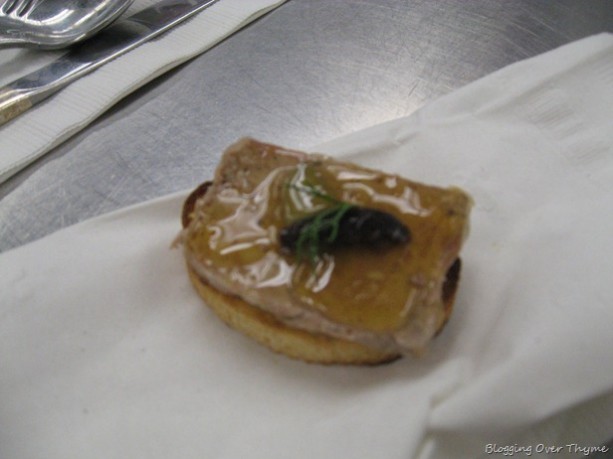 Course 2:  Frisee salad with lemon vinaigrette, candied pistachios, house-cured smoked salmon (!) on potato baskets topped with herbed goat cheese and sprinkled with hard-boiled eggs, onions, and capers.  This was one of my favorites!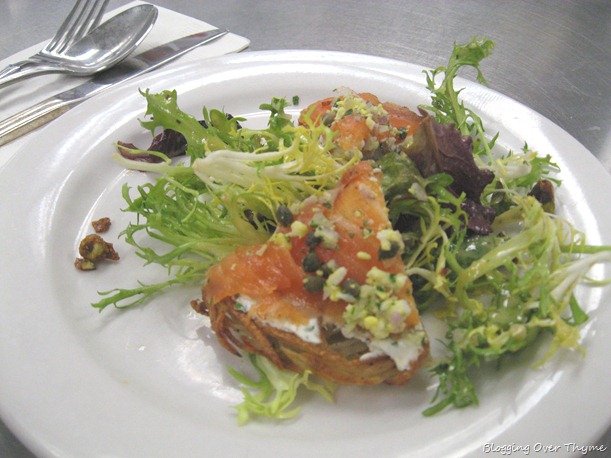 Course 3:  Puff Pastry bowl filled with seafood chowder of shrimp, lobster, scallops, and pearl onions.  It wasn't a creamy chowder though.  Very delicious!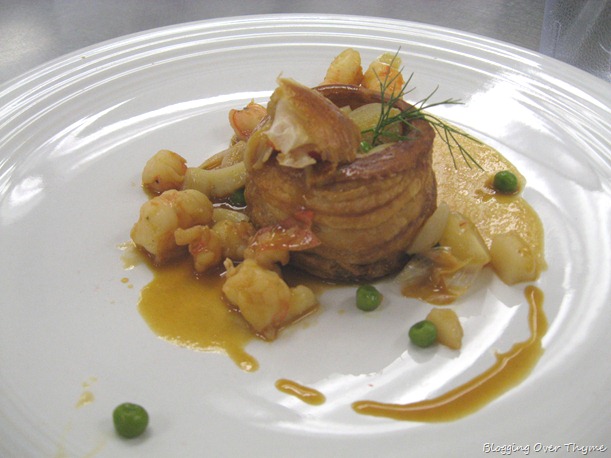 Course 4:  Palate cleanser of Champagne granita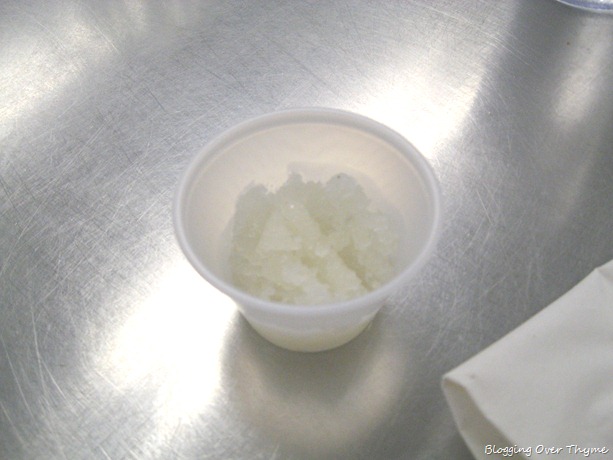 Course 5:  Yes, it kept coming!  This dish included ratatuille, potato dacquoise, green beans wrapped with a paper-thin carrot slice, and lamb tenderloin, which had sort of a Moroccan type sauce.  The lamb was very tender and flavorful!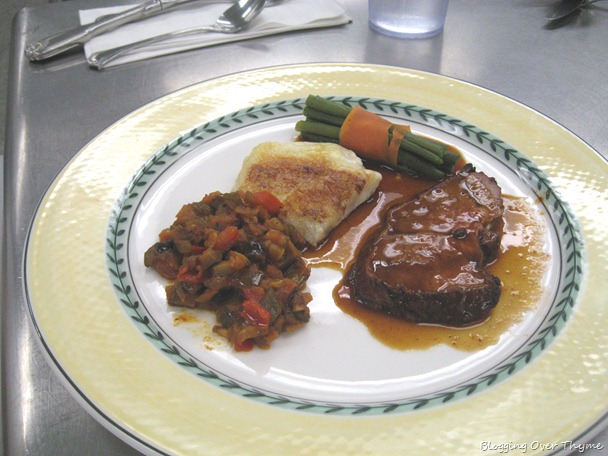 Course 6:  For dessert, we were served an apple bread pudding, made with homemade challah bread, and topped with whipped cream and a sort of booze-y, caramel sauce.  It was so good, spongy, and moist! I want to make this!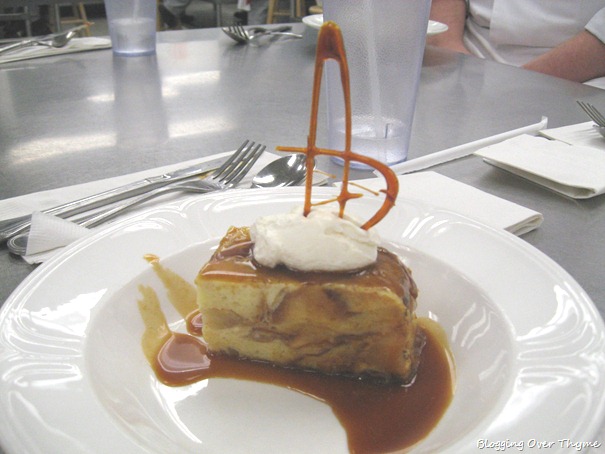 Thursday started with another 5 (!) hour lecture on sanitation, followed by a casual lunch made by our chef instructor, Brian, and assistant, Ashley, who put together spice-rubbed chicken breasts, pasta primavera, and homemade scallion-jalapeno cornbread: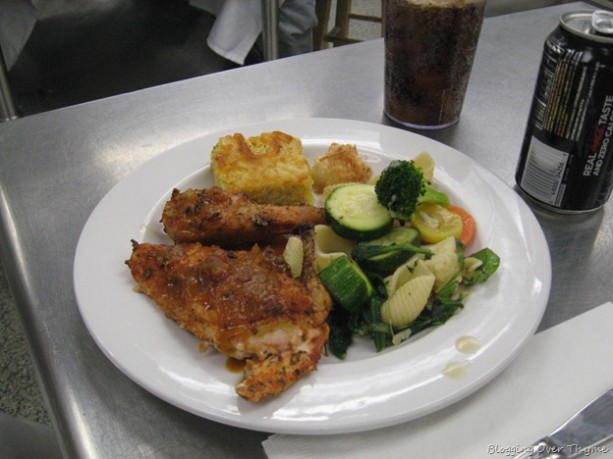 We then got to go over to Phase II pastry's classroom for an ice-cream social, which they had been working on for the previous two days.  Friends and family, as well as all of Phase I students, were allowed to attend and try all their very creative and rich creations.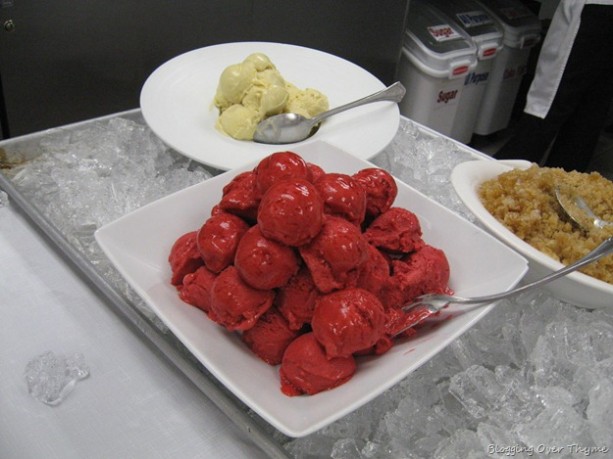 There was everything from salted caramel, maple and pecan, coffee, chocolate, lemon-basil ice cream to coffee and blackerry sorbet just to name a few!  I felt like I was in Willy Wonka land or something.
I had a few bits of a couple different flavors, but not too much, as I didn't want to fall asleep from a sugar crash during our sanitation exam, which immediately followed—not the best timing, no?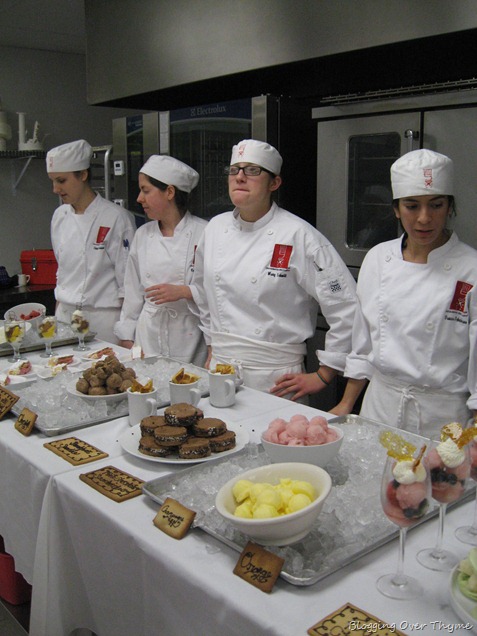 Imagine two additional tables of creations like the one above!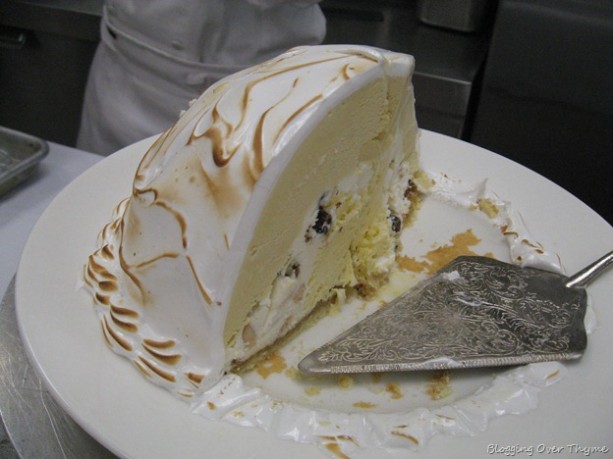 Afterwards, we took our sanitation exam (we get the results in about ten days) and were dismissed!  I have a long weekend because we have Martin Luther King Day off on Monday.  Over the weekend, I'll be working on a school paper, as well as hopefully continuing to practice some of the techniques we learned so far, and perhaps even sharing a recipe with you all!
Be sure to check back within the next few days.  Have a great weekend everyone!
This post contains affiliate links, which means that I make a small commission off items you purchase at no additional cost to you. Please read my
privacy policy
for more information.