Day Five: Potage Julienne Darblay & Orange Zest confit
Let me start off today's post by saying that I got to school today and quickly realized that while I had my camera, my camera memory card was back home still in my laptop.  Needless to say, I had to make do today with my cell phone, which luckily takes decent photos, but unfortunately made it a bit more difficult to take as many as I normally try to.  Although as our menus expand and our dishes become more difficult, it is getting harder and harder to take photos of the cooking process!
Day Five included another potage (type of soup), a salad made with celery root, apple, and tossed in a remoulade (explained below), and a light dessert of oranges with zest confit!  The day was much less intense in terms of time crunches and little details than yesterday, but still time-consuming and full of many new techniques.
Today's potage was a creamed potato and leek soup with a garnish of finely julienned celery, carrot, and leek.  Traditionally, it is known as Potage Julienne Darblay.  You might be familiar with the name of of the cold version of this soup:  vichyssoise.   This soup involved a few more new techniques and types of equipment we haven't used yet.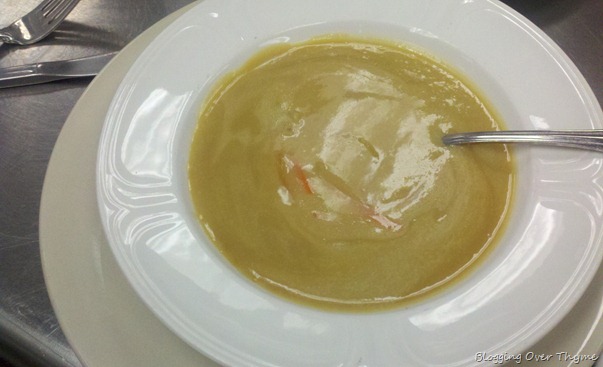 Essentially the soup is cooked by sweating the leeks (not allowing to gain color), adding stock, a bouquet garni (which is essentially a cheesecloth sachet to add flavor, including peppercorns, fresh thyme, parsley stems, and a bay leaf).  At this point, you add roughly chopped potato and simmer slowly until cooked.   This all gets thrown in the blender and then strained through a chinois—which is essentially an extremely fine-mesh strainer, which we have had yet to use until today.  They also cost a fortune!
To this soup, we add the julienne darblay, which is a special technique of cooking called ETUVEE, which means literally "to smother".  After fine julienning our carrot, celery and leek, these vegetables all got added to small saucepan, along with a very small amount of stock and butter, and then put on very low heat.  The vegetables are then covered with a CARTOUCHE, which is a piece of parchment paper, cut to the diameter of the pan, and pressed against the vegetables.  This cooks very slowly until all the vegetables are tender—without caramelizing or turning color.
New Food Fact of the Day: Today we learned the difference between a garnish and décor. A garnish is not, as I originally though, a type of food added on top or what have you, for presentation purposes. A garnish is something that is added to a dish, but not a step in the cooking process. However, it is still considered an integral part of the dish. In this case, the julienned vegetables were a garnish. Décor is something that is strictly used to decorate a plate or dish at the end for presentation. Definitely did not know any of this!
Here comes the bad part of the day…
Me and my partner's saucepot of julienned vegetables was all cooked, sitting off the heat, and ready to go for plating.  Unfortunately, when we got around to plating, probably 30-45 minutes later, we discovered that our vegetables were burned to a crisp and had essentially evaporated and dried out.  Not good.  There was no time to make more either!  Essentially what happened was that some other fellow students of ours must have accidentally mistaken our burner knob for their own and turned ours on again!  With all of us being new to the kitchen, sharing burners and stoves, I'm sure this will happen many more times—but it still sucked!  I will definitely be more mindful of all my pots from now on.  Essentially this meant that we had no garnish to add to our soup, which is why the photograph is particularly blah-looking.  Sorry guys!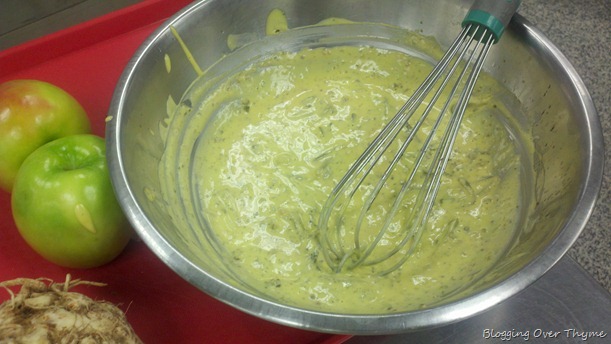 In addition to our soup, we also served a julienned celery root and apple salad tossed in homemade remoulade, which we learned today is a small or derivative sauce of mayonnaise.  Therefore, we got to make homemade mayonnaise again!   For the remoulade version, we added minced capers, anchovy, cornichon pickles, parsley, and chervil.  It was then served on a bed of arugula.  It was pretty interesting and tasty, but not necessarily something I would make again at home.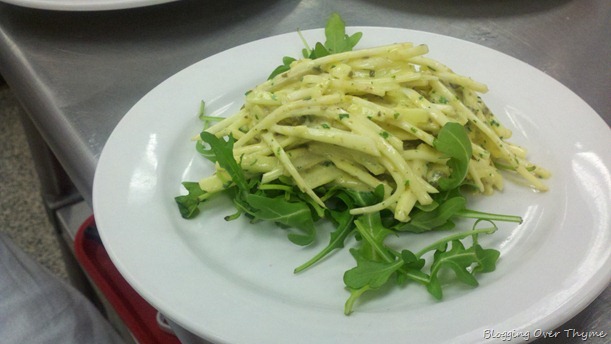 Lastly, as our light dessert, we made a citrus salad with zest confit—which is basically candied orange zest.  As we learned in lecture this morning, to "confit" means to cook.  This is usually done in either two ways, with sugar or with fat.  For example, duck confit is an example of a meat cooked in fat.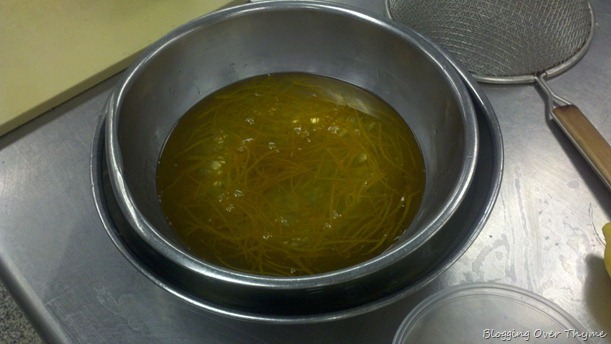 Zest confit, on the other hand, is the zest and peel of a citrus being cooked in sugar—in this case, simple syrup.  To do this, we first peeled our oranges and then very finely julienned the peel.  The peel was then blanched (at our school, this term is defined as 'cleaning' or removing impurities of something by putting it into boiling water—not 'par boiling', which many other consider blanching).
This step was done three times—starting each time with new cold water and bringing to a boil—this step is very important, because it helps removes the natural oil from the peel and get rid of any bitterness.  Lastly, we placed the blanched peel in simmering simple syrup (equal parts sugar & water) until it was soft and no longer gummy.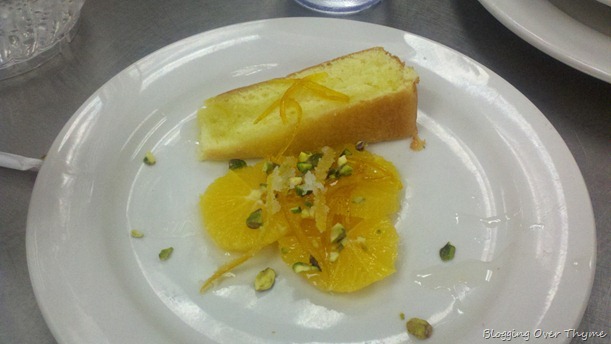 The remaining orange was then 'peler a vif'-ed, removing any outer pith.  Today, instead of segmenting, we sliced the orange into coins.  Meanwhile, we kept half the zest confit in the simple syrup, while the other half, we removed, allowed to dry slightly and then tossed lightly in granulated sugar.  To sum up in one word:  candied orange peel! 
For plating, we topped the orange slices with a little bit of zest, as well as simple syrup, a few strands of sugared zest, as well as some chopped pistachio.  We also then added a small slice of our genoise cake, that we learned how to make yesterday.  To make it a bit more moist, we spooned a bit of the simple syrup over that as well.  The oranges were pretty delicious for being so simple in concept!
Lunch was followed by clean-up (I somehow got the lovely task of cleaning the entire stockpot again?!) and eventually today's afternoon demo, which was a lesson on breaking down whole chickens!
This is something I have been very interested in, because I really have no knowledge of any sort of meat butchery at all.  After watching Chef Brian break it down, we each got our own chicken and followed suit with our boning knives.  I need to practice this over the weekend!  I found some of it easy, but some parts tricky—such as removing the chicken breasts and 'oysters' as cleanly as possible.  I'm kind of excited that I can do this at home now though!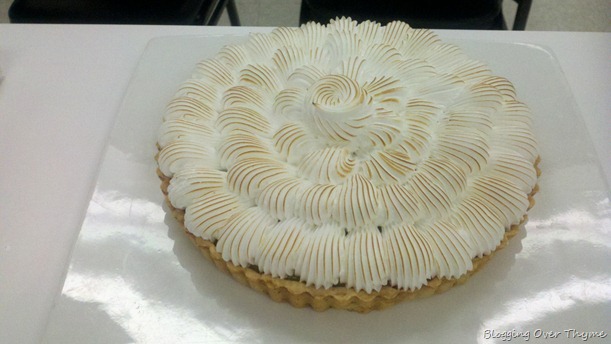 Though we ended class today right on time at 2:30, I volunteered yesterday to stay until 5:30 to help our chef instructor with a recipe photo shoot for Bethesda Magazine!  Something which obviously appeals to me.  The photo shoot recipe was for duck, andouille, and shrimp gumbo.  I was there to help with all the prep (chopping vegetables and getting mise en place ready—and also as an assistant during the cooking process), and then helping to clean-up at the end.  Not only did I get to practice my knife skills a bit more, but I also got to see the process of photographing a recipe step-by-step, and even better, be a taste tester at the end.  The gumbo was SO good—I wish I could have taken it all home with me.  I got the recipe too, so I might be recreating this in the near future, once I get my hand on all the spices!
I also got to taste a small slice of a beautiful lemon meringue tart (seen above) made by the pastry students too—it was full of deliciously tart lemon curd and topped with soft marshmallow-y meringue.  Hmmm…  Apparently we will be learning how to make this, so there is more in my future.
Luckily tomorrow morning, I get to sleep in an extra 30 minutes or so, because the next two days—and rest of week 2!–are strictly santitation days, where we learn all the sanitation rules and eventually get our food manager certification.  Therefore, we don't need to be early to help prep the kitchens.  Apparently we will be hearing lots of disgusting stories over the next few days!   Back soon with all the details…
This post contains affiliate links, which means that I make a small commission off items you purchase at no additional cost to you. Please read my
privacy policy
for more information.