Day 63: Oysters, Pork Terrine, & Charlotte Aux Pommes
I am back with  yesterday's school update! 
Wednesday's menu was full of some interesting dishes, some good, some not so good (or at least, in my opinion—but who am I?!).  Our first course was oysters served with a champagne glacee.  It was our first time using oysters and, for the most part, the first time any of us have shucked them.  It was definitely not my favorite thing to do (particularly, because the oysters I had were very weirdly shaped, which made it hard) and I sincerely hope the restaurant I end up working at doesn't serve them.  Chef Patrice taught us a relatively safer method of opening them, but I have heard horror stories, so it was still a bit nerve-wracking.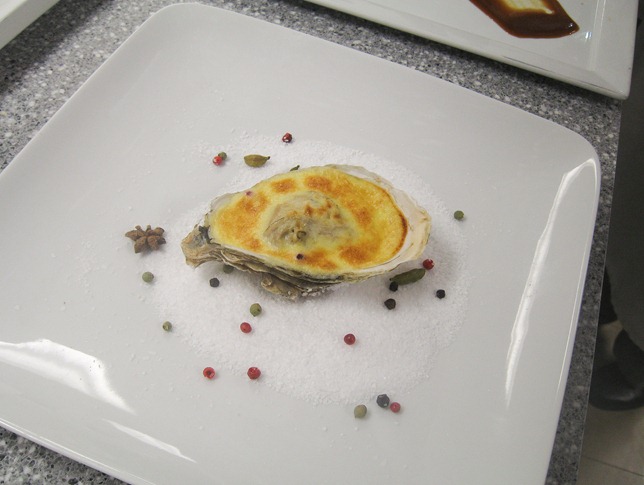 The oyster dish is a bit hard to describe—but basically, we ended up shucking the oysters, reserving the juice (sea water essentially) and cooking this down with champagne and quickly blanching the oysters.  We then cleaned the shells, filled them with some sautéed julienne of beets, topping this with the cooked oyster, and spooning over the reduced (and thickened) oyster juice, which was folded into a sabayon.  This then gets gratineed in the salamander until it is golden brown.  I was not a fan.  Although, I'm not sure I am a fan of oysters anyway, but everything about this dish was weird to me.
To make a interesting presentation, we served an oyster on some kosher salt, along with some colored peppercorn and star anise (which resemble starfish!), so it sort of looks like a beach!  Kinda cute.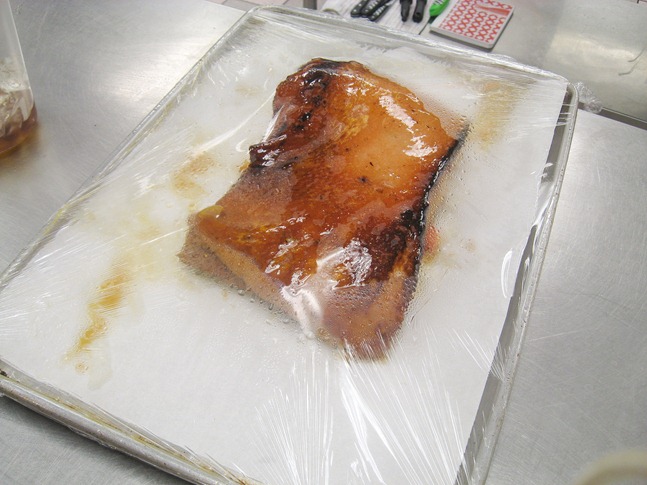 Our second course was equally as strange in concept, but actually tasted pretty good.  The previous day (Tuesday afternoon), we ended up braising a pork belly for several hours, reserving the jus, and then removing the fat and shredding the meat. The meat was then mixed with capers, cornichon, dijon mustard, tarragon, green onion, and shallots.  The acidity added a nice touch.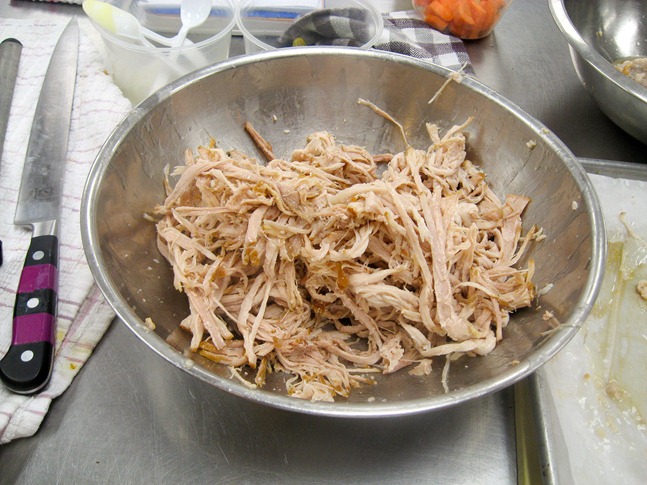 The bizarre part came when we then packed this into a terrine (tightly) to chill overnight and form a sort of meatloaf.  For service, we sliced the terrine into rectangles, breaded it and fried it.  We served it with pureed black beans and pureed white navy beans (which Chef Michel actually cooked for us), as well as the reduced pork jus
Usually, our plates are very pretty, but this was probably the most unattractive dish to date.  Everything on the menu was very beige.  It definitely tasted better than it looked!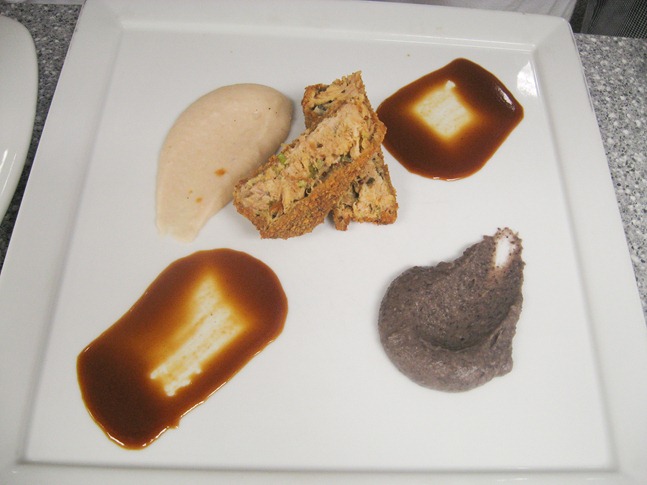 Our dessert was delicious!  It was actually a very classic French dish called "Charlotte Aux Pommes".  It is a dish that literally used to be thrown together with old bread and apples.  Oh yeah—and a TON of clarified butter.  While the traditional dish uses raw apples, we increased the flavor by sautéing green apples with clarified butter, a bit of sugar (to help caramelize), and deglazing with Applejack.  We then added some cinnamon for a bit of spice.
This then got packed into ramekins, which we lined carefully with very thinly sliced bread, which was soaked in clarified butter, then dipped in sugar (on one side), so it would caramelize and get dark in the oven.  We also added a tiny spoonful of jam between the apple filling, as well as some toasted walnuts.  This got covered with foil and cooked in the oven, until it was nice and brown.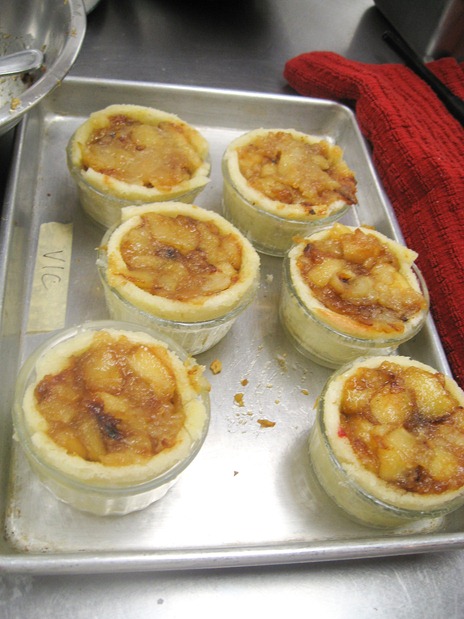 We then unmolded it to reveal this!  Super buttery and delicious.  We served it alongside some crème anglaise and blueberry coulis (we generally use whatever coulis we already have in the fridge).  This would  be perfect with vanilla ice cream!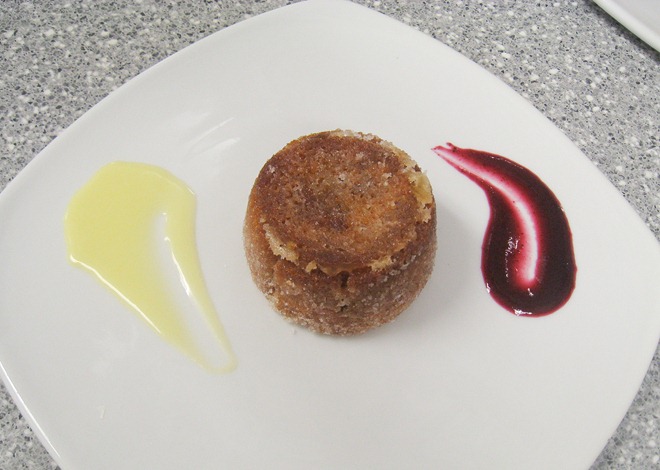 The afternoon as filled with the highlight of our week—our first wine class.  We have two more and they are all taught by a master of wine (apparently there are only 28 in the US and only one in the Washington, DC area—and it is a very tough certification to receive).
We learned about all the different red and white grapes, as well as some of the major varieties out there.  We also got to taste three different whites (Sauvignon Blanc, Chardonnay, & Reisling), as well as three reds (Pinot Noir, Cabernet Sauvignon, & Syrah).  He taught us how to taste and judge a wine's clarity, taste, body, clarity, etc.  It was very informative and something I've been wanting to learn more about for a while now!  I think this class put us all into a really good mood.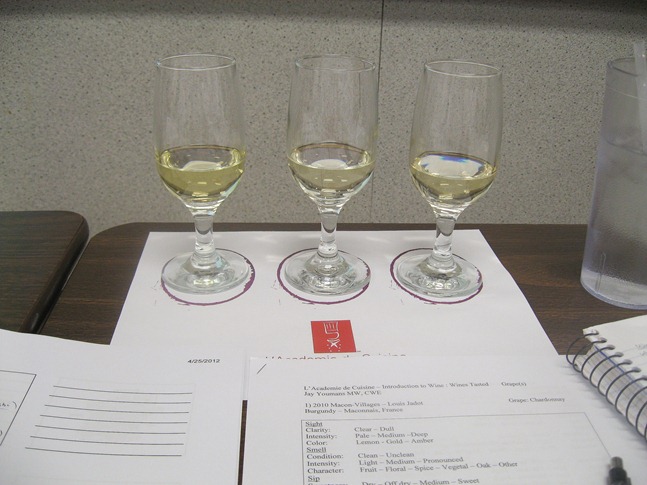 Overall, it was a pretty good day!  If only today's service had been equally as good…but I guess that's another story for another day.
Tomorrow we have another Market Basket challenge!  I also have another full-day stage this Saturday.  Should be interesting!
This post contains affiliate links, which means that I make a small commission off items you purchase at no additional cost to you. Please read my
privacy policy
for more information.