Day 67 & 68: Restaurant Challenge
This past Wednesday and Thursday's classes were dedicated to Restaurant Challenge—essentially two days in which our lecture room is set up as a dining room and our kitchen is divided up into stations, like a normal restaurant.
Unlike a normal production day, each of us are assigned to one of these stations (in our case, we had a meat, fish, pastry, and garde manger station) for the day.  We are all told to invite our friends and family to enjoy a meal on the house, and the school brings in even more people—so each day we served a total of 70-90 people.  Pretty impressive, especially given our class size of 10, as well as the fact that the majority of us have never actually had previous restaurant experience.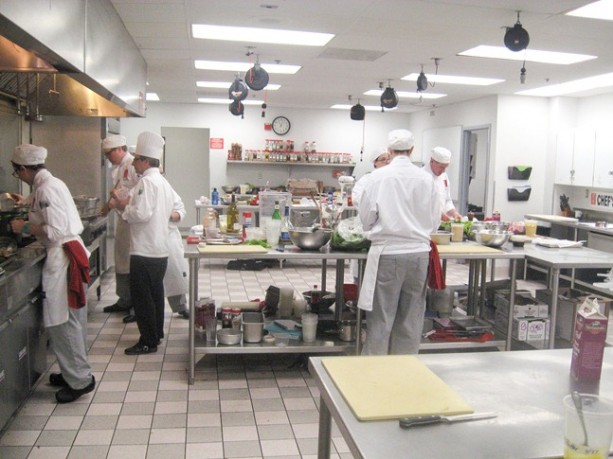 However, unlike a normal restaurant, Chef Patrice actually made up tickets prior to the day for each table (three course meal for each guest) to help predict food amounts and avoid every guest from ordering the exact same thing.  Our menu was very extensive, especially given that we were only given about 45 minutes of discussion regarding the whole day, as well as only four hours of time to prepare everything before service started each day.  Some of these dishes we had never even made before, so it was really up to us to figure it out as we went about the day.
During service, Chef Patrice stood at a head table, set up with heat lamps, and expedited orders as they came along, telling us when to "fire" dishes and handing us the orders, which we were in charge of organizing at each table.
There were a few components that we didn't have to make from scratch (puff pastry, nougat glace, chocolate tart—we used leftovers from the previous day's service—but that's about it).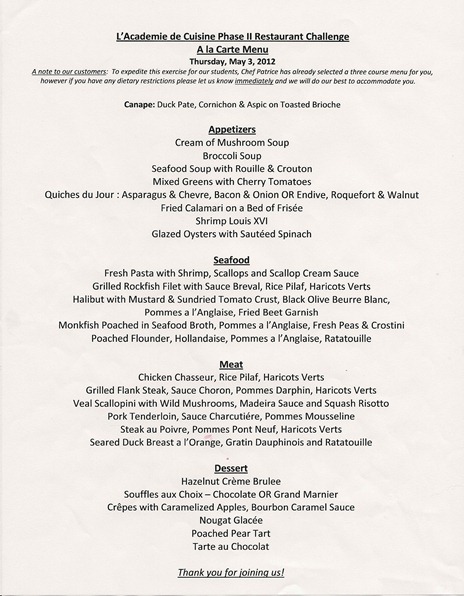 On Wednesday, Lyndsay and I were assigned to work the pastry table together, which meant that we immediately got to work in the morning to make our crème brulees (on Wednesday, we actually made pistachio crème brulees—which were switched to hazelnut the following day) so they could chill in time to torch.  We also had to make a ton of souffle base (which is essentially pastry cream made with flour) for our 25-30 souffles made during service, as well as roll out puff to make our poached pear tart (and poach about 12 pears total).  Here was our work table for the day!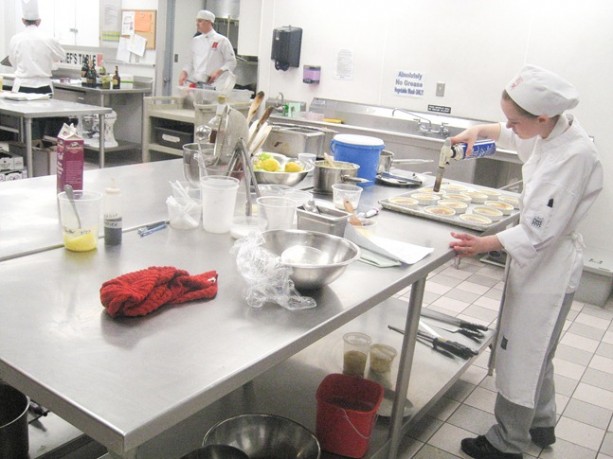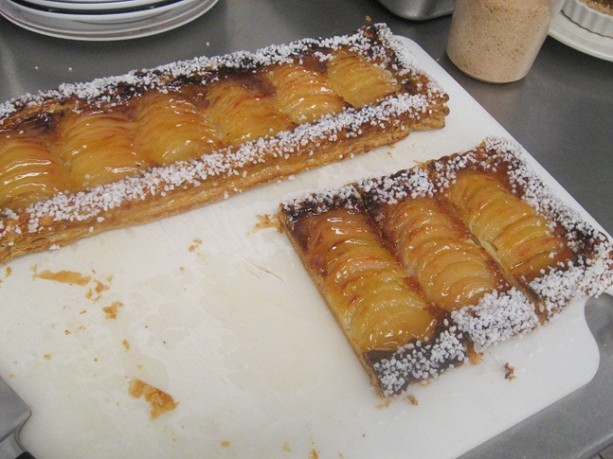 In the end, the pastry table was probably the least stressful of all the stations, because we had the least amount of prep work for the day, not to mention, none of our dishes were cooked to order, except the souffles—which Chef Michel helped us organize as well.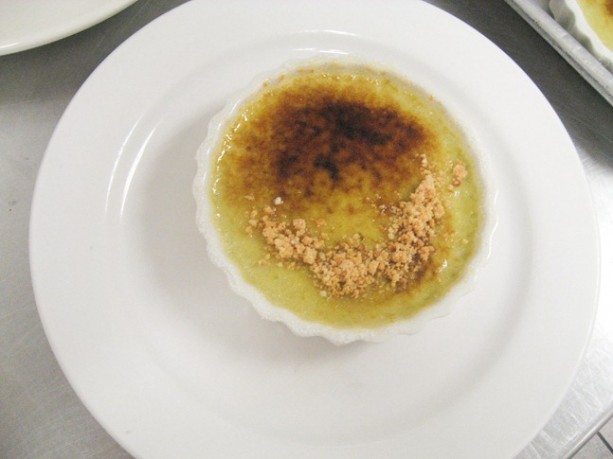 The only time that we were "in the weeds"—as they say—was about five minutes prior to service, when we realized that we had completely forgotten to make our tulipes to hold our nougat glace.  Uh, woops!
Overall, Wednesday went pretty smoothly for us at the pastry table—but we both knew that Thursday we would most likely be assigned to work either the meat or fish station (which each had three people), which were definitely the most stressful of the four.  Immediately after cleaning up the kitchen, I actually went straight from school to a catering event (of a fellow L'Academie alum) to work.  I was exhausted by the end of the day!
Thursday, I woke up and headed to school, where I found out I was assigned to the fish station, which was probably the most difficult of them all!  I worked with Kevin and Jim all morning to set up.  While the two of them worked on different tasks, which we divided amongst ourselves, I tackled my list, which included (just for you guys to get an idea…):
Making a little more than 60 tourneed potatoes for service!  Yah…that was fun.
Making pasta dough
Frying and preparing our beet garnish
Making rice pilaf for both the meat/fish station
Chopping a ton of parsley for garnishes!
Cleaning shrimp!
Making our olive beurre blance sauce for the delicious halibut dish!  Remember that one?
Getting 15 eggs worth of hollandaise together!  Which later broke during service…and had to be saved.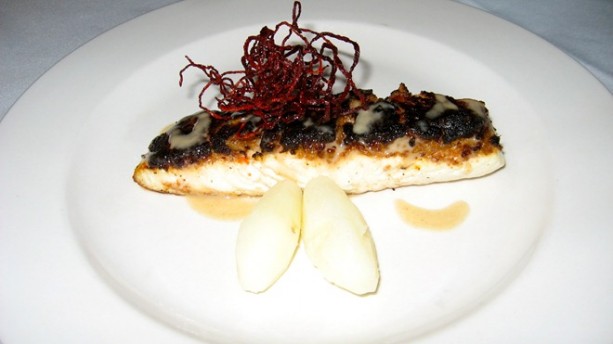 We used every last minute to get things together!  Then service started…which felt like a nightmare—our sabayon broke for our oyster dish (I literally had to throw one together in minutes), our hollandaise broke twice, and we were very confused about how a couple of our dishes were put together.  Kevin ended up working the line for the most part, I was the middle man (in charge of plating, and running back to help Kevin every now and then, while Jim organized the tickets).
I didn't feel particularly great about our performance…especially given the fact that I had both my mom, godmother, Connor, and both of his parents coming for lunch that day!  However, after service, they kept raving about everything, so I guess everything turned out well in the end???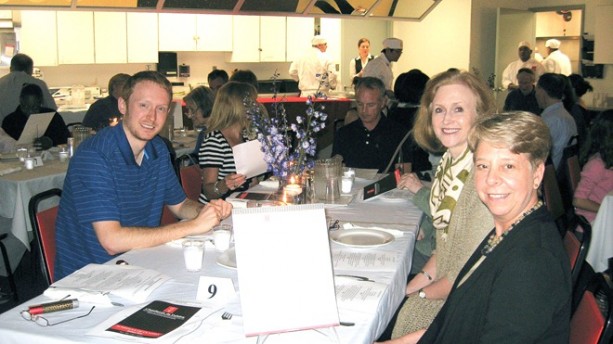 After service, I had some time to show them around and relax a bit—we were all sweaty and exhausted at the end!   I'm glistening with sweat!!!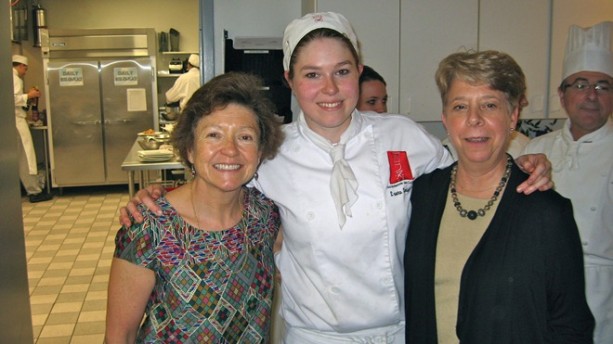 And here I am with Chef Patrice—who looks totally calm and collected as usual…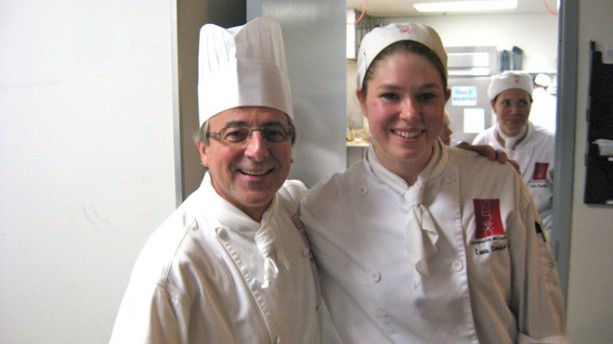 In the end though, I'm pretty impressed that we were able to pull all of this off, especially given the fact that we are such a small class and this is pretty much a new experience for all of us.  Apparently, according to several people working at the school, we were the speediest in terms of getting our dishes out in a reasonable time in comparison to a couple classes before us!
By the time we cleaned up the kitchen and ate a bit of leftovers for lunch, it was 4:00 pm!  And the day did not end there, because the following day we had to plan and get our ingredients for our Fourth Market Basket.  Except, this Market Basket was a bit different than usual because it involved even more dishes and we also worked with the Phase II pastry students.
More details to come, I also was finally able to get a few pictures as well!
Hope everyone has a great weekend! 
This post contains affiliate links, which means that I make a small commission off items you purchase at no additional cost to you. Please read my
privacy policy
for more information.