Day 69: Market Basket
I've been meaning to share more about our weekly Market Basket challenges with all of you!  Well, last Friday, I finally got a chance to snag a few pictures of the process (not the actual plates I served, but leftovers, which I plated just to show you all!), so I'm hear to share all the details.  Market Basket #4 was a bit different than usual.
Usually, each team is responsible for coming up with a three-course meal (starter, main, & dessert).  However, this last one we teamed up with our fellow Phase II pastry students to come up with the following: canapé (basically a one-bite amuse buche), starter, main course, dessert, and a mignardise (bite-size dessert).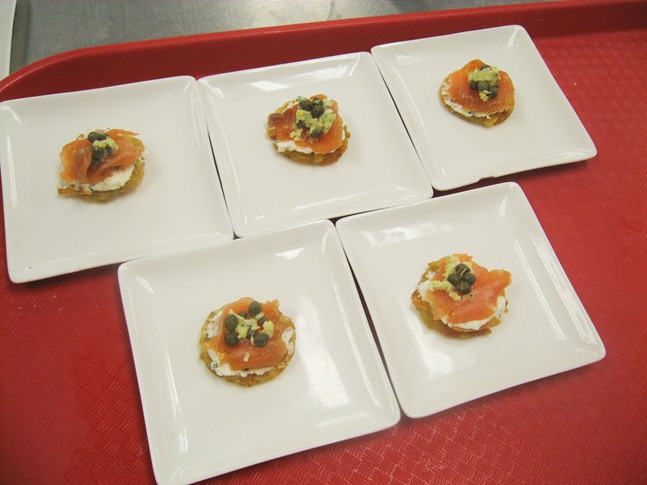 The purpose of the exercise was for us to cross-train one another and learn a bit more about the pastry side of things, as well as vice versa.  It's also important for us to learn how to team up with pastry chefs for the future!
The previous afternoon we were given our three ingredients:  whole duck, goat cheese, & kumquats.  Don't worry—we are not required to use them all in the same dish, just at some point within the course of the meal.  We then get together as groups to come up with some sort of game plan—often thinking of dishes that we have never made before, but use techniques and procedures that we have learned throughout the course of the program.  It can definitely be tricky at times!
The next morning, we broke up into our teams and had four hours to execute our menu.  During this time, each team meets with Chef Patrice (and, in this case, the Phase II pastry chefs) to go over our ideas and get suggestions or advice.  Sometimes, some dishes are not tweaked at all throughout the day, other times, we go with a completely different idea post-meeting.  This can sometimes be tricky!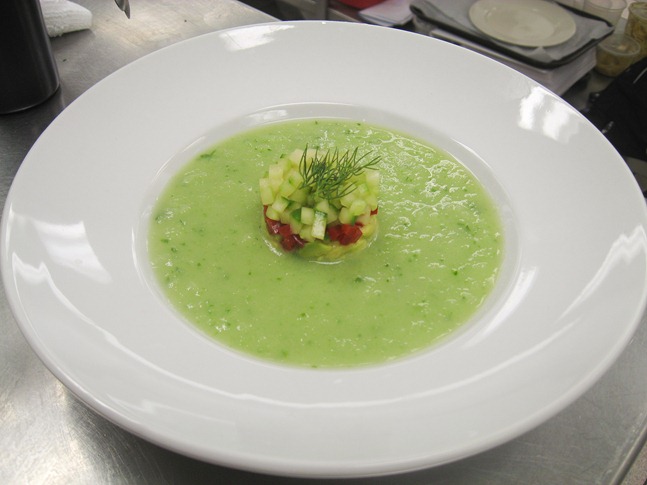 By the time, my team got back into the kitchen to go to work, we had come up with the following menu:
1) Canapé:  Smoked Salmon & Herbed Goat Cheese on Pommes Darphin—garnished with a mixture of hard-boiled eggs, red onion, and capers
2) First-Course:  Chilled Cucumber-Yogurt Soup with a Timbale of Avocado, Cucumber, & Red Bell Pepper – this was something I came up with after observing a similar idea at a recent restaurant stage!
3) Main Course – Duck with Spring-Time Risotto (Fresh Peas & Leeks) & Rosemary Jus – we braised duck legs & seared duck breasts, as well as used the bones to utilize as much of the whole duck as possible
4) Dessert – Caramel Pine Nut Tart with Goat Cheese Ice Cream
5) Mignardise – Buttermilk Panna Cotta (served on chocolate sucree crust) with Candied Kumquat
A lot to get done in less than four hours!  At noon sharp, we are responsible for having everything done (besides plating) to serve to, in this case, our chef instructor, as well as two visiting chefs from the DC area.  We hold components of our dishes in hot boxes and plate during the presentation process on a tiny table on the side of the classroom.
Each team (in random order) presents their dishes in order to the chefs, who then taste them and then critique them in front of the whole class. They criticize everything from presentation, temperature, taste, seasoning, to technique.
On Friday, we had the executive chef, Billy Klein, from Café Saint Ex and the pastry chef from Ripple.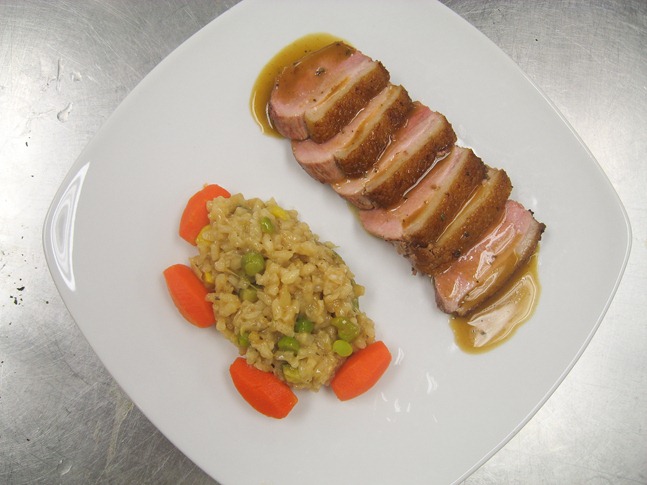 Overall, as a class, we received the most positive responses of any Market Basket so far, which was a great feeling.  And my teams' dishes were received very positively—with the exception of our risotto, which was slightly overcooked by the time we served it (we realized this during, as well).  In hindsight, we should have finished it off on a table stop burner in the classroom. 
At the end of judging, Chef Patrice always asks the visiting chefs to say what their favorite dish of the day was….and to my huge surprise, he picked our team's chilled cucumber soup starter!  Overall, I pretty thrilled, especially since I had felt like I had taken a big risk by making it and wasn't sure how it would received.  It was a good feeling! 
They also really enjoyed our goat cheese ice cream (courtesy of Amy—our pastry student teammate!) and panna cotta.  Overall, all of us did a really good job, especially after an exhausting previous two day's of restaurant challenge and it was fun to work with the pastry students for a change of pace.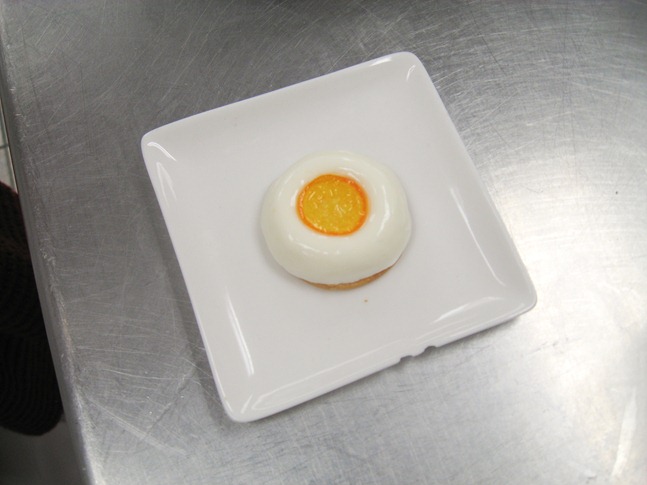 This coming week, we have two days of production, as well as our second wine class, and a field trip on Thursday to Boxwood Winery in Middleburg, VA.
On Friday, we head back to school to have our fifth market basket!  And then the following week, we have our 5th practical exam, which is known for beingvery difficult.  I'm going to try not to think about that though and enjoy this coming week!
Hope you all had a great weekend! 
This post contains affiliate links, which means that I make a small commission off items you purchase at no additional cost to you. Please read my
privacy policy
for more information.