Day 83 & 84: Pate, Merguez, Rack of Lamb, & Le Fraisier
e ended last week with another full day of production on Thursday, followed by a tough Market Basket challenge on Friday, where our head judge was Chef R.J.  Cooper from the restaurant, Rogue24, in downtown DC.
Our first course on Thursday's menu was duck pate, wrapped in puff pastry and baked in the oven.  We had actually started making the pate at the beginning of the week, so it was marinating and developing flavor for basically three days before we put finally this together.  I'm not usually a pate fan, but this was very good.  It is a recipe that the school has been tweaking and perfecting for years now!  The toughest part of this dish is making sure that you roll the puff pastry thin enough that it cooks through, but also does not get soggy from the moisture of the pate.  The little silver things on the sheet trays are actually "chimneys" we fashioned out of aluminum foil to help some of the steam escape during the cooking process!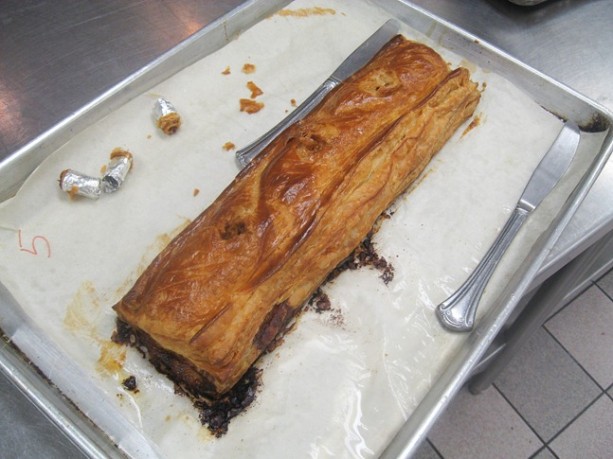 We served slices of the pate with a truffle sauce, made with espagnol, shallots, Madeira, and a few herbs.  At the last minute, we also added a small drizzle of Black Truffle oil on top!  I love truffles.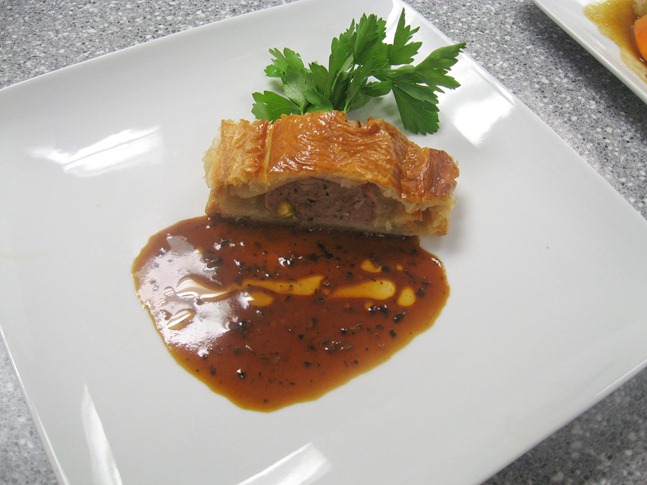 Our main dish was a rack of lamb, which we each team was responsible for trimming, Frenching, and portioning into double lamb chops.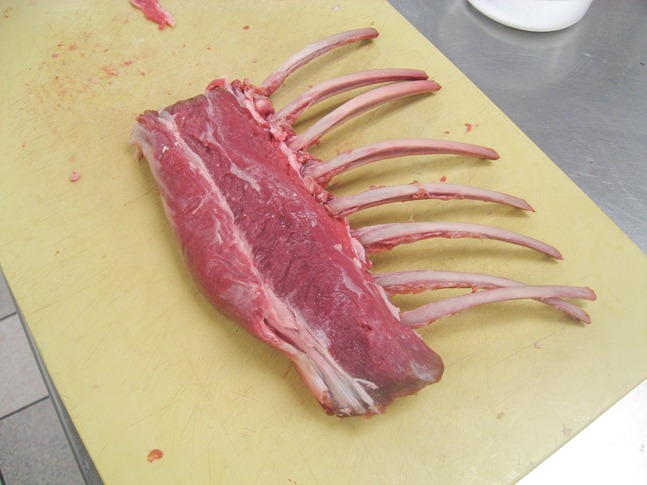 It was served with a Harissa jus, couscous, chickpeas & tourneed vegetables.  Along with the lamb chops, we also served some grilled Merguez (a North African lamb sausage—which Chef Patrice demoed and made for us the previous afternoon).  All of it was delicious! 
I even got to try my hand at using a massive cleaver to trim the bones, which is terrifying, especially after having witnessed an minor (but still not pretty) injury with one in Phase I.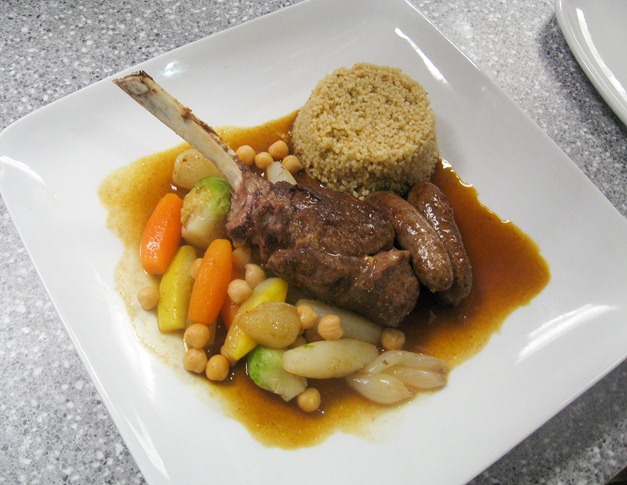 Our dessert of the day was Le Fraisier and equally as delicious as the other dishes of the day.  We actually assembled this the afternoon before, because it needed to set in the fridge overnight.  We molded these in little tall rings.  The base was a genoise sponge cake (which we had on hand in the freezer), brushed with simple syrup.  We then outlined the edge of the rings with sliced strawberry and filled it with a mixture of pastry cream (with gelatin) and whipped cream. 
To decorate it the next day, we topped it off with a thin ring of green marzipan and a glazed strawberry.  It was very light, summery, and I could have eaten several of them in one sitting.  It reminded me a lot of a cake I tested out for my older sister's wedding this coming August!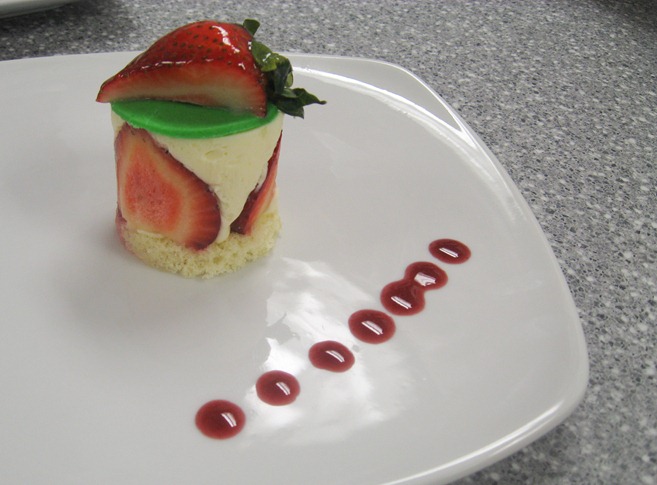 The afternoon was spent finding out our ingredients for the following day's Market Basket challenge (our last of the program!).  They included: a cold soup, whole Rockfish, & fresh peaches.  Unfortunately, the peaches smelled really good, but tasted very bland and watery (which I kinda expected given the season), but we all made it work.  In the end, Kevin & I ended up making the following:

Pan Seared Rockfish Filet with Colcannon Pommes Roesti, Baby Carrots, & Lime Beurre Blanc
Caramelized Peach Bavarian Cream
I think we were all a little apprehensive of what the visiting chef would say about all of our dishes (as he is known to be very tough), but overall, he said we did well and the food was good.  In fact, we all tied for first place in the end.  He did let one winner be picked out a deck of cards though and that team won a stage (working interview) at his restaurant, followed by a 10-course meal, which is pretty cool (P.S. my team did not win).
After spending Saturday off, I then headed into my externship restaurant on Sunday night for my first shift!!  It was a surreal and I still can't quite believe I will be there full-time in less than two weeks…I will share more details soon! 
This post contains affiliate links, which means that I make a small commission off items you purchase at no additional cost to you. Please read my
privacy policy
for more information.