Six Course Tasting Menu Challenge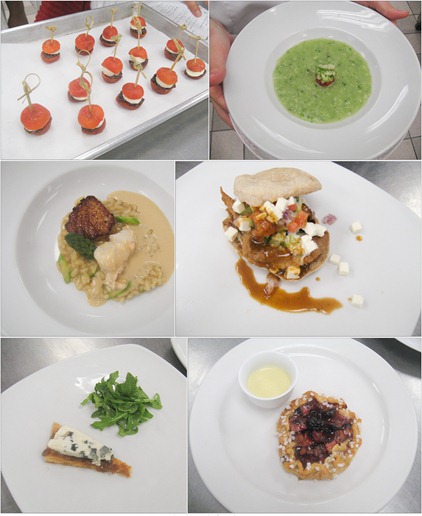 This past week at school started off a bit differently than usual.  On Wednesday, we were responsible for coming up with a six-course tasting menu to be judged by three visiting judges, as well as the director of the school, Chef Patrice, and some visitors.  It was basically a bigger version of a Market Basket challenge, except instead of working in our regular teams of two, the entire class was broken into two teams—girls vs.  the guys.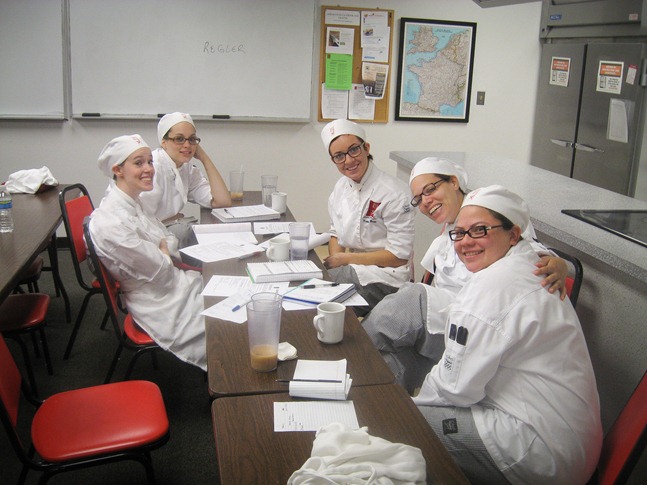 Instead of having our regular demo and production day on Tuesday, we spent the morning discussing the challenge.  We then broke into teams to come up with a menu and game plan.  Similar to Market Basket, we were given some ingredients that we had to work with, as well as the order and type of dishes we had to incorporate into the day's menu.  Overall, each team was responsible for the following:
Two Amuse Buche dishes
Soup Course
Seafood Course—using fresh lobster & sea scallops
Granite (shaved ice course)
Meat Course—each team was given an entire leg of lamb
Cheese Course—using Roquefort
Dessert—using fresh rhubarb
Two Mignardise—bite size desserts
After discussing it amongst ourselves, each team came up with the following menu (Team A = girls, Team B = the guys)… 

Once we came up with a game plan, we discussed everything with Chef Patrice, who gave advice and input, and then we were allowed to spend the rest of the day prepping and getting as much as we could ready for the next day's service.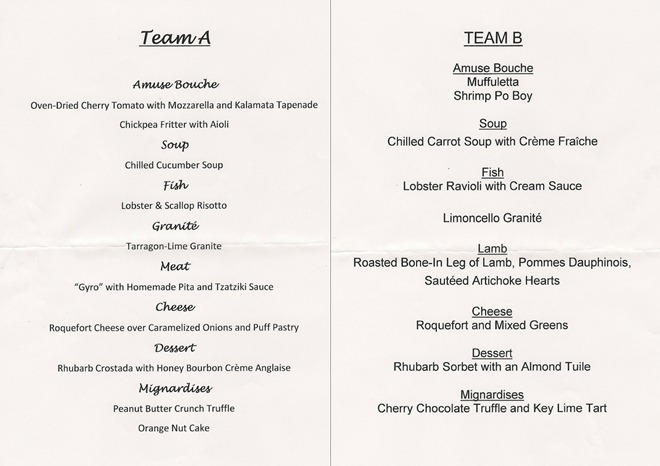 Though a bunch of us took on specific dishes and components, we all pretty much worked a team for the entire challenge, which was a lot of fun.  After getting a decent amount of prep work done on Tuesday (including making homemade pita dough for our "gyro"!), we came in the following morning and got the rest of the work done for service…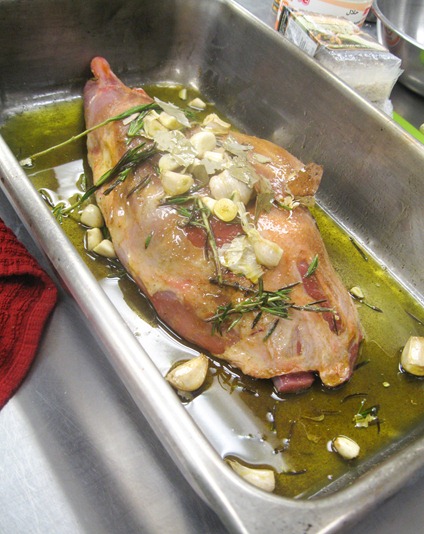 Overall, we had to plate 9 of each course, which we started sending out at 12:30 the next day.  Our visiting judges were the Executive Chef from Bibiana, Nick Stefanelli, Executive Chef from Bourbon Steak in DC, Adam Sobel, and a food writer from the Washington Post, Tim Carman.
Our amuse buche was a chickpea fritter, served with a homemade aioli, as well as oven dried cherry tomatoes, with kalamata olive tapenade, and handmade mozzarella (which Chef Michel luckily helped us make, after discovering that the mozzarella we had at school was not useable)—as shown below.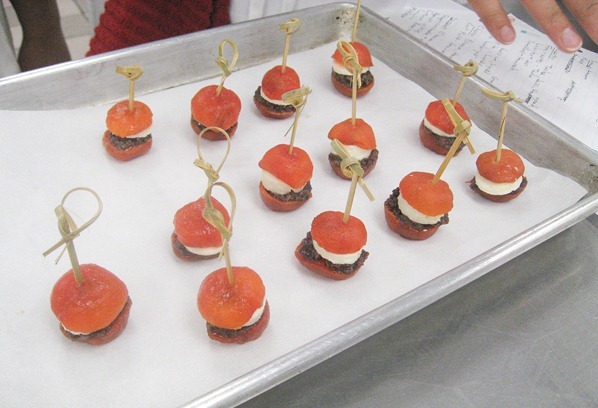 Our next course was a chilled cucumber soup, served with brunoised red pepper, cucumber, and a small amount of fresh avocado (the same one Blanca and I made for Market Basket several weeks ago!). 
This was followed by our seafood course, which was an asparagus risotto, served with a seared scallop, fresh lobster, and a lobster cream sauce.  It was a bit intimidating making risotto for an Italian Chef, but he ended up saying it was cooked excellently, it just needed to be a bit more fluid!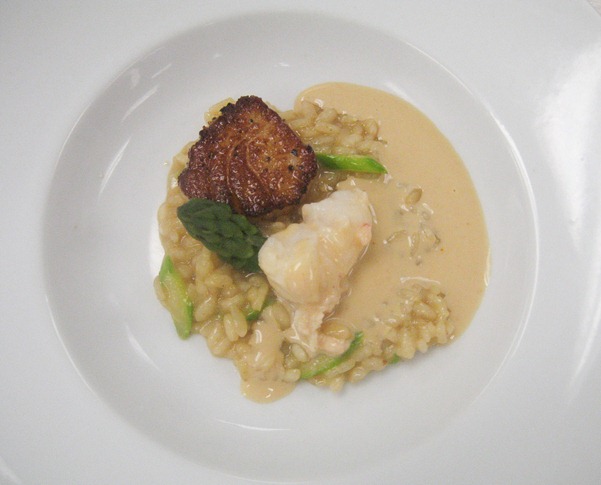 Following our seafood course, we served a small shot glass of granita, which we made the previous day, using fresh lime juice, tarragon, and sparkling wine.  The purpose of a granita is to really open up your pallet for the next courses..
Next, we had our main meat course, which was a gyro "sandwich" using homemade pita, roasted leg of lamb (marinated with olive oil, garlic, rosemary), a homemade tzatziki sauce (so good!), brunoised feta, tomato, cucumber, and red onion.  We also made a lamb jus using bones to add a bit more moisture and flavor.  This was probably our most risky dish of the day, given that it was a bit untraditional, but they ended up really liking the flavor.  However, they weren't sold on the idea of serving a sandwich in a tasting menu….
We all enjoyed eating leftovers for lunch though!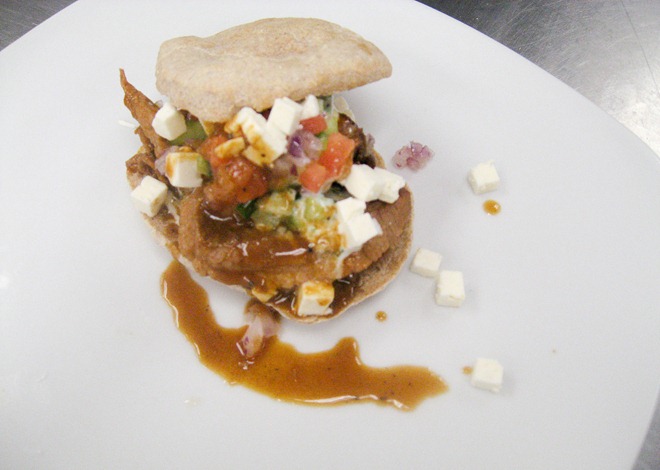 We followed this with a cheese course, which was a simple dish with puff pastry, topped with caramelized onion, and a wedge of Roquefort.  We also added a small amount of arugula salad on the side…
And, lastly, we made a Rhubarb Crostada with a Vanilla-Bourbon Crème Anglaise (we originally wanted to make an ice cream, but it did not set properly…) topped with a blackberry sauce. All of the judges loved the flavor and overall dish, but did think it was a bit too rustic in presentation…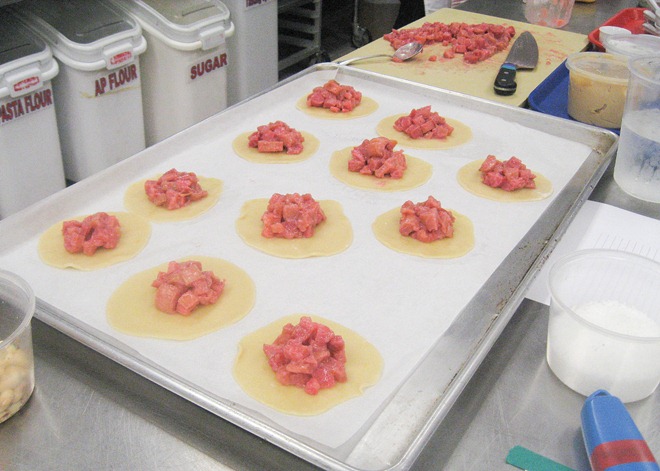 And lastly, we served two mignardise to follow:  orange nut cake (which, in hindsight, we should have called a baklava cake) and a peanut butter crunch truffle. 
After serving our tasting menu, we then went into the classroom, where the visiting judges, as well as school director, came in to give us their feedback on each course from both teams.  At the beginning of the challenge, we were also told that the winning team would receive two points on the next practical exam, but I was really looking forward to hearing their thoughts on all of the food.
Overall, they were extremely positive about almost everything, minus a few details here and there about presentation.  Every visiting judge said that our flavors, quality and seasoning were great, which is really nice to hear at this stage of the program, and probably the biggest compliment we could receive at this point.
In the reviews, we got: "excellent", "outstanding", "delicious", "creative", and "beautiful".  It felt really good!  I think in the end, they enjoyed our amuse buche (particularly the fritter), Lobster & Scallop risotto, gryo (for flavor), and Crostada the most out of the entire menu.
And…Team A (the girls team!) ended up winning!!  It was a really fun day and a nice feedback to receive as we are getting ready to leave and start our externships.  The two points were an added bonus…
Back soon with an update on our last official day of production!  Have a great weekend! 
This post contains affiliate links, which means that I make a small commission off items you purchase at no additional cost to you. Please read my
privacy policy
for more information.