Easy Chicken Snow Pea Stir Fry
An easy chicken snow pea stir fry with bell peppers and flavored with a fresh ginger, garlic, sambal oelek, and soy sauce, this meal comes together in 30 minutes.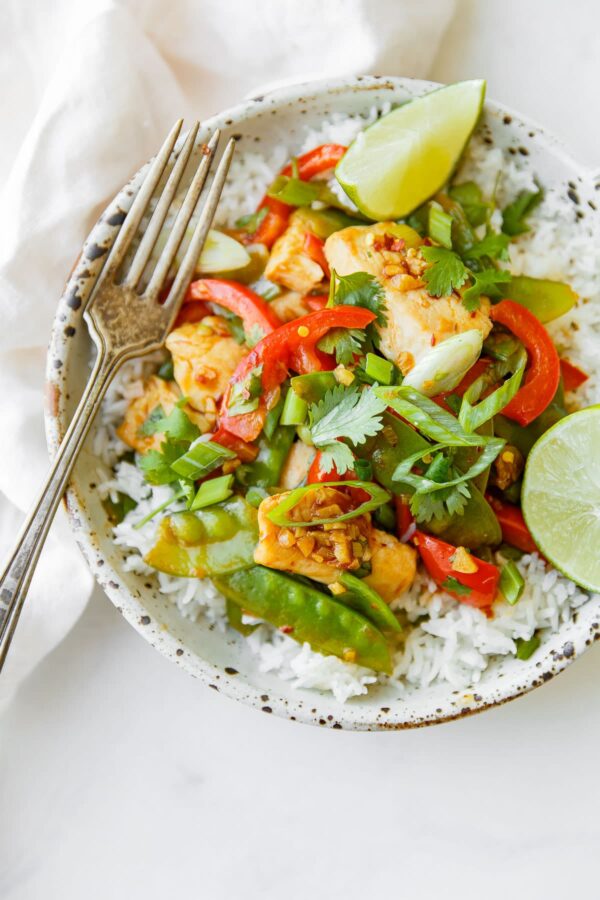 Easy Chicken Snow Pea Stir Fry
I've been on such a stir fry kick lately! My stir fry consumption these past few months has been fairly high. For whatever reason, I'm just really into them lately. One of my favorites is this easy shrimp stir fry. I've been wanting to make a simple chicken version of that dish for a while, and recently decided to go for it.
This dish comes together extremely quickly, making it an ideal weeknight dinner when you are looking for something flavorful, fast, and easy. Most of the flavors come from staple ingredients in my pantry and fridge, such as fresh garlic, ginger, soy sauce, sambal oelek (chili paste), and sesame oil.
The rest of the fresh produce in this chicken snow pea stir fry are easily accessible, and fairly interchangeable. Just be sure to use ingredients that will are ideal for a stir fry situation (ie. ones that cook quickly!).
I love, love, love to serve this with homemade coconut rice (recipe coming soon!). 
While steamed jasmine or brown rice will complement this dish just as well, the creaminess and slight sweetness of coconut rice adds another dimension of flavor and kicks this entire dish up another notch.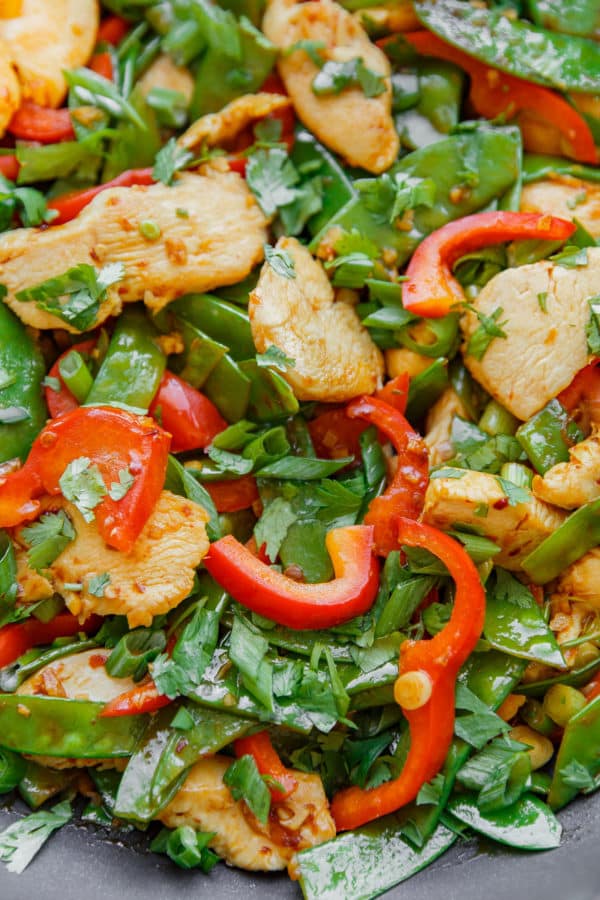 Tips to Easy Chicken Stir Fry Recipe Success:
Dark Soy Sauce is richer in flavor than regular soy sauce (ie. commonly referred to as 'light' soy sauce in Asian cooking – not to be confused with low-sodium soy sauce!). It has notes of mushroom and is far more syrup-y in texture to standard soy sauce. It can be a trickier to find, but is a wonderful ingredient to keep on hand if you wish to delve into more authentic Asian cooking. Dark soy sauce can be purchased online or found in most specialty Asian grocery stores. I recommend Pearl River Bridge brand (affiliate link). If you cannot find or don't wish to purchase it, feel free to substitute with your average store-bought soy sauce, adjusting the amount as necessary to suit your taste – you might need a touch more!
Sambal Oelek (ground chili paste) can be found in the Asian aisle of most super markets. Huy Fong Foods is a good everyday brand (affiliate link). If you are sensitive to spicy foods, feel free to reduce the quantity slightly. If you love spicy foods, increase as desired.
Fresh herbs, such as cilantro, can take your average stir fry to another level. While I've listed cilantro in this recipe, Thai basil leaves and/or fresh torn mint leaves would be great as well.