Southwest Quinoa Salad
An easy southwest quinoa salad with black beans, grape tomatoes, jalapeño, red onion, cotija, fire roasted corn, avocado, and lime vinaigrette. This flavorful salad can be made up to a day in advance, and is ideal for summer potlucks and barbecues.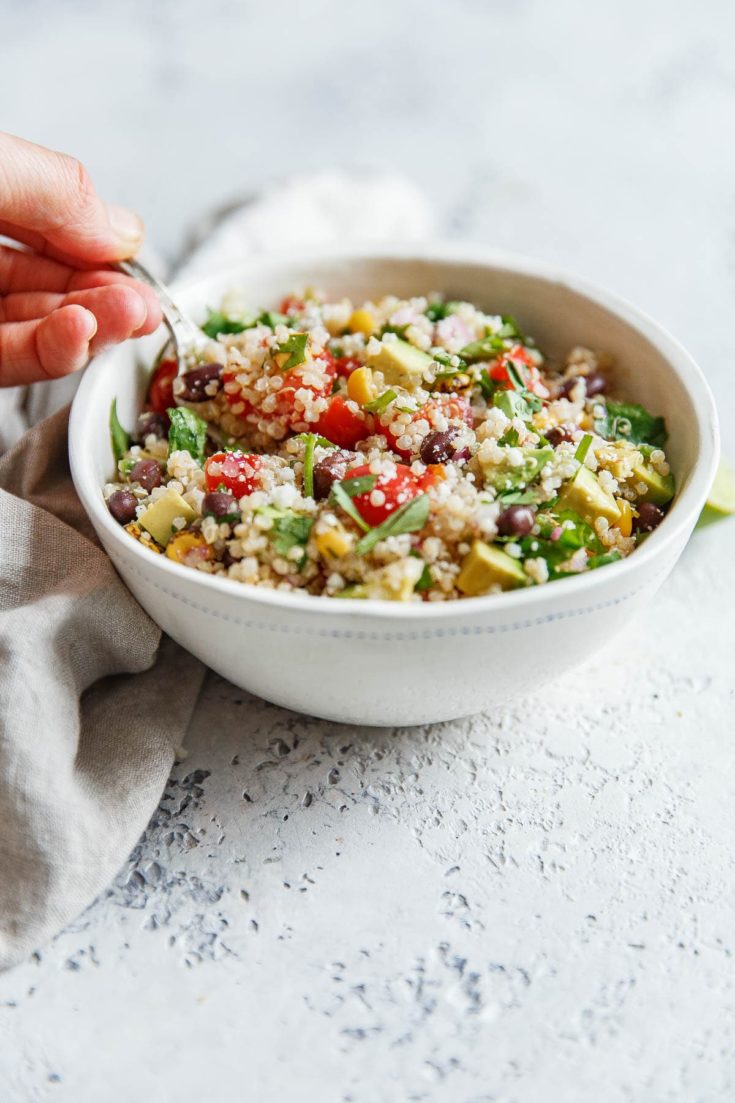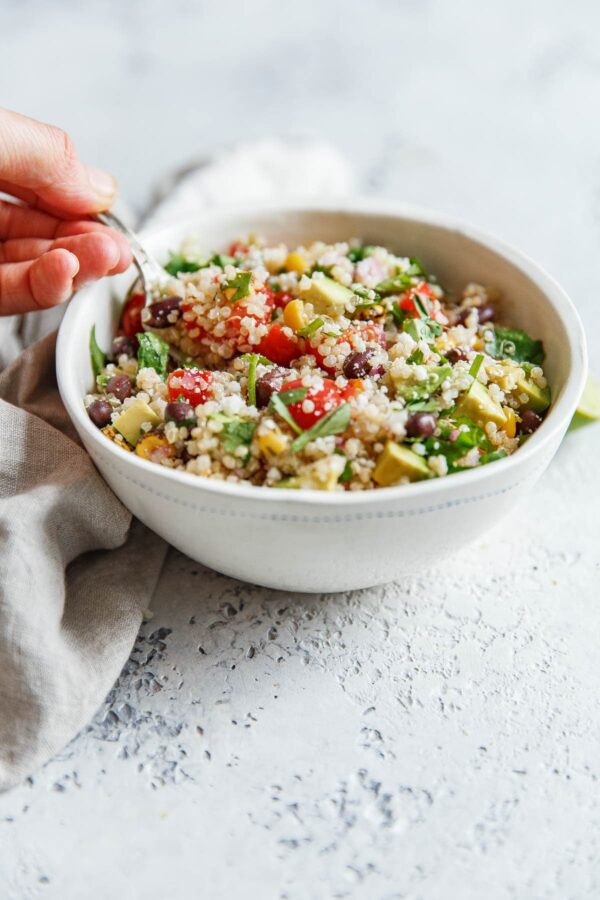 This post is sponsored by Bob's Red Mill.
Since developing today's recipe, this southwest quinoa salad has made an appearance in my kitchen more times than I count. Every time that I prepare it, I'm just as thrilled to reach into the refrigerator and pull out the leftovers.
On its own, this quinoa salad makes for a delicious, balanced, and nutritious meal. It can also be served as a side dish with dinner (another reason to whip up a batch immediately!) or prepared up to a day in advance and taken to summer potlucks or barbecues!
Not only does it hold up extremely well (it actually tastes best after the flavors have had time to macerate together!), but it's zesty and bursting with summer flavor. Juicy grape tomatoes, black beans, jalapeño, fire roasted corn, cilantro, red onion, ground cumin, avocado, salty cotija cheese, and a simple fresh lime juice vinaigrette.
So simple, yet so delicious.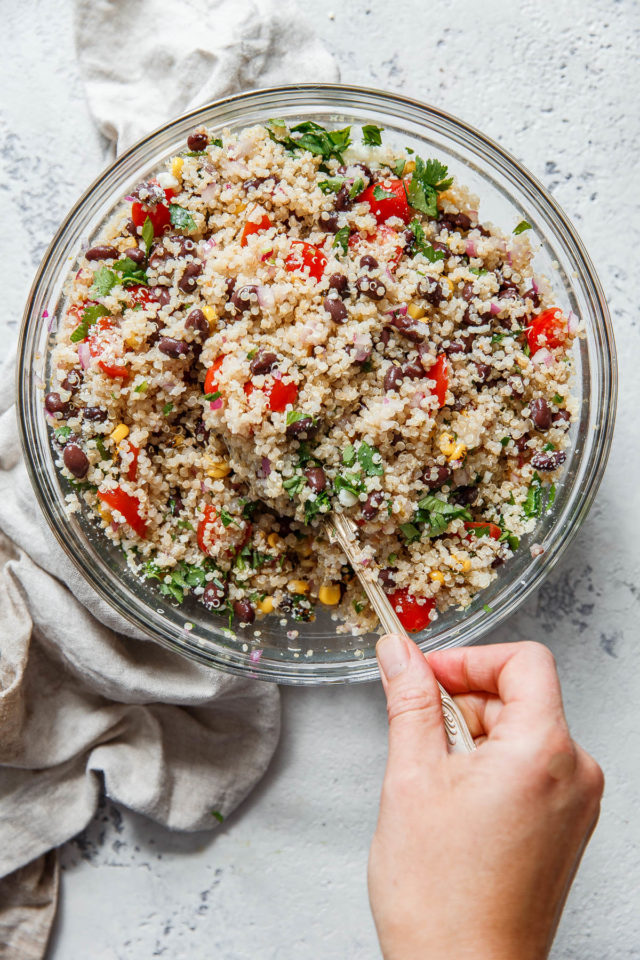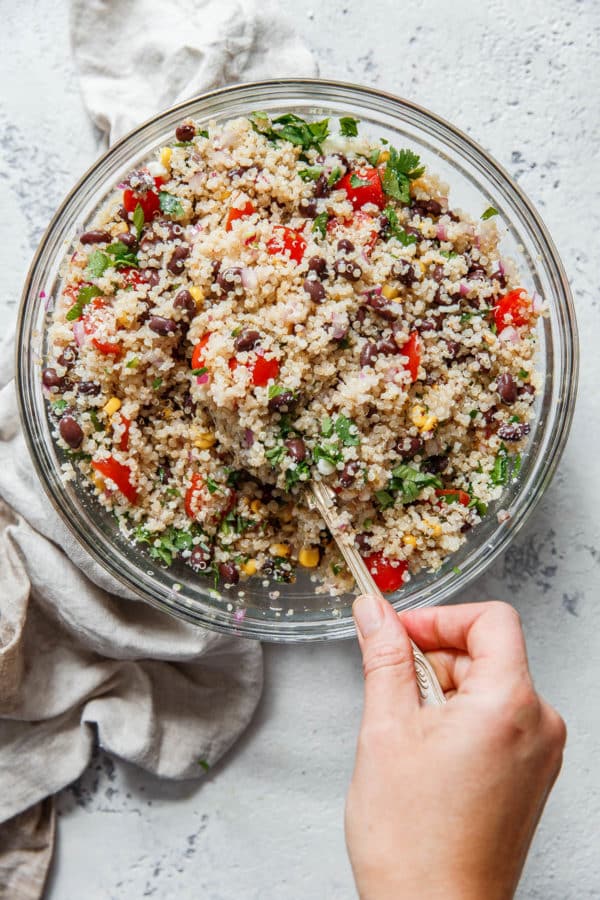 As you can probably tell, the base of the salad is cooked quinoa. This recipe is part of a year-long partnership (and one of my favorite long-term partners) with Bob's Red Mill, my favorite source for whole grains, flours, and cereals.
This spring, we prepared a decadent lemon coconut cake with fresh berries. This time, we're going zesty and savory with their organic white quinoa. I've even included a new cooking video below too!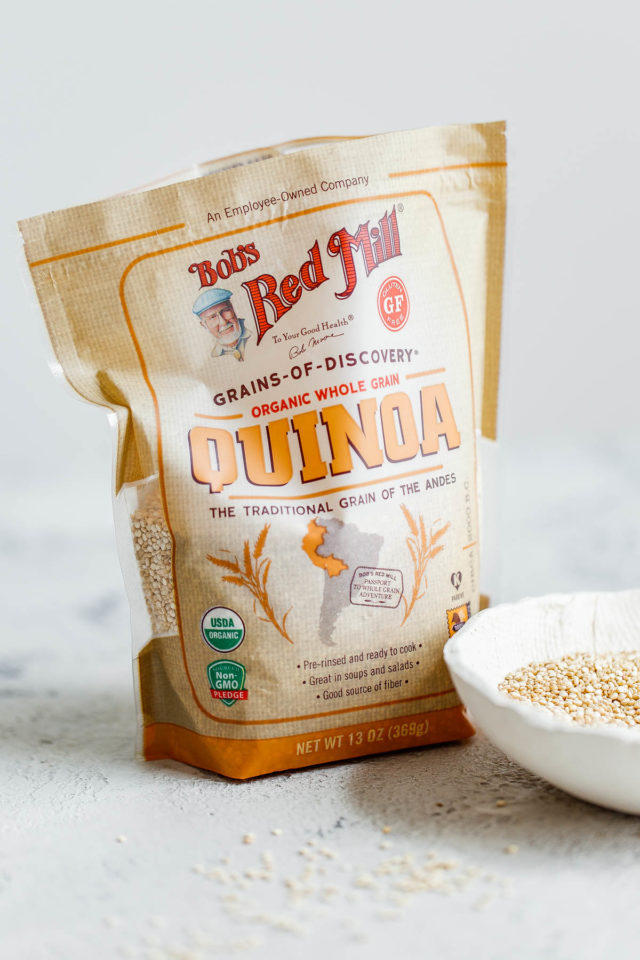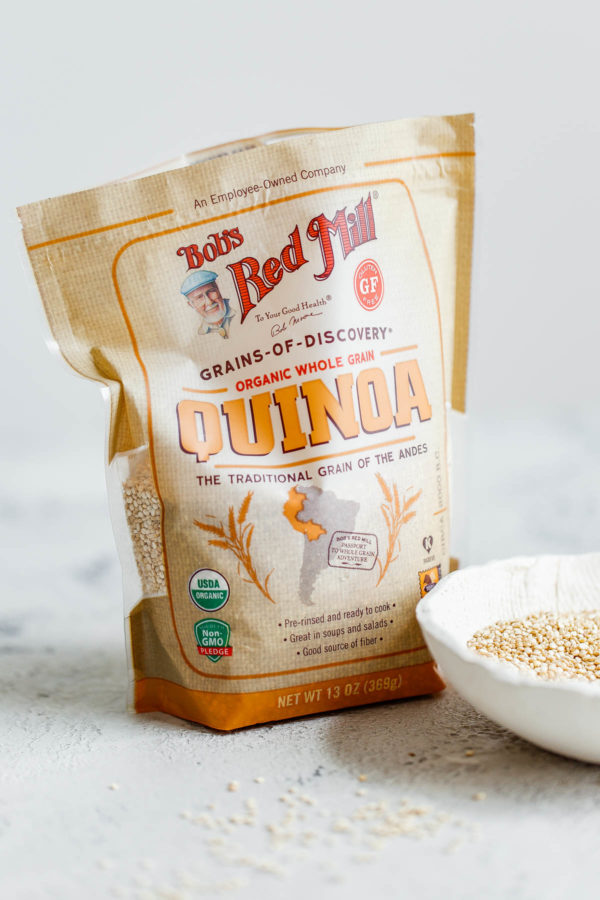 What is Quinoa?
Quinoa (pronounced KEEN-wah) has been a staple in my pantry for years. Although it's technically a seed and pseudocereal, quinoa is my favorite "grain" of choice for cold salad preparations for a few reasons.
Firstly, it cooks extremely quickly. Secondly, once cooked it transforms into a soft, fluffy grain that absorbs other flavors incredibly well.


Since quinoa is not part of the wheat family (it is part of the amaranth family, and is closely related to spinach!), it's also naturally gluten free.
Quinoa is a nutritional powerhouse! It knocks almost every other traditional whole grain out of the park. It is a complete protein (which means it offers all nine essential amino acids) and is high in dietary fiber, protein, iron, and potassium.
I also happen to love it! We often cook up a batch of it on the weekends and add the leftovers to various dishes throughout the week. It's texture and mild flavor is universally appealing to even the pickiest of eaters.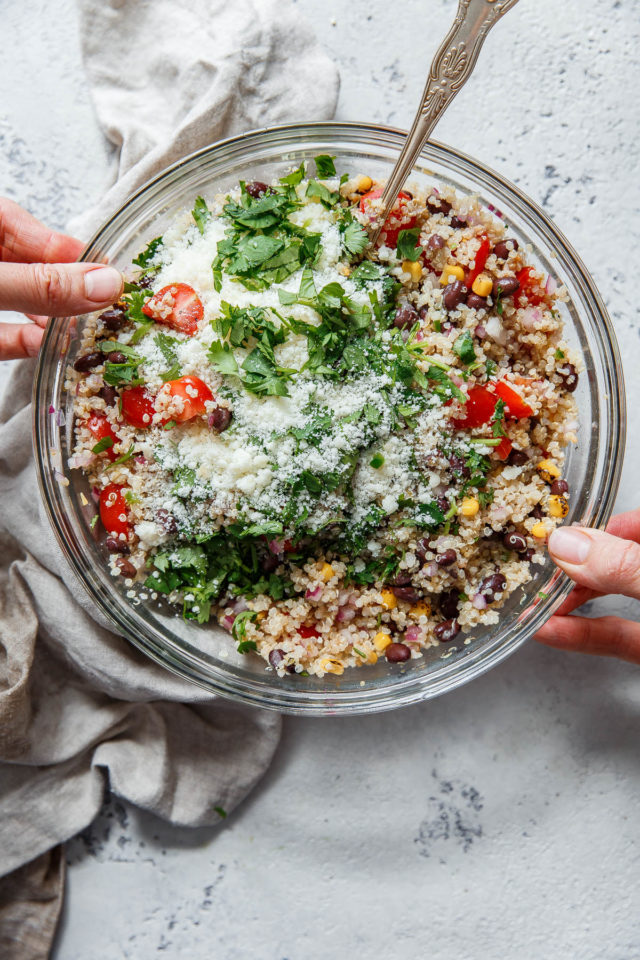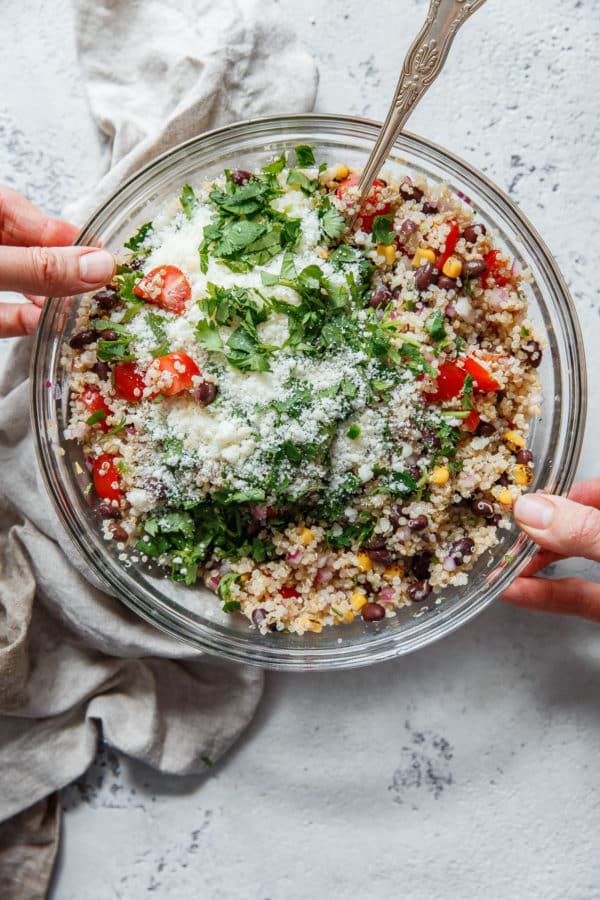 How to Properly Cook Quinoa:
There are a few important steps and tricks for cooking quinoa properly. Once harvested, quinoa grains have a natural coating called saponin, which if not rinsed off properly, can impart a soapy, bitter flavor to cooked quinoa.
One reason why I love Bob's Red Mill organic quinoa even more is that they pre-rinse the quinoa for you, which means that you can technically skip this step and just start cooking!
Unlike rice (where you combine the grains with cold water, bring it to a boil, simmer, and cover), you'll want to cook quinoa a bit differently. The best method for producing fluffy, properly cooked quinoa is to use a 2:1 ratio (water to quinoa) and bring a pot of water to boil first, then add the quinoa, reduce it to a simmer, cover, and continue cooking until the liquid is absorbed.
I've outlined the details of this method in the recipe below, but this ensures that each quinoa grain cooks evenly (without undercooking or worse, becoming mushy!). If quinoa is cooked properly, the individual grains should be fluffy and pop open to reveal a little white tail.


How to Cool Quinoa Quickly for Salads or Cold Preparations:
When meal-prepping or using it for cold applications, such as this southwest quinoa salad, the best way to cool quinoa quickly is to immediately transfer it to a large sheet pan.
Distributing the grains into an even thin layer (without compressing them) not only allows the quinoa to cool quickly (it will only take about 15 minutes if done this way!), but it also ensures that the quinoa at the bottom of the pot won't overcook as it's sitting off the heat.
This is my favorite trick for cooling all grains – keep it in your back pocket, you'll end up turning to it often!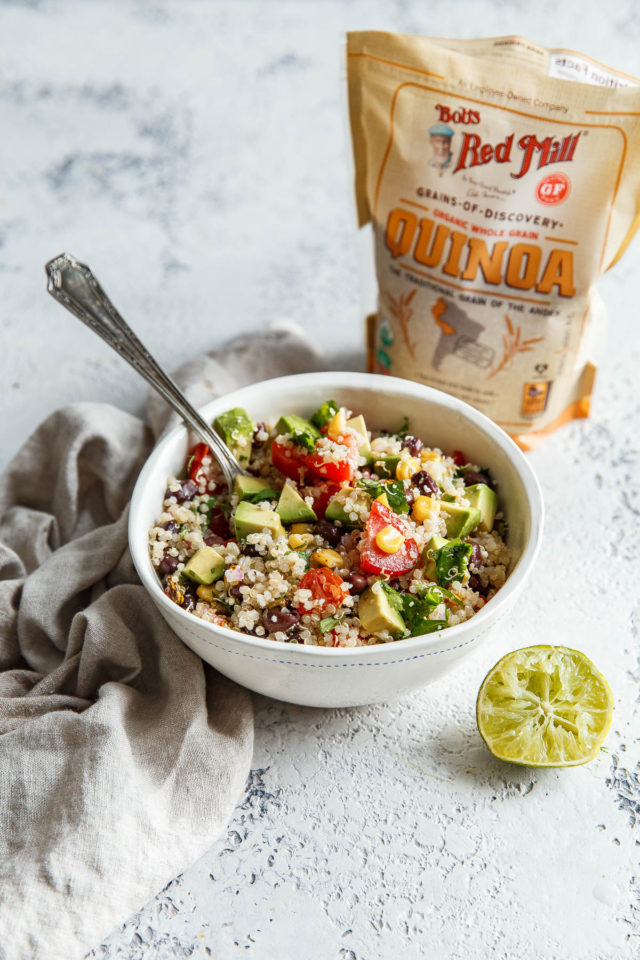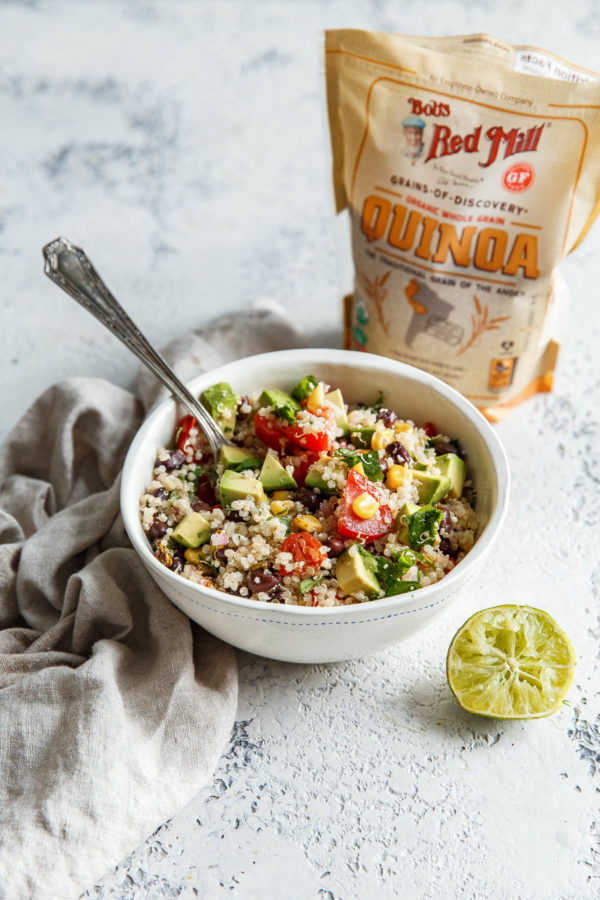 Why You'll Love this Southwest Quinoa Salad:
Once the quinoa has cooked and cooled, the rest of this salad comes together in minutes! You'll simply whisk up the dressing, combine the quinoa and other ingredients into a large bowl, pour on the vinaigrette, and gently mix.
The tomatoes, red onion, fire roasted corn (I use frozen, as an easy shortcut!), and cilantro add freshness to each bite. The black beans add heft and heartiness. The jalapeño provides a touch of heat. The Mexican cotija cheese adds just the right amount of funky saltiness, and the smoky cumin lime vinaigrette gives it a bright, acidic flavor.
Since avocado will oxidize quickly, I add it just before serving, along with another squeeze of fresh lime juice and a sprinkling of chopped cilantro. Hope you love this salad as much as I do!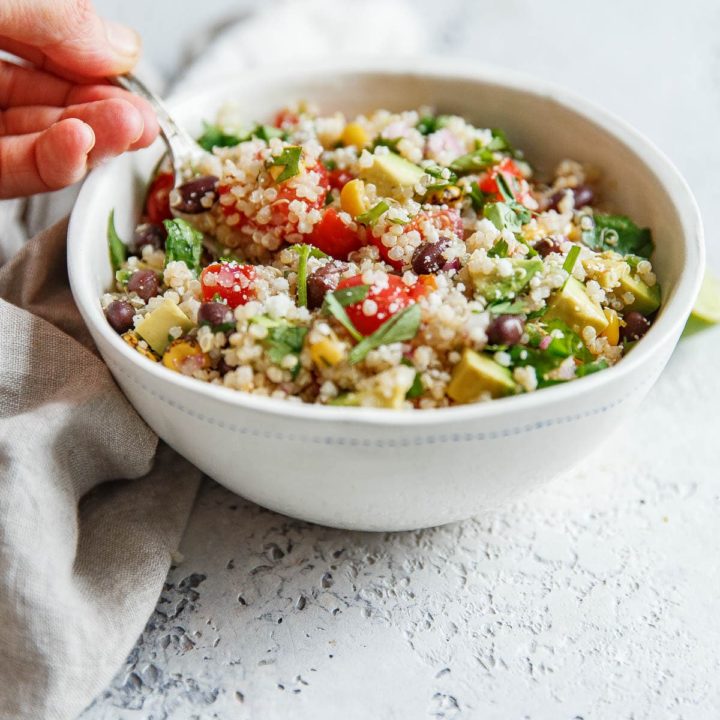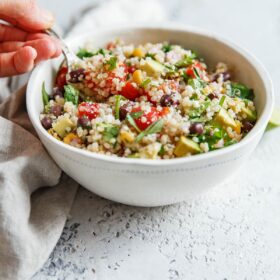 Southwest Quinoa Salad
An easy, flavorful southwestern quinoa salad with black beans, grape tomatoes, jalapeño, red onion, cotija, fire roasted corn, avocado, and lime vinaigrette. This grain salad is naturally gluten free and vegetarian, and can be prepared up to 24 hours in advance. Serve as a summer side dish or main course.
Ingredients
For the Vinaigrette:
zest 1 lime
¼ cup freshly squeezed lime juice (roughly 2 limes) plus more for serving
¾ teaspoon ground cumin
1 garlic clove grated with a microplane or pressed
3 tablespoons (45 mL) avocado oil (or other neutral oil)
½ teaspoon kosher salt plus more if needed
¼ teaspoon freshly ground black pepper
½ small red onion finely diced (about ½ cup)
For the Salad:
1 heaping cup (6 ounces) grape tomatoes quartered
1 (15 ounce) can black beans rinsed and drained well
½ cup frozen fire-roasted corn thawed and drained
½ jalapeño pepper seeds and ribs removed, and finely diced
⅓ cup crumbled cotija cheese
½ cup fresh cilantro leaves roughly chopped
1 ripe avocado pitted, peeled and diced
kosher salt as needed
Instructions
Prepare and Cook the Quinoa: Combine the water and salt in a medium saucepan with a tight-fitting lid. Bring to a boil. Add the quinoa, cover, and simmer over low heat until the liquid is absorbed and the quinoa is tender, about 17 to 20 minutes. Remove from the heat, fluff with a fork, cover, and allow to sit for an additional 10 minutes. Spread the cooked quinoa in a thin layer on a baking sheet (set on a cooling rack) and allow to cool completely. If prepping ahead of time, transfer the cooled quinoa to a large container and refrigerate for 2 to 3 days until ready to use. 

Prepare the Vinaigrette: Combine the lime zest, lime juice, cumin, and grated garlic in a small mixing bowl. Slowly pour in the avocado oil, whisking continuously until emulsified. Add the salt, black pepper, and diced red onion to the dressing. Stir to combine. Allow the mixture to sit for 5 to 10 minutes (allowing the mixture to sit helps cut the sharpness of raw garlic and onion). 

Assemble: In a large mixing bowl, combine the cooked (and cooled) quinoa, grape tomatoes, black beans, fire-roasted corn, jalapeño, and onion-vinaigrette mixture. Stir until well combined. Gently fold in the crumbled cotija cheese and cilantro. Season to taste with salt and pepper, adding more lime juice as desired. Cover and refrigerate the salad for at least 30 minutes or up to 24 hours in advance. *Note: While you can serve this salad immediately, it tastes best when it is allowed to sit and marinate for at least 30 minutes or longer).

Just before serving, fold in the diced avocado and a generous squeeze of fresh lime juice, as desired. Serve chilled or at room temperature. Leftovers can be stored in an airtight container in the fridge and kept for up to 3 to 5 days.
Tips for Success:
Make This Vegan: Omit the cheese.
Authentic cotija is a Mexican hard cow cheese with a dry texture similar to aged parmesan. Cotija produced in the United States can sometimes have a softer texture.
You can find crumbled cotija (or blocks of cotija) in the dairy section of most grocery stores. Although different in flavor profile, a good and more readily available substitute would be crumbled feta cheese. You can also omit the cheese altogether.
Serving: 1serving, Calories: 308kcal, Carbohydrates: 36g, Protein: 10g, Fat: 15g, Saturated Fat: 3g, Polyunsaturated Fat: 10g, Cholesterol: 12mg, Sodium: 641mg, Fiber: 7g, Sugar: 3g
This post is sponsored by Bob's Red Mill. Thank you for supporting brands I love and use in my kitchen. Check out more delicious healthy recipes, snag coupons, and find stores near you at BobsRedMill.com!
This post contains affiliate links, which means that I make a small commission off items you purchase at no additional cost to you. Please read my
privacy policy
for more information.