Easy Blueberry Muffins – this whole wheat blueberry muffins recipe gets its fluffy, moist texture from buttermilk, frozen wild blueberries, and coconut oil.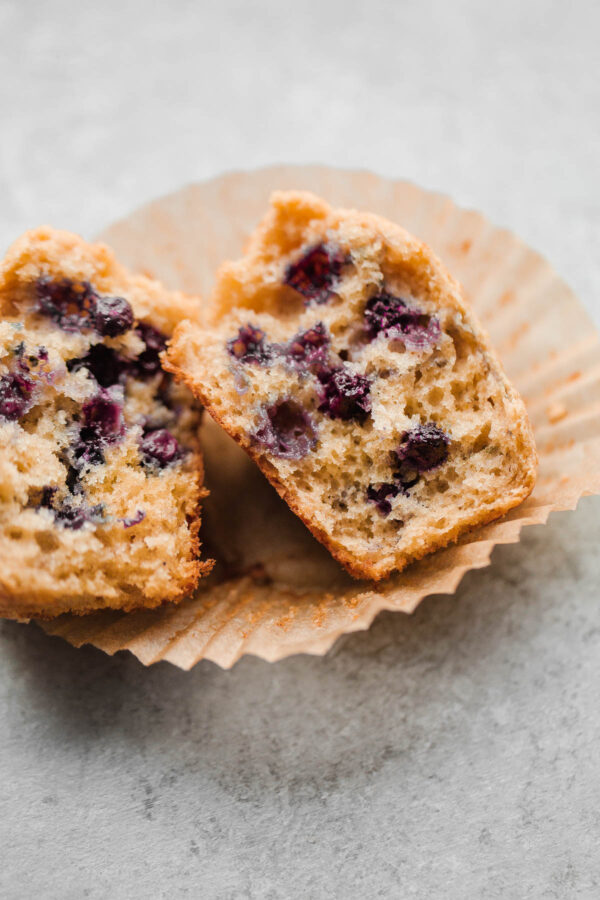 Easy Blueberry Muffins
I've had an unexplained infatuation with blueberry muffins for as long as I can remember. I don't even understand where the obsession began, but I've been searching for an incredible blueberry muffin recipe for a very long time.
To be specific, a whole wheat blueberry muffin recipe that doesn't have that cloying, stick-to-the-top of your mouth texture and flavor that is common in generic blueberry muffins. You know the ones I'm talking about? Well, I've finally met my match.
These whole wheat blueberry muffins are the polar opposite of that. They're incredibly tender, fluffy, and packed with frozen wild blueberries, which means that you can bake these up any day of the year. They have a perfect balance of sweetness complemented by a touch of cinnamon and crunchy Demerara sugar topping.
The batter comes together in a grand total of 10 minutes (or less!) with just two mixing bowls.  Let's do this.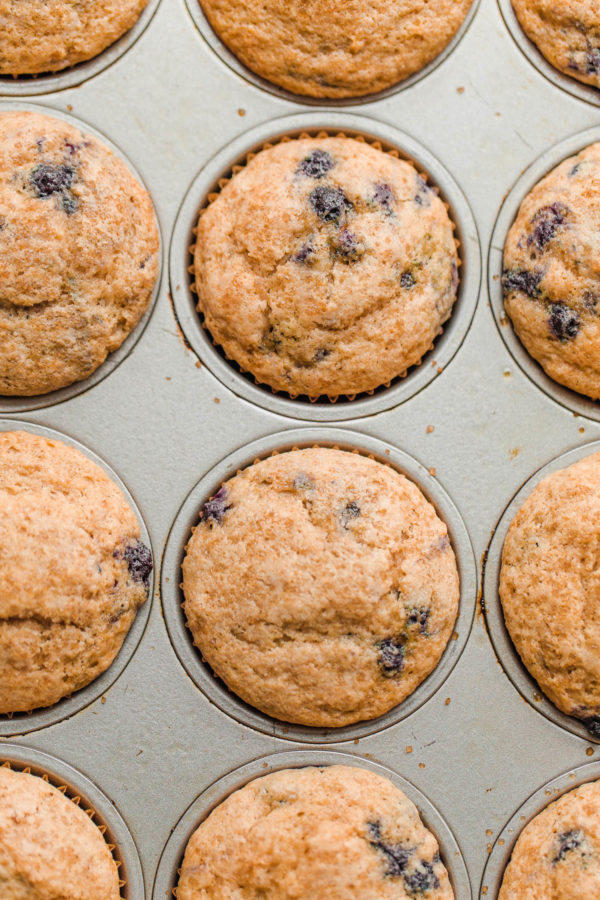 How to Make Fluffy Whole Wheat Blueberry Muffins:
Many basic blueberry muffins are insanely sweet and offer little to no nutritional value. In fact, I'm pretty sure it's a classic example of muffins masquerading as cake.
While there is nothing wrong with that every now and then, I wanted to create a whole wheat blueberry muffin recipe that was just as fluffy and tender and offered some nutritional value. To achieve this, I turned to one of my favorite baking staples: whole wheat pastry flour. 
Whole wheat pastry flour is made with soft winter wheat and contains lower protein than traditional whole wheat flour and all-purpose flour. Less protein ensures a tender crumb and produces an incredibly soft, fluffy texture. I always keep a bag of it on hand. Since all whole wheat flours contain natural oils and are more likely to go rancid, I store the flour in my freezer. Just remember to bring it to room temperature before using in this recipe.
–> To understand more of the science behind this, check out my baking science post on different types of baking flour.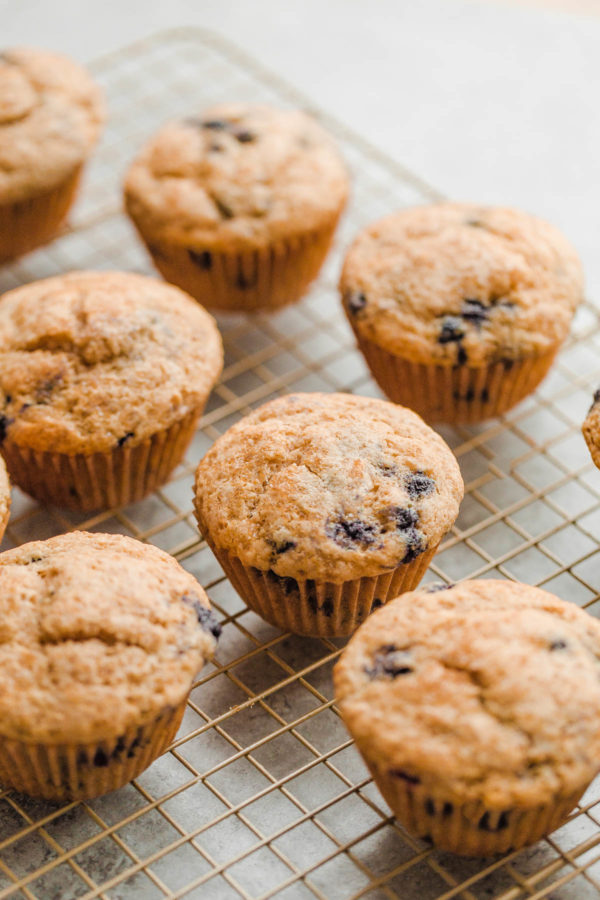 Ingredient Breakdown:
---
-> WHOLE WHEAT PASTRY FLOUR – whole wheat pastry flour is made from soft winter wheat and is lower in protein than all-purpose or regular whole wheat flour, producing an extra tender muffin. If you don't have it on hand, feel free to substitute white whole wheat flour or all-purpose.
-> BUTTERMILK – the acidity in buttermilk helps break down gluten strands (which can lead to tough muffins). A slightly thinner batter improves rise and helps create an even domed muffin top.
-> COCONUT OIL – oil-based baked goods generally retain their moisture better than butter-based baked goods, allowing them to hold up fairly well. Coconut oil is more nutritious and less processed than standard vegetable or canola oils.  Unrefined, cold-pressed virgin coconut oil offers a stronger coconut flavor (although it is undetectable in these muffins!) than refined coconut oil. Either option will work for these easy blueberry muffins.
Baking Tip: Coconut oil is solid at temperatures below 76 degrees, I spoon mine into a measuring cup and microwave it at 10 second intervals until it reaches liquid state.
-> FROZEN WILD BLUEBERRIES – wild blueberries are my secret weapon for these blueberry muffins. I find that they lend themselves to better distribution and ensure the batter is not weighed down. Not only are wild blueberries affordable and available year-round, they have a more concentrated flavor (due to their lower moisture level) than fresh or frozen regular blueberries. They are also much higher in antioxidants.
---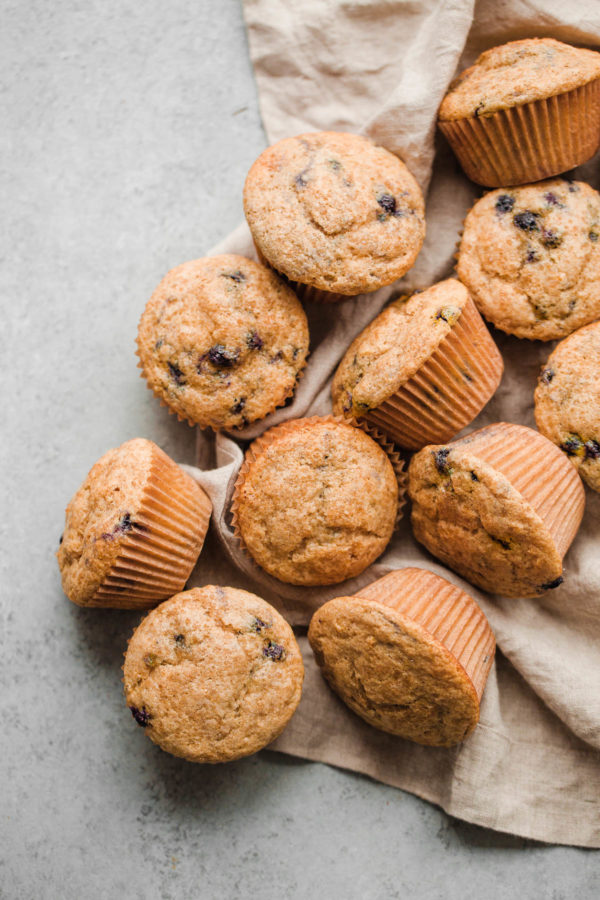 Looking for more blueberry recipes? Try this blueberry almond tea cake, gluten free dutch baby, or these whole wheat blueberry pancakes.
Tools and Ingredients Used In This Recipe: