Egg, Cheddar, and Green Harissa Puff Pastry Squares
This post contains affiliate links.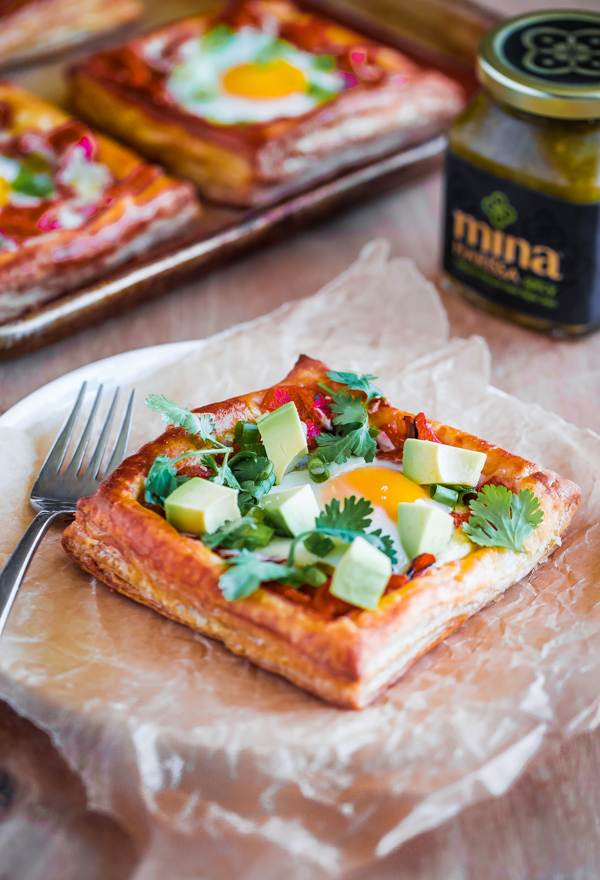 So, this recipe was inspired by my absolute favorite breakfast as of late. I think I've made it five times in the last two weeks. I've been guilty of getting into a breakfast rut in the past, but this is a good rut. I would totally sit (stand?) in this rut for weeks on end.
Eggs, Mina Harissa, cheddar. Some version of that trifecta of deliciousness. It is that simple. I've assembled it in corn tortillas with scrambled eggs, enjoyed it without a carb-olicious vehicle, and now I've gone ahead and plopped it into a flaky, sky-high puff pastry square. Because I enjoy carbs and prefer this kind of wedding diet. Puff pastry wedding diets are fun, haven't you heard? Allllll the rage .
Oh yes, and I added some fresh roasted red peppers, cilantro, scallions, and diced avocado. There is so much texture and flavor in every bite. Yes. And these are perfect for any meal of the day: breakfast, lunch, or dinner! Or even snack? I won't judge.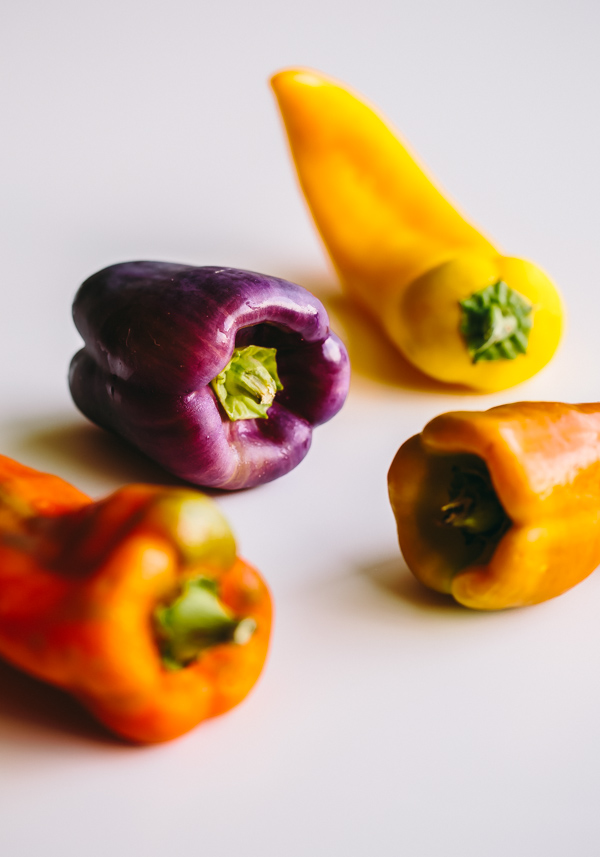 As you can probably guess, I've teamed up with Mina Harissa to bring you another tasty recipe using their line of harissa sauces! I'm sure you have all noticed, even if you've only been reading the blog for a short length of time, that I don't team up with many companies or products for sponsored content.
I'm extremely picky about what I share with you all, and only want to share the best of the best. In other words, things that I would go to the store and buy with my own money. The type of products that I happily use on a regular basis and vouch for, and ones that only contain high-quality (and relatively few) ingredients.
It needs to feel au naturale and authentic, you know?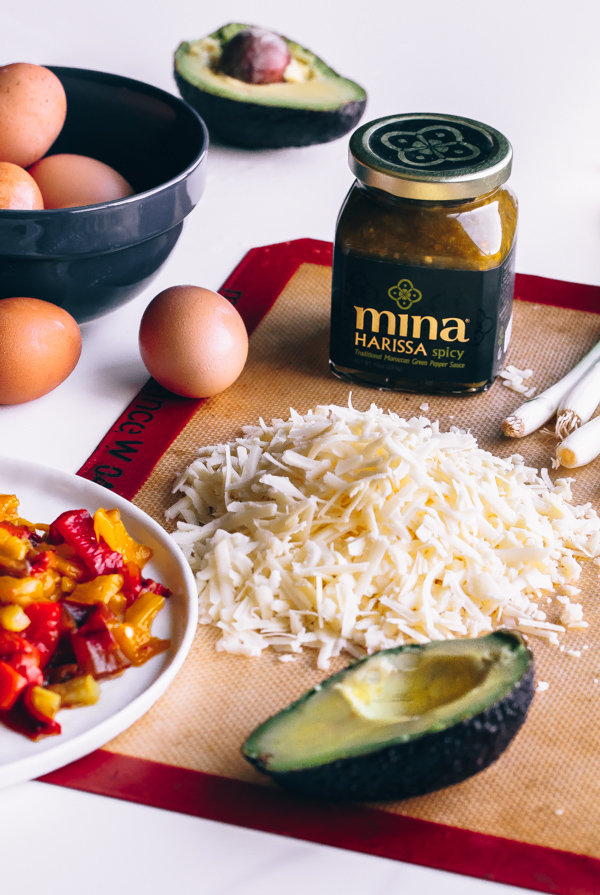 I can honestly say that I've had so much fun working with these sauces! Not to mention, the family behind the brand (Mina, herself!). Their harissas are so versatile, and the possibilities for using them are truly endless.
I've put them on pizza, used them as a seafood and meat marinade, added them to soups, and spread them on sandwiches. You name it, and I've probably put harissa on or in it.
It is an easy and simple way to add a ton of flavor and spice to a dish. I love that.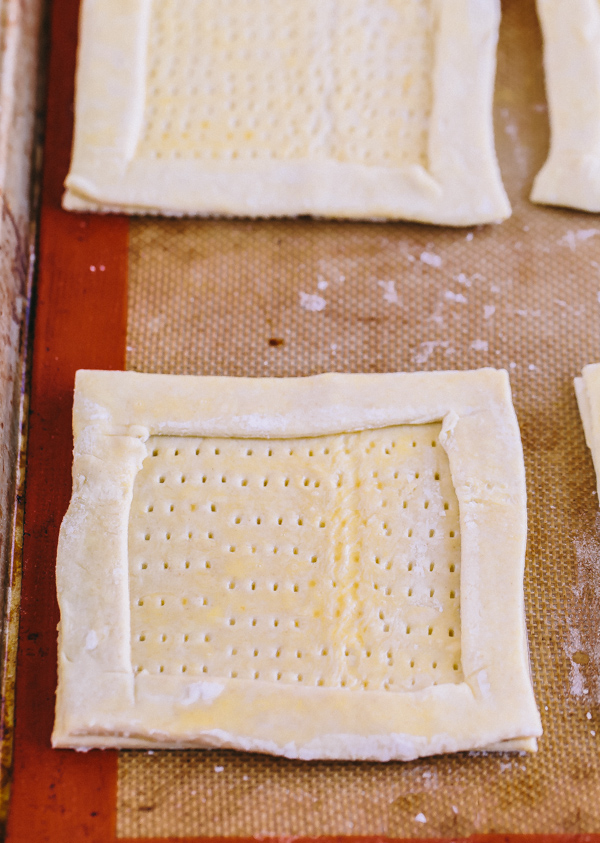 Classic harissa has become relatively popular over the last year or two, but I still feel like green harissa is on the up and up.
Mina's classic harissa and green harissa are equally as spicy, but unlike traditional harissa, which is made with red peppers, green harissa is made with green peppers. I love the contrast in color that green harissa can give to a dish.
For example, I've been dying to make a harissa mac and cheese (it's on my cooking agenda!), and I definitely plan on using green harissa when I do. Red harissa and white bechamel wouldn't create the most appetizing color combination..if you know what I mean.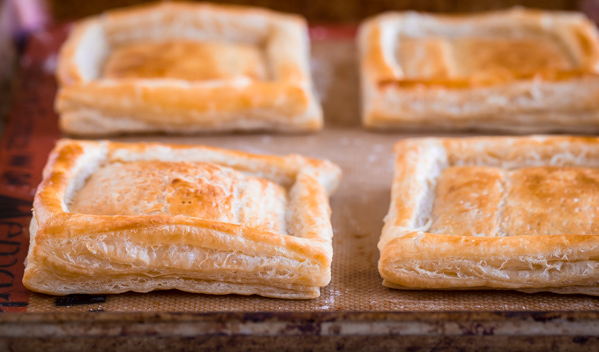 These incredibly yummy puff pastry squares are made with Mina's green harissa, but you could easily substitute it with Mina's classic harissa, or if you are sensitive to the heat, Mina's mild harissa would be perfect as well.
Don't be intimidated! They are not as complicated as they appear. But they look complicated and fancy, and that is always a great thing.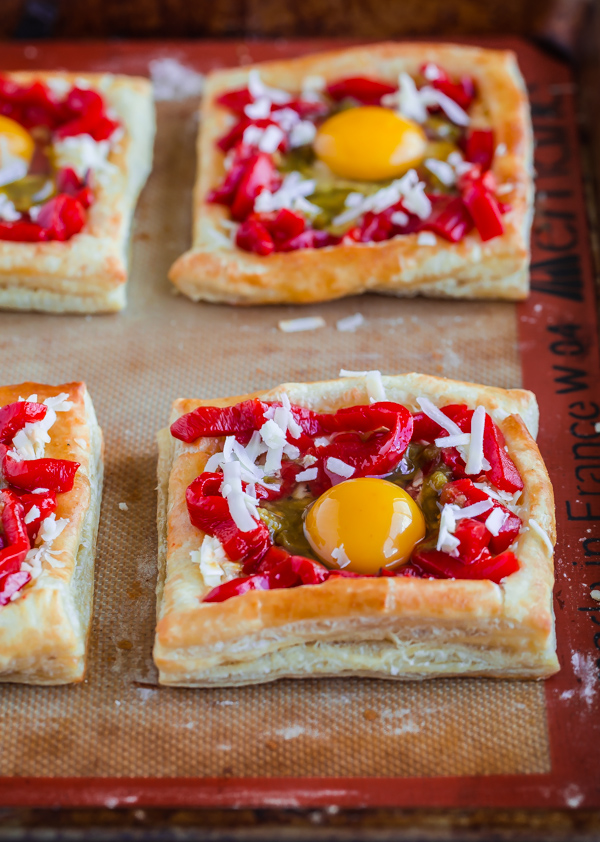 I had a vision for these before I even made them, as is the case for most recipes I share.
Sometimes (ok, more than sometimes) my vision for a dish doesn't go exactly as planned once I get in the kitchen and, you know, actually make it. It took a few tries to get this one right. But I worked out the kinks for you.
Pre-baking the puff pastry was easy thanks to frozen puff pastry sheets (best invention ever) and a light egg wash. The tricky part was adding the eggs. The first few times I made this, I experimented with just one layer of puff pastry. Despite having a relatively deep, natural "well" in the center of each puff pastry square after they initially baked, the minute I added the eggs, the whites would overflow onto the baking sheet.
Every freaking time. Gah.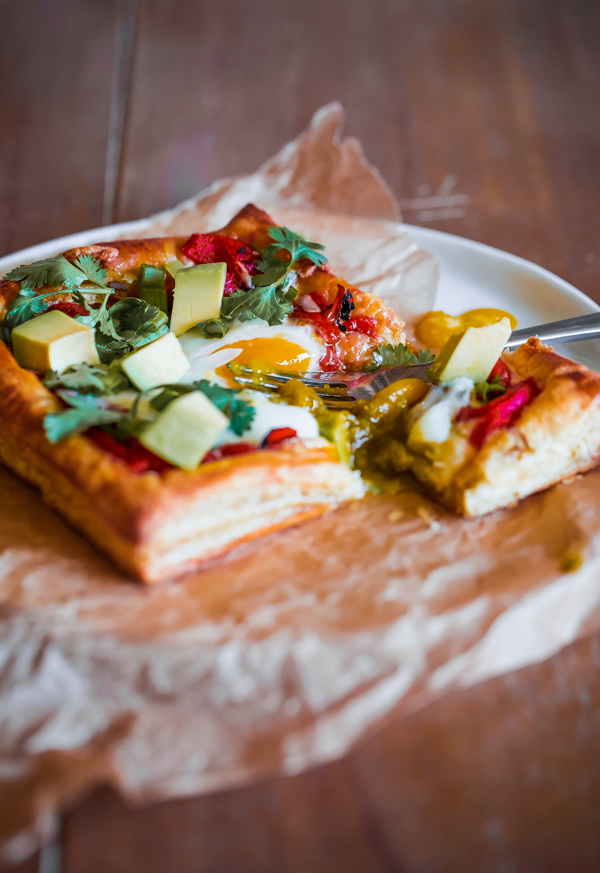 In the end, I discovered the best way to solve this problem was to use a second sheet of puff pastry to create a "puff pastry border" (roughly 3/4″ wide) for each square. The double layer of puff pastry on the edges helped create a distinct vessel to hold the filling, and prevented any egg spillage situations. Victory!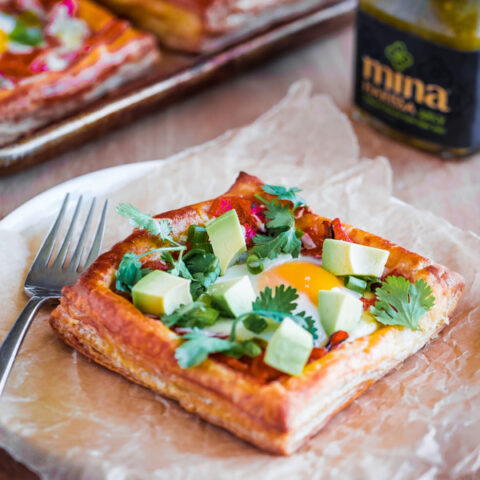 Egg, Cheddar, and Green Harissa Puff Pastry Squares
Yield: 4 Servings
Prep Time: 45 minutes
Cook Time: 30 minutes
Total Time: 1 hour 15 minutes
Ingredients
3-4 bell peppers (~3/4 lb)
extra virgin olive oil
kosher salt
freshly ground black pepper
1 whole egg, plus 1 teaspoon of water
2 sheets of frozen puff pastry, thawed (plus all-purpose flour, for dusting)
2 tablespoons Mina Green Harissa
5 ounces freshly grated sharp cheddar cheese
4 whole eggs
kosher salt
1/2 avocado, diced
two scallions, finely sliced
fresh cilantro leaves
Instructions
Roast Peppers: Preheat the broiler to high. Lightly coat the bell peppers with olive oil, and season with salt and pepper. Place the peppers, uncovered, on a small baking sheet. Broil the peppers for 12-18 minutes, flipping them several times, until they are blackened on all sides. Remove from the oven and place in a large bowl. Cover the bowl with plastic wrap, and allow the peppers to sit for 15-20 minutes. Once the peppers are cool enough to handle, peel them, slice in half, remove the seeds and stems, and slice into thin strips. Set aside.
Pre-Bake Puff Pastry Squares: Preheat the oven to 425 degrees Fahrenheit. Line a large baking sheet with parchment paper or Silpat. In a small bowl, whisk together one whole egg and one teaspoon of water. Set aside.
Remove one sheet of puff pastry from the fridge, and place on a lightly floured counter top. Using a pizza or pastry (non-fluted) cutter, or very sharp knife, cut the pastry sheet into four equal-size squares. Cut the pastry as cleanly as possible with one stroke–this will help the edges to rise properly in the oven. Place the puff pastry squares back onto the baking sheet, and refrigerate while you work with the remaining sheet of puff pastry.
Remove the remaining sheet of puff pastry from the fridge and place on a lightly floured counter top. Repeat Step 3 and cut the pastry sheet into four equal squares. Working with one square at a time, and using a pizza or pastry wheel cutter, cut out a square within each pastry square, so that you create a 3/4″ wide "square border" (see photo #4 in original post for demonstration). Discard or re-freeze the extra puff pastry square (layer them in parchment paper, and cover tightly with plastic wrap). Repeat.
Remove the puff pastry squares from the fridge. Lightly brush them with egg wash. Place a puff pastry border directly on top of each square, so that the borders line up evenly–the egg wash will act as a glue. Brush the top and edges with egg wash. Repeat until all puff pastry squares have been assembled.
Using a fork, dock the inside of the pastry (do not dock the border)–this will prevent the inside from rising as high as the sides. Place the puff pastry squares in the refrigerator to chill for an additional 10 minutes. During this time, assemble the rest of the ingredients and grate the cheese.
Remove the puff pastry from the fridge. Bake at 425 degrees Fahrenheit (center rack) for 12-14 minutes, or until the puff pastry is lightly golden brown. Remove from the oven, place on a cooling rack, and allow to cool slightly. Reduce the oven heat to 400 degrees.
Assemble & Bake: Using a spoon or your fingertips, lightly press down on the inside of each puff pastry square to deflate the layers slightly and create a deeper well. Spread the harissa evenly onto the bottom of each puff pastry square with the back of a metal spoon or off-set spatula. Distribute the grated cheese evenly among the squares. Add the roasted red pepper strips, placing them along the inside edges.
Carefully crack a whole egg into the center of each puff pastry square. Lightly season with salt. Bake at 400 degrees Fahrenheit (center-rack) for 12-16 minutes, or until the egg whites are just set (but the yolk is still soft to touch).
Remove from the oven, top each square with scallions, diced avocado, and fresh cilantro leaves. Serve immediately.
Notes
Tips for Success:
I recommend using Dufour and Pepperidge Farm puff pastry sheets. From my experience, Trader Joe's frozen puff pastry does not rise nearly as high. If you do not feel like roasting peppers from scratch, feel free to substitute with jarred roasted red peppers (however, they are not as tasty!).
Mina Harissa is available at Whole Foods and other grocery store locations, and can also be ordered online on Amazon.
Nutrition Information:
Yield: 4
Serving Size: 1
Amount Per Serving:
Calories: 380
Total Fat: 28g
Saturated Fat: 10g
Trans Fat: 0g
Unsaturated Fat: 15g
Cholesterol: 268mg
Sodium: 632mg
Carbohydrates: 15g
Fiber: 4g
Sugar: 4g
Protein: 19g
A Beautiful Plate provides nutritional information, but these figures should be considered estimates, as they are not calculated by a registered dietician.
Today's post and giveaway was sponsored by Mina Harissa as part of an ongoing recipe development project. Thank you for supporting the brands I love and use in my own kitchen, as well as the ones that help make this site possible!
This post contains some affiliate links, which means that I make a small commission off items you purchase at no additional cost to you. Please read my
disclosure policy
for more information.