Fall Harvest Salad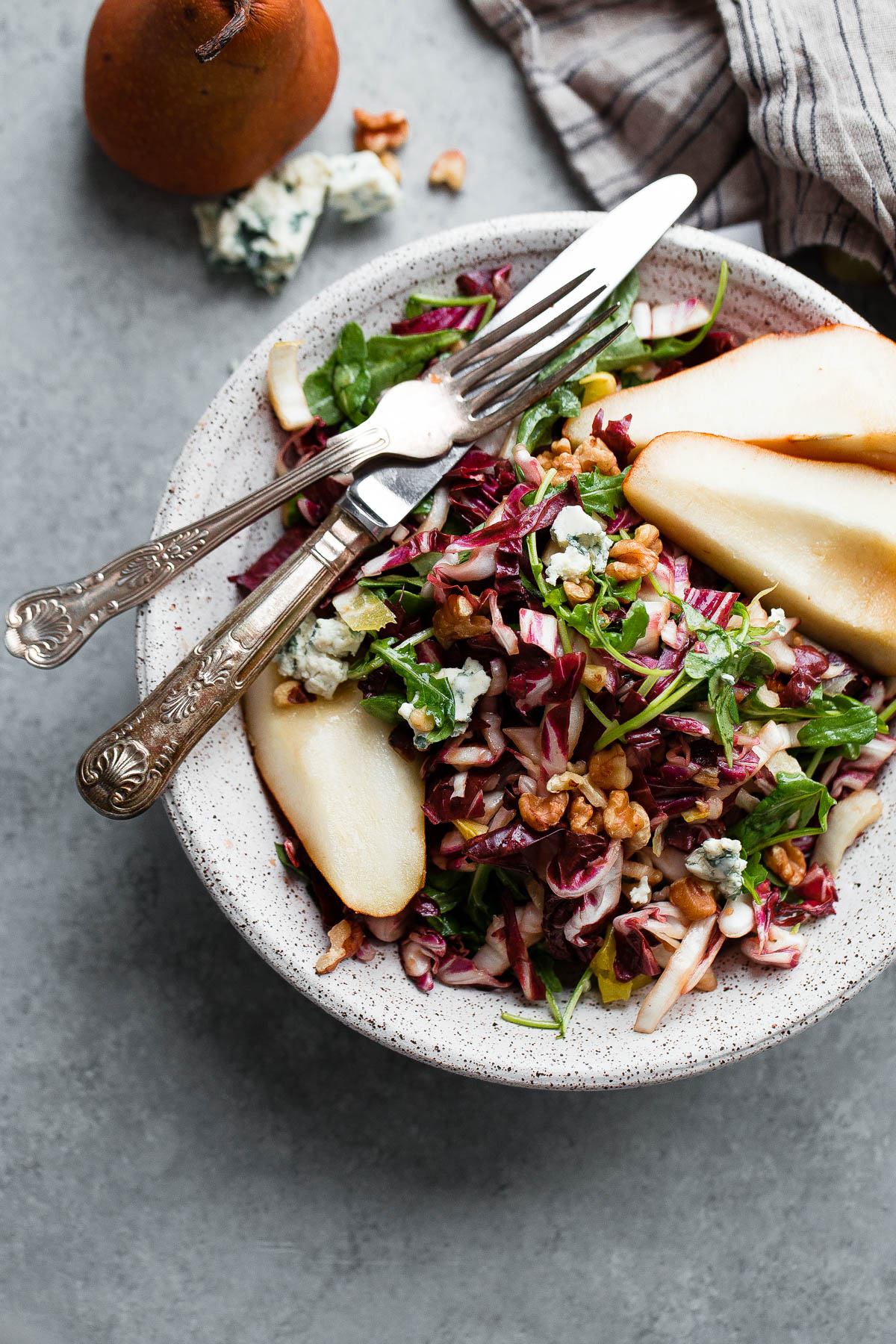 Chicago got its first taste of crisp, cool weather in the last week and I've officially been bitten by the autumn ingredient bug. Let's start with this fall harvest salad! Not only is it packed with color and flavor, it comes together in less than 15 minutes.
Like most salads, this one is all about balance. Balancing flavors and textures but most of all, balancing the four main elements of taste: sweet, salt, acid, and bitter.
Whenever I'm developing recipes or brainstorming dishes, I always start with that basic principle. It rarely leads me astray.
Why You'll Love this Fall Harvest Salad:
We've got a little bit of everything in here. Sweet Bosc pear, bitter radicchio and endive, toasted walnuts, salty and funky gorgonzola cheese, and peppery arugula tossed with a simple maple balsamic vinaigrette.
Best part? You can easily make it your own by substituting one ingredient for another (variation ideas provided in the recipe below!) or bulk it up with the addition of shredded roast chicken.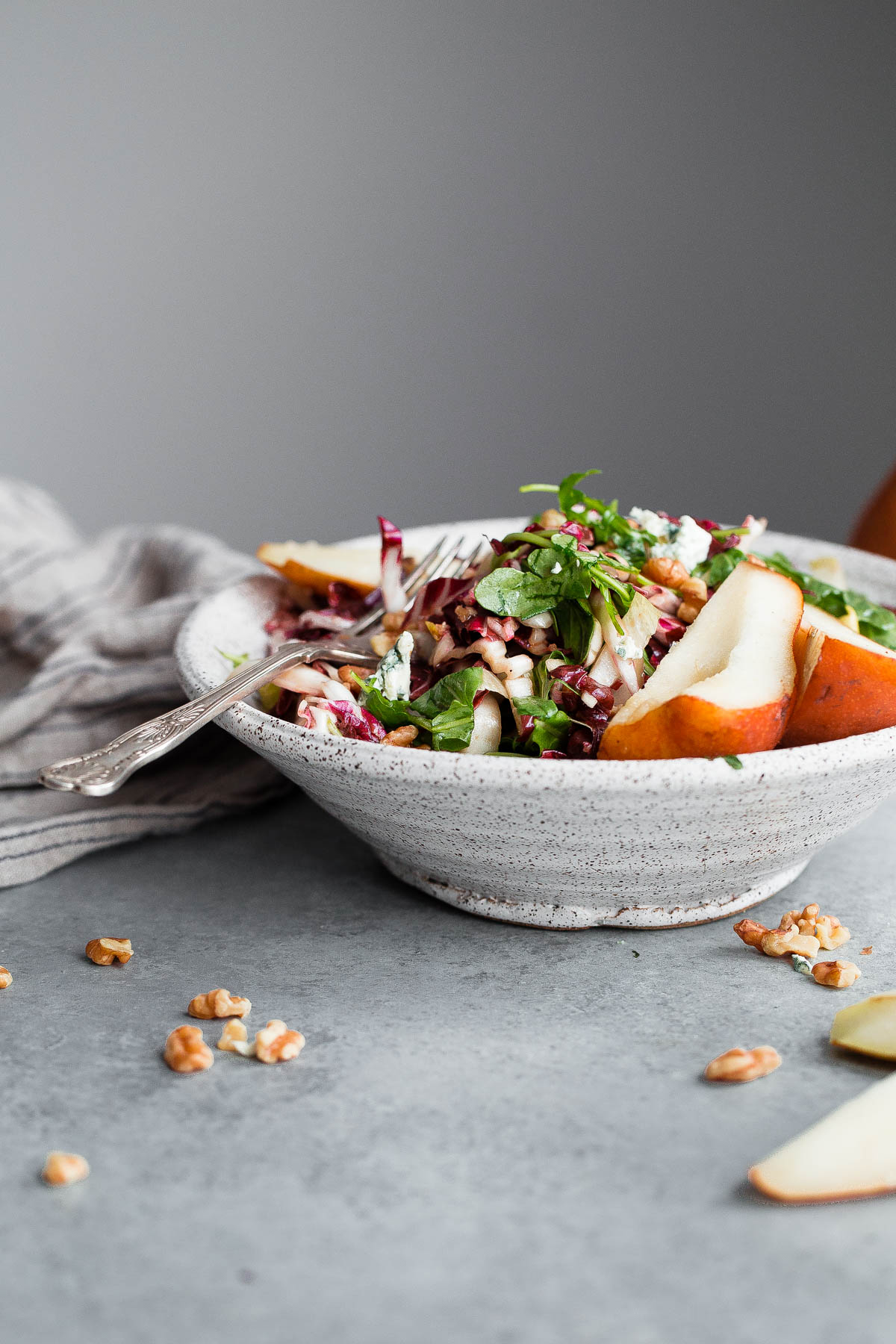 Working with Chicories: Radicchio and Endive
One of my favorite elements of this fall harvest salad is the bitter radicchio and endive. Is it just me or do they not get enough love in the culinary world?
Both are chicories, a small subsection of the lettuce family.
These greens are most known for their natural bitter flavor, which comes from various compounds, and can be controlled through to a degree with growing methods. [Eg. commercial endive is grown without exposure to light, which causes the leaves to become more green and increasingly bitter in flavor.]
I love the bitterness that both of these lettuces contribute to dishes, particularly salads, and enjoy adding them to everyday salads throughout the week.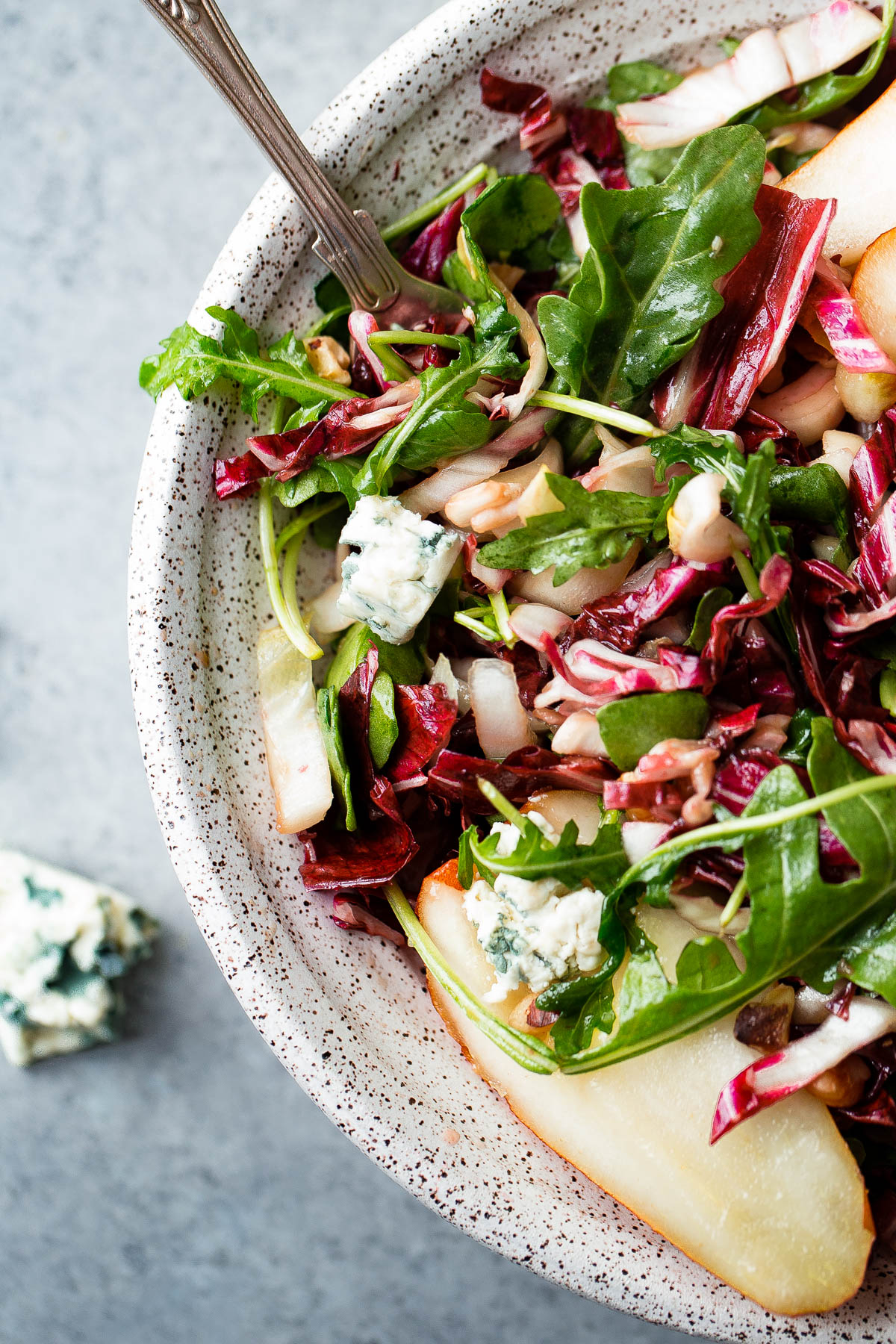 Balancing Bitterness
The key to working with bitter greens is to balance them properly with other flavors. Salty ingredients are our best tools in the kitchen to help do this. This is why it's common to pair bitter greens with salty components (cheeses, cured meats, olives, etc.), because they actually decrease our own perception of bitterness.
My balancing component in this fall harvest salad is gorgonzola, which is naturally salty and a bit funky. Gorgonzola is veined Italian blue cheese made from cow's milk.
The higher-quality cheese you choose, the better and more nuanced it's flavor will be! Please, oh pretty please, don't buy the pre-crumbled kind. It doesn't compare to the real deal stuff. For salads, I prefer moderately creamy varieties, because they sort of melt into the dressing a bit.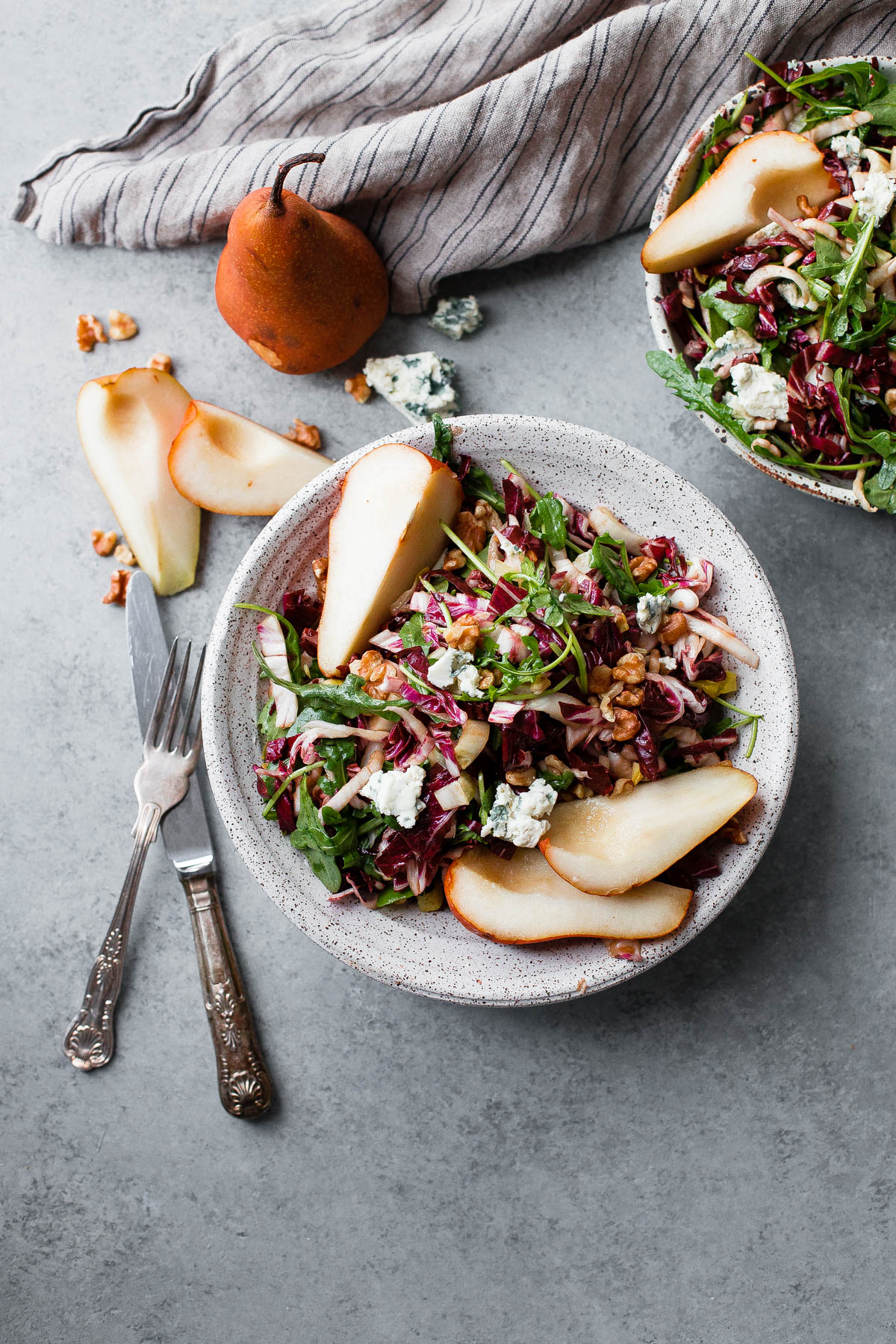 Whenever I'm making big salads, I try my best to eliminate extra bowls and steps, if possible! For this one, you'll whisk together and prepare the vinaigrette in the serving bowl just before adding the greens and walnuts.
Instead of tossing the pear and gorgonzola with the salad itself, I prefer to reserve and use them as a garnish on the final plates. This keeps their color and makes for better presentation.
For more dishes like this, check out my other favorite fall salad recipes.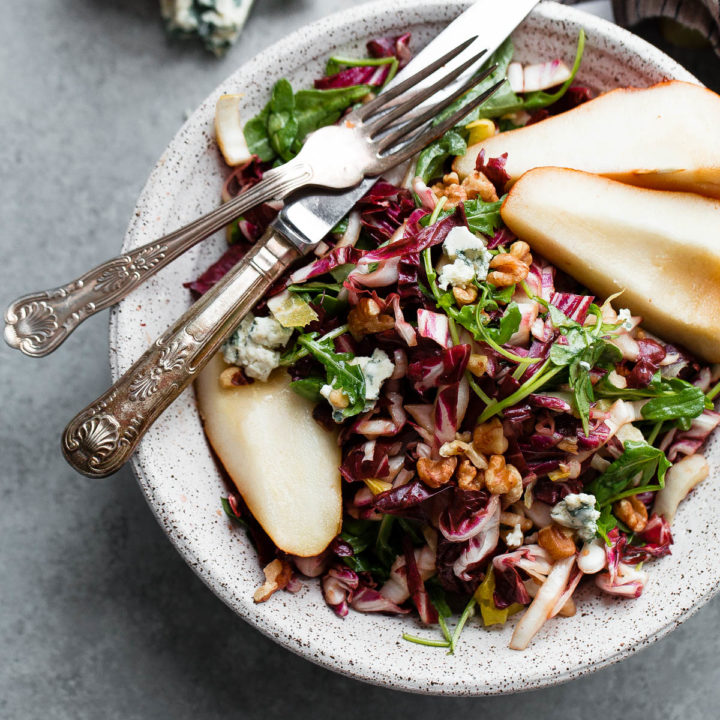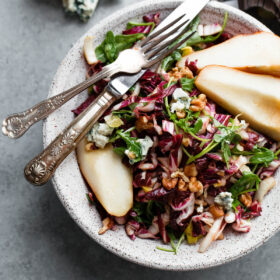 Fall Harvest Salad
We've got a little bit of everything in this Fall Harvest Salad! Sweet Bosc pear, bitter radicchio and endive, toasted walnuts, salty and funky gorgonzola cheese, and peppery arugula tossed with a simple maple balsamic vinaigrette. This is one of my favorite salads for Thanksgiving, fall, and holiday entertaining.
Ingredients
Maple Balsamic Vinaigrette:
1 tablespoon aged balsamic vinegar
1 tablespoon fresh lemon juice
2 teaspoons pure maple syrup
1 teaspoon Dijon mustard
1 small garlic clove grated with a microplane
2 tablespoons walnut oil or extra virgin olive oil
freshly ground black pepper
kosher salt
For the Salad:
1 small head of radicchio (about 8 oz) quartered, core removed, and thinly sliced
2 endive heads ends trimmed, sliced lengthwise, and cut crosswise into slices
2 packed cups baby arugula
½ cup chopped toasted walnuts see recipe notes
2 ripe, but slightly firm Bosc pears cored and cut into quarters
4 ounces high-quality Gorgonzola cheese crumbled into small pieces
Flavor Variations and Optional Add-Ins:
shredded roast chicken
pomegranate arils
sliced apple
roasted beets
Instructions
Prepare the Vinaigrette: In a large salad or mixing bowl, whisk together the balsamic vinegar, lemon juice, maple syrup, Dijon mustard, and garlic until evenly combined. Slowly pour in the olive oil, whisking with the other hand until emulsified. Season to taste with salt and pepper.

Assemble: Add the sliced radicchio, endive, arugula, and walnuts to the bowl with the vinaigrette and toss gently to coat evenly with the vinaigrette. Top each salad serving with pear quarters and crumbled Gorgonzola cheese. Serve immediately.
How to Toast Walnuts:
To toast walnuts, preheat an oven to 350ºF (176ºC). Spread the nuts evenly on a sheet pan and bake for 8 to 10 minutes, tossing them halfway, or until lightly brown and fragrant.
Tips for Success:
Radicchio is naturally bitter and each head will vary to some degree in flavor and bitterness level. The vinaigrette, sweet pear, and Gorgonzola all help to balance these flavors.
If you do not enjoy bitter greens, I recommend using half a head of radicchio and adding a variety of other mixed greens (or additional arugula) to compensate for volume.
Serving: 1serving, Calories: 472kcal, Carbohydrates: 36g, Protein: 16g, Fat: 32g, Saturated Fat: 8g, Polyunsaturated Fat: 22g, Cholesterol: 37mg, Sodium: 538mg, Fiber: 8g, Sugar: 23g
This post contains affiliate links, which means that I make a small commission off items you purchase at no additional cost to you. Please read my
privacy policy
for more information.