Butternut Squash Pie with Shallots, Radicchio, and Feta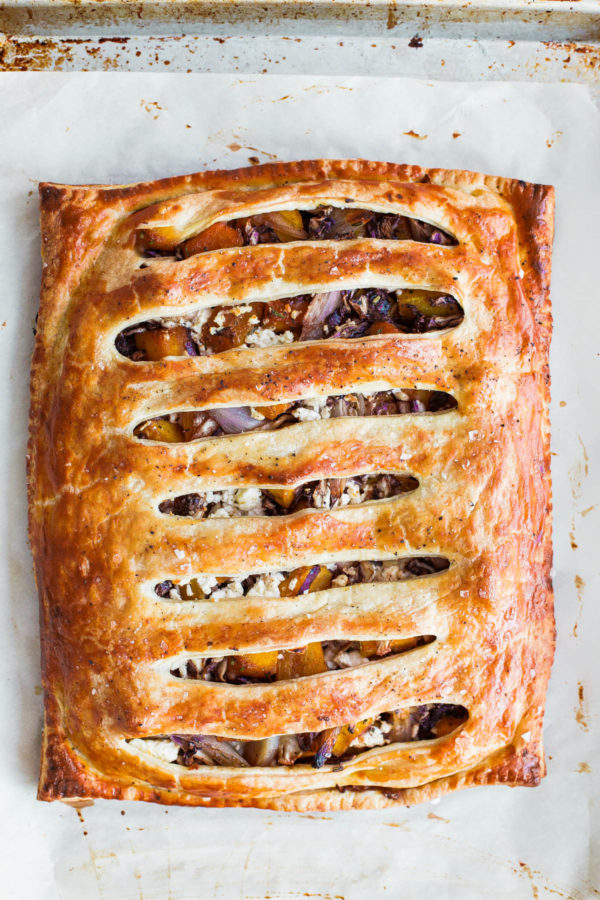 Between last week's pumpkin sheet cake, this fall harvest salad, and today's savory butternut squash pie, we've pretty much covered it all this past week.
I must admit, I had the hardest time coming up with a name for this dish, because I didn't even know what direction to go in. Is it a pie? Is it a giant pastry? I have no idea, but it's delicious and fun to prepare.
Remember when I made these butternut squash hand pies a few years ago? Well, we're sort of revisiting that concept, but adding a few extra ingredients and making a giant-sized version of it. I mean, what's not to like, right?
Instead of going to the trouble of making homemade pie dough, we're using one of my favorite kitchen shortcuts: frozen puff pastry. It thaws in the same amount of time that it takes to prepare the roast vegetable filling and makes for a beautiful presentation that is sure to wow family and friends.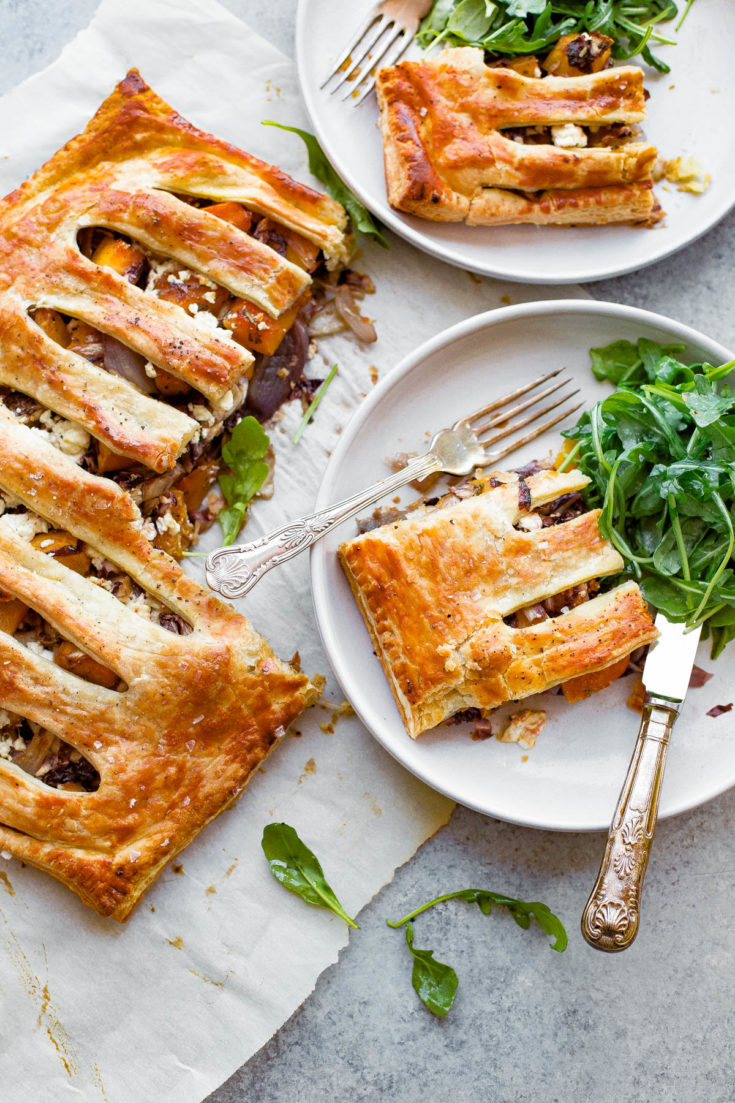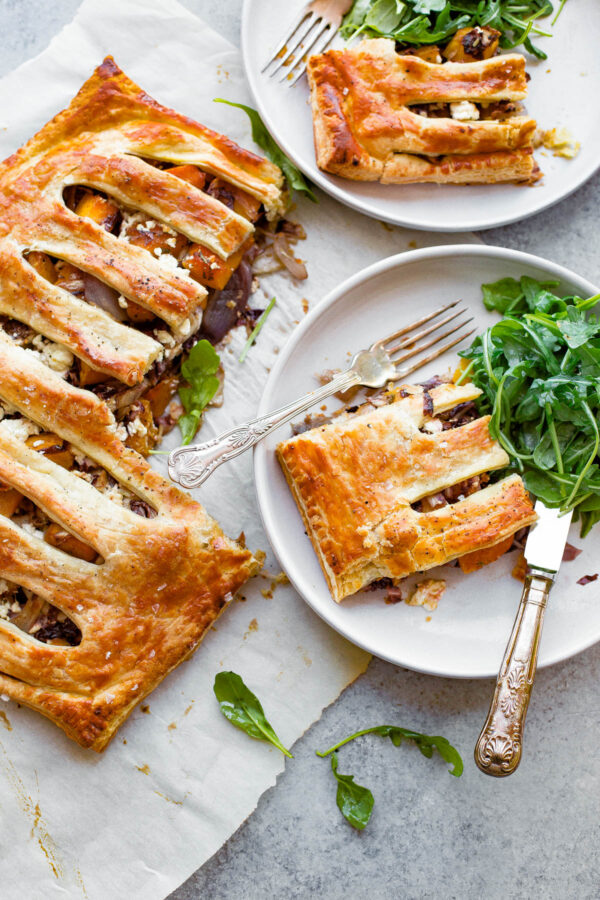 This would make for a wonderful brunch, dinner or even vegetarian main course at Thanksgiving.
The filling is a simple combination of roasted butternut squash and shallot, which is later combined with sliced radicchio, a touch of balsamic vinegar, and layered with crumbled feta cheese.
Once tossed together, the bitter radicchio melts and wilts with the heat of the vegetables and becomes a bit more mild in flavor. Apparently I'm having a moment with all things chicory this week. I must have been inspired by my trip to Italy!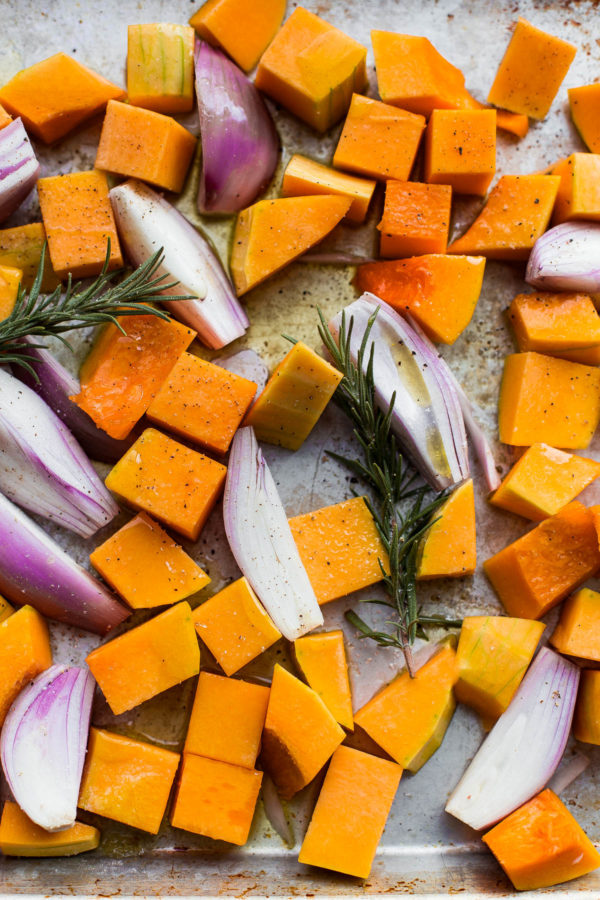 Either way, my favorite part of this recipe is that it can be used a springboard for so many different flavor variations.
The most important thing to keep in mind when substituting one ingredient for another is to keep in mind the moisture level of whatever ingredients you're working with. Butternut squash is one of my favorite winter squashes to work with because it is lower in moisture than other varieties.
Roasting it ahead of time adds caramelization and flavor, reduces its moisture, and ensures that it is cooked through prior to assembling the pie. This also allows for a lower overall bake time.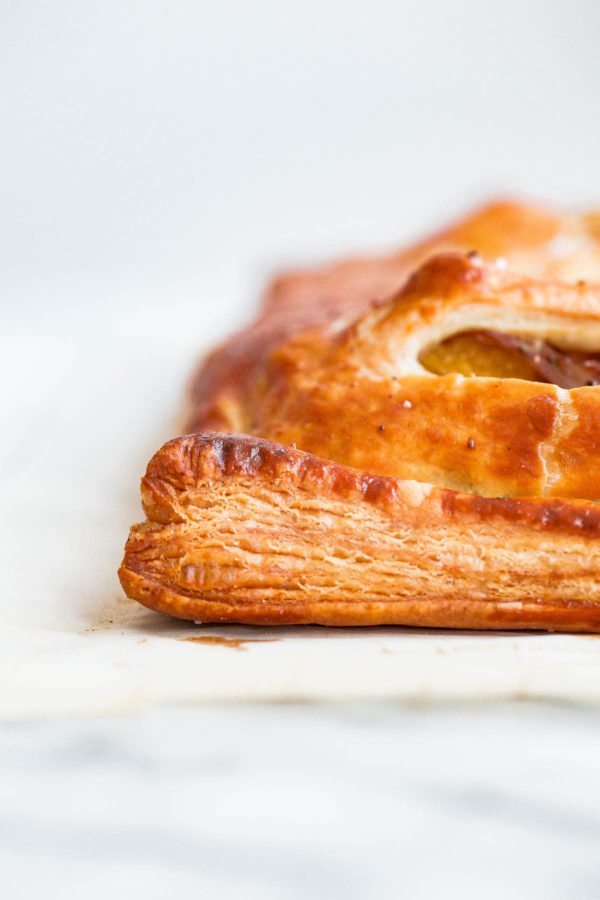 While this butternut squash pie looks fairly intimidating to make, I promise it's easier than it looks! To make things a bit easier, I've included step-by-step assembly photos below.
Creating even large slits in the top puff pastry sheet not only adds to the overall presentation, but allows for moisture to escape during baking – allowing the filling to concentrate in flavor and helping to prevent a soggy-bottomed pastry crust.
After all, no one likes a soggy-bottomed pie!






Tips for Working with Puff Pastry Dough:
read the recipe at least three times and work quickly; heat is puff pastry's worst enemy
if the dough no longer feels chilled or begins to soften, pop it onto a parchment-lined baking sheet and allow it to chill in the refrigerator or freezer for at least 5 to 10 minutes before continuing
keep a ruler handy and roll the dough center-out in gentle short strokes, rotating/flipping the dough continuously to avoid potential sticking.
brush excess flour from the dough prior to filling with a pastry brush
preheat your oven for at least 20 minutes; brush the the top crust with egg and milk wash – this helps produces a shiny golden crust and improves the overall presentation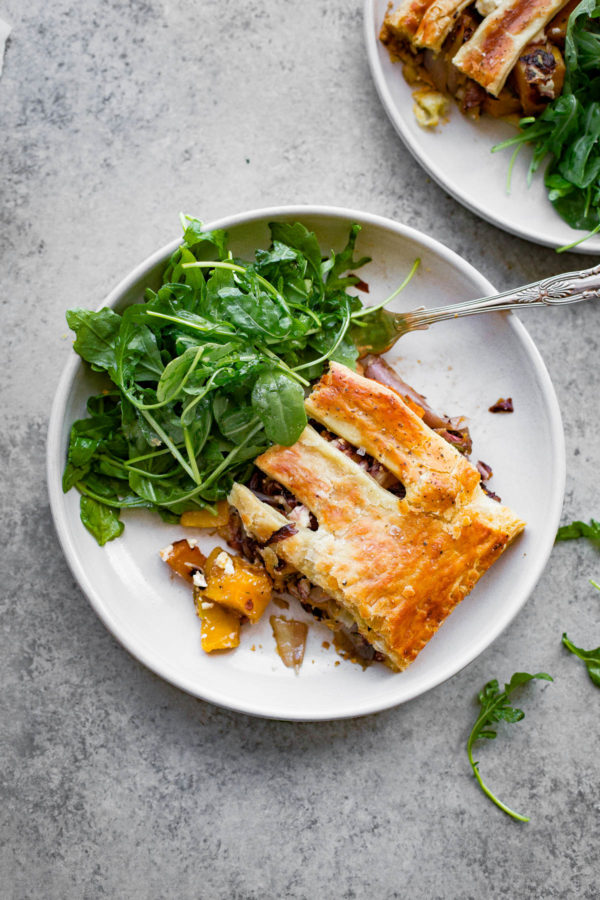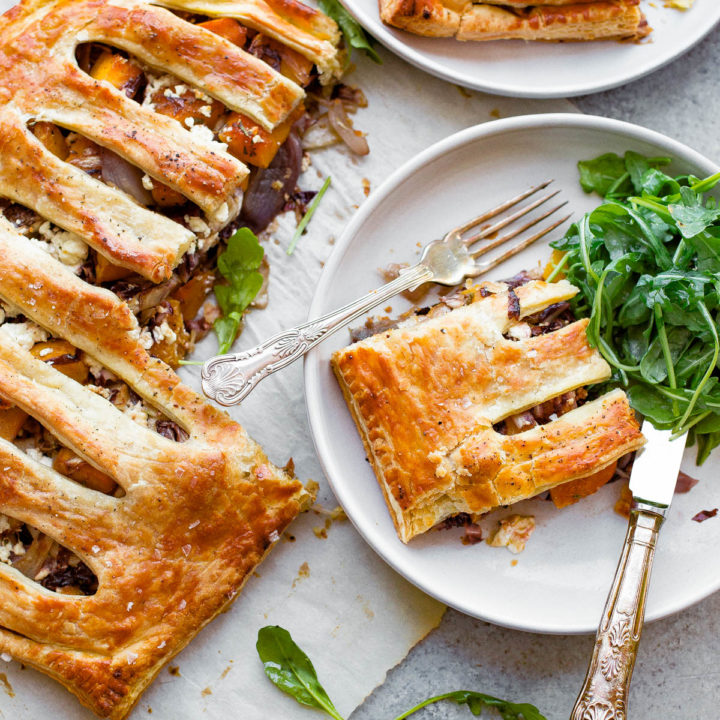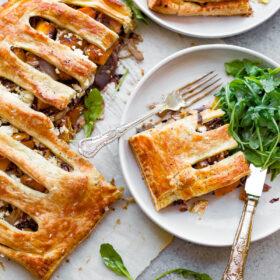 Butternut Squash Pie with Shallots, Radicchio, and Feta
Salty meets sweet in this delicious savory butternut squash pie made with frozen puff pastry sheets and filled with roasted squash, caramelized shallots, radicchio, and feta cheese. Serve as an elegant main course - it also makes a wonderful vegetarian-friendly Thanksgiving dish - with a simple side salad.
Ingredients
For the Pastry:
1 (17.3 oz) box frozen puff pastry both sheets thawed according to package directions
unbleached all-purpose flour for dusting
For the Filling:
1 medium butternut squash (roughly 2½ lbs) peeled, seeded, and chopped into 1-inch chunks
4 medium shallots (roughly 8 oz) sliced into quarters
3 sprigs fresh rosemary optional
3 tablespoons extra virgin olive oil
1 teaspoon kosher salt
freshly ground black pepper
1 small head radicchio (roughly 8 oz) thinly sliced
1 tablespoon balsamic vinegar
3 ounces crumbled feta cheese
For the Egg Wash:
1 large egg beaten
2 teaspoons milk
Instructions
Place the box of puff pastry on the countertop to thaw at room temperature while you prepare the filling (see note). Once the dough has thawed, transfer to the refrigerator and keep chilled until ready to use.

Prepare the filling: Preheat the oven to 425°F (220°C) with a rack in the center position. Place the butternut squash chunks, shallot pieces, and rosemary sprigs on a sheet pan, drizzle with the olive oil, sprinkle with the salt and pepper, and toss to evenly coat. Spread the vegetables into a single layer.

Roast, stirring and flipping the vegetables halfway through, until the squash and shallots are caramelized and tender, about 30 to 35 minutes. Discard the rosemary sprigs and transfer the roasted vegetables to a large mixing bowl (separating any large pieces of shallot), add the sliced radicchio, and balsamic vinegar and toss to evenly coat. Set aside.

Reduce the oven temperature to 400°F (204°C). Line a second sheet pan with parchment paper (or alternatively, cool the previous sheet pan under very cold water several times, rinse, dry well, and re-use).

Make the egg wash: Whisk together the egg and milk in a small bowl.

Assemble the pie: Lightly flour a work surface and rolling pin. Gently unfold one sheet of puff pastry. Roll the sheet into a 10-inch-wide by 12-inch-long rectangle. Distribute ⅔ of the roasted vegetable filling onto the pastry, leaving a ¾-inch border on all sides. Sprinkle half of the crumbled feta evenly on top of the vegetable filling, top with the remaining roasted vegetables, and the remaining cheese. Brush the borders lightly with the egg wash.

Roll the remaining puff pastry so that it is slightly larger in size than the bottom pastry rectangle, roughly 10½ -inches-wide and 12½ -inches-long. This will help account for covering the filling. Gently fold the puff pastry sheet in half lengthwise and place it so that the short edge is facing you and the folded edge is on the right. Using a sharp knife, cut 3-inch-wide perpendicular slits, starting from the bottom, in rows 1-inch apart to create a lattice-cut pattern. You should have around 7 to 8 perpendicular slits in total. See step-by-step photos in the post above for reference.

Carefully transfer the lattice-cut layer of pastry on top of the roasted vegetable filling, lining up the edges (avoid stretching the dough with your hands). Crimp the borders of the pie by pressing with a lightly floured fork to seal. Trim any uneven edges with a sharp knife or pastry cutter wheel. If any of the slits have overlapped onto each other, gently pull them apart to reveal the filling evenly.

Brush the top and edges of the dough with egg wash and sprinkle lightly with salt and black pepper. If the dough has warmed significantly, chill the pie in the refrigerator for 10 to 15 minutes before baking.

Bake for 35 to 40 minutes, or until the pastry is golden brown and puffy. Slice into squares and serve hot.
Serving: 1serving, Calories: 245kcal, Carbohydrates: 26g, Protein: 7g, Fat: 13g, Saturated Fat: 4g, Polyunsaturated Fat: 8g, Cholesterol: 44mg, Sodium: 514mg, Fiber: 2g, Sugar: 4g
This post contains affiliate links, which means that I make a small commission off items you purchase at no additional cost to you. Please read my
privacy policy
for more information.