Roasted Cauliflower Soup with Coconut and Turmeric
Roasted Cauliflower Soup with Coconut and Turmeric. This healthy cauliflower soup recipe is flavored with Thai chili paste and coconut milk!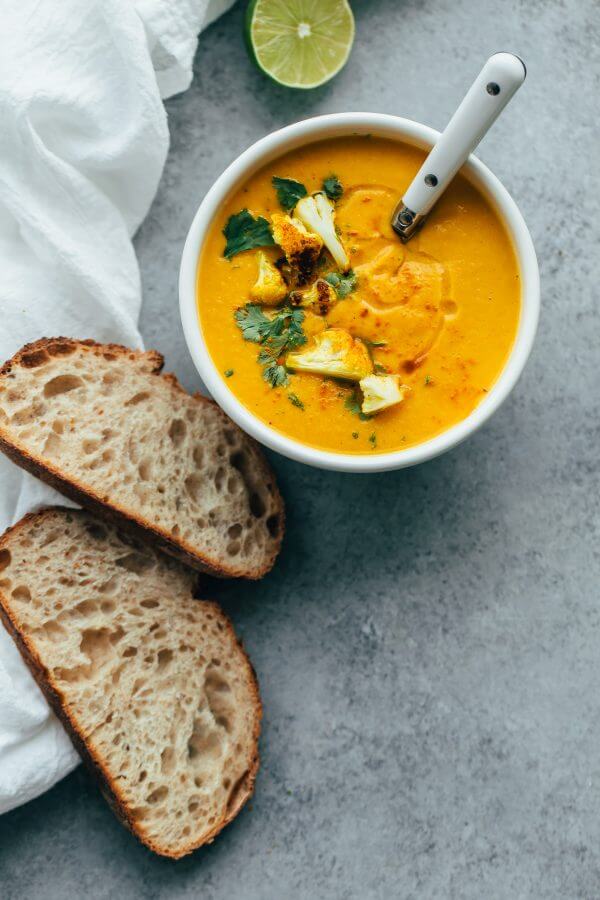 One of my favorite methods to enhance a soup is to incorporate roasted vegetables. It adds a little something, something. This roasted cauliflower soup with coconut and turmeric is a perfect example.
Cauliflower florets, tossed with ground turmeric, are roasted until lightly caramelized and crispy. Truthfully, you could serve those as a side dish on their own. Roasting is especially helpful for more naturally bland vegetables like cauliflower, broccoli, or other root vegetables. Similar to potato, cauliflower also happens to produce an exceptionally creamy soup texture (which is why you often see it as a base for cheese sauces, etc.!) without adding starch or heaviness.
This cauliflower soup recipe is an adaptation from the beautiful cookbook, Clean Soups by Rebecca Katz. My mom (who loves soup just as much, if not more than me!) recently gifted it to me, and I can't wait to dive into it this coming season. The book does a fabulous job of breaking down soups into a few key building blocks (fat, aromatics, broth, herbs and spices, etc.). Once you understand these general building blocks, you can start to create your soups from scratch!
This blog is filled with quite a few cauliflower recipes, but this might be one of my favorites.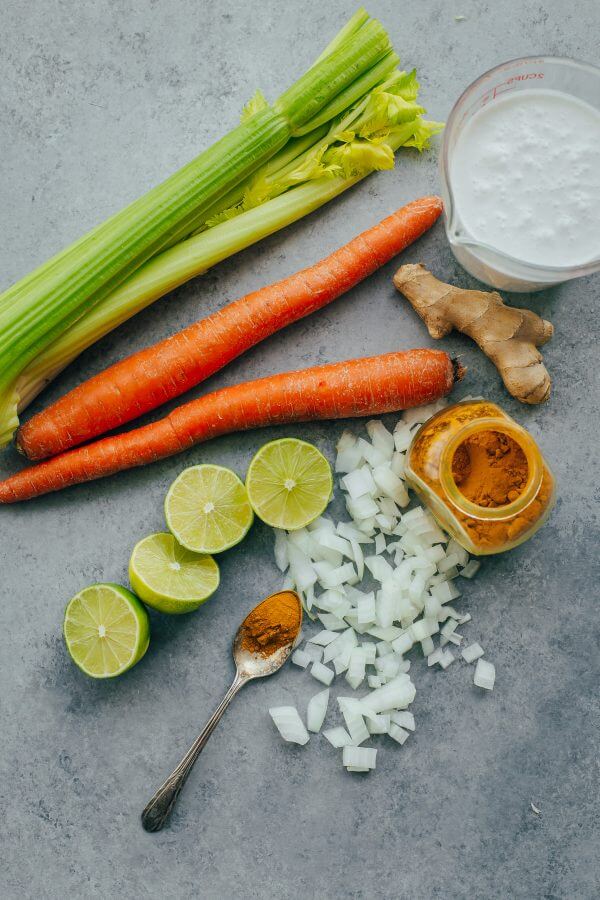 The most frequently asked question that I receive is, "what type of food do you most enjoy making?" Cooking has been part of my professional life for almost seven years, so it only makes sense that people want to know what gets me most excited!
Unfortunately, the answer isn't quite as conversation-starting as one might think. Homemade pizza and pasta are certainly up there, but that's in large part due to the satisfaction received from eating them (no, really, it's sometimes that simple). But what do I enjoy making the most? That is a much harder question. Believe it or not, soup is one of my favorite things to make, period.
Yep, soup. I love the mindless chopping, dicing, and prep work that goes into a great bowl of soup. The comfort and hearty satisfaction it brings. The accompaniments (a hearty salad, great crusty loaf of bread, great cheese) it encourages. But, really, the best part about it? Soup lends itself extremely well to experimentation in the kitchen. If you're uncomfortable improvising or you want to start putting your own spin on recipes (rather than strictly following them), start with soup.


Not only is soup forgiving by nature, but it can be flavored, adjusted, and enhanced in so many simple ways. Can't eat dairy, but want to achieve a luscious creamy soup nonetheless? Substitute the cream with full-fat coconut milk or achieve the same effect with a starchy root addition like potato. This creamy roasted acorn squash and sweet potato soup is one of the most popular recipes on this blog, and it just happens to be vegan.
Want to put a international twist on a classic? Substitute traditional spices and herbs with spice blends like garam masala, ground ginger, curry powder, or in the case of today's recipe, Thai chili paste. Even the simplest of additions, like grated ginger or freshly squeezed lemon or lime juice, will completely elevate and change a soup's flavor profile.
Better yet, puree a can of drained cannellini or garbanzo beans and add them halfway through. You'll be adding protein and heft. Or get inspired by the season! Substitute yellow onion with creamy leeks, carrots with parsnips, sweet potato with your favorite winter squash. My biggest tip for soup?
Never underestimate the power of salt and acid. If your soup creation tastes a little flat, try adding a generous pinch of kosher salt or a squeeze of lemon or lime (lime is my preferred acid for soup, it is more delicate). It can make or break a soup.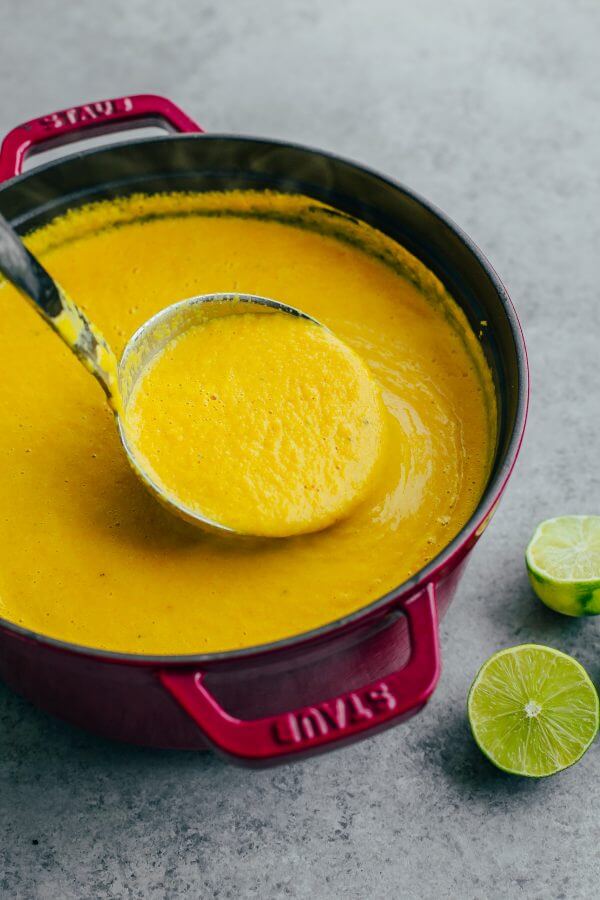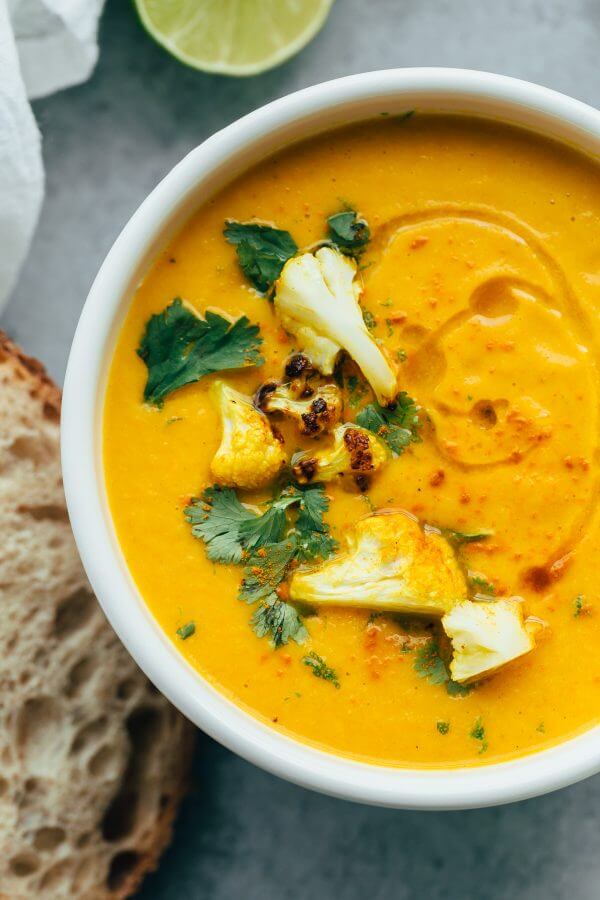 In my kitchen, soups can be used for practically any occasion. This roasted cauliflower soup is in celebration of Cynthia, the talent behind the beautiful blog Two Red Bowls.
A few days ago, Cynthia gave birth to an incredibly adorable baby boy named Luke, and a bunch of internet friends are coming together to celebrate the news with….you guessed it…foods made or served in bowls! So fun and cute, right?
With the incredible World Series victory by the Cubs last night, yesterday's (literal) toast in celebration of Ashley, and today's bowl party in honor of Cynthia, we've had one heck of a week. Cheers! Have a great weekend friends!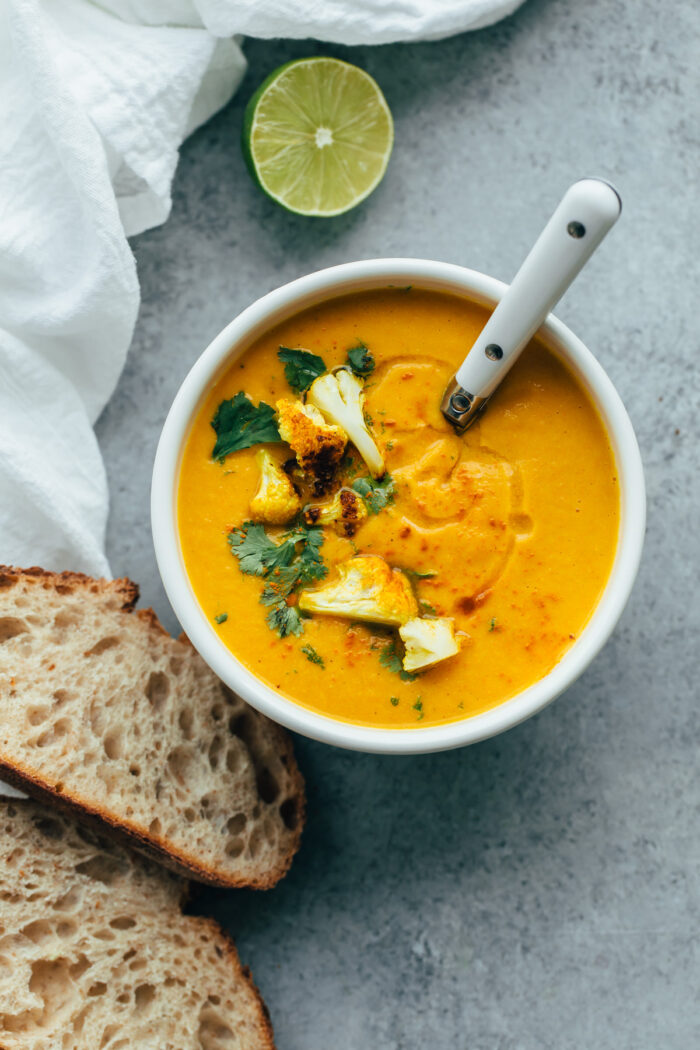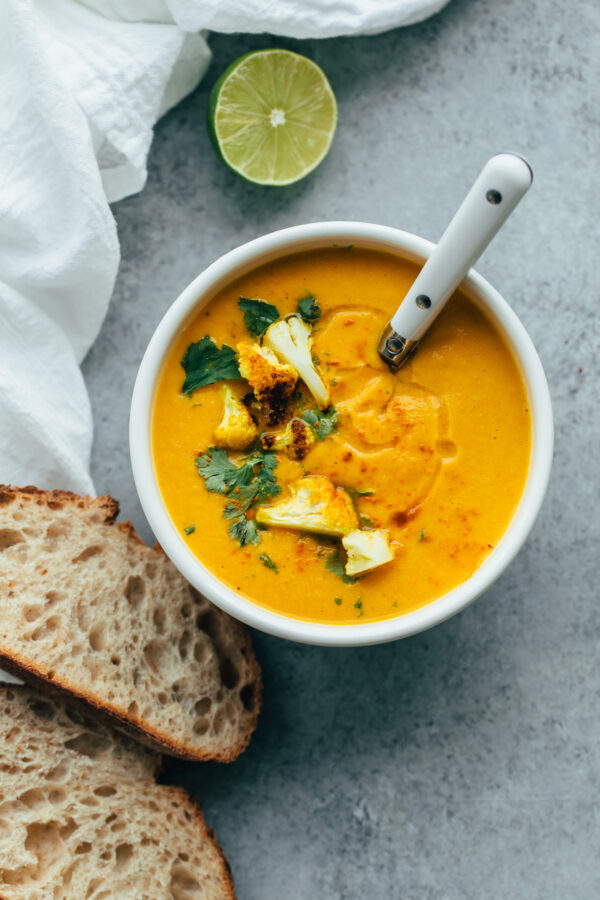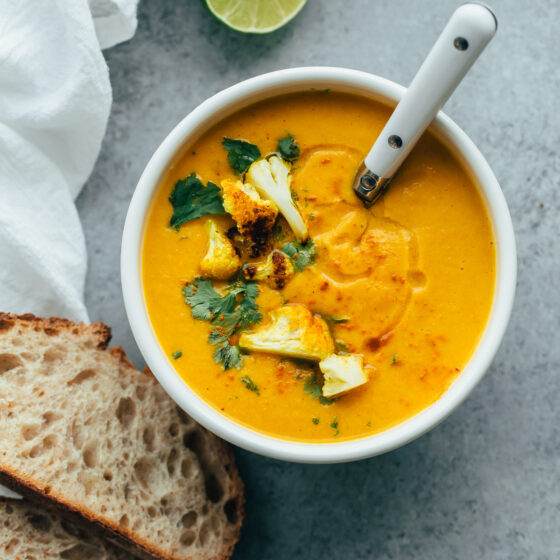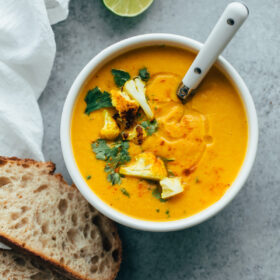 Roasted Cauliflower Soup with Coconut and Turmeric
This healthy roasted cauliflower soup recipe is made with turmeric roasted cauliflower and infused with Thai chili paste and coconut milk. Garnish with cilantro and reserved roasted cauliflower pieces for a beautiful garnish. Dairy free.
Ingredients
2½ to 3 lbs cauliflower, about 2 small heads cut into medium florets
3 tablespoons extra virgin olive oil
¾ teaspoon ground turmeric
kosher salt
freshly ground black pepper
1 medium yellow onion diced
2 cloves garlic minced
2 medium carrots peeled and diced
2 stalks celery diced
2 teaspoons Thai Roasted Red Chili Paste
1 quart (4 cups) low-sodium chicken broth plus more if needed
1 (15 oz) can full-fat coconut milk
1 tablespoon grated fresh ginger
½ juicy lime plus more if needed
small handful cilantro leaves finely chopped
Instructions
Preheat the oven to 425°F (218°C). Line a sheet pan with parchment paper. In a large mixing bowl, toss the cauliflower florets with 2 tablespoons extra virgin olive oil, ½ teaspoon ground turmeric, ½ teaspoon Diamond Crystal kosher salt, and freshly ground black pepper. Roast for 20 to 25 minutes, flipping the florets halfway through, or until tender and caramelized.

Meanwhile in a large soup pot, heat the remaining tablespoon of olive oil over medium heat. Add the chopped onion, remaining ¼ teaspoon turmeric, and a pinch of salt, and sauté, stirring occasionally, for 3 to 4 minutes or until softened and slightly translucent. Add the garlic, carrots, and celery, and sauté for 10 to 12 minutes, stirring occasionally, until the vegetables are lightly caramelized. Add the Thai chili paste and stir until the vegetables are evenly coated. Pour in ¾ cup (180 mL) chicken broth, scraping the bottom of the pan to loosen any caramelized bits, and continue to cook until the liquid is reduced by half. Add the remaining chicken broth, grated ginger, and the roasted cauliflower to the pot. Bring to a boil, reduce to heat to a low and simmer the soup for 10 to 15 minutes, or until the vegetables are very tender.

Carefully transfer the soup in batches to a high-powered blender, such as a Vitamix, and puree until smooth – adding additional broth if necessary. Transfer the soup back to the soup pot, place over low heat, and whisk in the coconut milk. Stir in the lime juice and season to taste with salt and pepper.

Serve hot and garnish with cilantro as desired.
Tips for Success:
Once the soup is pureed, be sure to taste it before serving. If it seems flat in flavor, the soup most likely needs a few good pinches of kosher salt or another squeeze of lime juice!
Recipe adapted from Clean Soups (Rebecca Katz).
Serving: 1serving, Calories: 294kcal, Carbohydrates: 20g, Protein: 9g, Fat: 23g, Saturated Fat: 14g, Polyunsaturated Fat: 8g, Sodium: 309mg, Fiber: 7g, Sugar: 8g
This post contains affiliate links, which means that I make a small commission off items you purchase at no additional cost to you. Please read my
privacy policy
for more information.