Slow Cooker Steel Cut Oats with Apple and Cranberries
Creamy slow cooker steel cut oats with a fall twist. This delicious breakfast can be prepared the night before and be ready for you when you wake up in the morning!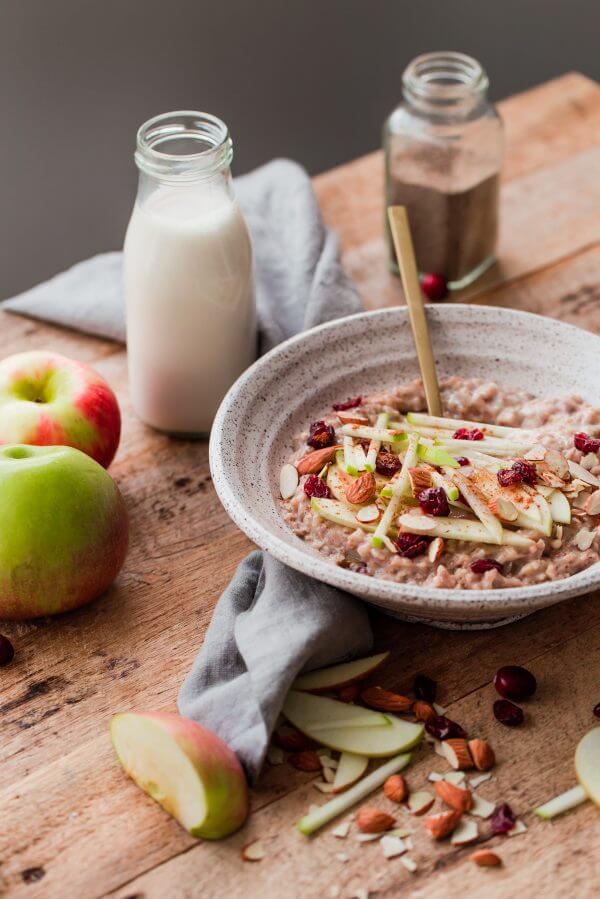 This post is in partnership with Bob's Red Mill.
We're busting out the slow cookers today for the world's easiest breakfast! I double-checked the recipe archives and it has been approximately seven months since I shared a slow cooker recipe.
When it comes to weekday breakfasts, I'm quite possibly the laziest cook on the planet. Coffee is the first order of business, and food comes second. Don't get me wrong, I love breakfast. More specifically, I love hot breakfasts, particularly in the fall and winter months.
In college I would regularly make myself eggs or banana oatmeal before heading to class (mind you, this was upstate New York, so hot breakfasts were basically required in order to maintain body temperature). But growing up, there was always a fine line between sleeping more and eating breakfast. I was willing to set aside around 15 minutes for preparing breakfast and that was my limit.
Old habits die hard.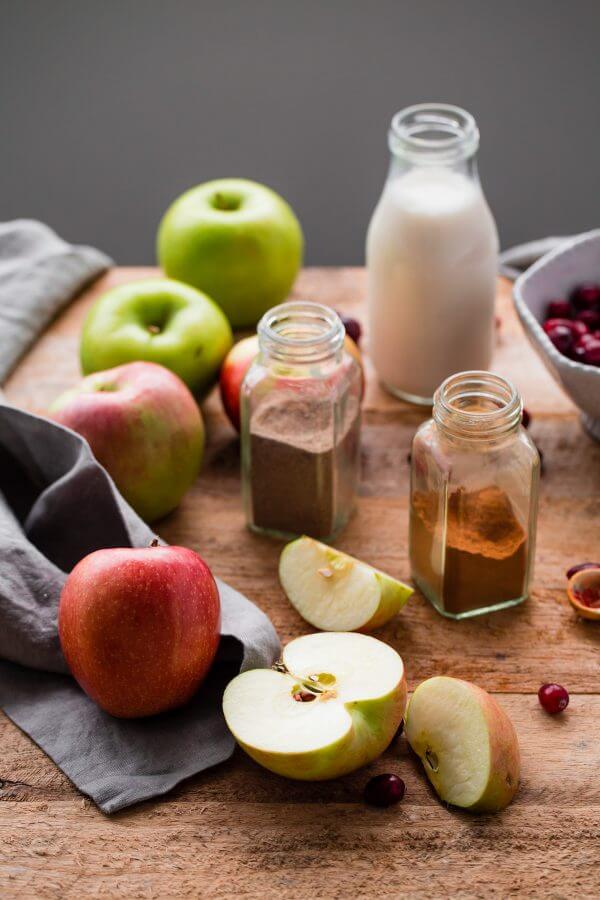 For all the reasons above, steel cut oats (Irish oats) have rarely made the breakfast cut, despite the fact that its chewy texture and nutty flavor is far superior, in my opinion, to regular oatmeal. Due to its coarser texture, steel cut oats generally take around 30 minutes to cook on the stovetop start to finish. Aka. about 10 minutes and 20 stirs too long for the average weekday breakfast.
This is where the slow cooker comes in and works its magic. Slow cooker steel cut oats are a godsend to anyone short on time in the morning (this concept also works in a rice cooker!), particularly my husband, Connor, who wakes up regularly at 4:30 AM for work.
You can throw all of the ingredients into the slow cooker insert the night before, give it a good stir, and wake up to perfectly cooked steel cut oats the next morning. It takes about two minutes of effort just before you go to bed and that's about it.
These slow cooker steel cut oats will be ready faster than it takes to toast a slice of bread, and they will be much more delicious, hearty, and filling. Perfect for individuals, couples, or families on different schedules on the weekdays, but also ideal for the holidays when you're staying up late and need to have an easy breakfast ready-to-go for houseguests or family.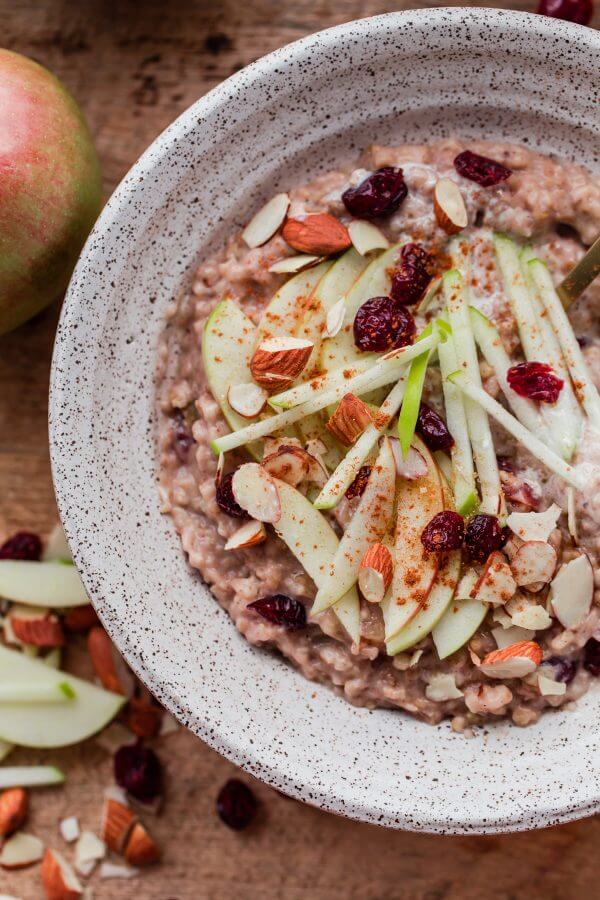 How to Make Steel Cut Oats In a Slow Cooker:
I always use Bob's Red Mill steel cut oats because, in my humble opinion, they are the best. No, really, they won the World Porridge Making Championships in Scotland. They beat the Scottish at their own game!
The steel cut oats are cooked in unsweetened almond milk. While I don't love to drink the stuff on its own, I love using almond or other nut milks for cooking breakfast grains. It produces really creamy and flavorful oats, but you are welcome to use other nut milks or a combination of water/regular milk if you prefer.
Tips for Success:
After doing some slow cooker research, I did discover a few important tricks to preparing steel cut oats in the slow cooker. This isn't rocket science, but these are worth noting:
give your slow cooker insert a light coating of cooking spray to prevent any sticking (all slow cookers behave differently!)
it is best to use a smaller volume capacity slow cooker (2-quart or 4-quart) for recipes using just 1 cup of steel cut oats (4 servings); if you only have a larger capacity slow cooker, double the recipe. otherwise they might crisp up, dry out, or brown on the edges!
the oats will develop a thin surface skin as they cook. it will be integrated after you give the oatmeal a few stirs, and no one will be the wiser.
slow cookers are not created equal. does your slow cooker run hot? if it does, reduce the time slightly and, if possible, give it a few stirs as it cooks.
In case any of you are curious, this is the slow cooker that I own and use. It is the only brand of slow cooker I've ever used, but I can only say good things about it. It also has a keep warm function, which I love.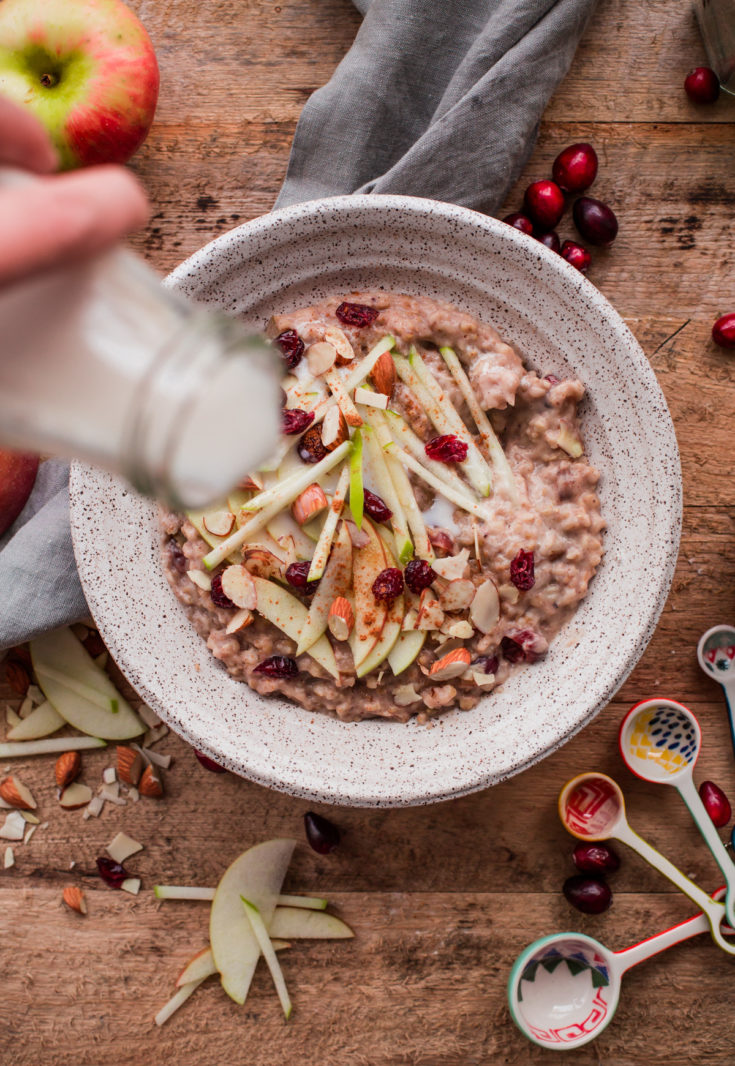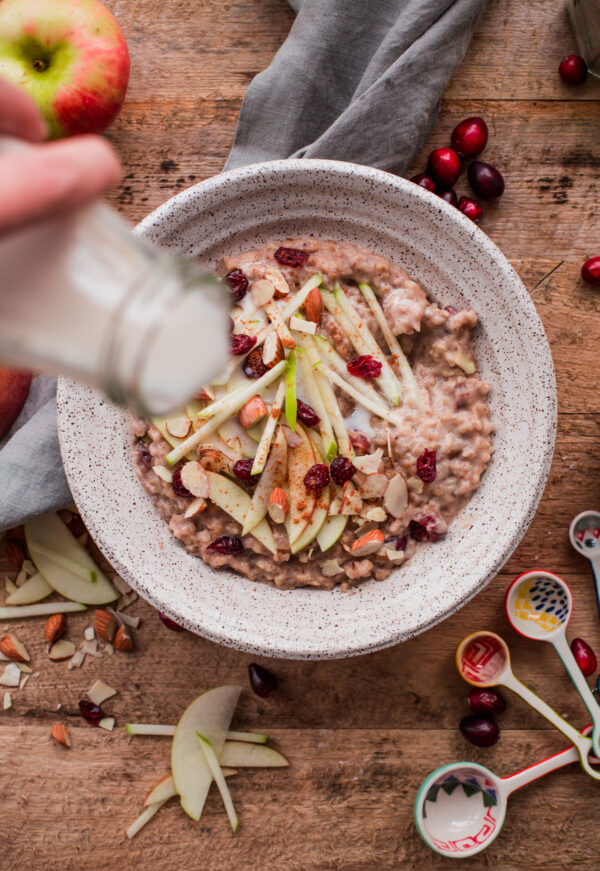 Steel Cut Oatmeal Toppings:
To give these slow cooker steel cut oats a fall twist, I added in cozy things like chopped apple (I prefer tarter Granny Smiths for cooking purposes, but other sweeter varieties for topping!), fresh cranberries, a touch of maple syrup, and fall spices. I loved the occasional bite of tart cranberry along with the sweeter cooked apple. Feel free to mix it up!
Oh, and I put cardamom in this because I have an inexplicable urge to add cardamom to ALL THE THINGS. Sorry (ps. you can totally leave it out).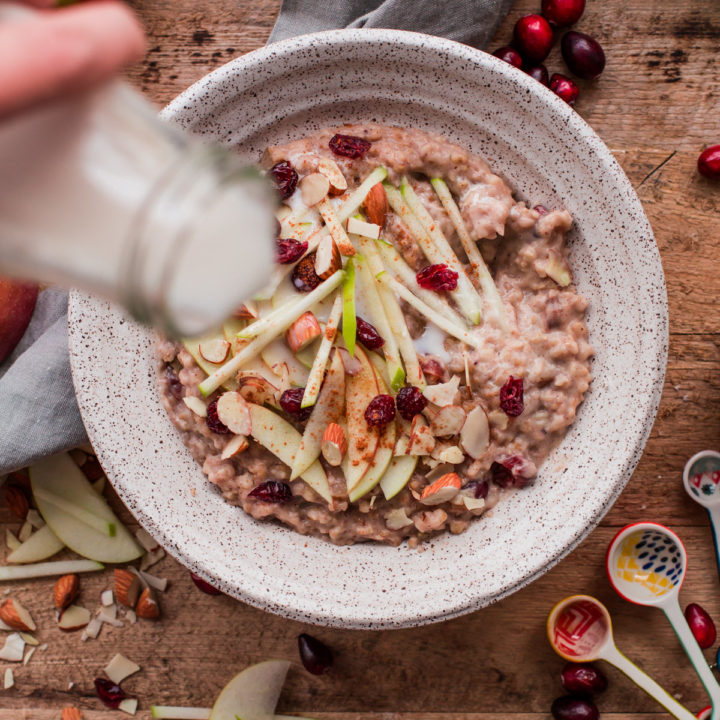 Slow Cooker Steel Cut Oats with Apple and Cranberries
Yield: 4 Servings
Creamy slow cooker steel cut oats with a fall twist. This delicious breakfast can be prepared the night before and be ready for you when you wake up in the morning!
Prep Time: 5 minutes
Slow Cooker Time:: 8 hours
Total Time: 8 hours 5 minutes
Ingredients
For the Slow Cooker:
cooking spray
1 large Granny Smith apple, cored, and diced
1/2 cup fresh cranberries
3 tablespoons pure maple syrup
1 tablespoon pure vanilla extract
1 teaspoon ground cinnamon
1/2 teaspoon ground cardamom (optional)
2 pinches of kosher salt
4 and 1/2 cups unsweetened almond milk, plus more for serving
Toppings:
chopped or julienned apple
almond slices/chopped almonds
dried cranberries
turbinado sugar/maple syrup
ground cinnamon
Instructions
Spray a 2-quart or 4-quart slow cooker insert lightly with cooking spray. If you are using a larger volume slow cooker, be sure to double the recipe quantity as this quantity will not cook properly in a 6-quart slow cooker. Slow cookers that run HOT might cause the cooking liquid to evaporate more quickly. This may result in slightly thicker skin or crust developing on the surface of the oats (see below) or sides of the insert. When in doubt, reduce the cook time and adjust as necessary.
Combine the steel cut oats, diced apple, cranberries, maple syrup, vanilla extract, cinnamon, cardamom, salt, and almond milk. Stir to mix thoroughly. Cover and cook on low heat for 6 hours (for firmer oats) to 8 hours (softer oats with the slightest chew), stirring once or twice if possible (if cooking overnight, you can skip this step). As the oats are cooking a thin, dark colored skin may form on top of the oats and they will look slightly dry at first glance. Don't worry. Go ahead and stir the oats well until they are creamy and smooth, the skin will be absorbed and incorporated by stirring. If you prefer looser oats, stir in an additional half cup or so of almond milk. Serve hot and garnish with toppings as desired.
Leftover oats can be stored in a container in the refrigerator. I always add a generous splash or milk or water before reheating – it loosens the oatmeal and improves the texture tremendously!
Recommended Products
As an Amazon Associate and member of other affiliate programs, I earn from qualifying purchases.
Nutrition Information:
Yield: 4
Serving Size: 1
Amount Per Serving:
Calories: 285
Total Fat: 6g
Saturated Fat: 1g
Unsaturated Fat: 2g
Sodium: 217mg
Carbohydrates: 50g
Fiber: 8g
Sugar: 16g
Protein: 8g
This post is sponsored by Bob's Red Mill. Thank you so much for supporting brands that I love and use in my kitchen!