Favorite Cooking Tools For A Stress-Free Holiday Season
My favorite tried-and-tested cooking tools to have on hand for Thanksgiving and the holiday season.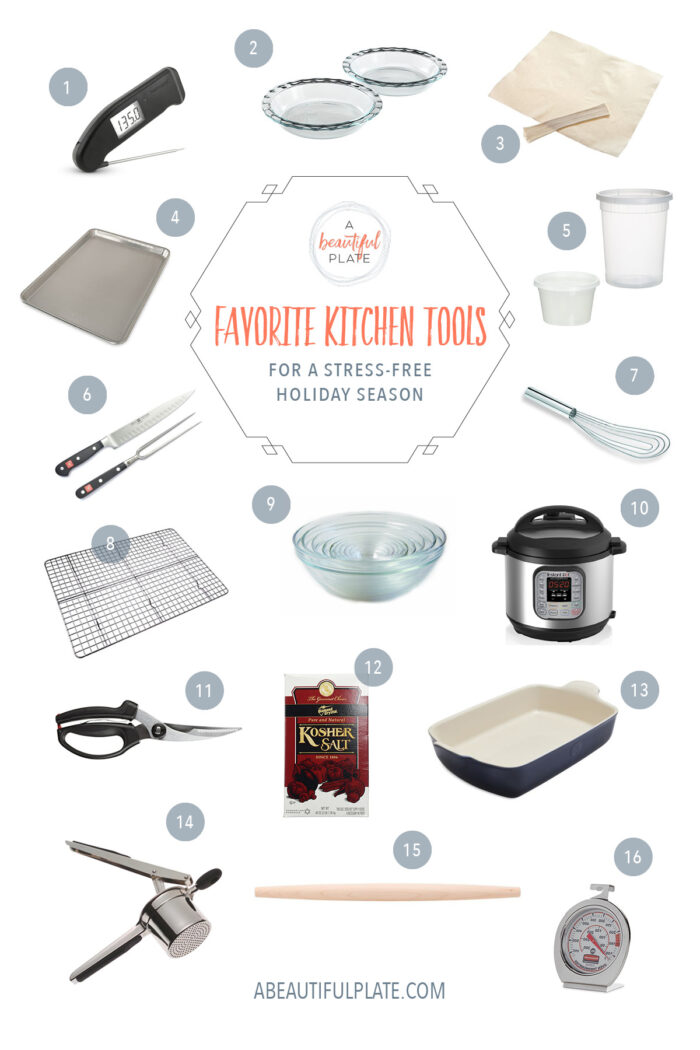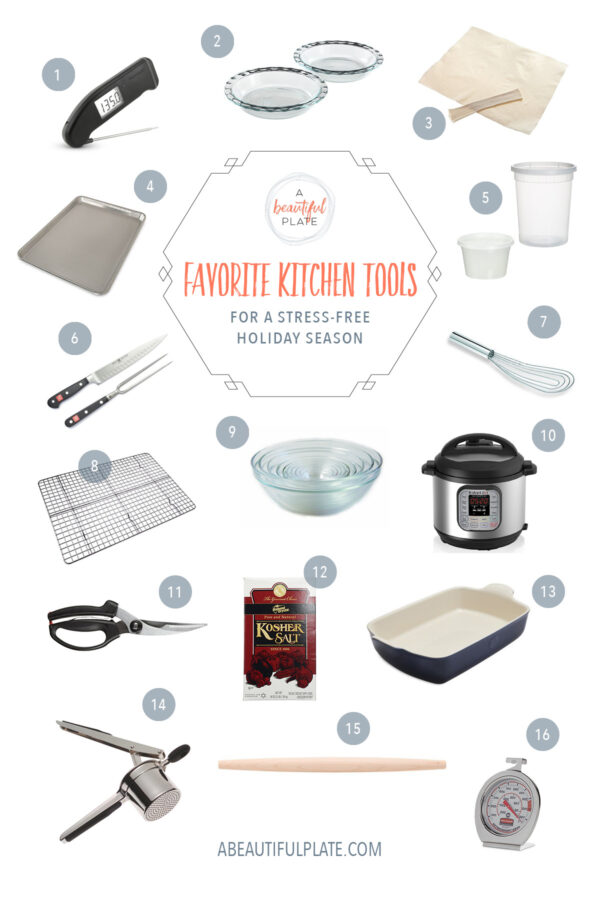 This post contains affiliate links.
You guys! The craziest time of year is upon us. Is it just me or did the holiday season sneak up on us so quickly this year?
Connor and I are hosting our first Thanksgiving in Chicago this year. Family members are flying in from across the country. We're buying a big folding table to accommodate everyone and hoping Marley behaves himself and doesn't eat the turkey.
Since I'm in charge of the entire menu, I've been brainstorming ideas (this Roasted Brussels Sprouts and Squash side dish is making its annual appearance – check out the new recipe video!) for a couple weeks.
My goal is to relax on Thanksgiving Day and spend as little time in the kitchen as possible, so I've been organizing a massive grocery list and crazy prep timeline. I love using Evernote, because it allows you to create checkbox lists (instant shopping list!), and access everything on your computer and phone. You can't lose it either.
While the holidays can be overwhelming, my best advice is to plan and prep as many items as you can in the days or nights leading up to the big day. You'd be amazed at how many dishes can be prepared in advance.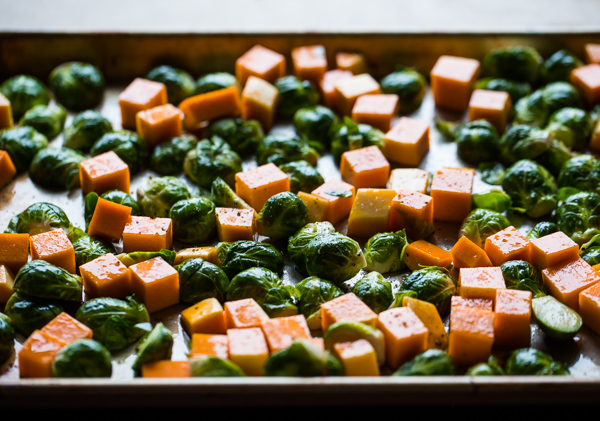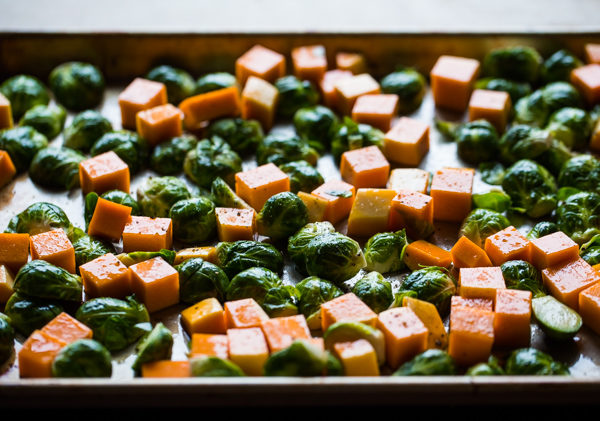 Make gravy now, freeze a few batches of homemade pie dough, dry brine your turkey to avoid any potential mess, and chop and prep as much as you can (stuffing ingredients, salad dressings, vegetables, etc.). You can even cook your mashed potatoes several days ahead and reheat them before serving.
Last, but not least, take a few minutes to take stock of your kitchen and order any last minute supplies. Here are 16 of my favorite tried-and-tested cooking tools to make life easy, ensure excellent results, and reduce cooking stress over the holiday season. All of these items can arrive in time for the big day.
1. Thermapen Thermometer – if you invest in one item on this list, make it this one. The best way to ensure that your Thanksgiving turkey is cooked properly is to own a high-quality thermometer. This one provides accurate readings in two to three seconds and is calibrated to the highest standards. I couldn't live without mine. I adore this ChefAlarm as well, but if I had to choose between them, the thermapen is a more versatile choice.
2. Glass Pyrex Pie Pans – I highly recommend basic Pyrex pie pans for pie baking. They're cheap, non-reactive, and faster conductors of heat than ceramic, ensuring the bottom crust is cooked through. No soggy bottom crusts.
3. Pastry Cloth + Rolling Pin Cover – one of the most under-rated, affordable, and helpful tools for rolling out homemade pie dough. This cloth (and rolling pin cover) provides a non-stick surface and prevents your dough from picking up excess dusting flour.
4. Half Sheet Pans – did you know that your typical half sheet pan is better for roasting your turkey than one of those expensive roasting pans? [For turkeys 14 pounds and smaller]. They are a tenth of the cost and much sturdier than disposable foil pans as well. I own at least five of these and am constantly using them for roasting or as a tray for mise en place.
5. BPA-Free Quart Deli Containers – freezer, dishwasher, and microwave-safe, classic deli containers are perfect for storing homemade stock, chopped vegetables, prepped gravy, or leftovers. I label mine with basic masking tape and a sharpie. These are the same ones that restaurants use for prepping anything and everything.
6. Carving Set – don't underestimate the value of a good-quality carving knife and fork! There's nothing worse (or more dangerous) in the kitchen than a dull knife. This set is fabulous quality and happens to be on sale right now. Even if you're stocked in this department, be sure to sharpen your knives a few days before Thanksgiving.
7. Flat Whisk – while you can certainly make gravy with a regular whisk, a flat whisk will make the job much, much easier and more comfortable.
8. Cooling Rack – I have several cooling racks on hand that can sit within a standard half sheet pan. They make the perfect rack for dry brining in the fridge or surface for roasting a spatchcocked turkey.
9. Glass Nesting Prep Bowls – prep bowls are my favorite thing in the world, especially during the holidays. I'll put together a mise en place of ingredients and stay organized, which allows me to focus on the task at hand. I love glass ones because I can them in the microwave if needed or use the larger ones as a last minute serving dish. I highly recommend a set of cheap, nesting stainless steel bowls too.
10. InstantPot – while I might recommend holding off on getting one of these until Cyber Monday (they has a tendency to go on major sale!), the Instant Pot is such a fabulous tool to have on hand for Thanksgiving. While I know there are a million slow cooker recipes out there, I prefer the versatility of an Instant Pot for the holidays as you can prepare stock or even mashed potatoes in a matter of minutes…not hours.
11. Poultry Shears – heavy duty poultry shears are essential if you're interested in spatchcocking your Thanksgiving turkey (we're making this recipe next week!), but are useful for a million different kitchen tasks.
12. Diamond Crystal Kosher Salt – the only type of cooking salt that I use in the kitchen and the best type for dry brining and seasoning. It distributes evenly and dissolves quickly. It is the least dense variety of kosher salt out there, giving you the most control. You can read more about why I love this variety and brand of salt here. Salt is the most essential ingredient to have on hand for Thanksgiving.
13. Ceramic Casserole Dish – I love these beautiful ceramic dishes for preparing stuffing or other assembled dishes, as they are very resistant to temperature shock (allowing you to stick them directly into a hot oven from the fridge) and pretty enough to go on the table. They are also on sale now!
14. Potato Ricer – you can certainly live without this item, but potato ricers help eliminate the amount of starch released by mashing potatoes very, very quickly through tiny holes. They help ensure the fluffiest, smoothest mashed potatoes ever. P.S. Use it later to make homemade gnocchi.
15. French Rolling Pin – my favorite style of rolling pin as it's easy to use and gives you much more control. This is a must-have tool for rolling out pie dough!
16. Oven Thermometer – last, but not least, I highly recommend investing in a cheap oven thermometer to account for any variances in temperature in your home oven before you start cooking. I always have one of these in my oven, as it is very important for recipe testing.
None of these items have been sponsored. This post contains Amazon and RewardStyle affiliate links. This means that I will earn a very small commission (at no cost to you!) if you purchase an item through my links. Thank you for your support!
This post contains affiliate links, which means that I make a small commission off items you purchase at no additional cost to you. Please read my
privacy policy
for more information.