These lightly spiced pumpkin pancakes get their wonderful texture from the addition of whipped egg whites – my favorite trick to achieve light and fluffy pancakes!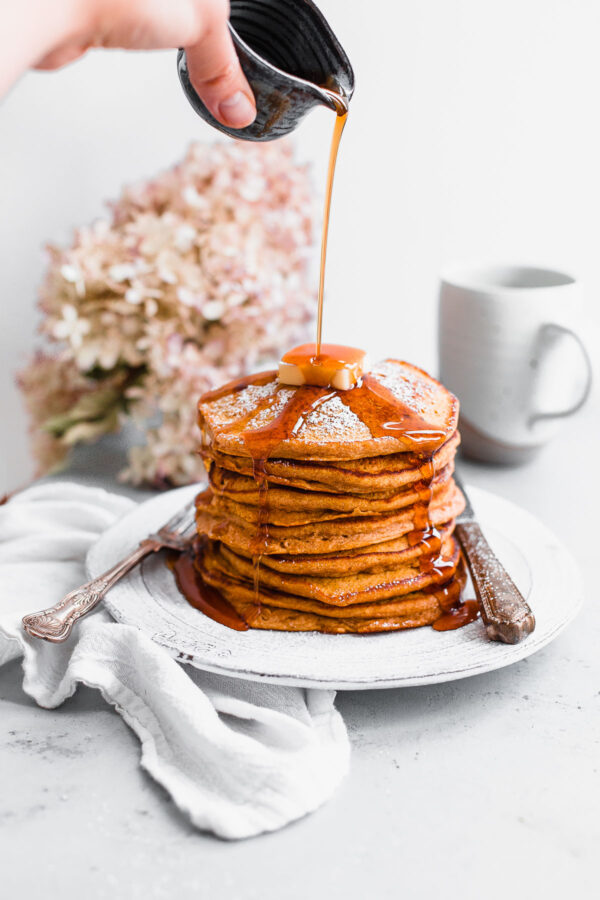 Today's pumpkin souffle pancakes originally made their appearance on the blog over five years ago. That's the equivalent of like 25 years in blogging world. Bless you if you've stayed around this little area of the internet that long.
They remain one of my family's favorite holiday breakfast recipes. My oldest sister, Alessandra, requests a batch of these every single year without fail.
So, I've given these pumpkin pancakes a little photography makeover and am bringing the recipe back to you today: new and improved! You'll find new gram measurements, process shots, as well as some cooking science below on my favorite trick to achieve light and fluffy pancakes.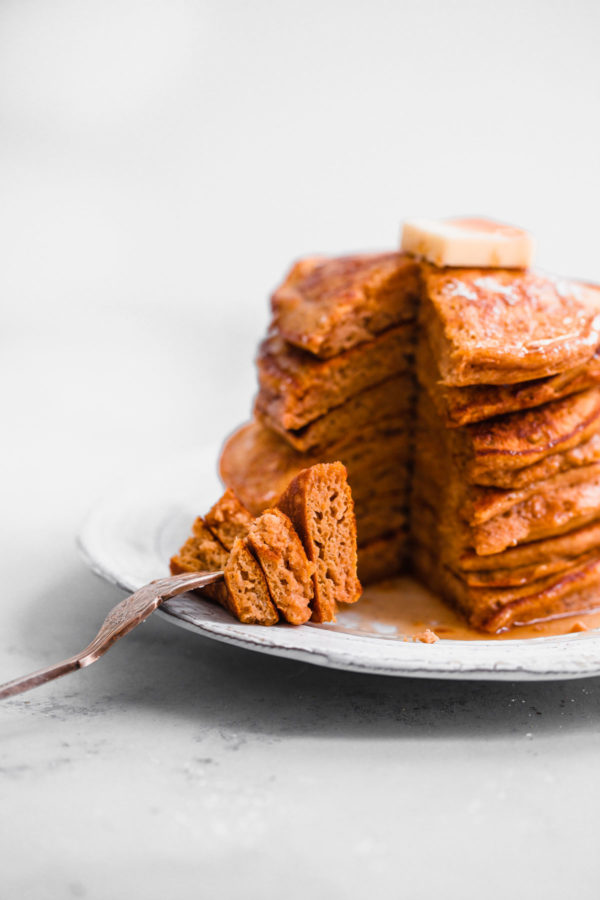 I've always considered myself a bit of a pancake snob. In fact, my whole family is full of pancake snobs. We'll heavily research and seek out special spots that offer unique and creative pancake options. We have even been known to carry around small containers of pure maple syrup (in our purses, yes, literally) to diners and other breakfast joints.
Growing up, I preferred buckwheat pancakes to the stereotypical regular white, cake-like pancakes, turned up my nose at Aunt Jemima, and learned to properly heat up my maple syrup as soon as I was tall enough to reach the microwave. Quite obnoxious, yes.
In other words, I'm picky. Very picky, especially when it comes to pancakes.  In a world (and internet) full of various pumpkin pancake recipes, you're probably wondering why these are any different than the rest. I assure you, they are.


Pumpkin Souffle Pancakes: Ingredient Breakdown
The majority of pancake recipes use one or a combination of chemical leavening agents, such as baking powder or baking soda.
These chemical leaveners, once moistened, produce carbon dioxide gas in the batter, which enables pancakes (as well as your typical muffin, quick bread, etc.) to achieve their height and significant texture.
Unlike other pancakes, this recipe uses a combination of both a chemical leavener, baking powder, as well as a physical  leavener, whipped and folded egg whites, to produce extra fluffy souffle-like pumpkin pancakes. Air or gas is incorporated in not just one, but two ways.


Whipped Egg Whites: Why It Works
Instead of adding whole eggs to the pancake batter, we're going to separate the egg yolks from the whites, and beat the egg whites until they achieve stiff peaks. These will get folded into the batter just before cooking.
As you're whipping egg whites, you're quite literally producing microscopic pockets of air that will expand during cooking. While it does require you to dirty up another bowl, this extra step makes a remarkable difference in the final texture of these pumpkin pancakes.
Note: You can apply this same cooking technique to any of your favorite pancake recipes. Simply mix the seperated egg yolks into the batter at the same stage as the recipe would normally call for adding the whole eggs (the batter will be thicker than normal), then fold in the whipped egg whites as the final step just before cooking.


Tips for Success
I recommend making pancakes no larger than 4-inches in diameter, as they will become too delicate to flip if made much larger than this.
Since this pancake pancake batter is light and fluffy, be sure to allow these pancakes to cook through properly before flipping on a griddle or non-stick pan.
Look for small bubbles begin to form on the top of the pancake. This is the signature sign to start flipping!
These fluffy pancake souffle pancakes have a delicate pumpkin flavor and are lightly spiced with ground cinnamon, ginger, and clove.
Don't forget warm pure maple syrup! The maple flavor helps compliment and bring out the natural pumpkin flavor in these pancakes, so I do not recommend skipping it or substituting with another topping.