Simple Pumpkin Pie Custard
Hello everyone!
I hope you all had a fun Halloween weekend.
This past weekend whizzed by and I meant to post this recipe many days ago, but have been incredibly busy over the last few days. If any of you are following me on Twitter, you may have noticed my occasional references to studying over the last several weeks. To make a long story short, I'm taking the GRE test (for nursing school applications) tomorrow morning at 7:30 am sharp and have been trying to squeeze in last minute preparation for the past couple weeks. For the last couple days, I've been hunched over my books and spending hours doing practice tests and drills. I'm looking forward to having it past me, so I can have more free time and hopefully blog on a more regular (aka: less bizarre) schedule.
We also had my grandfather's memorial service on Saturday afternoon in DC (day of the famous Colbert/Stewart rally!), so I've been spending a lot of time with family and friends in my spare time.
Ok…enough blabbing. On to the exciting stuff!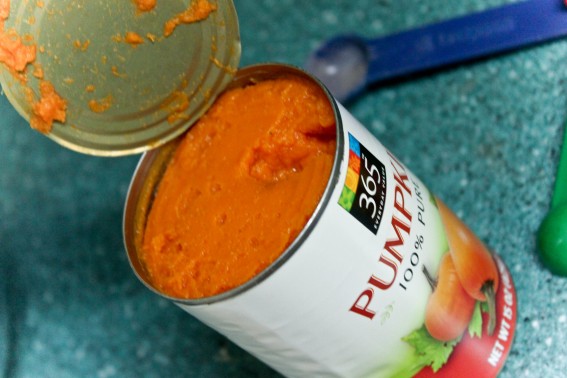 This custard is the perfect thing to make if you've been craving pumpkin pie lately, but didn't want all the fuss and time spent making a homemade crust. It is also a lot lighter and healthier! Don't get me wrong, I love a great pie crust, but I completely forgot about the importance of crust when I was eating this.
While it takes almost no time to put together, it does take a long time to bake custard in the oven. Be prepared for it to take the full cooking time, unlike me, who kept flicking the oven light on and off impatiently. I also made this at night around 10:30 pm, which I wouldn't recommend.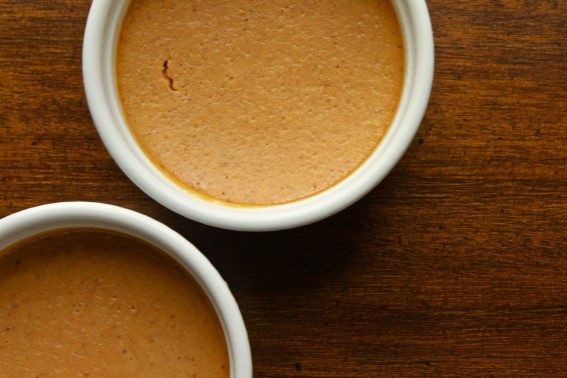 Grab a spoon and dig in!
This was comfort food at its very best. I actually recommend doubling the recipe, because they will disappear incredibly quickly. I can't wait to make more of these over the Thanksgiving holidays!
Back to the books!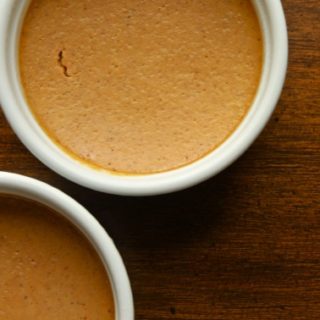 Simple Pumpkin Pie Custard
Yield: 3 Servings
Prep Time: 10 minutes
Cook Time: 1 hour 10 minutes
Total Time: 1 hour 20 minutes
Ingredients
1/2 cup skim milk
1 whole egg
1 1/2 egg whites
2 1/2 tablespoons granulated sugar
1 heaping teaspoon cinnamon
1/4 teaspoon ground ginger
1/4 teaspoon ground nutmeg
1 teaspoon vanilla extract
1/8 teaspoon salt
1/2 cup pureed pumpkin
3 tablespoons pure maple syrup, divided
Instructions
Preheat oven to 325 degrees. Pour 1 tablespoon of maple syrup into each ramekin, swirl to cover the bottom.
Whisk together egg, egg whites, and sugar. Add pumpkin, vanilla, salt and spices. Gently whisk in milk. Pour equally into ramekins.
Place ramekins into baking dish and fill with boiling hot water until 1/4 of the side of the ramekins are covered.
Bake for 60-70 minutes. They are done when the middle of the custard is set and does not wiggle when lightly tapped. Let cool completely, cover and store in refrigerator. These tasted delicious cold or heated slightly in the microwave!
Nutrition Information:
Yield: 3
Serving Size: 1
Amount Per Serving:
Calories: 154
Total Fat: 2g
Saturated Fat: 1g
Trans Fat: 0g
Unsaturated Fat: 1g
Cholesterol: 63mg
Sodium: 156mg
Carbohydrates: 29g
Fiber: 1g
Sugar: 26g
Protein: 6g