Chocolate Hazelnut Ice Cream
This decadent hazelnut nut ice cream recipe is made with homemade hazelnut butter and flecked with dark chocolate for the ultimate frozen treat!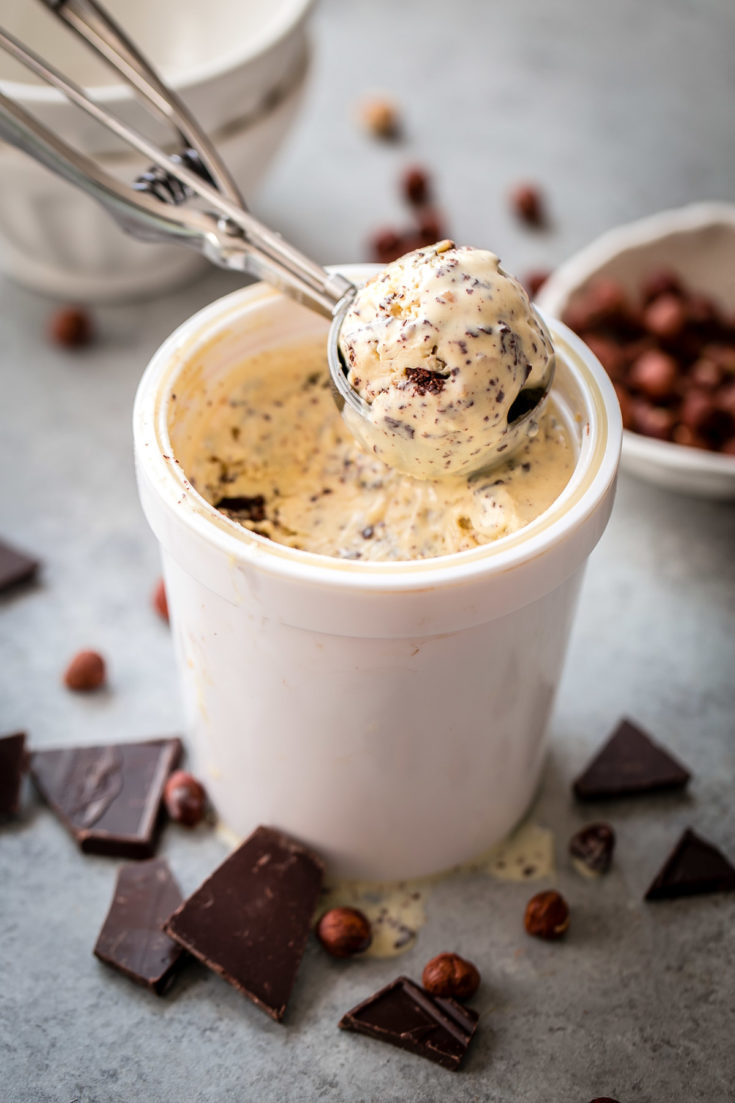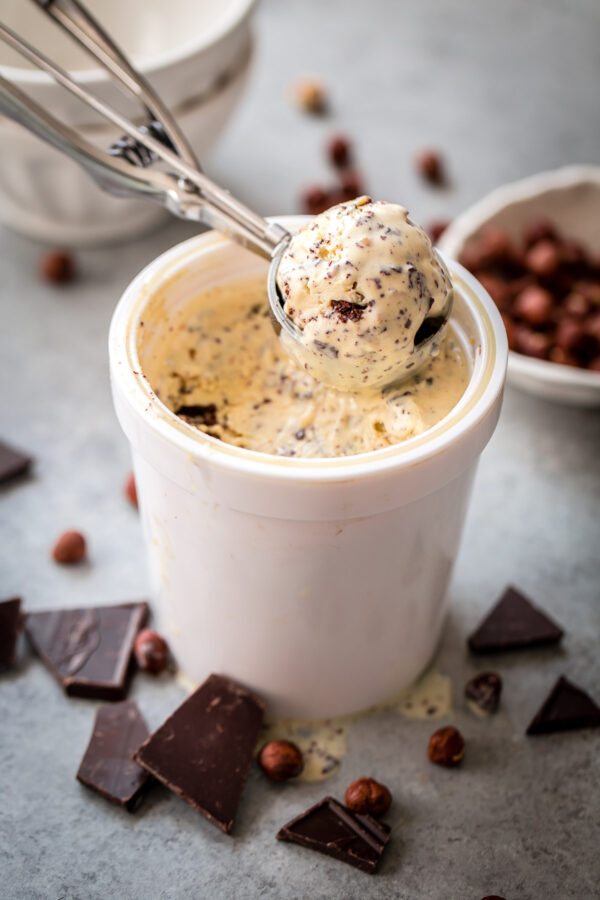 This post is brought to you by Safest Choice eggs.
The end of August is approaching quickly (how? why?!) and I'm only just bringing you a brand new ice cream recipe. Forgive me! I've made up for it, I hope, by making it extra special. Hazelnut chocolate chip ice cream!
Emphasis on the hazelnut, because this ice cream is packed with them. There is no skimping of hazelnuts in this ice cream. I wouldn't do such a thing! Nothing irks me more than the idea of vanilla ice cream, flecked with the occasional chopped hazelnut, being masqueraded as true hazelnut ice cream.
So, how are we going to make said hazelnut ice cream? We're going to swirl homemade hazelnut butter into the creamiest of creamiest ice cream custard bases. Go big or go home. My favorite motto (as evidenced these homemade ice cream drumsticks) as far as ice cream is concerned…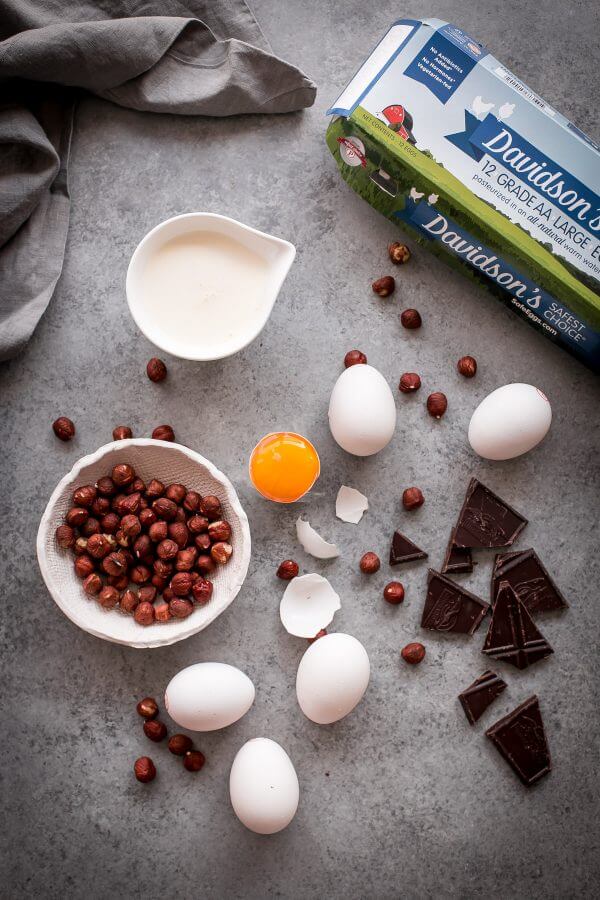 Yes! We're going to make our very own homemade hazelnut butter! This stuff is pure gold, and might easily become the best thing that you've ever made in your food processor.
Ok, so here's the deal. This part of the recipe is a teensy bit high-maintenance, but sometimes the best recipes take a little bit more work. You feel me? Let me elaborate.
Hazelnuts are nine times out of ten sold in whole form with the skins on. This is actually a good thing, because it means that we're getting quality hazelnuts with better flavor, but this comes with a downside too.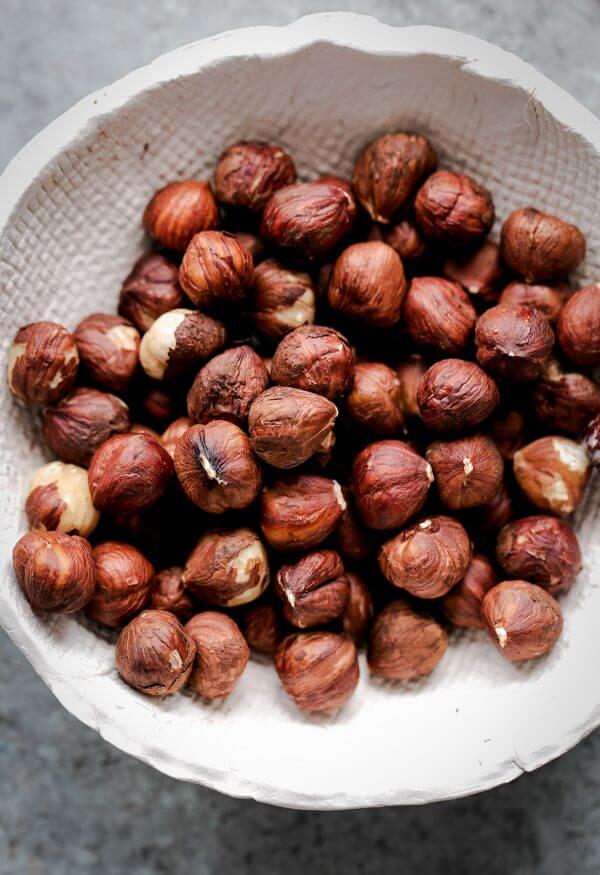 Hazelnut skin is fairly bitter in flavor, so it is best to remove all or as much of that skin as possible. Guys, I'm not going to sugar coat this. It's a bit of a pain in the butt. I've talked about this before, in detail, on the blog.
This hazelnut ice cream recipe uses the old-fashioned method. Whole, skin-on hazelnuts are toasted in the oven, placed between clean kitchen towels, and rubbed back and forth to create friction and rub off the hazelnut skin.
I'm not going to lie. It is a process that takes time, arm muscle, and patience. You might curse me (repeatedly) halfway through it, but ultimately it is worth the effort! Really, promise.
If you're looking for an easier method, Rosy Levanbaum's method of blanching hazelnuts (check the recipe notes one these hazelnut cookies for detailed instructions) also works, but I find that it changes the texture of the hazelnuts and produces a less optimal hazelnut butter.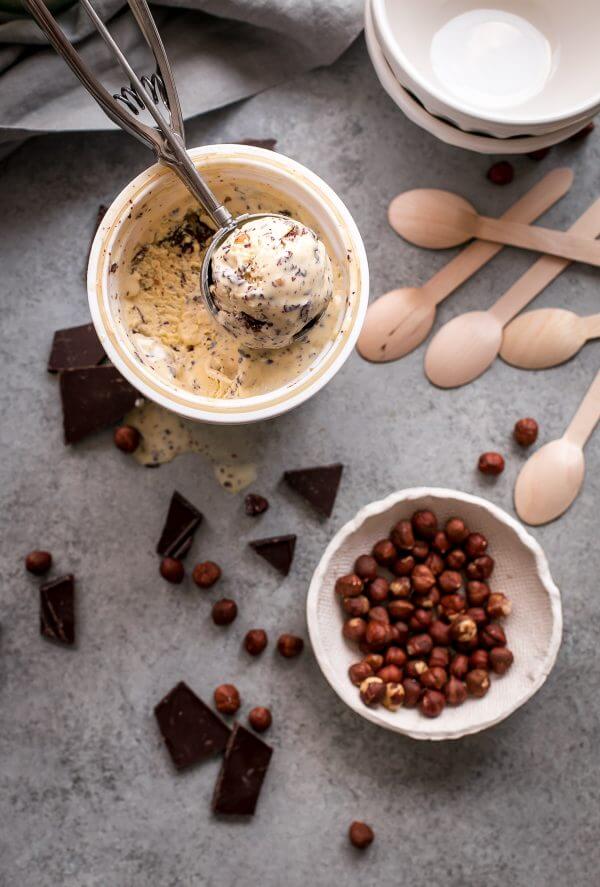 The good news? Once you have prepared and made the hazelnut butter for this recipe, the rest of the ice cream comes together so quickly and effortlessly! The chocolate is drizzled into the ice cream just as it is finishing churning, creating flecks of semisweet chocolate that melt in your mouth with each spoonful.
My favorite ice cream custard bases are made with eggs (you can't beat the flavor and creaminess they offer). This one, inspired by Serious Eats, requires no tempering or additional hassle. Whenever I'm working with raw egg applications, I always turn to my favorite Davidson's Safest Choice pasteurized eggs.
I'm able to taste and adjust flavors as much as I want in the cooking process (yes, even while the ice cream base is uncooked) with total peace of mind. This is wonderful for me, as a recipe tester, but even better for you. It gives you the ability to make little tweaks to raw egg recipes along the way, and adjust flavors to your liking much more easily.
Not only are Davidson's Safest Choice pasteurized eggs are hormone and antibiotic free – and have earned the Seal of Approval from the American Culinary Federation –but they also undergo an all-natural egg pasteurization process that eliminates the risk of salmonella in the eggs before they even enter your kitchen.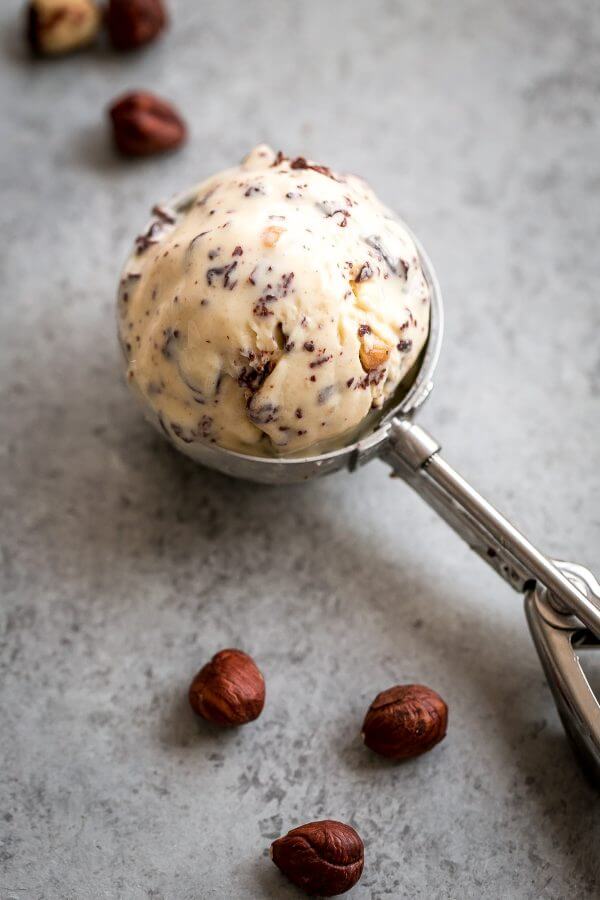 Obviously, this ice cream is perfect for these last few hot days of summer (I mean, isn't all ice cream?), but the flavors are totally appropriate any day of the year!
Yes, even those dreaded winter months.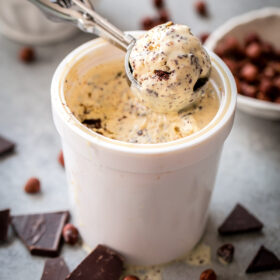 Chocolate Hazelnut Ice Cream
This rich homemade chocolate hazelnut ice cream doesn't skimp on hazelnut flavor. A creamy traditional ice cream base is infused with homemade hazelnut butter. Just as it finishes churning, we'll slowly pour in melted semi sweet chocolate chocolate to create the most delectable chocolate bits throughout! This is a special occasion ice cream recipe that is worth the added effort.
Ingredients
Homemade Hazelnut Butter
1 cup (roughly 5¼ oz) raw hazelnuts, skin-on
Ice Cream Base
6 Safest Choice pasteurized egg yolks
¾ cup (150 g) granulated sugar
1½ cups (360 mL) whole milk
1½ cups (360 mL) heavy cream 350 mL heavy cream
½ teaspoon pure vanilla extract
small pinch of kosher salt
batch of homemade hazelnut butter see recipe above
2 ounces semi-sweet chocolate broken into small pieces
1 tablespoon (15 g) unsalted butter
Instructions
Prepare the Homemade Hazelnut Butter: Preheat oven to 350°F (176°C). Line a sheet pan with parchment paper or a silicone baking mat. Place the raw hazelnuts on the pan, and toast for 10 to 15 minutes, or until fragrant and the skins are just beginning to crack. 

Transfer the hot hazelnuts to the center of clean, large kitchen towel. Grab ends of towel to close and allow hazelnuts to cool for 5 to 10 minutes. Use your hands to roll and rub hazelnuts within the towel to remove their skins. If necessary, toast any stubborn hazelnuts in the oven for an additional 3 to 5 minutes to help loosen their skins. 

Transfer the hazelnuts to bowl of large food processor. Process for 3 to 5 minutes, scraping down sides of bowl with spatula every few minutes, or until a very creamy and smooth butter forms. It will be dry, thick, and crumbly in the first few minutes of processing. As oil from the hazelnuts is released, it will transform into a loose nut butter. Set aside as you prepare the ice cream base.

Prepare the Ice Cream Base: Whisk together egg yolks and granulated sugar in medium mixing bowl until thick and pale yellow in color. Whisk in the whole milk and heavy cream. Transfer the mixture to a medium saucepan. Place over medium-low heat, stirring frequently with wooden spoon and adjusting the heat as necessary, until mixture has thickened. The mixture is ready when it coats the back of the spoon and holds when swiped with a finger. Immediately transfer the ice cream mixture to large mixing bowl. Add vanilla extract, salt, and hazelnut butter and whisk until well combined. Allow to cool to room temperature. Strain mixture through fine-meshed sieve into a large, refrigerator-safe container. Cover and refrigerate until very chilled, ideally 12 hours.

Churn the ice cream mixture in an ice cream maker according to the manufacturer's instructions. Once the ice cream has almost finished churning, combine the chocolate and butter in small microwave-safe bowl. Microwave in 15 second increments, stirring between each one, until the chocolate and butter have melted completely and the mixture is smooth. Scrape the chocolate into small plastic bag and seal, squeezing out any excess air. The chocolate should be warm (if necessary, place the closed bag in a bowl of warm water as the ice cream finishes churning) throughout this process. 

In the last minutes of churning, snip a very small hole from the bottom corner of the plastic bag and drizzle the chocolate in thin stream into ice cream as it is churning. Transfer ice cream to airtight container and cover the surface of ice cream with parchment paper or plastic wrap. Freeze ice cream for a minimum of 4 to 6 hours, or until firm enough to scoop.
Tips for Success:
For additional texture in every bite, feel free to reserve a few whole, skinned hazelnuts. Finely chop and add them to the ice cream in the last few minutes of churning!
Serving: 1serving, Calories: 400kcal, Carbohydrates: 30g, Protein: 7g, Fat: 34g, Saturated Fat: 15g, Cholesterol: 210mg, Sodium: 45mg, Fiber: 2g, Sugar: 26g
This post was created in partnership with Safest Choice eggs. I am a proud member of Safest Choice Eggs' Darling Dozen. Thank you for your continued support!
This post contains affiliate links, which means that I make a small commission off items you purchase at no additional cost to you. Please read my
privacy policy
for more information.