Hazelnut Thumbprint Cookies with Jam
Buttery hazelnut thumbprint cookies filled with a soft berry jam center. These little cookies are easy to make, flavorful, and would make a lovely last-minute addition to your holiday table!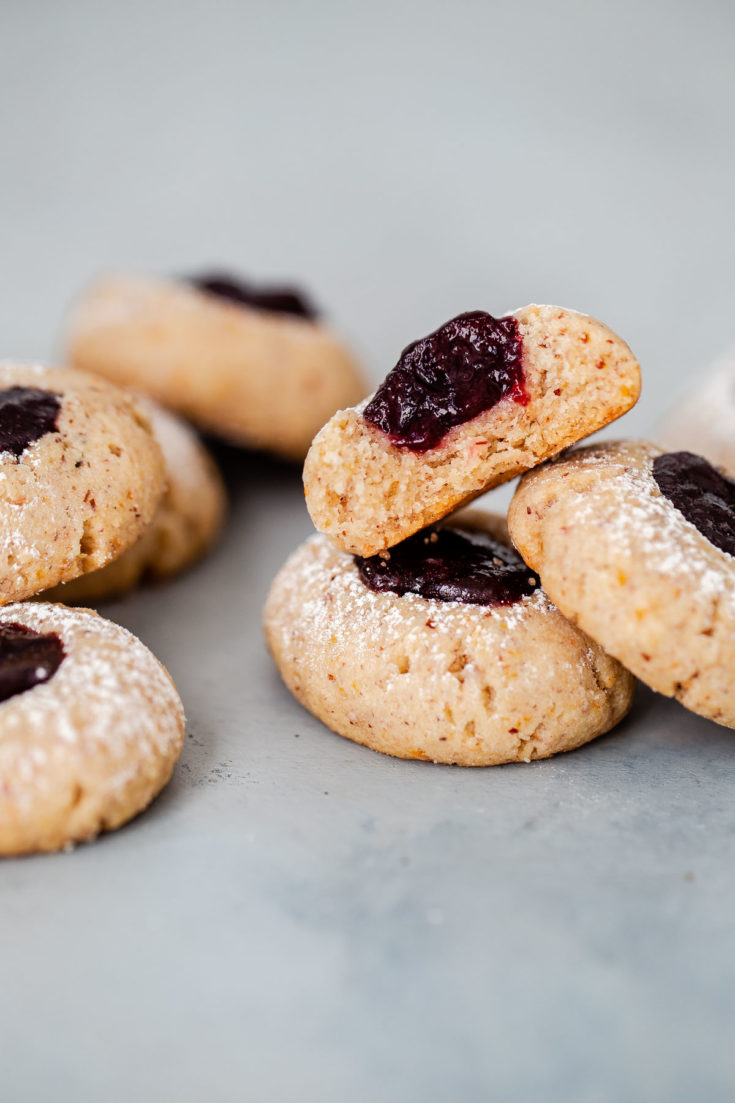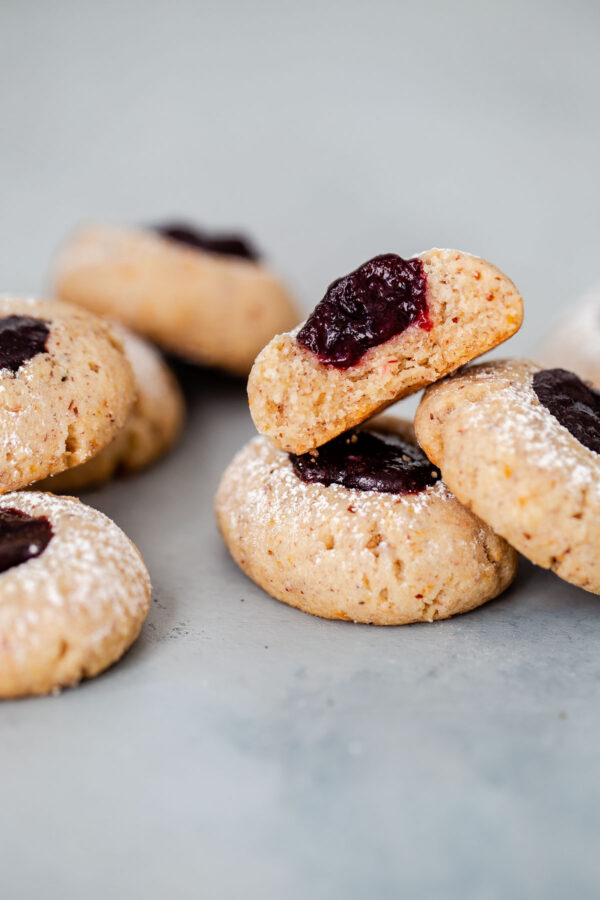 I'm back with one final holiday treat to finish off the season! I promise that we'll have lots more savory recipes in the coming weeks, but for the time being, I've been letting my creative energy focus on sweets.
Since Christmas is just five days away, I wanted to stick with simple. I know how crazy these last few days can become and the last thing that most of us have time for is an elaborate dessert. These hazelnut thumbprint cookies with jam are so easy to make. The dough comes together in less than 10 minutes and requires zero chill time.
A few years ago, I made these pistachio thumbprint cookies, but I've been wanting to share another rendition for years.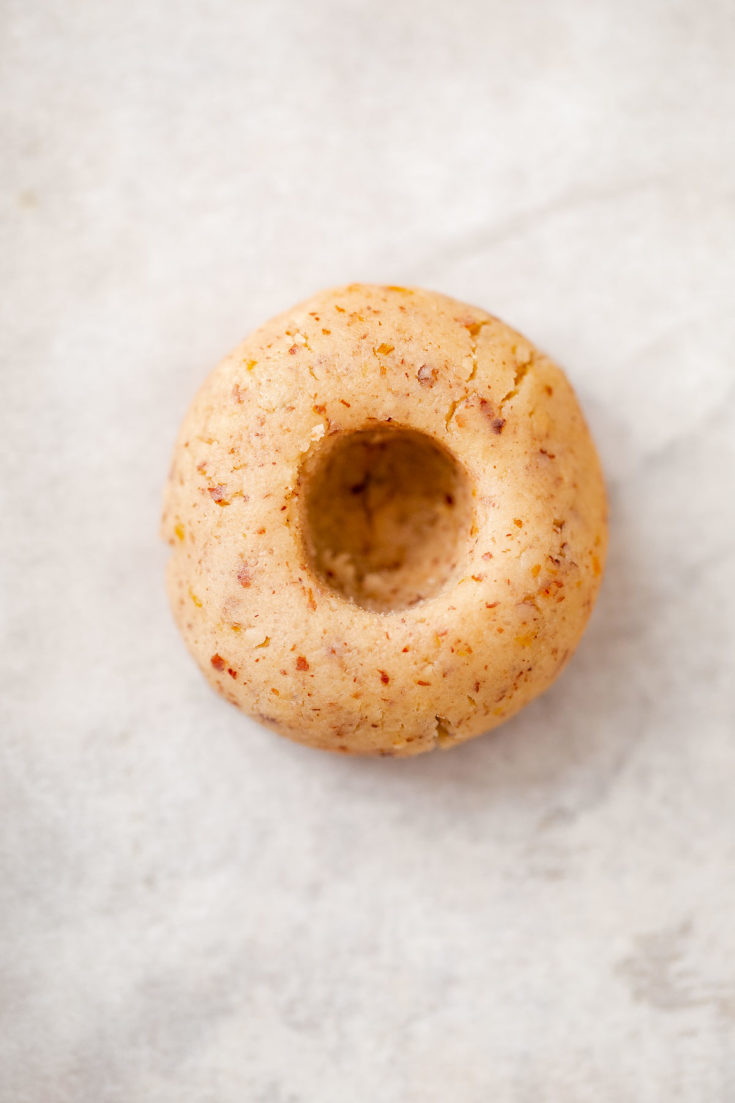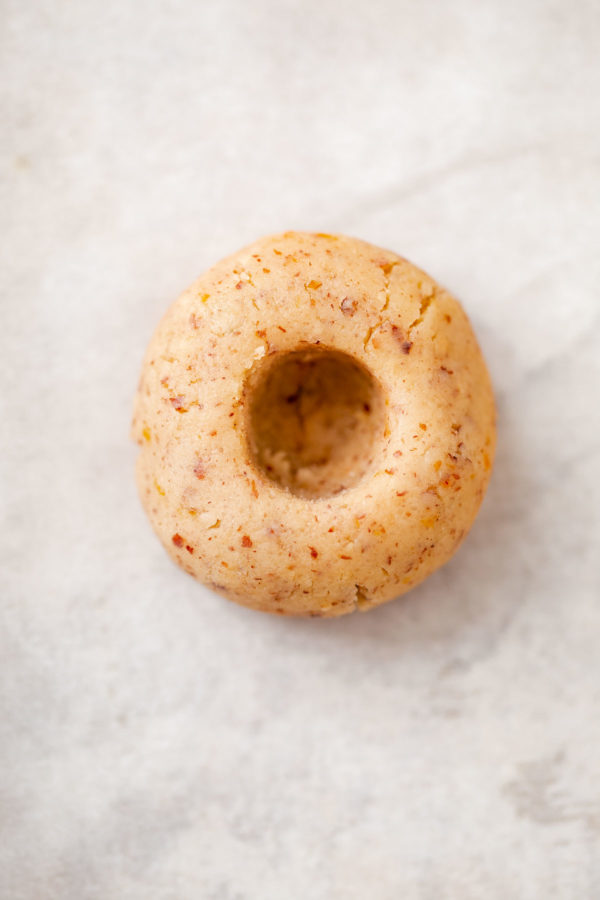 How to Make Hazelnut Thumbprint Cookies:
Thumbprint cookies are usually made with a shortbread-type sugar cookie dough (mine does not contain eggs, as others sometimes do) and are filled with a variety of toppings. Jam, preserves, or chocolate ganache are the most common.
My favorite thumbprint cookies use a combination of all purpose flour and nut flour in the cookie dough. All purpose flour provides structure and nut flours add richness and flavor, which makes them a bit more interesting to me.
To add decadence for the holidays, I used hazelnut flour for these thumbprint cookies! You can easily make homemade hazelnut flour from scratch, but I make life a bit easier and turn to store-bought. Any leftover flour gets stored in my freezer to prolong its shelf life.
While I am not working with them for this recipe post, Bob's Red Mill makes an amazing hazelnut flour that I highly recommend. Since hazelnuts are one of the most expensive nuts to purchase, hazelnut flour is not cheap, but the possibilities for it are pretty endless. If you don't wish to purchase hazelnut flour, you can substitute it 1:1 in this recipe with almond flour/meal.
Any leftover hazelnut flour can be used to make these espresso hazelnut cookies or as a substitute for almond flour in these almond crescent cookies or this blueberry almond cake.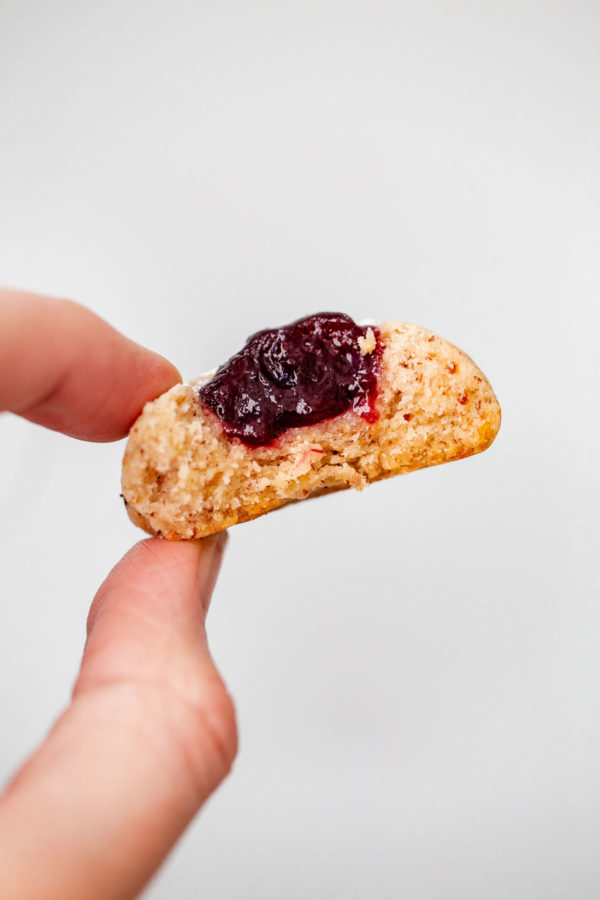 Flavor Variations and Fillings:
One of my favorite things about thumbprint cookies are the mixture of textures. You get a buttery, sandy (in the best way) cookie and a softer filling. Jam thumbprint cookies are my go-to.
To complement the hazelnut flour, I infused the dough with fresh orange zest and filled them with berry jam. Some thumbprint cookie recipes have you fill them prior to baking, but these will be filled after.
Raspberry or a mixed berry preserve would be your best bet for these, but if you happen to have some apricot or strawberry jam sitting around in the fridge, feel free to use that as well.
My best advice is to use a high-quality jam or preserve with a bit of texture and one that is heavier on fruit flavor and lower in sugar content. The acidity helps balance the sweetness of the cookie.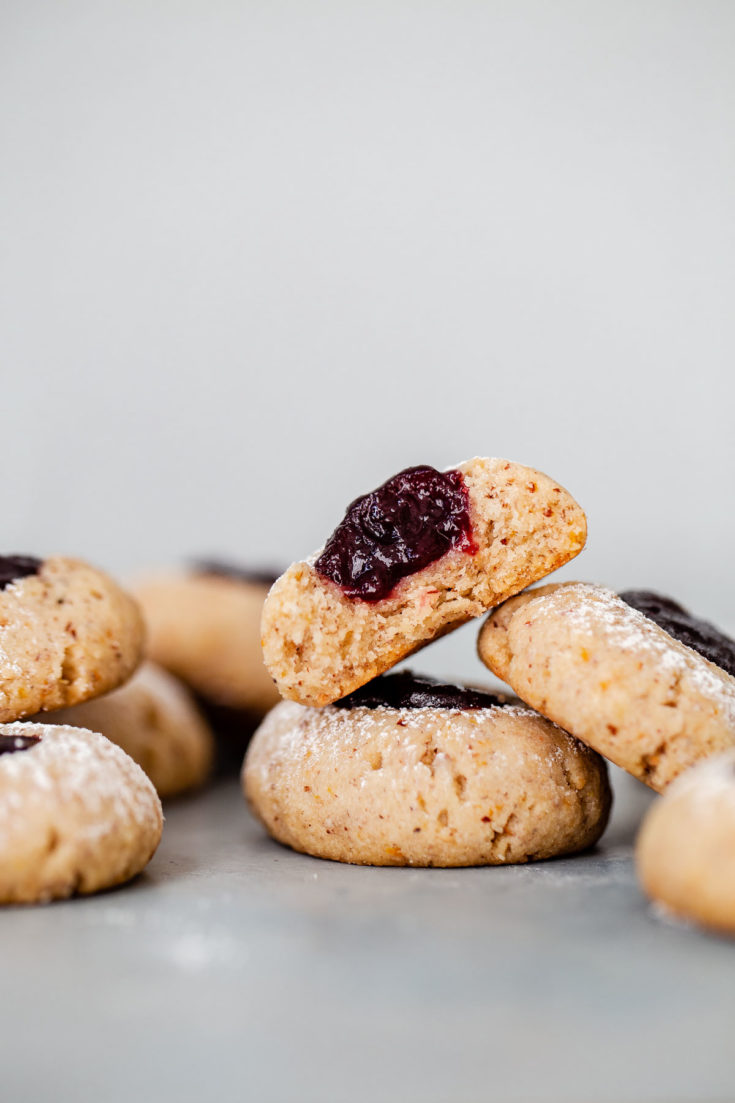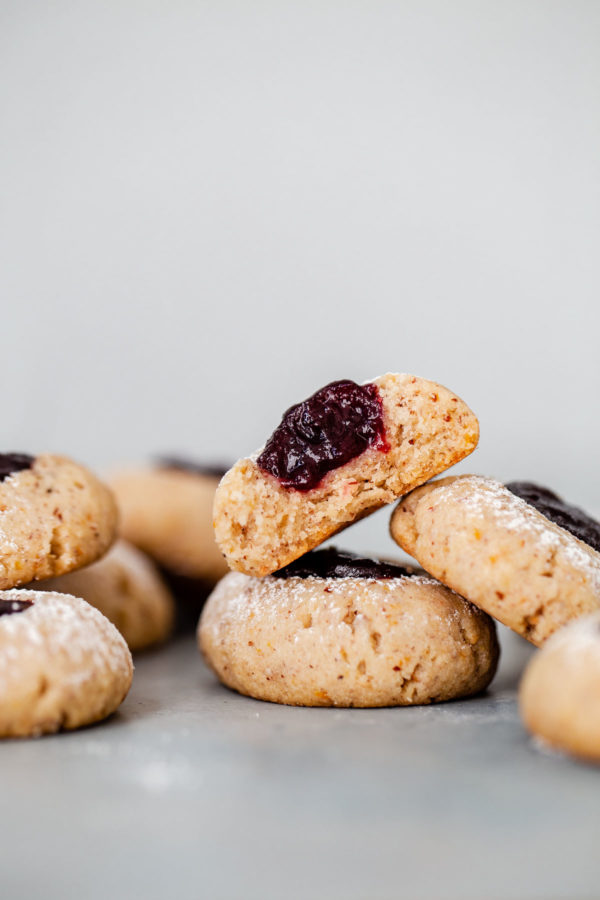 If you're looking for a last-minute cookie recipe to add to your holiday table, these are a great option! Happiest of holidays to you and yours!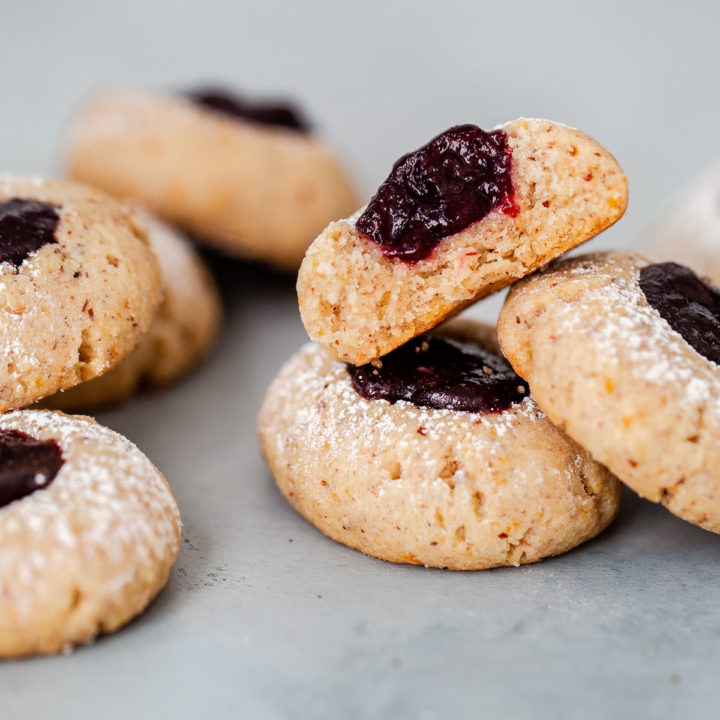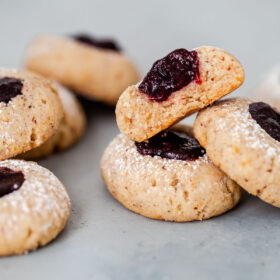 Hazelnut Thumbprint Cookies with Jam
Buttery hazelnut thumbprint cookies filled with a soft berry jam center. These little cookies are easy to make, flavorful, and would make a lovely last-minute addition to your holiday table! Feel free to substitute the hazelnut flour with almond flour/meal or mix up the filling wtih your favorite preserves (apricot, raspberry, strawberry, or mixed berry).
Ingredients
1 cup (120 g) unbleached all-purpose flour
1 cup (112 g) hazelnut flour or almond flour
½ teaspoon Diamond Crystal kosher salt
4 ounces (8 tablespoons; 115g) unsalted butter room temperature
¼ cup (50 g) granulated sugar
zest of 1 medium orange
1 teaspoon pure vanilla extract
powdered sugar for dusting
½ cup raspberry jam or preserves or mixed berry or apricot
Instructions
Note: It can be very easy to over-measure flour, resulting in a drier, crumblier dough, if you use volume measurements for thumbprint cookies. I strongly recommend using a scale and the metric measurements provided below for this recipe. If you don't have a scale, be sure to read my guide on how to properly measure flour before starting.

Preheat the oven to 350°F (180°C) with a rack in the center position. Line two half sheet pans with parchment paper. Whisk together the all-purpose flour, hazelnut flour, and salt in a medium bowl and set aside.

Combine the softened butter, granulated sugar, and orange zest in the bowl of a stand mixer fitted with a paddle attachment. Beat together on medium-high speed until light and fluffy, 3 to 4 minutes. Add the vanilla extract and mix thoroughly.

Reduce the speed to low and slowly add the dry flour mixture, scraping down the sides of the bowl once or twice until the dough is smooth and comes together and the dry ingredients are fully incorporated. It will be crumbly at first, but will eventually come together and become smooth. If the dough is still too dry and crumbly, you can add a teaspoon or so of water until it comes together.

Using a small cookie scoop or spoon, shape and roll the dough into 1-inch diameter balls. Place the cookie dough balls 2 inches apart on the lined sheet pans (roughly 12 cookies per sheet). Holding the dough steady with one hand, indent a hole into the center of each dough using the end of a wooden spoon (or you can use your thumb), pushing down until just before you reach the sheet pan. If the edges of the dough cracks, press the edges back together into a circle.

Bake the cookies for 16 to 18 minutes, or until the bottoms of the cookies are lightly golden. Allow the cookies to cool on the sheet pans for about 3 minutes before transferring them to a cooling rack to cool completely. Using a fine-meshed sieve, dust the cookies lightly with powdered sugar. Set aside.

In a small saucepan, heat the jam or preserves, stirring frequently, until it reaches a boil. It will be smooth and thick. Remove the jam from the heat and spoon ½ to 1 teaspoon of the jam into the center of each cookie. Allow the jam to cool and set completely.

Serve immediately or transfer to a cookie tin (layer between sheets of parchment or wax paper) and store at room temperature for up to a week.
Tips for Success:
If you do not have or wish to purchase hazelnut flour, you can substitute it 1:1 with almond flour/meal in this cookie recipe.
If your cookie dough becomes at all greasy or too soft during shaping, allow the shaped dough to chill in the refrigerator for about 5 to 10 minutes prior to baking.
Serving: 1serving, Calories: 147kcal, Carbohydrates: 16g, Protein: 3g, Fat: 8g, Saturated Fat: 1g, Polyunsaturated Fat: 1g, Monounsaturated Fat: 1g, Trans Fat: 1g, Cholesterol: 1mg, Sodium: 65mg, Potassium: 20mg, Fiber: 2g, Sugar: 4g, Vitamin A: 3IU, Vitamin C: 1mg, Calcium: 21mg, Iron: 1mg
This post contains affiliate links, which means that I make a small commission off items you purchase at no additional cost to you. Please read my
privacy policy
for more information.