Chocolate Beet Bundt Cake with Beet Glaze
This incredibly moist fool-proof chocolate beet bundt cake is topped with a beautiful, naturally colored beet glaze.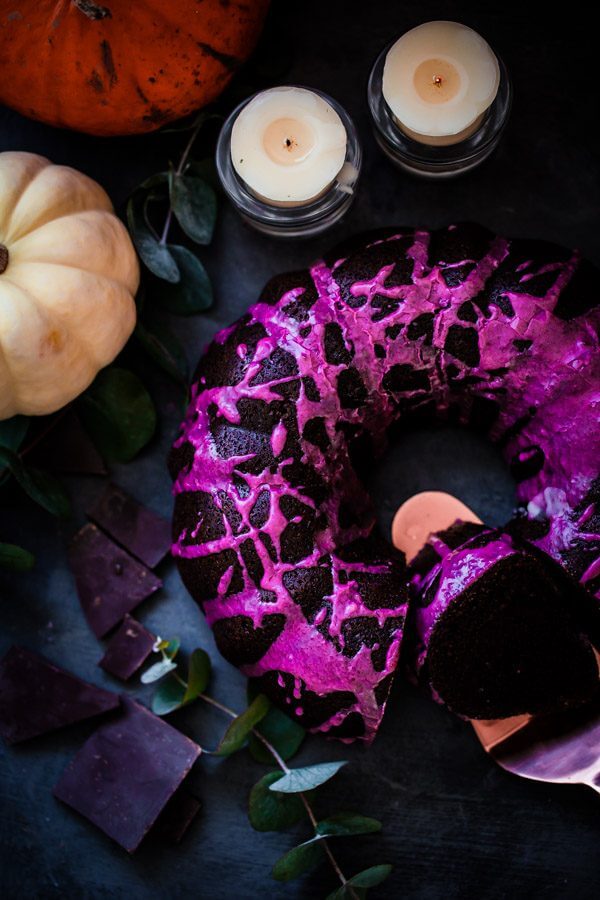 Halloween is just around the corner! This chocolate beet bundt cake is about as festive as it gets around here. I'm very much into all-purpose holiday desserts and this cake can be made any day of the year. Literally, any day. In fact, you should make this cake as soon as possible, because it is delicious.
The psychedelic beet glaze takes it over the top. It is what I would imagine a classy monster-esque cake would look like if that, in fact, was a thing. I was originally going for a 'blood splatter'-like glaze, but nature, beets, and powdered sugar can only do so much, you know? I'm OK with it.
And yes! This beautiful purple-magenta glaze is completely natural. Pureed beets contribute to this cake's incredibly moist and fluffy texture, so it only made sense to reserve some for decoration as well. I'm a huge fan of using fruit (like freeze-dried fruit!) to naturally decorate desserts, so it only makes sense to turn to vegetables to do the same job.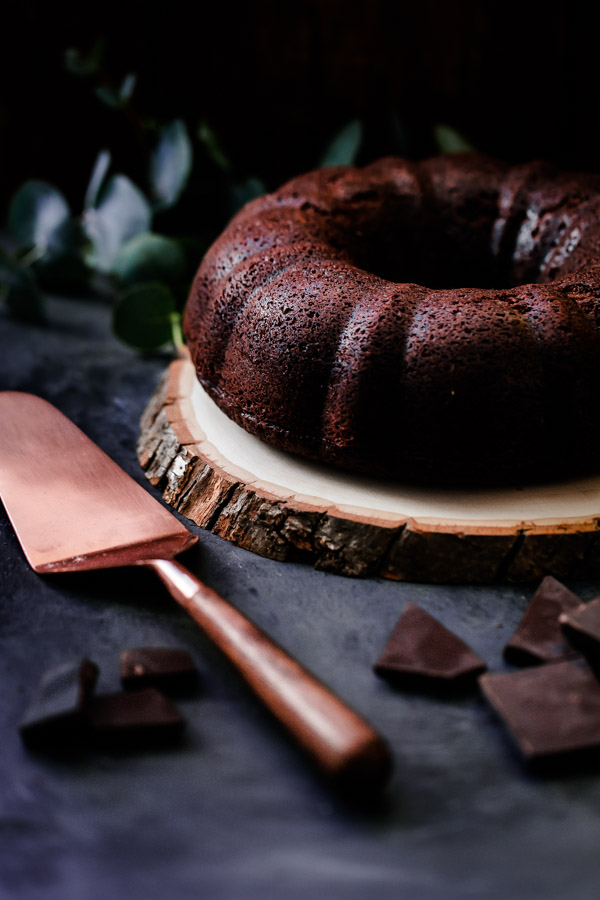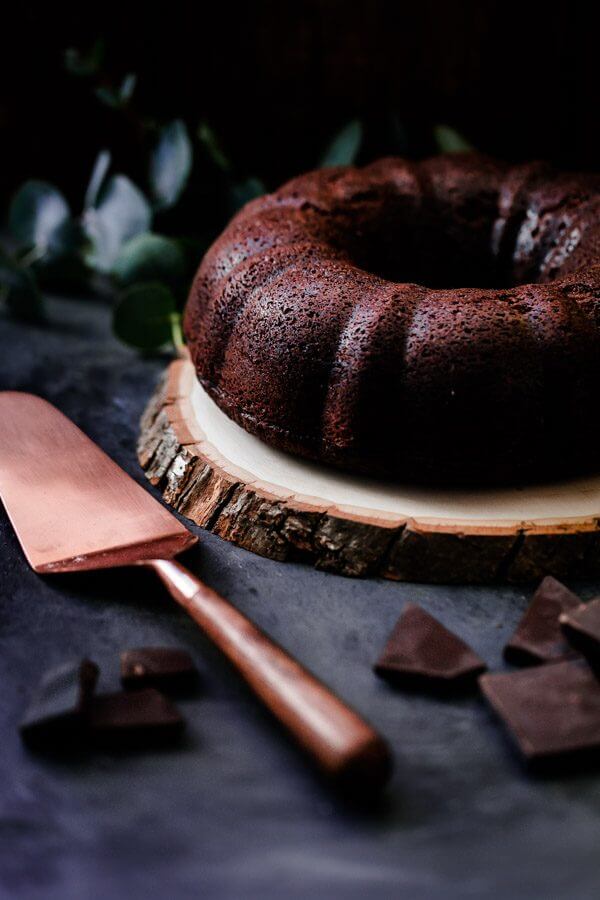 This is actually the first chocolate beet cake that I've ever made in my life. I've been meaning to try the concept for years. I ended up discovering this recipe and adapting it to fit a standard bundt pan, because bundt cakes are da best.
This cake is all about convenience, so you'll be making the beet puree from one can of cooked beets (the ones that come in water!). A small food processor will do the trick easily. It makes the cake virtually foolproof, because you won't even need to measure the puree – you'll be reserving one tablespoon of it for the glaze. I repeat, there is literally no benefit from cooking the beets from scratch, so please don't!
In many ways, beet cake is similar in concept to pumpkin, applesauce, or banana cake, except you won't notice any beet flavor at all. The puree is there to contribute moisture and fluffiness (and a touch of healthiness!) to the final product and this cake is no different. It is so fluffy and moist! Unlike other chocolate cakes, which use cocoa powder as the primary 'chocolate' flavor, the chocolate flavor in this cake comes from the addition of melted unsweetened chocolate.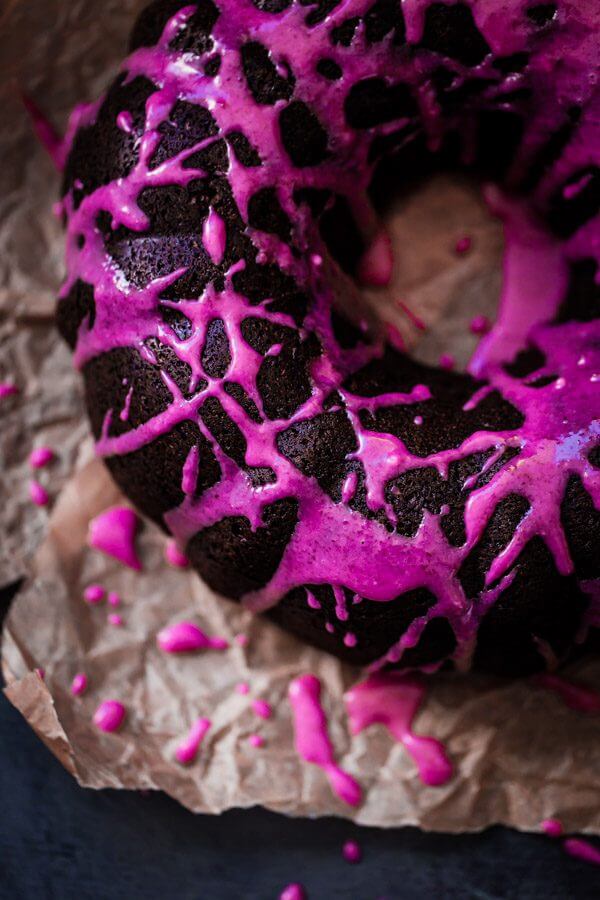 The chocolate flavor is robust, but delicate (if that makes any sense). I love a super dense chocolatey cake every now and then, but this chocolate beet bundt cake is more of an all-occasion, all-purpose chocolate cake. The beet glaze was inspired by a magazine I snatched up during my recent trip to England and I love the concept!
If you wanted to up the chocolate flavor, you could totally skip the beet glaze and top it with a rich chocolate ganache. My mind is already swarming with flavor possibilities. Chocolate and orange? Go wild and have fun.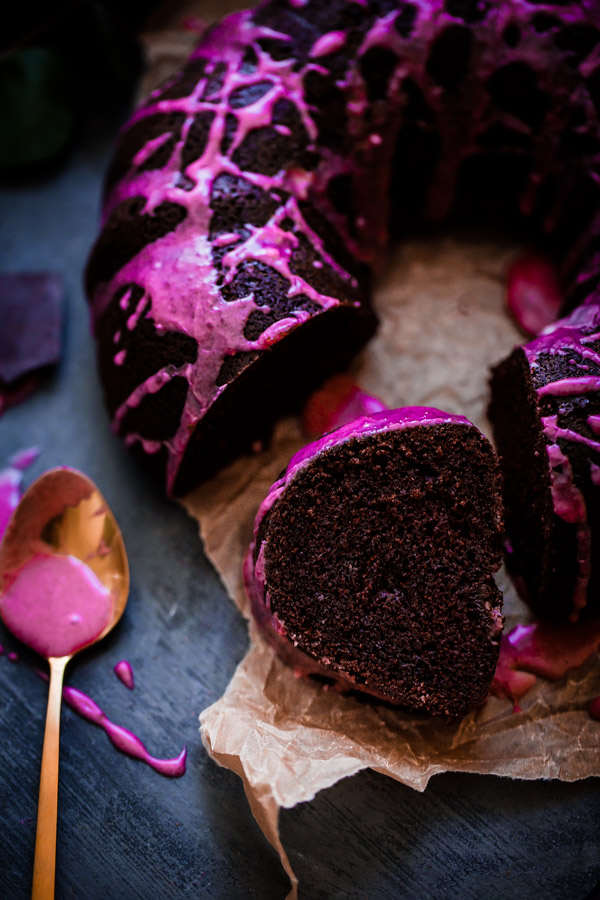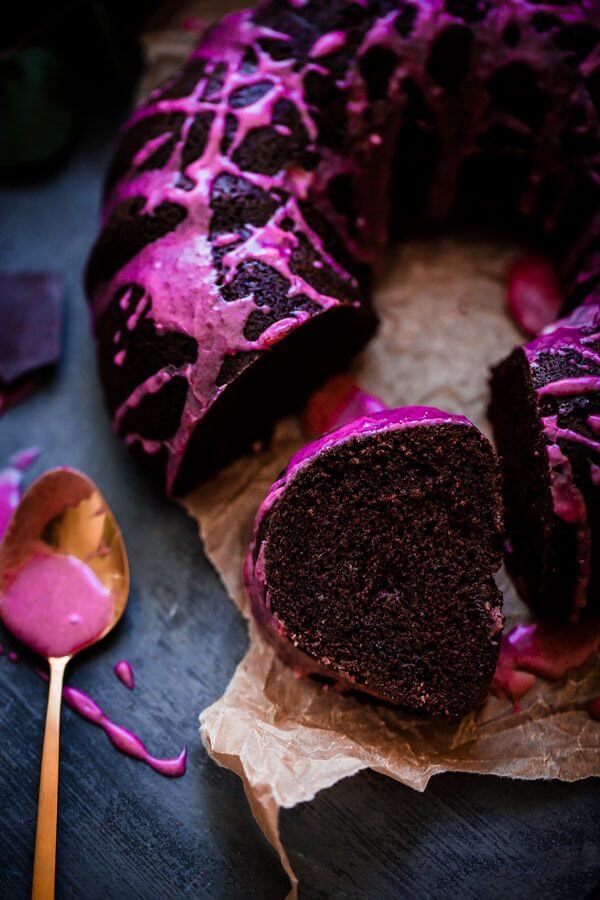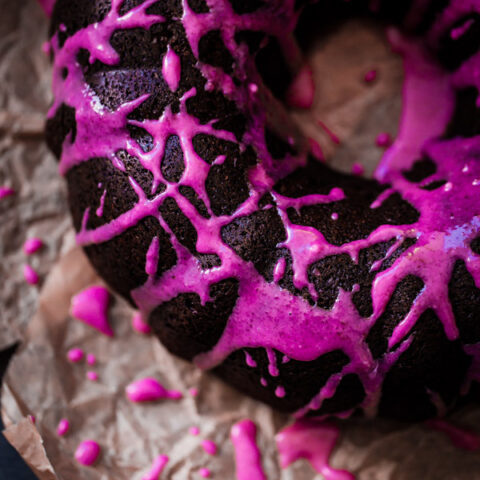 Chocolate Beet Bundt Cake with Beet Glaze
Yield: 12 - 16 Servings
This incredibly moist fool-proof chocolate beet bundt cake is topped with a beautiful, naturally colored bright pink beet glaze! A fun cake for Halloween, or any special occasion!
Prep Time: 20 minutes
Cook Time: 50 minutes
Total Time: 1 hour 10 minutes
Ingredients
Chocolate Beet Bundt Cake
1 (15-ounce) can of beets (in water)
1 and 3/4 cup (210 g) unbleached all-purpose flour
1 and 1/2 teaspoons baking soda
1/2 teaspoon kosher salt
1 and 1/2 cup (300 g) granulated sugar
1 cup (240 ml) coconut or vegetable) oil
3 large whole eggs
2 ounces unsweetened chocolate, melted
1 and 1/2 teaspoons vanilla extract
Beet Glaze
3/4 cup (75 g) powdered sugar, sifted
1 tablespoon reserved beet puree
1 to 2 teaspoons canned beet juice
Instructions
Prepare the cake: Preheat the oven to 350 degrees Fahrenheit (Celsius) with a rack in the center position. Generously grease a 10-inch bundt pan with baking spray and set aside. Drain the beets, reserving 1 to 2 tablespoons of the liquid. In a small food processor, puree the beets until very smooth. Reserve 1 tablespoon of the beet puree for the glaze and set aside.
In a medium bowl, whisk together the all-purpose flour, baking soda, and salt. In a stand mixer bowl, fitted with whisk attachment, combine the sugar, oil, and eggs. Beat at medium speed for 1 to 2 minutes or until smooth. Add the beet puree, cooled melted chocolate, and vanilla extract. Beat at medium speed for 30 seconds or until smooth. Reduce the speed to low and slowly add the flour mixture, allowing it to incorporate fully with each addition. Scrape down the bottom of the bowl to ensure all of the ingredients are incorporated evenly.
Transfer the batter to the greased bundt pan and bake until a toothpick inserted in the center comes out clean, about 45 to 55 minutes. Allow the cake to cool in the pan on a wire rack for 1o to 15 minutes. Invert and allow the cake to cool completely before glazing.
Prepare the glaze: In a small bowl, whisk together the powdered sugar, reserved beet puree, and roughly 1 teaspoon of the canned beet juice. If the glaze is too thick, add an additional teaspoon of beet juice at a time until the glaze is thin enough to drizzle from a spoon. Drizzle the cooled cake with the glaze in a zigzag motion (or in one layer). Allow the glaze to set before slicing. Cake can be wrapped well and stored at room temperature for 3 to 4 days.
Notes
Nutrition Information:
Yield: 12
Serving Size: 1
Amount Per Serving:
Calories: 201
Total Fat: 7g
Saturated Fat: 4g
Trans Fat: 0g
Unsaturated Fat: 3g
Cholesterol: 47mg
Sodium: 197mg
Carbohydrates: 31g
Fiber: 2g
Sugar: 21g
Protein: 4g