Chocolate Beet Bundt Cake with Beet Glaze
This incredibly moist fool-proof chocolate beet bundt cake is topped with a beautiful, naturally colored beet glaze.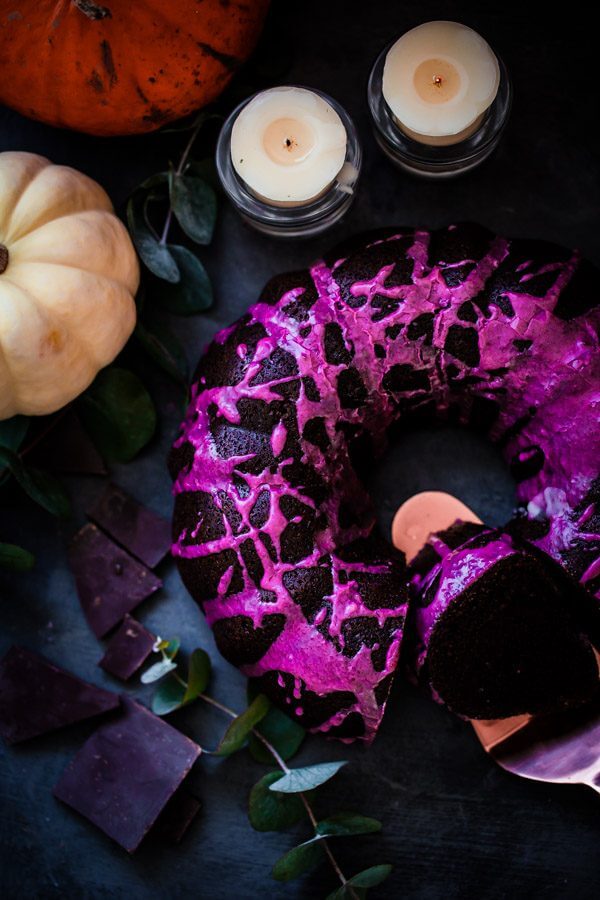 Halloween is just around the corner! This chocolate beet bundt cake is about as festive as it gets around here. I'm very much into all-purpose holiday desserts and this cake can be made any day of the year. Literally, any day. In fact, you should make this cake as soon as possible, because it is delicious.
The psychedelic beet glaze takes it over the top. It is what I would imagine a classy monster-esque cake would look like if that, in fact, was a thing. I was originally going for a 'blood splatter'-like glaze, but nature, beets, and powdered sugar can only do so much, you know? I'm OK with it.
And yes! This beautiful purple-magenta glaze is completely natural. Pureed beets contribute to this cake's incredibly moist and fluffy texture, so it only made sense to reserve some for decoration as well. I'm a huge fan of using fruit (like freeze-dried fruit!) to naturally decorate desserts, so it only makes sense to turn to vegetables to do the same job.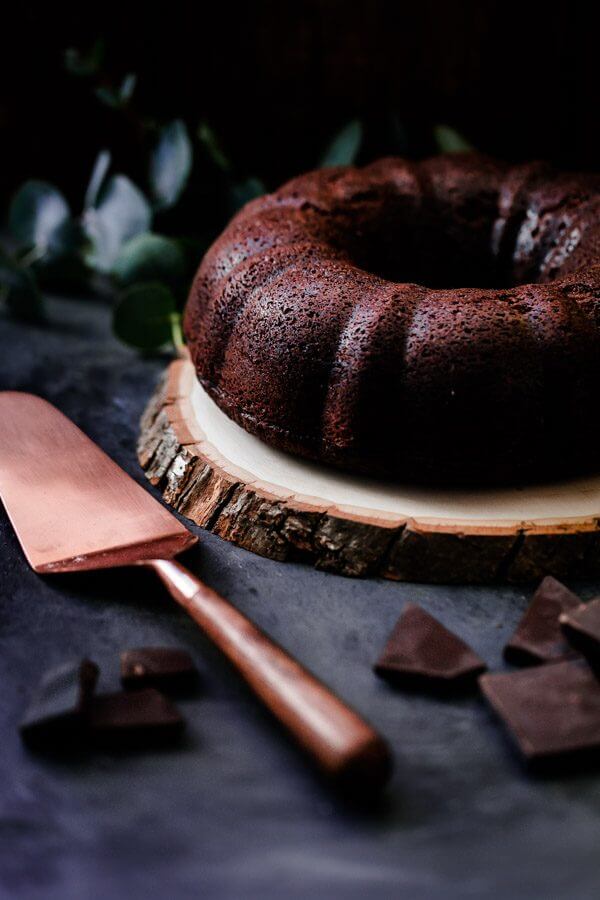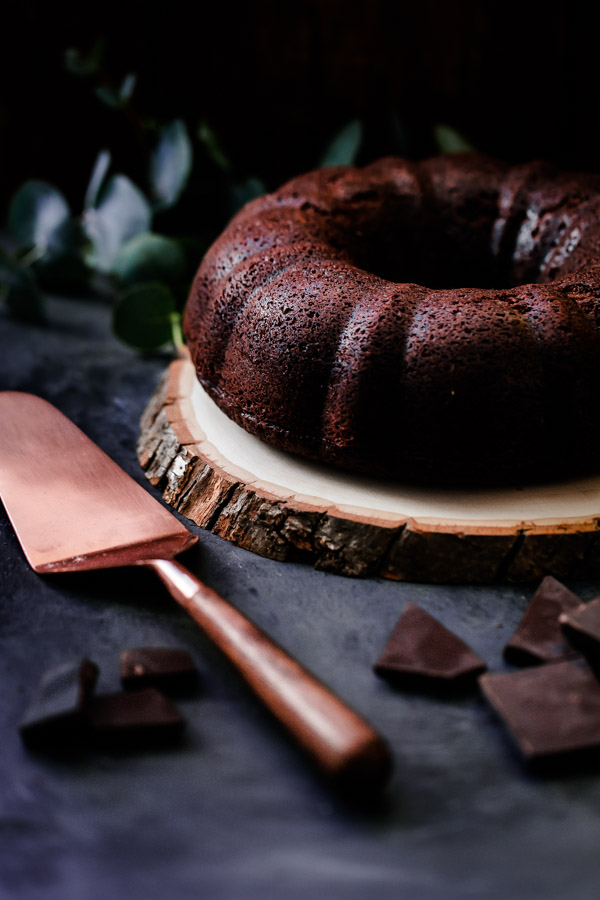 This is actually the first chocolate beet cake that I've ever made in my life. I've been meaning to try the concept for years. I ended up discovering this recipe and adapting it to fit a standard bundt pan, because bundt cakes are da best.
This cake is all about convenience, so you'll be making the beet puree from one can of cooked beets (the ones that come in water!). A small food processor will do the trick easily. It makes the cake virtually foolproof, because you won't even need to measure the puree – you'll be reserving one tablespoon of it for the glaze. I repeat, there is literally no benefit from cooking the beets from scratch, so please don't!
In many ways, beet cake is similar in concept to pumpkin, applesauce, or banana cake, except you won't notice any beet flavor at all. The puree is there to contribute moisture and fluffiness (and a touch of healthiness!) to the final product and this cake is no different. It is so fluffy and moist! Unlike other chocolate cakes, which use cocoa powder as the primary 'chocolate' flavor, the chocolate flavor in this cake comes from the addition of melted unsweetened chocolate.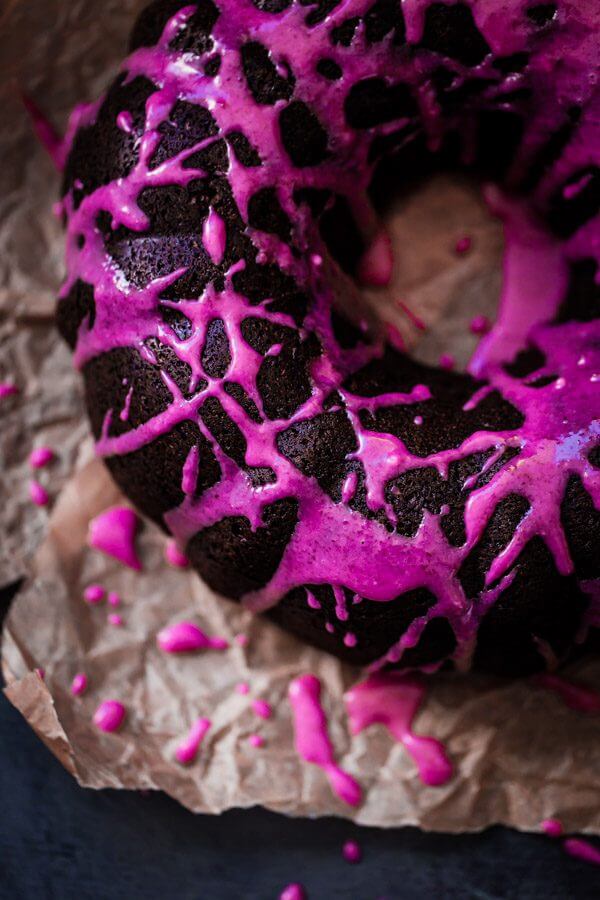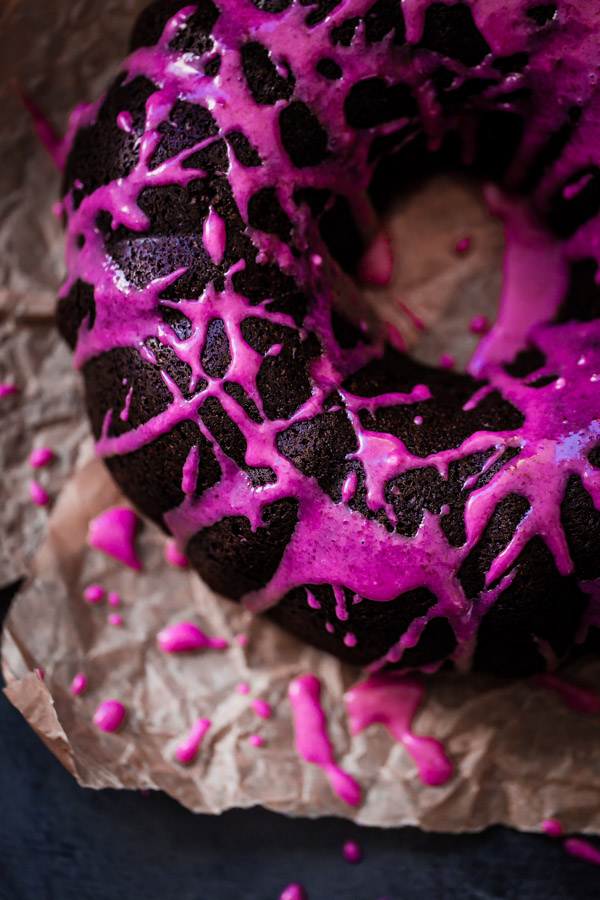 The chocolate flavor is robust, but delicate (if that makes any sense). I love a super dense chocolatey cake every now and then, but this chocolate beet bundt cake is more of an all-occasion, all-purpose chocolate cake. The beet glaze was inspired by a magazine I snatched up during my recent trip to England and I love the concept!
If you wanted to up the chocolate flavor, you could totally skip the beet glaze and top it with a rich chocolate ganache. My mind is already swarming with flavor possibilities. Chocolate and orange? Go wild and have fun.