How to Cook Perfect Beets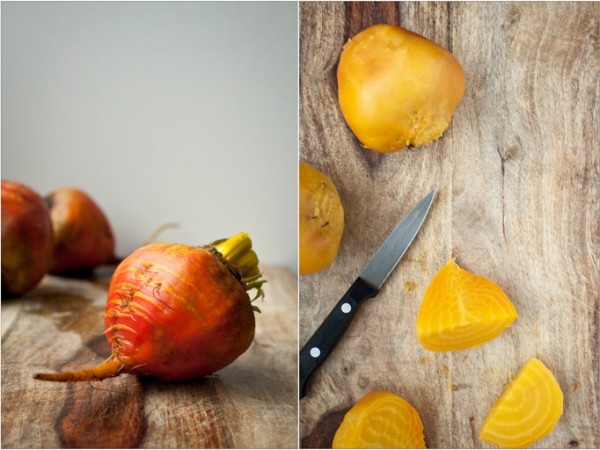 That is a bold statement. But after cooking a gazillion beets when I was working at a professional restaurant, I've decided I'm confident enough to come out and say it.
Beets have become one of my favorite vegetables over the last couple years for several reasons. The most important being that they give me an excuse to eat more cheese (such as in this burrata salad).
Secondly, they are photogenic. And thirdly, they are really tasty, in an earthy, slightly sweet, but not overpowering way.
Yep, I'm fairly confident that the rest of the world is as enamored with beets as I am.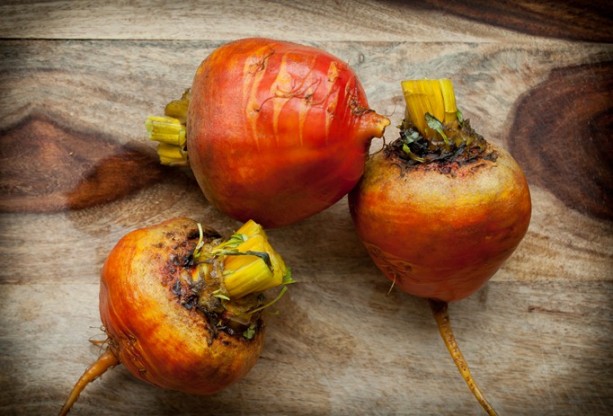 It's basically a love-hate relationship. We love to eat them, but we hate to cook them, which is probably why some form of a beet salad is on almost any restaurant menu out there.
Love because they're delicious, but hate because they take too long to cook and leave us with ridiculously goofy looking pink hands.
Now, here's the part where I'm supposed to convince you to cook them at home anyway.
I know that those prepackaged cooked beets from Trader Joe's are really tempting, but I promise, this is going to be really easy.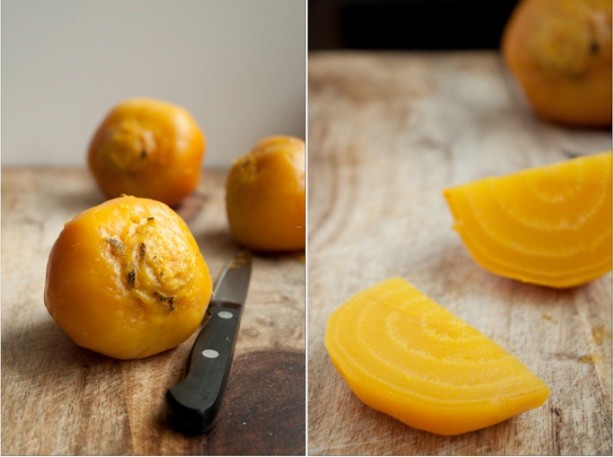 The biggest piece of advice I can give you to avoid all the mess and stains is to buy golden beets. Voila! No more mess.
If those aren't available, I recommend using cheap plastic gloves or using an old (clean) rag to gently rub off the skin once they are cooked.
Generally, you'll find that most normal-sized beets take anywhere from 45 minutes to an hour and a half to cook through and become tender.
Pick a time of the day, depending on your schedule, that you know you'll be sticking around for the next two plus hours. Watch TV, read a book, hang out, enjoy yourself, whatever!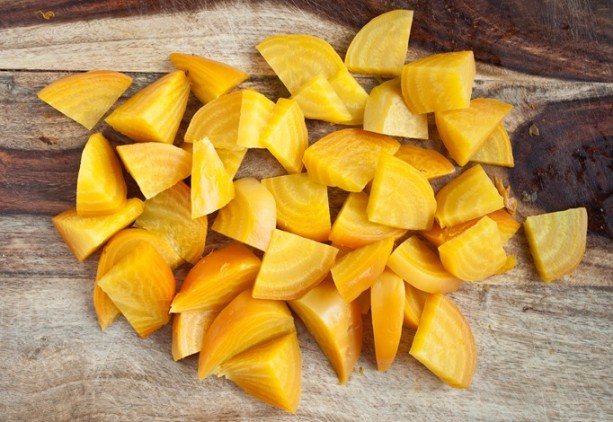 PS. Don't throw out the fresh beet greens! Sauté them with some olive oil and garlic and prepare them as you would sautéed spinach.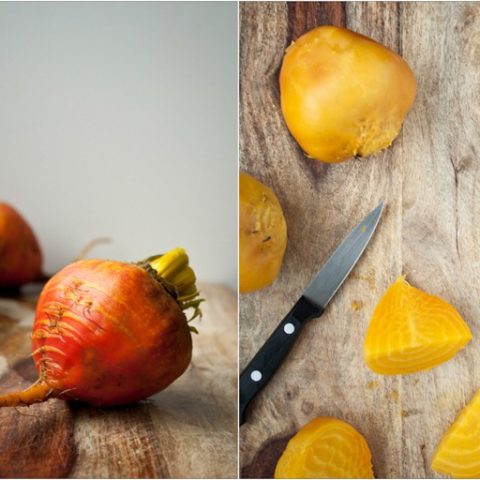 How to Cook Perfect Beets
Yield: 3 Cups
This simple cooking tutorial teaches you who to cook perfect beets from scratch.
Prep Time: 10 minutes
Cook Time: 45 minutes
Additional Time: 5 minutes
Total Time: 1 hour
Ingredients
1 large bunch fresh red (or golden) beets
Instructions
Preheat oven to 375 degrees Fahrenheit.
Trim beet greens (set aside) and leave roughly half an inch of stem on the top of the beets. Do not remove the root. Scrub gently with fingertips to clean, without piercing or removing the skin.
Place beets, gently scrubbed, in an ovenproof baking dish (I used a glass pie dish—but use whatever you have on hand). Fill with cold water–so that beets are halfway submerged.
Cover dish with foil, securing around the edges to prevent steam from escaping during the cooking process. Place on baking sheet (optional, but makes it much easier to take in and out of the oven, especially with steam and hot water involved).
Bake for 45 minutes (minimum) or longer depending on the size of beets (I bought the world's largest beets and they took roughly almost two hours) —check doneness by piercing the center of the beet with a paring knife—if the knife meets no resistance, the beets are finished cooking.
Remove from oven and place dish on baking rack to cool until beets are able to be handled (they will be easier to peel when they are still slightly warm). Peel gently with fingers, remove root and tail, chop, and eat as desired.
Nutrition Information:
Yield: 1
Serving Size: 1
Amount Per Serving:
Calories: 22
Total Fat: 0g
Saturated Fat: 0g
Trans Fat: 0g
Unsaturated Fat: 0g
Cholesterol: 0mg
Sodium: 39mg
Carbohydrates: 5g
Fiber: 1g
Sugar: 4g
Protein: 1g
A Beautiful Plate provides nutritional information, but these figures should be considered estimates, as they are not calculated by a registered dietician.