Roasted Beet Salad with Orange and Avocado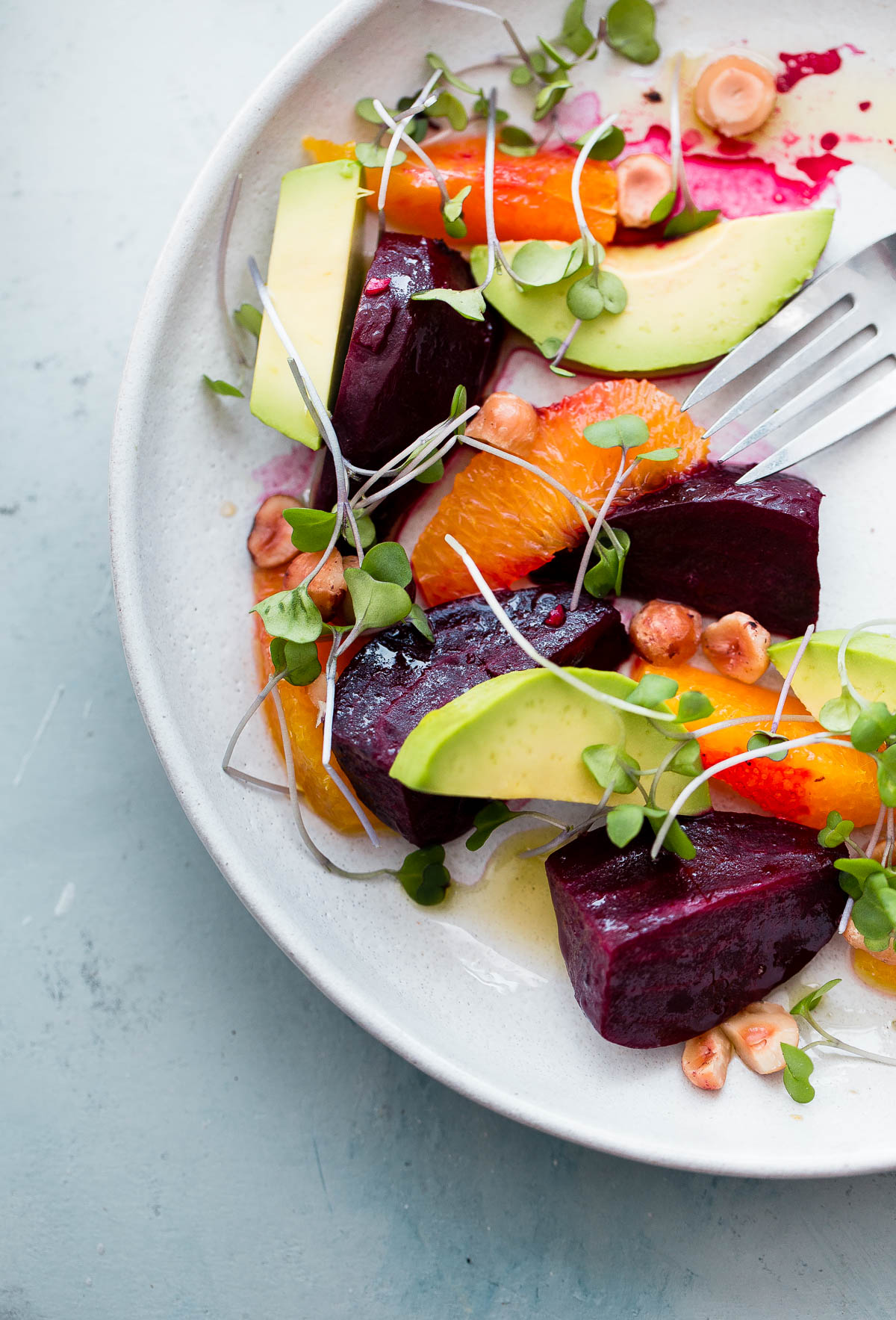 Sometimes I have to remind myself that the best salads don't always contain leafy greens. In fact, sometimes they don't contain any greens at all! This roasted beet salad with oranges, avocados, and toasted hazelnuts is one of those types of salads.
Despite only containing a handful of ingredients, it offers so much in texture, flavor, and contrast. It is elegant and refined, yet simple, approachable, and effortless. The sweetness of the oranges, the earthy beets, the creamy, satiating avocado chunks, and crunch of toasted hazelnuts come together to create one impressive beet salad. If you're not typically a beet lover, I encourage you to give this beet recipe a try!
Although I'm no stranger to pairing beets and orange together (aka, this beet salad with fennel, orange, and whipped ricotta), I can't take credit for this particular creation.
This roasted beet salad recipe happens to be from Gjelina, the gorgeous cookbook created by the chefs behind Gjelina restaurant in Venice Beach, California.
I have never even visited this restaurant (in fact, I haven't traveled to Los Angeles since college), but that hasn't stopped me from wanting to make every single dish out their book. If I were to cook my way through any cookbook right now, this cookbook would be it. The flavors, textures, and vegetable-centric cooking speak to me.
Although the quantities for the recipe are true to the original, I did adapt the instructions with my preferred cooking method for how to roast beets, as well as other helpful tips and suggestions that I picked up along the way. The microgreens are completely optional, but add a nice visual touch in my opinion.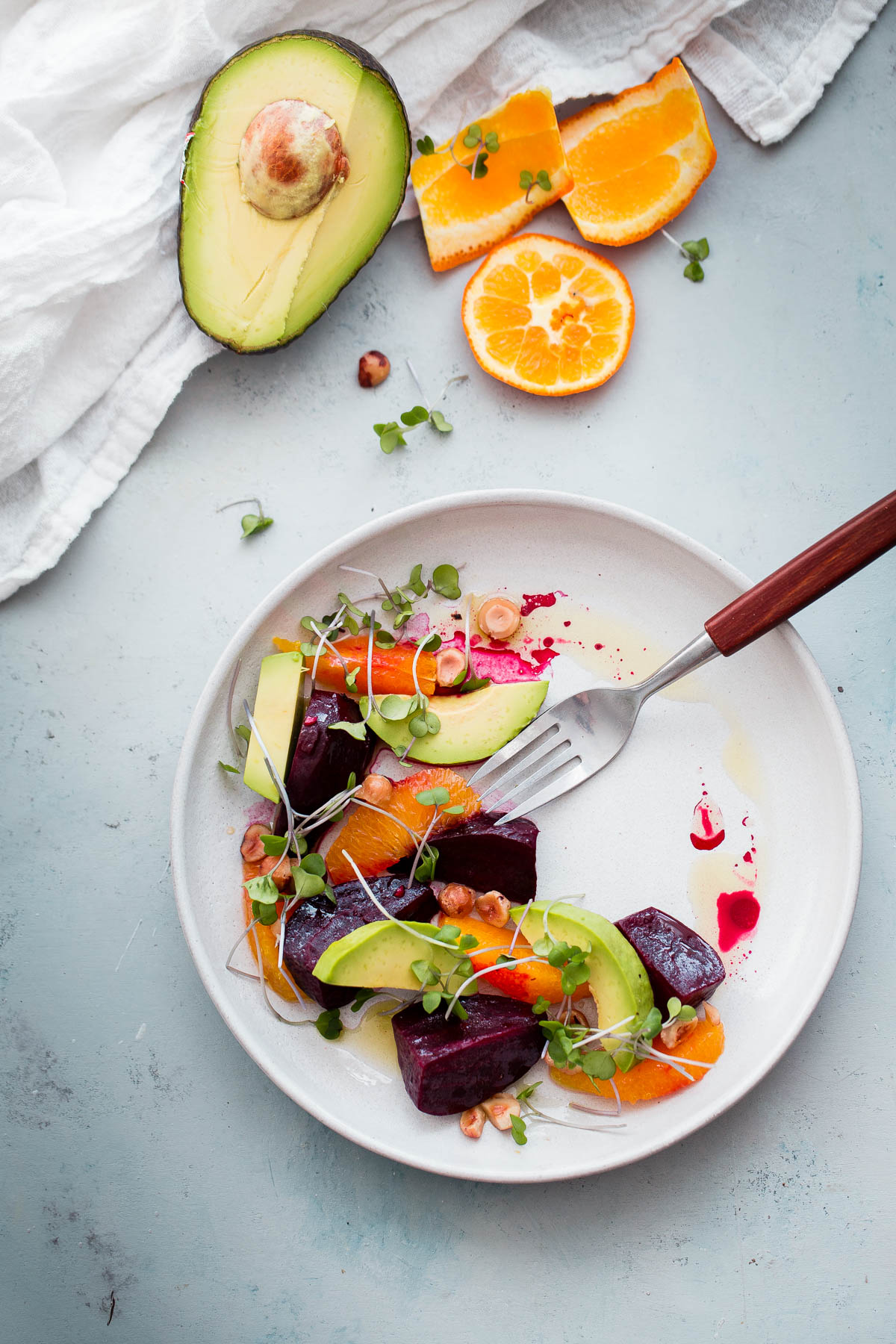 If you're preparing this salad for weekday meals, I recommend prepping and roasting the beets ahead of time. Fresh, cooked beets will hold up well in a container in the refrigerator for up to five days. In fact, make a few more while you're at it. Once the beets are prepared, this beet salad comes together in minutes. 
Red beets stain very easily, but I find that washing your cutting board and hands immediately after working with them helps tremendously. If you would like to avoid all of this, seek out golden beets. No stains and no mess. [PS. If you're using golden beets for this recipe, I suggest using blood oranges for contrast.]
If roasting beets is your least favorite thing to do on the planet (I get it), feel free to use store-bought, cooked beets (Love Beets vacuum-packed cooked beets or Trader Joe's steamed beets are my personal favorites) in this recipe. Do not substitute with canned, cooked beets.
Turn this salad into a meal by pairing it with roast chicken.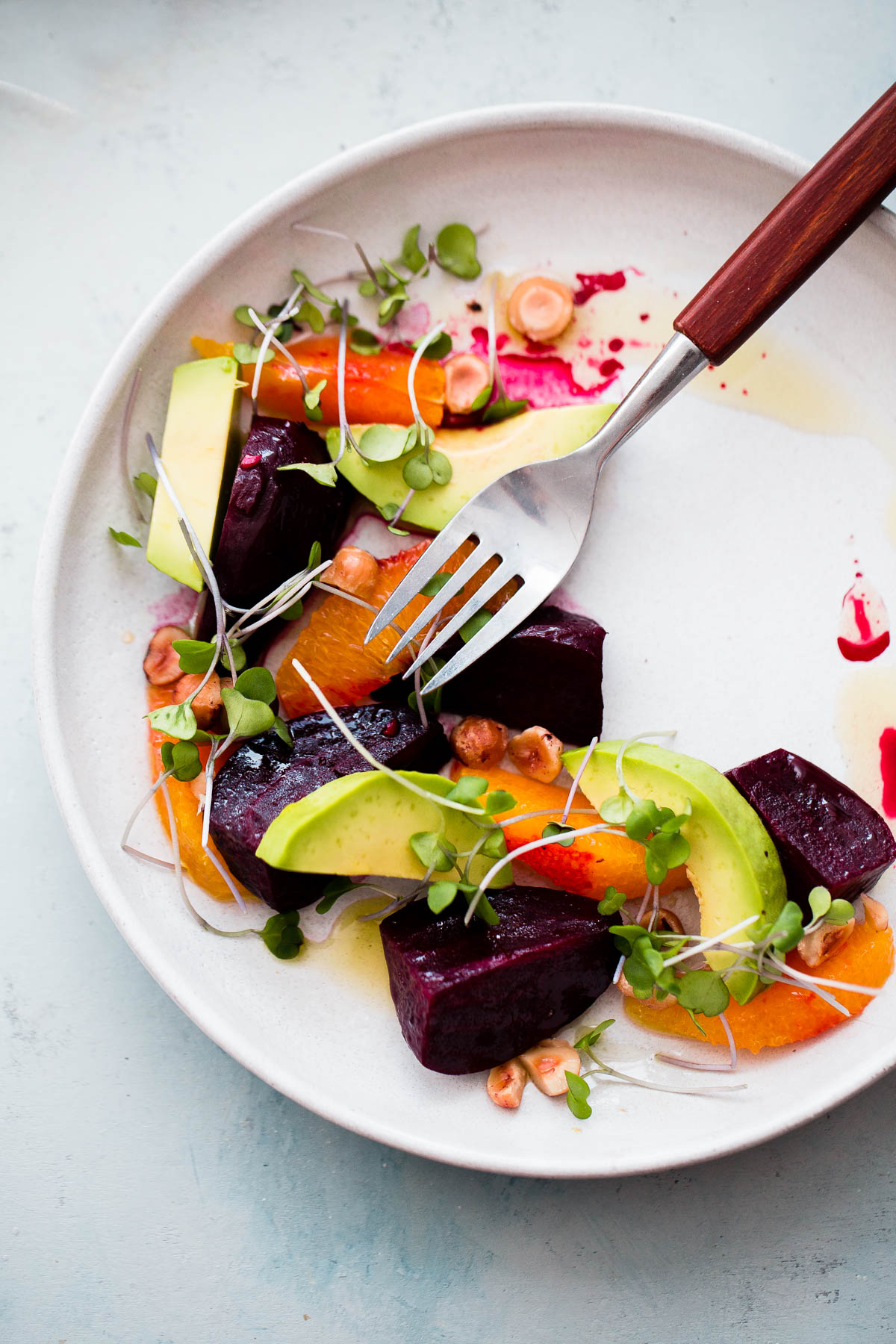 If you're looking for other non-green vegetarian salad recipe inspiration, this roasted asparagus wheat berry salad and roasted carrot lentil salad are other personal favorites of mine.
[Oh, and this roasted beet salad happens to be Whole30 friendly too.]