Irish Soda Bread Scones
Irish soda bread in scone form! These Irish Soda Bread Scones are fluffy, lightly sweetened, filled with plump golden raisins, and pair perfectly with some butter and jam.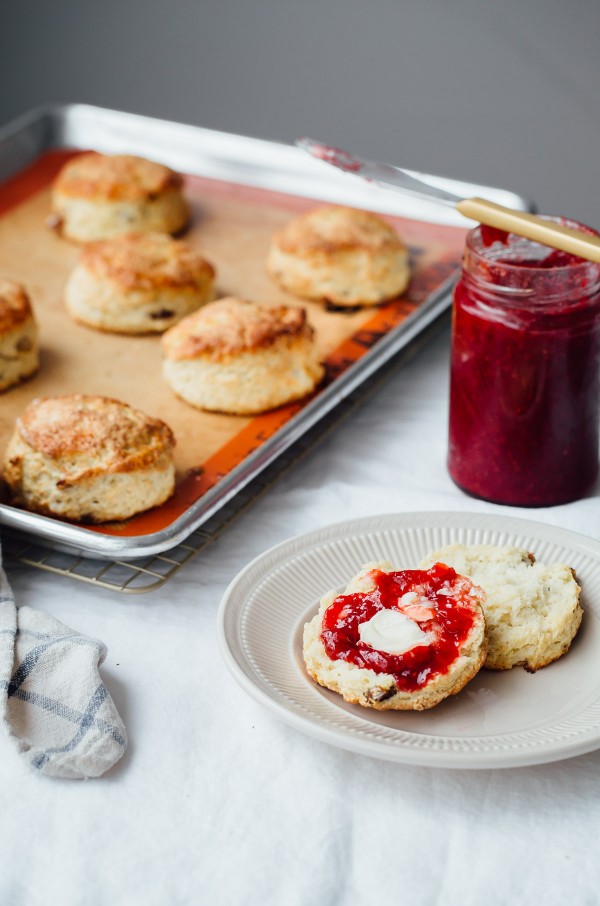 These Irish soda bread scones are as festive as we get around here for St. Patricks Day.
Honest truth? I was busy testing recipes on Tuesday and the idea for these scones came to me completely out of the blue.
My creative energy seems to come in waves these days. I either can't think of anything or I'm able to come up with an entire page's worth of ideas. One or the other. There is no balance these days. The good news? The scones turned out exactly as I'd hoped they would! I couldn't wait to share them with you.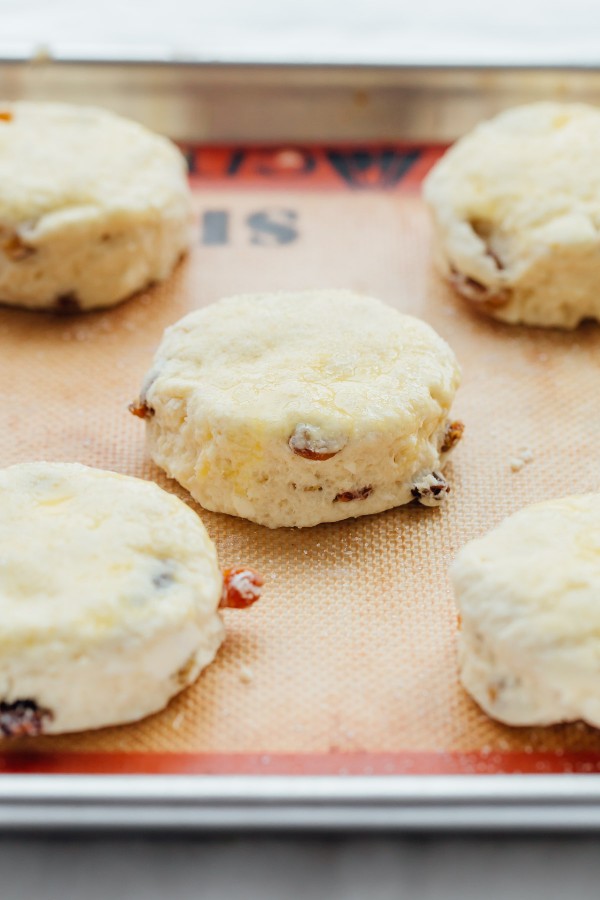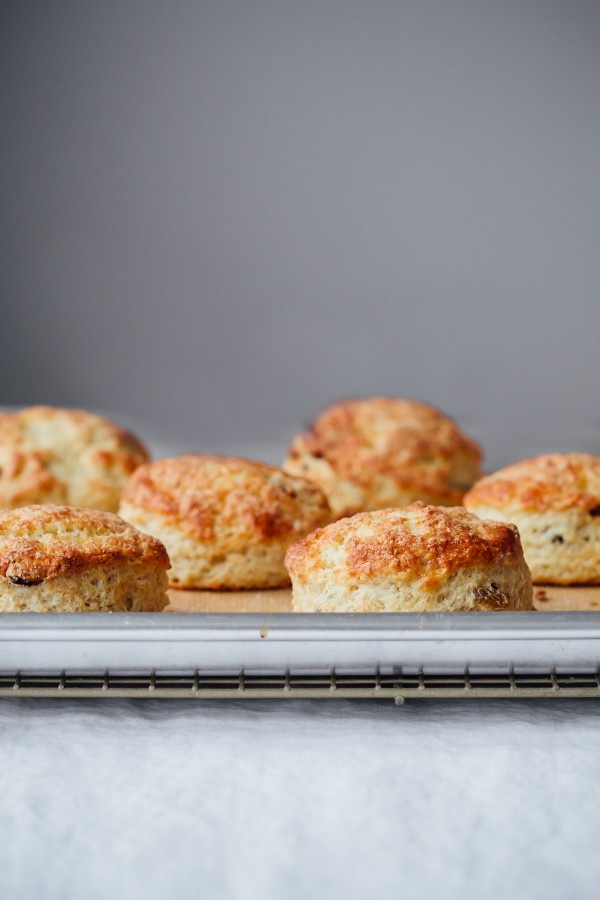 Ok, so let's clear things up right off the bat. These are not traditional by any means. I mean, technically these are more similar to British tea scones than Irish soda bread, but the ingredient list is very similar.
These are basically an Americanized, slightly sweet version of Irish soda bread in scone form. A hybrid of a buttermilk biscuit and a buttermilk scone if you will. But lighter and different in texture to my standard cream scones.
Am I making any sense at all? If you've ever tasted a traditional English scone (a good one!), they taste very similar to those! Slightly sweet and lightly studded with golden raisins.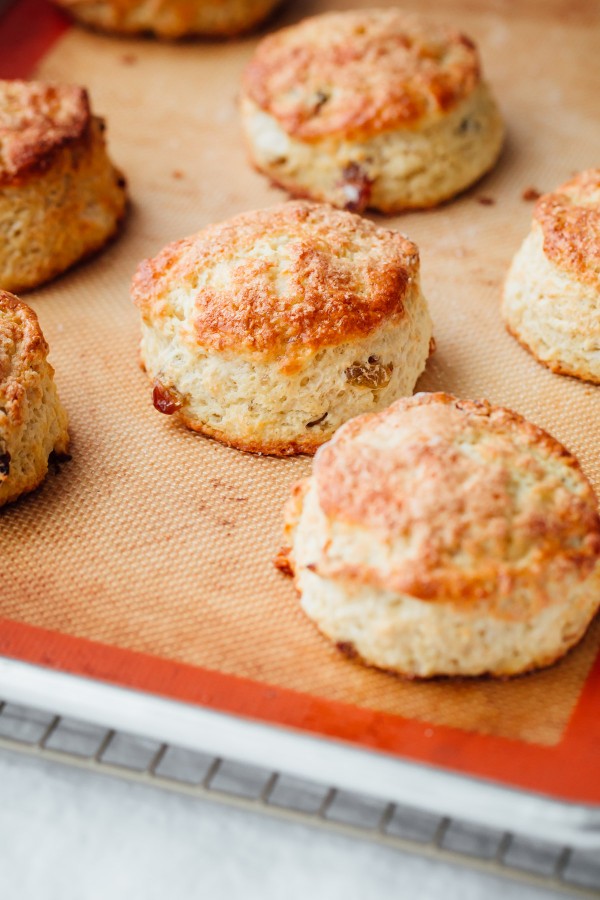 I've mentioned this a few times on the blog before, but I used to travel to England every summer growing up. I would visit my grandmother, who lived in Cornwall, for weeks at at time.
I realize it is blasphemy to even mention England in a post about Irish soda bread scones, but hear me out.
Cornwall is famous for their teas. Afternoon tea occurs in mid-to-late afternoon and consists of a plethora of tea sandwiches, cakes, petit fours, and scones. The scones are almost always accompanied by clotted cream and various jams!
[If you ever see clotted cream in little jars in American supermarkets, don't be fooled. It isn't the same as true Cornish clotted cream.]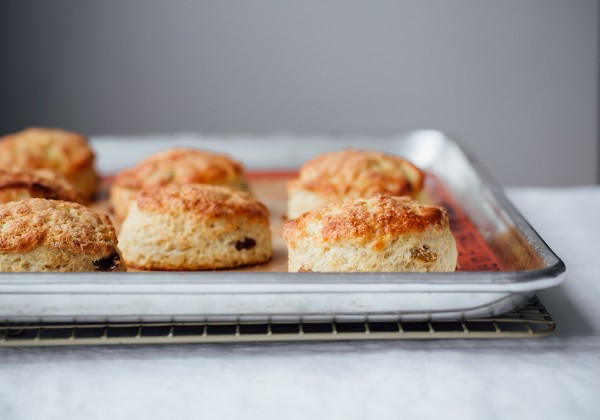 It seems to vary, but many classic British scones contain raisins, which I personally don't mind. Or, as my grandmother says, "sultaaaaanas" [translation: sultanas].
I know most people are either firmly in the hate, love, or tolerate raisin camp – but I have a feeling people wouldn't hate raisins as much if we called them sultanas.
Sounds much more elegant and refined, right?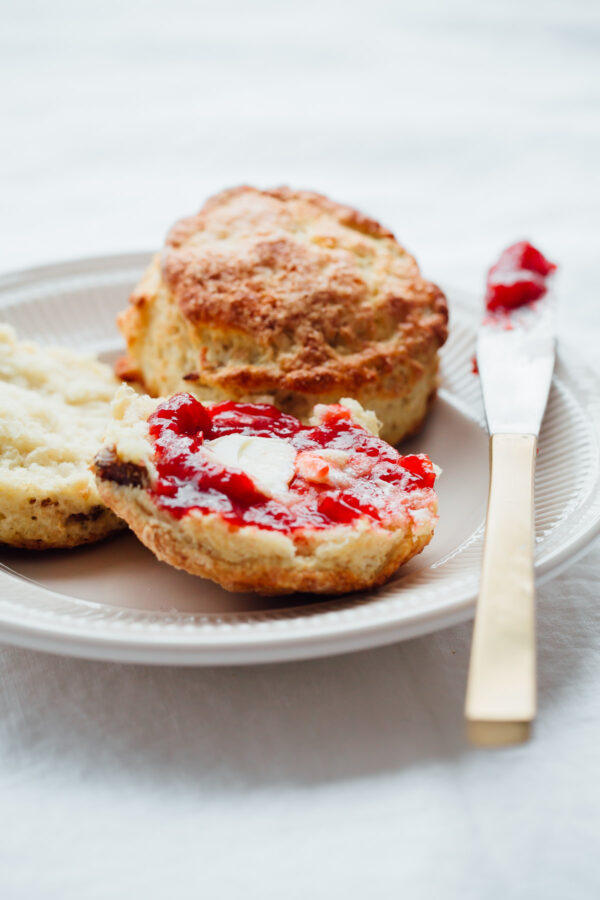 Unlike traditional Irish soda bread, which is known for being slightly dense, theses Irish soda bread scones are lighter in texture and great with butter and jam for breakfast, a snack, and, of course, afternoon tea.
The scones also only take about 30 minutes to prepare start to finish – and the best part? Unlike Irish soda bread, you don't have to wait for these to cool at all.
In fact, they are much tastier when sliced and served warm from the oven. The scones are best served the day of baking, but can easily be reheated and refreshed in the oven for 10 to 15 minutes.
It is a great recipe to keep on hand for those times when you need to use up any leftover buttermilk or want a last-minute baked good to gift to friends or family!
I'm totally imagining a nice basket lined with a pretty linen, a pile of these scones, and a jar of really nice jam! Instant comfort food.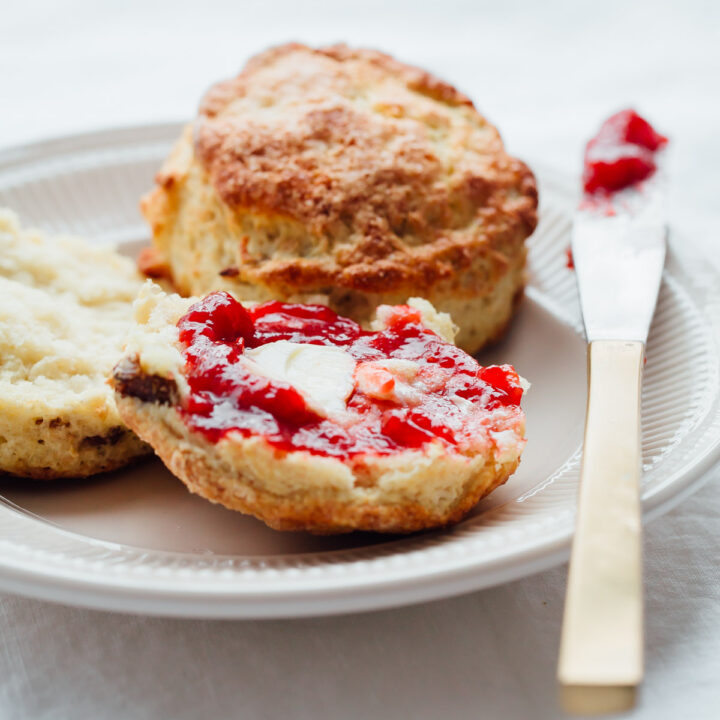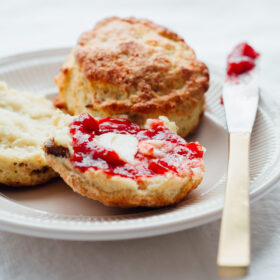 Irish Soda Bread Scones
Irish soda bread in scone form! These Irish Soda Bread Scones are fluffy, lightly sweetened, filled with plump golden raisins, and pair perfectly with some butter and jam.
Ingredients
2 cups (240 g) unbleached all-purpose flour plus more for dusting
¼ cup (50 g) granulated sugar plus more for sprinkling
1 tablespoon aluminum-free baking powder
½ teaspoon baking soda
¾ teaspoon Diamond Crystal kosher salt
4 tablespoons (2 oz; 60 g) very cold unsalted butter cut into ½-inch cubes
¾ cup (180 mL) cold buttermilk
1 large egg
⅓ packed cup plump golden raisins
Egg Wash:
1 large egg
1 teaspoon milk
Instructions
Preheat the oven to 425°F (220°C) with a rack in the center position. Line a sheet pan with parchment paper (or a silicone baking mat). Set aside.

In a medium mixing bowl, whisk together the flour, sugar, baking powder, baking soda, and salt. Add the cold butter and toss in the flour mixture. Using a pastry cutter or a fork, cut the butter into the flour mixture until the mixture resembles coarse meal. Place the bowl in the freezer for 5 minutes to chill. In a large measuring cup, whisk together the cold buttermilk and egg.

Prepare the egg wash: In a small bowl, whisk together the egg and milk. Set aside.

Remove the flour mixture from the freezer. Stir in the golden raisins. Create a well in the center of the dry ingredients and add the buttermilk mixture. Using a wooden spoon, stir the wet ingredients into the flour mixture until just absorbed. The dough will seem shaggy and slightly dry. Transfer the dough and any dry remaining bits to a lightly-floured countertop. Knead the dough gently 4 to 5 times until it comes together, dusting the dough lightly with flour as necessary to prevent it from sticking to the countertop.

Pat the dough gently with your hands into a disc that is roughly ¾-inch thick. Fold the dough over itself 2 to 3 times, this will help create layers. Dip a 2½-inch-diameter biscuit cutter in flour and cut out the scones. Do not twist the biscuit cutter as you cut the dough, this will prevent the scones from rising evenly. Gently press and knead any remaining scone dough and repeat to make 8 scones total.

Distribute the scones evenly on the lined sheet pan, setting them apart by several inches. Lightly brush the tops of the scones with egg wash and generously sprinkle with granulated sugar. Place the scones in the oven and immediately increase the oven temperature to 450°F (230°C).

Bake until golden in color, about 10 to 12 minutes. Transfer the scones to a wire rack. Slice and eat warm with butter and/or jam. Scones best served the day of baking.
Make Ahead Tips:
Scones can be reheated in a 325ºF oven (160ºC) for about 10 minutes, or warmed briefly in the microwave – if you're desperate.
Serving: 1serving, Calories: 198kcal, Carbohydrates: 37g, Protein: 6g, Fat: 3g, Saturated Fat: 2g, Polyunsaturated Fat: 1g, Cholesterol: 51mg, Sodium: 523mg, Fiber: 1g, Sugar: 11g
This post contains affiliate links, which means that I make a small commission off items you purchase at no additional cost to you. Please read my
privacy policy
for more information.