Orange Chocolate Chunk Scones with Orange Glaze
Orange chocolate chunk scones topped with a fresh orange glaze. These flaky cream scones are studded with semisweet chocolate chunks and orange zest, and can be prepared in just over 30 minutes!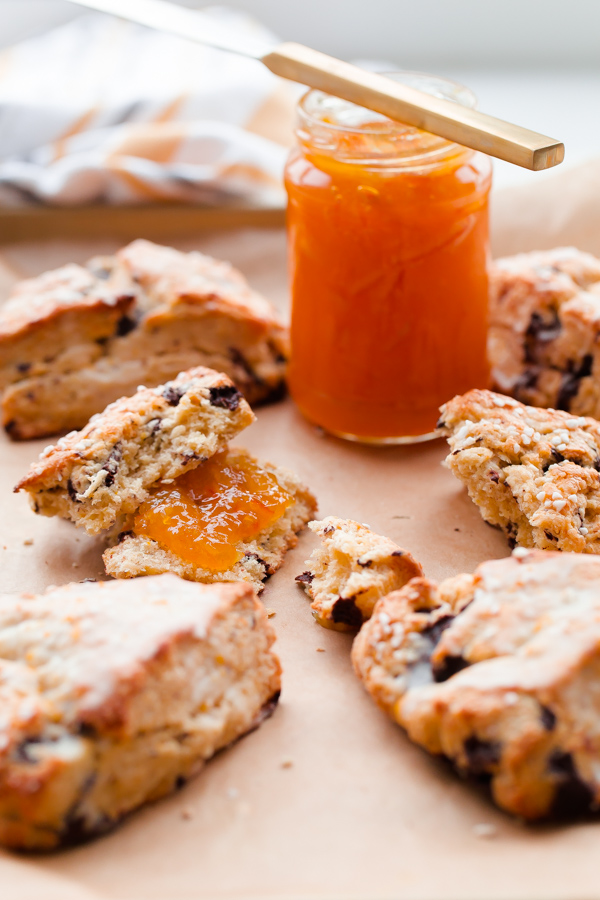 Let's talk cream scones. I've become a die-hard scone fan this past year. They are one of my favorite pastries, and I can't help but share new creations every few months.
In 2015, I've shared these raspberry pistachio scones (which come to think of it would be extremely festive at this time of year!) and these carrot cake scones with maple cream cheese glaze. Then, of course, there is one of my all-time faves: brown butter chocolate chunk scones.
Better yet, maybe we should all gift our friends and loved ones jars of brown butter this year? No?
If you're looking for a delicious holiday breakfast addition, try your hands at scones this year. I love that the flavors are near limitless and you can make them as fun and playful as you like. Go wild, pipe a glaze on top, sprinkle them with Belgian pearl sugar for a snow-like effect (as I did on today's scones), or split them and serve them with jam or marmalade.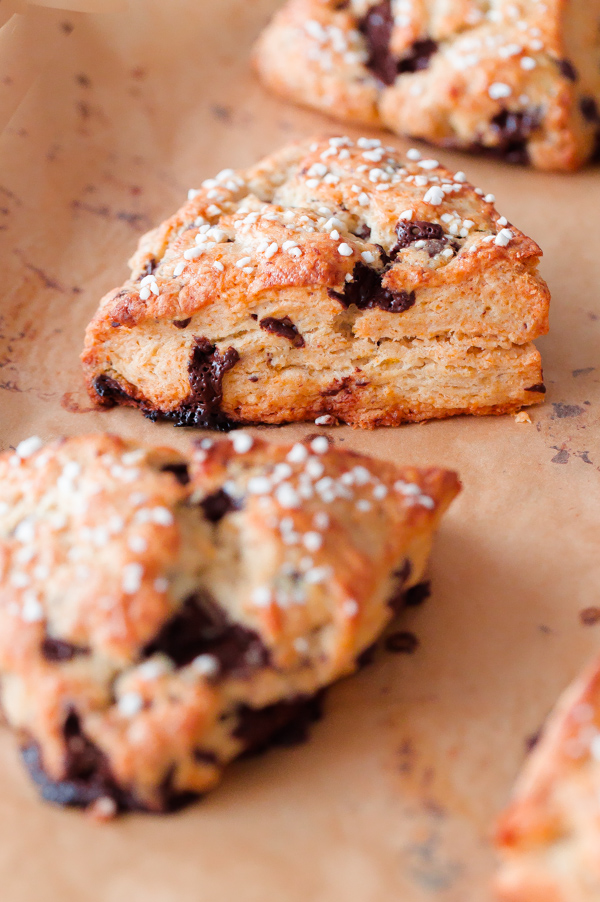 While scones are amazing the day that you bake them (preferably within those first few hours) –  this isn't a hard and fast rule. One of the best parts about homemade scones is that you can easily refresh and reheat them in the oven between 325 degrees Fahrenheit and 350 degrees Fahrenheit for roughly 8 to 12 minutes. See the recipe notes for more details. 
You can even bake them ahead of time, allow them to cool, wrap them tightly in plastic wrap, place them in a freezer bag, allow them to partially-defrost, and go from there.
After testing multiple scones last year, I quickly came to realize that the results between a freshly baked scone and an oven-reheated scone were almost negligible. They have the ability to transform into their original flaky, buttery delicious self.
I mean, really, can you think of a better thing to have on hand for Christmas morning or during the holidays?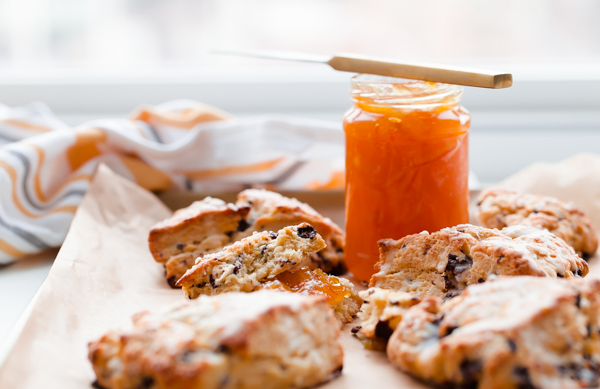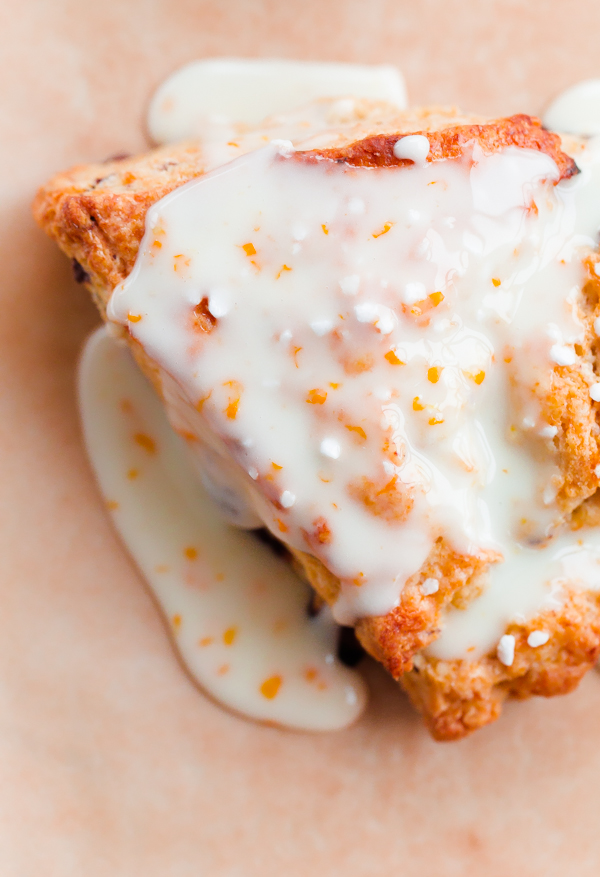 Since I am a huge fan of pairing chocolate and orange together – and love this combination, particularly around the holiday season – I decided to infuse these scones with lots of fresh orange zest, stud them with chopped semisweet chocolate chunks, and top them with a fresh orange glaze.
While the scones themselves contain very little sugar and have a subtle orange essence, the glaze helps bring it all together and really allows the orange flavor to shine. If you're not a fan of glaze (don't worry we can still be friends), I recommend serving these scones with orange marmalade! 
The most important thing when it comes to glazing scones: if you aren't planning on serving the scones right away (within the first few hours), put off glazing the scones until just before serving. This rule also applies if you want to be able to reheat or refresh your scones in the oven (trust me, reheating glazed scones will be a disaster).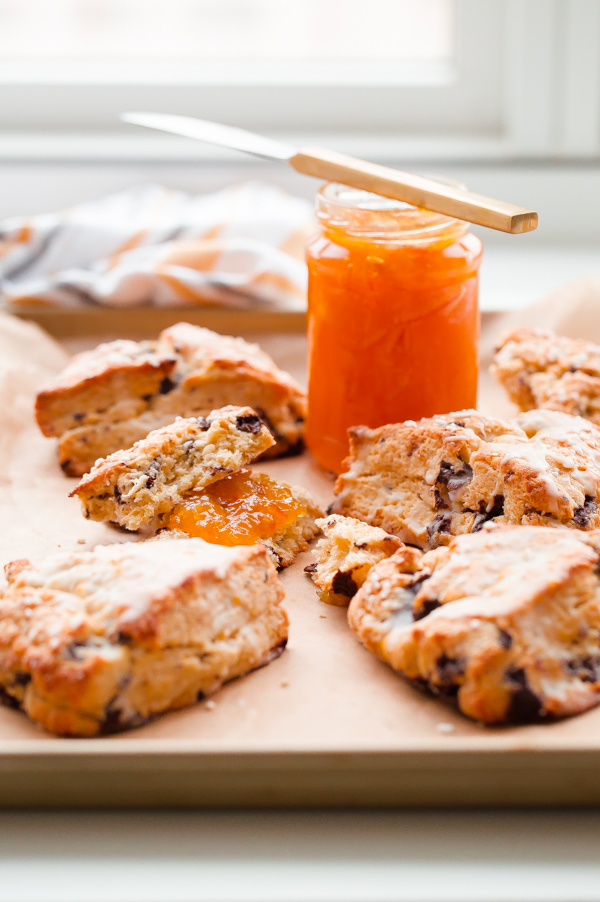 If you've never tried a good scone in your life, I beg you to give scones another chance this holiday season and whip up a batch.
They are one of the most time-friendly baked goods out there. All you need is 30 minutes  – 40 minutes, extra cold ingredients, a baking sheet, and a hot oven ready to go!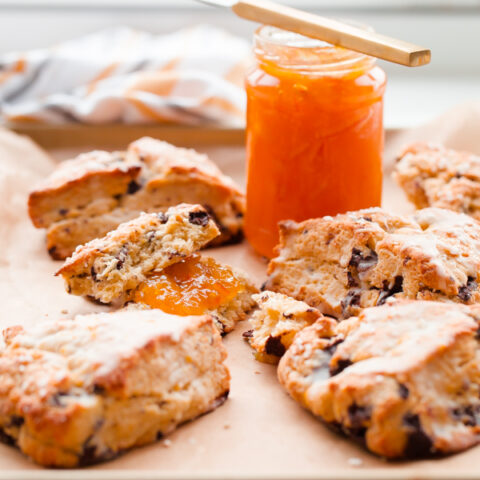 Orange Chocolate Chunk Scones with Orange Glaze
Yield: 6 Large Scones
Prep Time: 15 minutes
Additional Time: 15 minutes
Total Time: 30 minutes
Ingredients
Orange Chocolate Chunk Scones:
1 cup + 2 tablespoon (145 grams) unbleached all-purpose flour
1 cup (130 grams) whole wheat pastry flour (I use Bob's Red Mill)
1 tablespoon baking powder
1/2 teaspoon kosher salt
2 tablespoons granulated sugar
1 packed tablespoon freshly grated orange zest
8 tablespoons (1 stick or 115 grams) very cold unsalted butter, cut into 1/2-inch cubes
3.5 ounces (100 grams) chopped semi-sweet chocolate or good-quality chocolate chips
1 cup + 1 tablespoon cold heavy cream, plus roughly 1 tablespoon for brushing
roughly 1 – 2 tablespoons Belgian pearl sugar or turbinado/demerara sugar, for sprinkling
Orange Glaze:
3/4 cup powdered sugar
1 tablespoon + 1 teaspoon freshly squeezed orange juice
freshly grated orange zest (roughly 1 teaspoon)
Instructions
Preheat the oven to 425 degrees Fahrenheit with the rack in the center position. Line a large baking sheet with parchment paper (or Silpat), and set aside.
Prepare Scones: In a large food processor (fitted with a blade attachment), combine the all-purpose flour, pastry flour, baking powder, and salt. In a small bowl, combine the sugar and zest. Rub the zest into the granulated sugar until it is extremely fragrant and moist. Add it to the food processor with the remainder of the dry ingredients. Pulse several times until all of the ingredients are evenly incorporated.
Add the cold, unsalted butter and pulse 10 to 15 times, or until the butter is no smaller than the size of a large pea. Transfer mixture to a large mixing bowl and stir in the chocolate chunks. Create a well in the center of the dry ingredients and pour in the heavy cream.
Using a large fork, stir the cream into the dry ingredients until the dough starts to come together (it will be shaggy). Scrape the scone dough onto a clean, floured counter-top. Press the dough together gently for 5 to 10 seconds (avoid over-working) and pat the dough into an 7-inch diameter disc, roughly 1-inch thick. Don't worry if the edges are slightly shaggy.
Using a sharp, large knife, cut the dough into six wedges. Transfer the scone wedges onto the parchment paper (or Silpat) lined baking sheet, distributing them on the baking sheet. If your dough is not very cold, chill in the fridge for 10 to 15 minutes before baking.
Using a pastry brush, brush the tops of the scones with the remaining heavy cream. Sprinkle the scones generously with Belgian pearl sugar, or turbinado or demerara sugar. Bake at 425 degrees Fahrenheit for 14 to 18 minutes, rotating the baking sheet halfway through, or until the scones are golden brown.
Immediately transfer the scones to a cooling rack to cool completely before glazing (or simply serve with orange marmalade). If you are planning on reheating the scones or are not serving the scones immediately, see the note section for more tips.
Prepare the Glaze: Combine the powdered sugar, orange juice, and orange zest in a small bowl and mix until smooth. If it is too thin, add a touch more powdered sugar. Using a spoon, drizzle the cooled scones with the glaze (*if storing these ahead of time before serving, I prefer to glaze just before serving).
Notes
Tips for Success:
Orange Glaze: If you aren't planning on serving these scones right away (within the first few hours of baking), avoid glazing the scones until just before serving. This rule also applies if you want to be able to reheat or refresh your scones in the oven later (trust me, reheating glazed scones will be a disaster).
If you prefer your scones unglazed, just remember that these scones are subtly sweet. I prefer my scones this way, but if you prefer sweet scones, increase the granulated sugar by 1 to 2 tablespoons.
Storing and Freezing: If you wish to reheat the scones or prepare them in advance, prepare and bake the scones are directly and allow them to cool completely (do not glaze). Wrap the cooled and baked scones in plastic wrap, place in a large freezer-safe bag, and freeze for up to 2 months. Allow to partially defrost, place the scones on a lined baking sheet, and reheat in a 325 to 350 Fahrenheit oven for 8-10 minutes or until flaky and warm.
Nutrition Information:
Yield: 6
Serving Size: 1
Amount Per Serving:
Calories: 407
Total Fat: 10g
Saturated Fat: 5g
Trans Fat: 0g
Unsaturated Fat: 3g
Cholesterol: 15mg
Sodium: 472mg
Carbohydrates: 75g
Fiber: 6g
Sugar: 31g
Protein: 9g