Roasted Asparagus Wheat Berry Salad with Arugula Pistachio Pesto
Roasted asparagus wheat berry salad with arugula pistachio pesto, basil, and shaved Manchego! A healthy and hearty springtime vegetarian main course salad.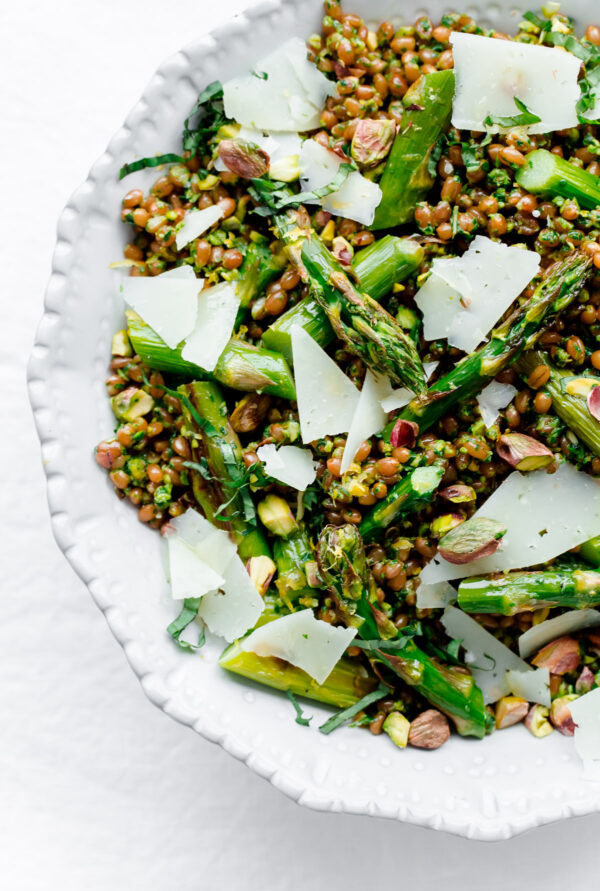 Aside from last year's guinness stout cake, this roasted asparagus wheat berry salad is about as festive as we get around here for St. Patrick's Day. Womp, womp. I'm not going to even pretend to be an authority on Irish food. I think I've had corned beef once in my entire life. Not exaggerating.
But, but – this spring grain salad is so, so green (and more importantly, naturally green) and delicious! So that counts, I think, right? Probably not. It also happens to be really healthy and nutritious. Let's go over all the green things in this salad:
Roasted asparagus. Baby arugula. Fresh basil. Pistachios.
Basically, some of my favorite ingredients. I figure I'll get my fill of green coloring from my first St. Patricks Day Parade in Chicago this coming weekend. Plus, this hearty salad makes it easy to justify that extra slice or two of cake!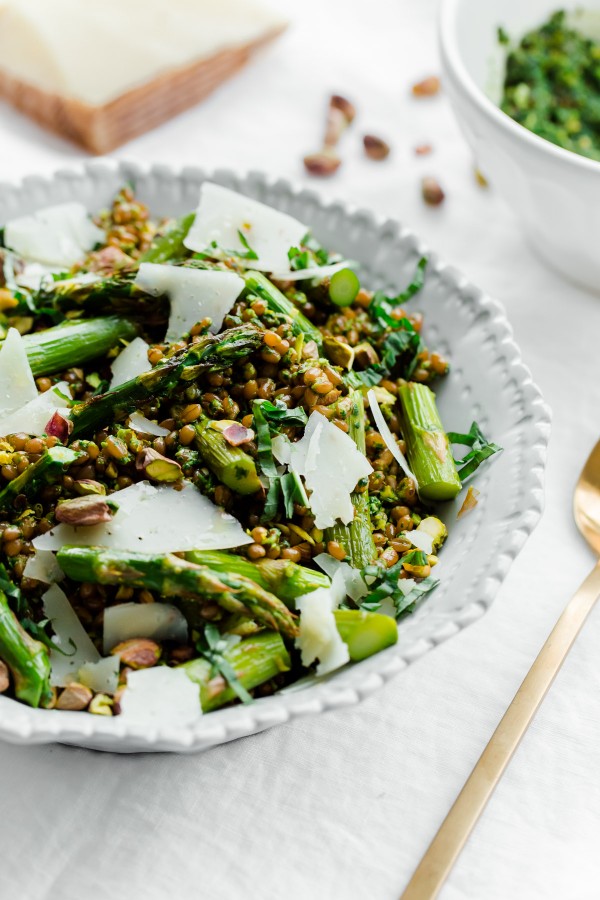 The base for this salad is cooked wheat berries! This recipe calls for hard red spring wheat berries, which are the most commonly available variety of wheat berries found at grocery stores or in bulk bins.
The wheat berries are cooked, cooled, and tossed with homemade arugula-pistachio pesto, which I love. To add more depth of flavor, the pesto contains fresh basil and a splash of lemon juice too! The pistachios complement the arugula and basil so well, and I love their delicate, yet distinct flavor. Plus, green things!
I've become a huge pistachio person in the last year and have been adding them to tons of savory dishes lately. We also garnish the salad with extra chopped pistachios. They add the best texture!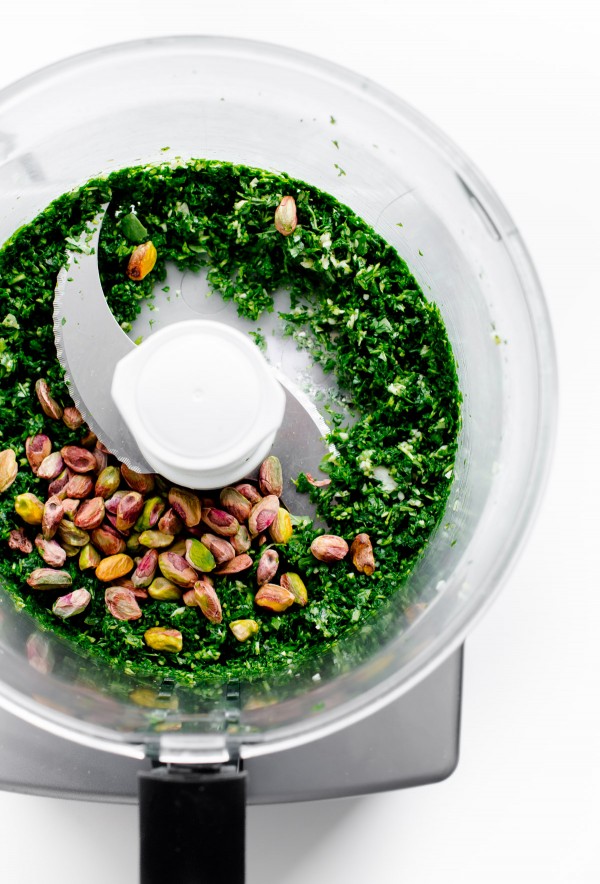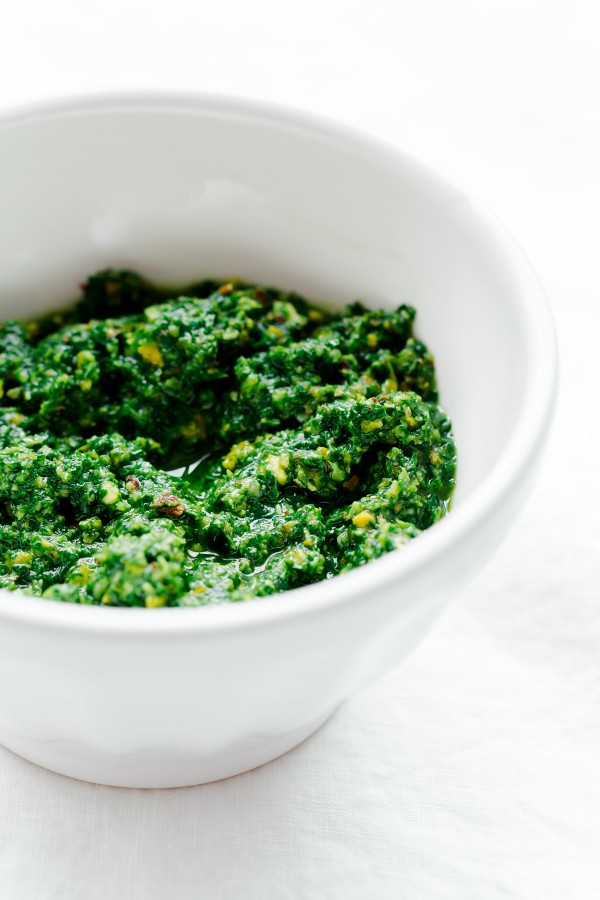 Connor and I joke that whenever we make pesto, we end up eating all the green things without even planning it. Our entire plates are different shades of green. For one reason or another, it always works out that way, so this salad is very us.
I'm also convinced that wheat berries don't get enough love on the internets, so that (and the fact that I've had a bag of wheat berries in my kitchen cabinet begging to be used) provided the inspiration for this recipe.
If you're not familiar with wheat berries, they are literally the whole, unprocessed kernels of hard red spring wheat. The same kernels that are milled to produce bread flour! Cool, huh? It doesn't get more whole grain than that!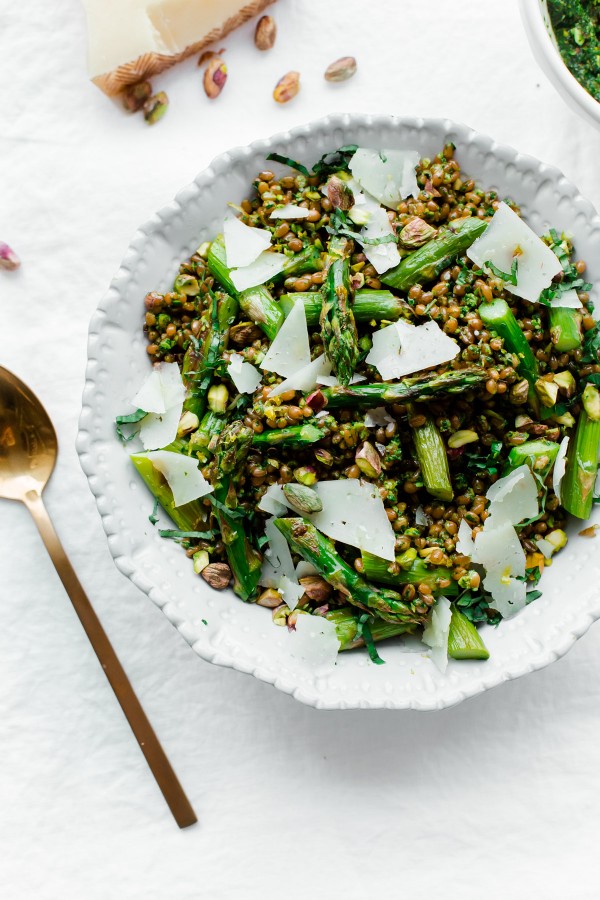 Wheat berries are basically the less-trendy, slightly more nutty and chewy version of farro. They are definitely different, but the concept is exactly the same! Unlike farro, wheat berries are much more affordable.
There is one caveat though. It takes about an hour to cook wheat berries! Many people recommend soaking wheat berries to reduce the cooking time, but it only seems to shave off as much as 10 minutes at most – so I recommend making this salad (or at least, the grains!) on a day that you have a little bit of extra time (maybe weekend meal prep?).
Wheat berries are definitely different than farro, but are fairly interchangeable in any recipe – so feel free to substitute wheat berries with farro and vice versa! Just remember that farro only takes about 25 to 30 minutes to cook.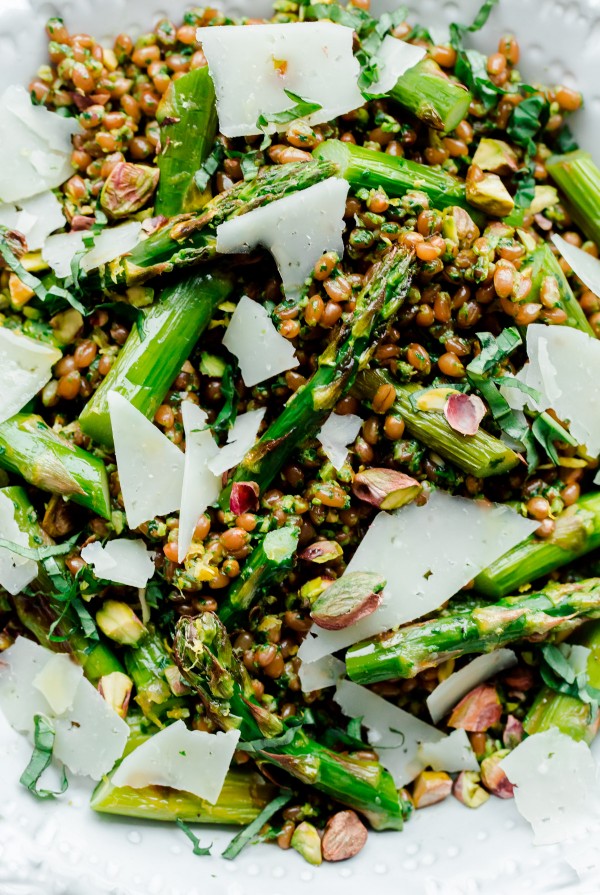 You could totally serve this as a main course (wheat berries contain lots of protein and fiber – in addition to everything else happening in the salad!), or serve it as an accompaniment to practically any protein.
I finished mine with manchego, but parmigiano-reggiano or even crumbled feta would also work well. You could even add large chunks of avocado to mix it up. Cheers to all the green food!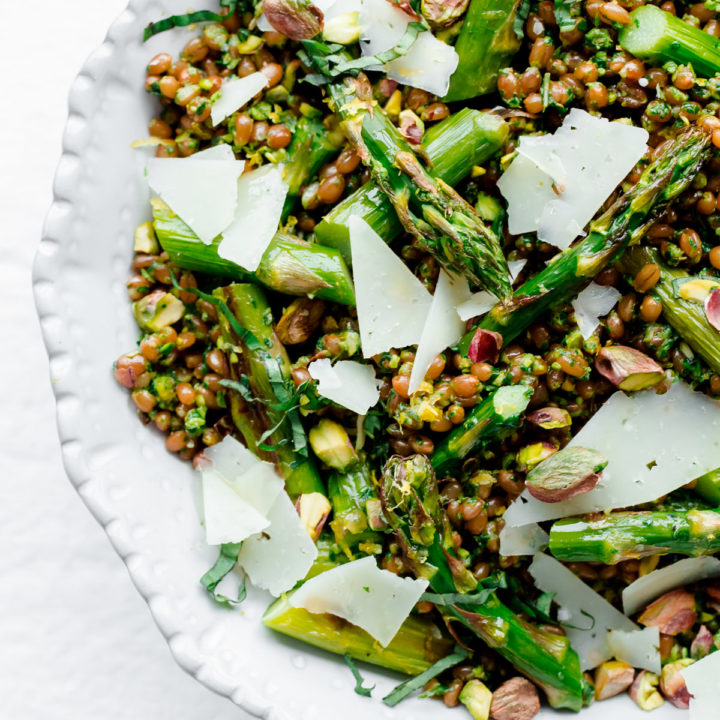 Roasted Asparagus Wheat Berry Salad with Arugula Pistachio Pesto
Yield: 4 Servings
Roasted asparagus wheat berry salad with arugula pistachio pesto, basil, and shaved Manchego! A healthy and hearty springtime vegetarian main course salad.
Prep Time: 15 minutes
Cook Time: 1 hour
Additional Time: 15 minutes
Total Time: 1 hour 30 minutes
Ingredients
Wheat Berries:
1 cup hard red wheat berries, rinsed (*see notes for substitution options)
3 and 1/2 cups cold water
1/2 teaspoon kosher salt
extra virgin olive oil
Roasted Asparagus:
1 bunch of fresh (thick) asparagus, tough ends trimmed
extra virgin olive oil
kosher salt
freshly ground black pepper
Arugula Pistachio Pesto:
2 medium garlic cloves, peeled
2 ounces baby arugula
1 and 1/2 ounces fresh basil (set aside 1-2 leaves for garnishing)
1/4 cup raw or toasted shelled pistachios, plus more for garnishing
1/3 cup extra virgin olive oil
1 tablespoon freshly squeezed lemon juice
kosher salt
freshly ground black pepper
Garnishes:
fresh basil leaves, chiffonade
roughly chopped raw or toasted shelled pistachios
freshly grated lemon zest
shaved aged Manchego or Parmigiano-Reggiano cheese
Instructions
Preheat the oven to 450 degrees Fahrenheit (230 degrees Celsius) with a rack in the center position.
In a saucepan, combine the rinsed wheat berries, cold water, and kosher salt. Bring to a boil, reduce to a simmer, cover, and cook for 50 minutes to 60 minutes, or until the wheat berries are tender and cooked through – the exact cooking time will vary by brand and age, similar to dried lentils. Drain the wheat berries in a fine-meshed sieve and spread into a thin layer onto a clean sheet pan (alternatively, you can place them in a large mixing bowl – the goal is to cool them down quickly). Drizzle and toss with a small amount of olive oil. Cool completely at room temperature, or place them in refrigerator for 10 to 15 minutes to speed this process up.
As the wheat berries are cooking, place the trimmed asparagus spears on a second sheet pan. Drizzle with olive oil, sprinkle with kosher salt, and freshly ground black pepper, toss, and distribute into an even layer on the sheet pan, setting them apart slightly. Roast at 450 degrees F (230 degrees C) for 12 to 16 minutes, or until lightly caramelized and tender. Remove and allow to cool on a rack while you prepare the rest of the salad.
Prepare the arugula pistachio pesto. In a large processor, pulse the garlic cloves until finely minced. Add the arugula and basil leaves and pulse until coarsely chopped, scraping down the sides of the bowl as necessary. Add the raw pistachios and slowly pour in the olive oil, processing until mostly smooth. Transfer to container, stir in the lemon juice, and season to taste with salt and pepper.
Once the wheat berries have cooled, place in a large mixing or serving bowl and generously toss with the arugula pistachio pesto (*you will most likely have some leftover pesto). Season the salad to taste with salt and pepper. Cut the asparagus spears on a bias into 1-inch pieces, add to the wheat berries, and toss gently.
Serve at room temperature or cold. Garnish the salad with chiffonade basil, coarsely chopped pistachios, freshly grated lemon zest, and shaved Manchego cheese (or Parmigiano-Reggiano, if using) as desired.
Leftover salad can be stored in an airtight container in the fridge for up to 5 days.
Notes
This salad would also work perfectly with farro, an Italian grain similar in appearance to wheat berries. Use the same method above, but reduce the cook time to 25 to 35 minutes total.
Tips for Success:
Try to seek out thick asparagus (as opposed to very thin spears) for this salad, as they are better suited for roasting. If you use thinner asparagus, reduce the roasting time as necessary.
To store leftover pesto, place in a small container, cover with a thin layer of olive oil, and refrigerate or freeze. Slather leftover pesto on toast for breakfast, topped with a runny fried egg, or toss it with pasta!
Nutrition Information:
Yield: 4
Serving Size: 1
Amount Per Serving:
Calories: 446
Total Fat: 29g
Saturated Fat: 6g
Trans Fat: 0g
Unsaturated Fat: 22g
Cholesterol: 9mg
Sodium: 623mg
Carbohydrates: 40g
Fiber: 8g
Sugar: 3g
Protein: 12g