Kale Caesar Salad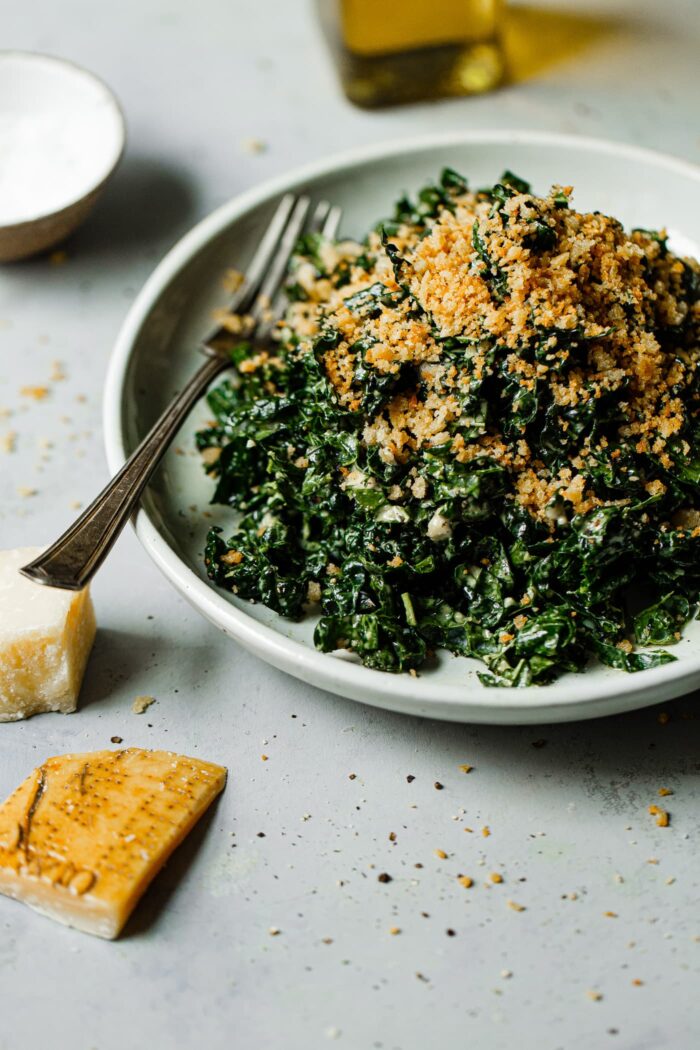 If you're looking to revamp traditional Caesar salad, this Kale Caesar Salad will quickly become your new go-to.
Tossed with a traditional Caesar dressing and finished with crispy garlic bread crumbs, this kale caesar makes a hearty main course or side. Unlike croutons, the bread crumbs disperse evenly throughout the salad, lending texture to every bite.
I've always had a strong affinity for a great Caesar salad, so I've made it my mission to make the best Kale Caesar Salad.
While I'm a purist when it comes to the dressing, I'm all for giving Caesar salad a modern spin. So today we're doing just that.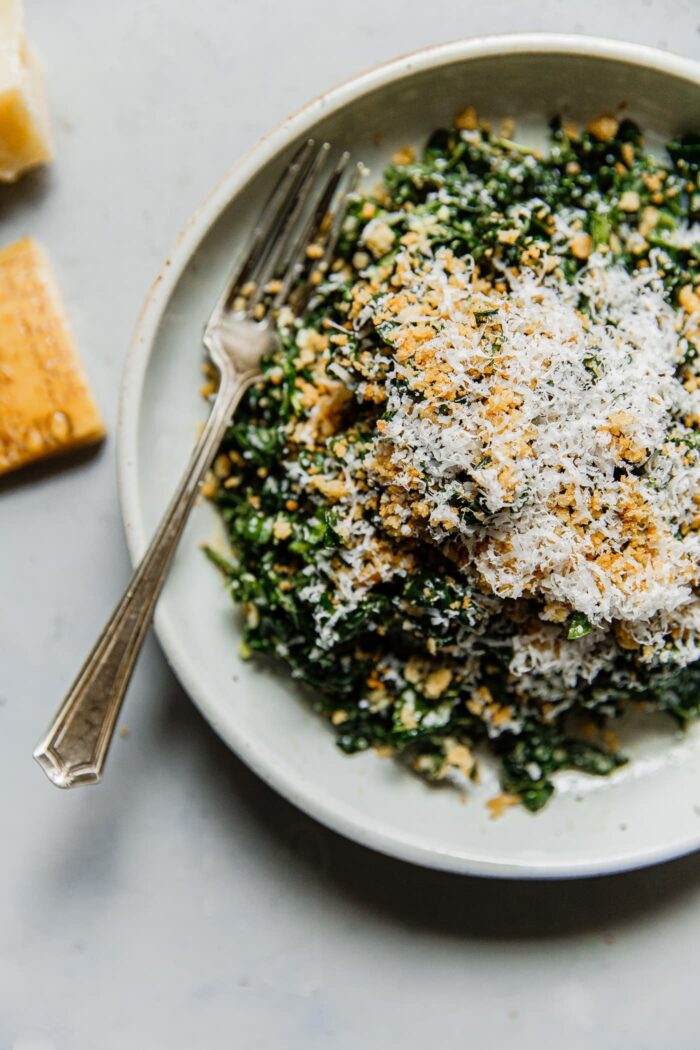 How to Prep the Kale Leaves
We're using lacinato kale – also known as dinosaur or Tuscan kale – my preferred variety for salads.
The thinner, yet hearty leaves hold up to and showcase creamy salad dressings, including Caesar, extremely well. Since lacinato kale is relatively mild in taste, it's also easy to enjoy raw.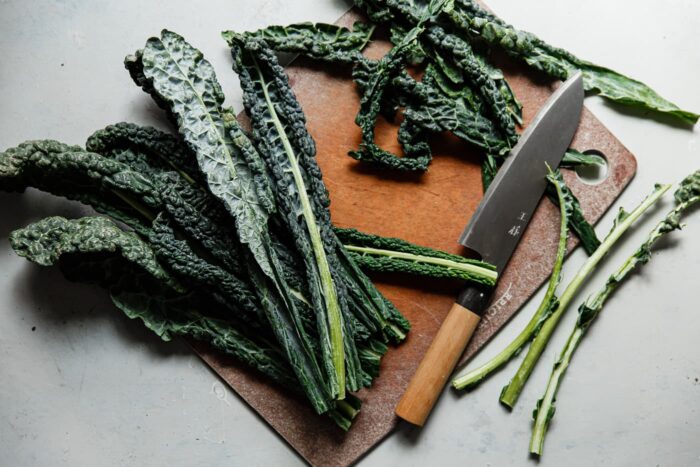 First, strip the leaves and discard any tough stems. After thoroughly washing and drying the leaves, stack several kale leaves at a time and roll them tightly into a long log. Then slice the kale into thin ribbons, roughly 1/2-inch thick.
Here's the secret to a stellar kale salad: A thorough massage. By vigorously rubbing the leaves, you essentially help break down the fibers, creating a silkier, tender green that is more enjoyable to eat (and easier to digest).
You'll be amazed how a quick massage can completely transform raw kale.
Assemble the Kale Caesar Salad: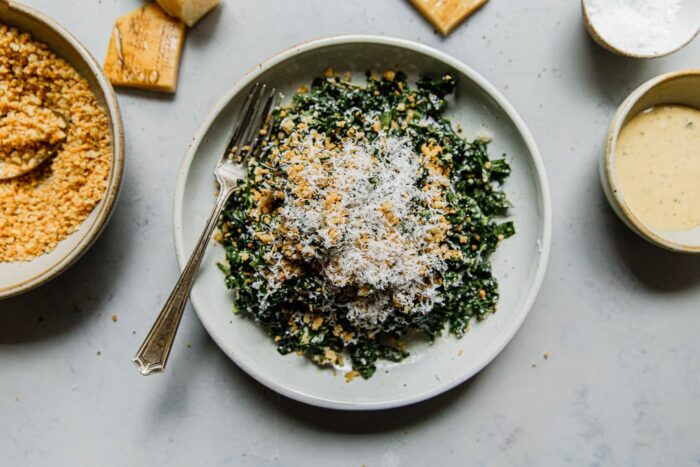 Prepare the Bread Crumbs and Kale: Before preparing the dressing, assemble the main salad components (crispy bread crumbs, washed and prepped kale leaves, and any additional toppings. See make-ahead tips below.
Make the Dressing: After combining the egg yolks, anchovy, garlic, Dijon mustard, and Worcestershire sauce, gradually pour in the oil with one hand, while whisking vigorously with the other. The dressing should become thick and emulsified. Lastly, stir in the lemon juice, grated parmigiano-reggiano cheese, and freshly cracked black pepper.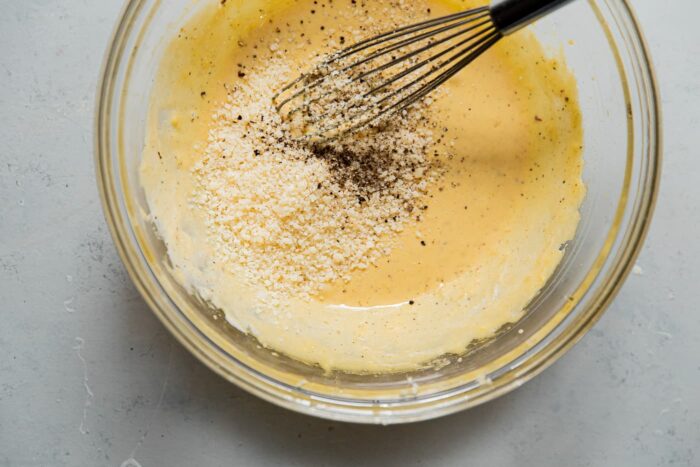 Toss the Salad: All that's left to do is to assemble this masterpiece! Toss the kale ribbons with the dressing until evenly coated. Top each serving with a generous sprinkling of crispy garlic bread crumbs and dusting of parmigiano-reggiano cheese, grated with a microplane.
Make-Ahead Tips:
If you're looking to plan ahead, this is your salad. The crispy bread crumbs and the kale leaves (hold off on massaging) can be prepped 1-2 days in advance. Store the kale ribbons in a covered container in the refrigerator.
While I recommend making the Caesar dressing just before serving, it can hold up for 1-2 days in an airtight container in the fridge. Allow to sit at room temperature for 20 minutes, then stir well before using.
To add a bit of heft, prep hard-boiled eggs (or other proteins) for topping. See recipe note section. Peel and store in a container in the refrigerator for up to a week.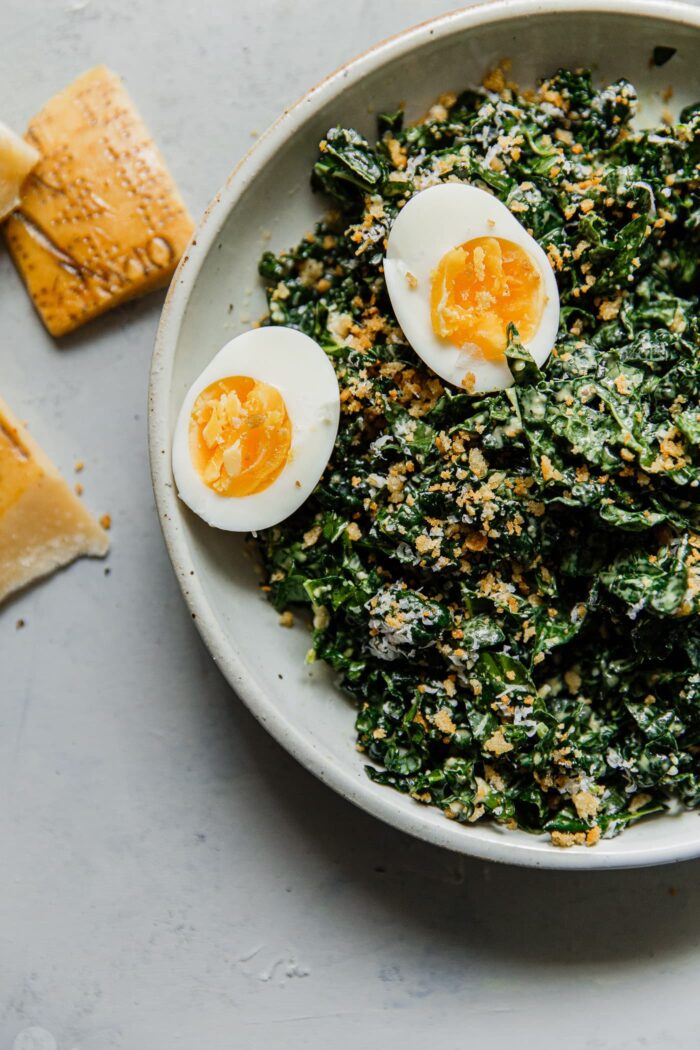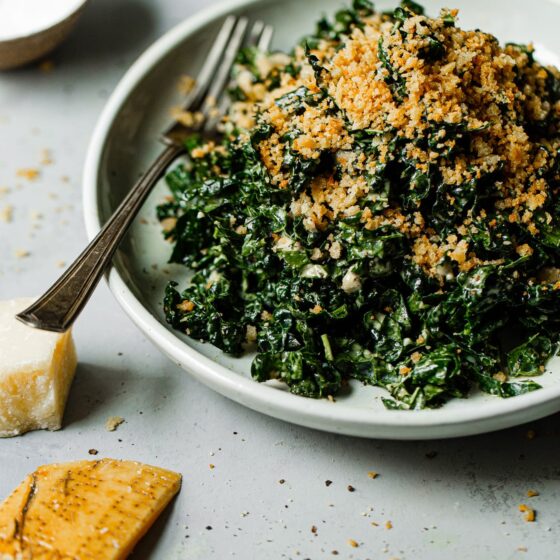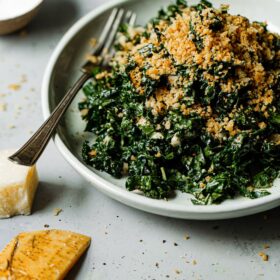 Kale Caesar Salad
Serving: 1serving, Calories: 516kcal, Carbohydrates: 3g, Protein: 12g, Fat: 51g, Saturated Fat: 11g, Polyunsaturated Fat: 24g, Monounsaturated Fat: 14g, Trans Fat: 1g, Cholesterol: 305mg, Sodium: 350mg, Potassium: 97mg, Fiber: 1g, Sugar: 1g, Vitamin A: 626IU, Vitamin C: 5mg, Calcium: 250mg, Iron: 1mg
This post contains affiliate links, which means that I make a small commission off items you purchase at no additional cost to you. Please read my
privacy policy
for more information.