Kale Caesar Salad with Hard-Boiled Eggs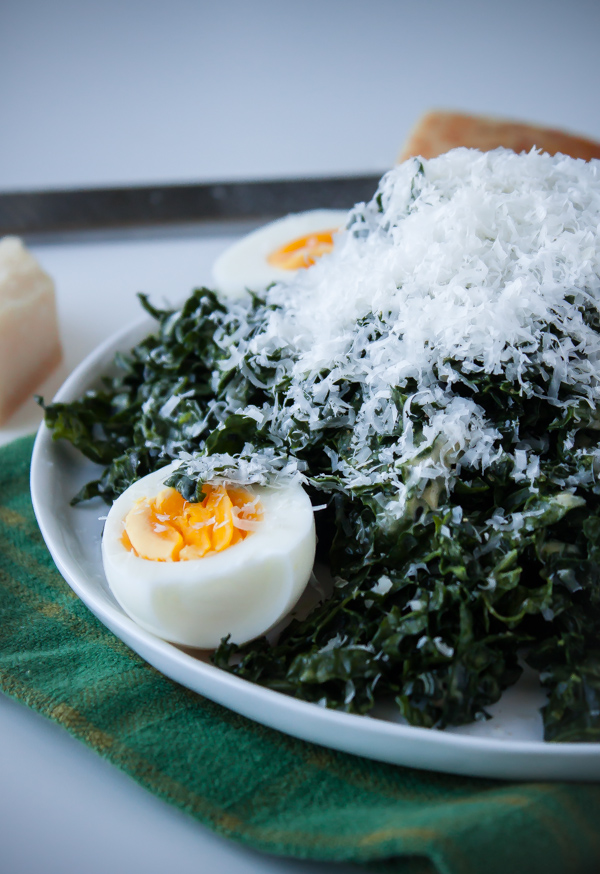 Today's recipe is long overdue.
You see, my mom and older sister recently brought to my attention that I had yet to share a classic Caesar salad dressing on this site in all four years of its existence.
I shared one version a very long time ago (which I refuse to link to because well..the pictures are horrific), but other than that nada.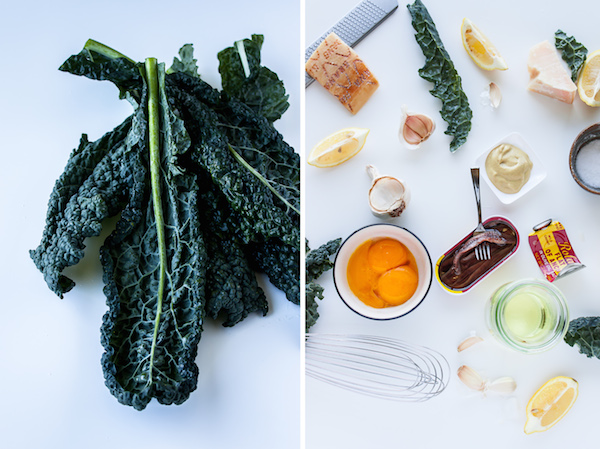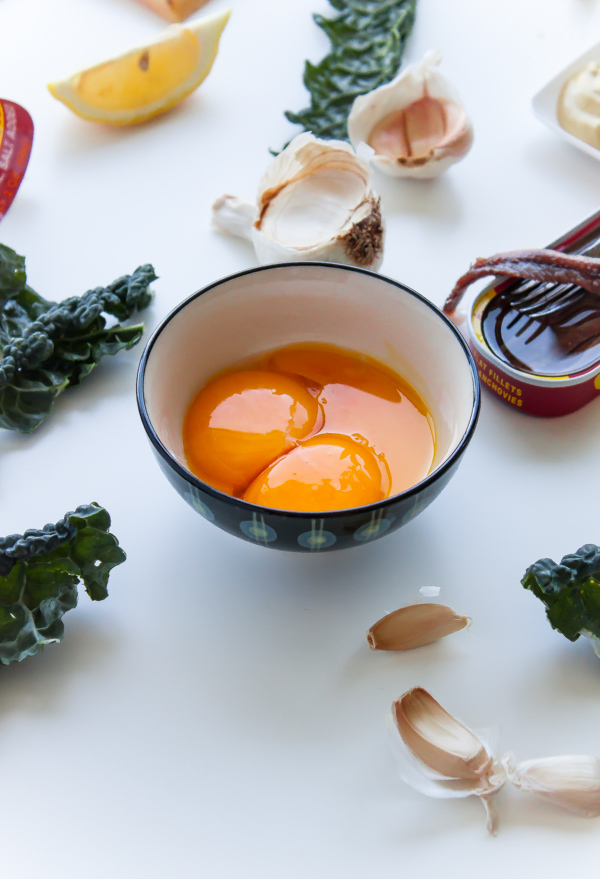 To give you some perspective, I basically lived on Caesar salad (and pasta) for the first eight years of my life.
I essentially made it my life goal to try Caesar salad at every restaurant we ever visited, and I took the job very seriously.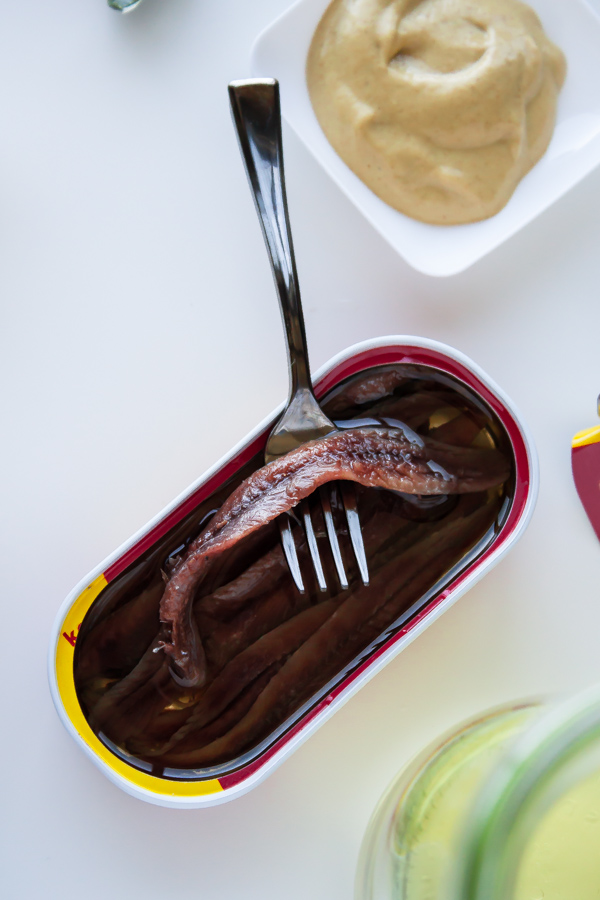 Somewhere along the way (and many, many Caesar salads later), I came to the sad realization that all Caesar salads are not made equal, and only a handful passed my test.
Thankfully, my salad repertoire and palate have expanded substantially within the last twenty years.
But even to this day, I still can't resist a good Caesar salad every now and then.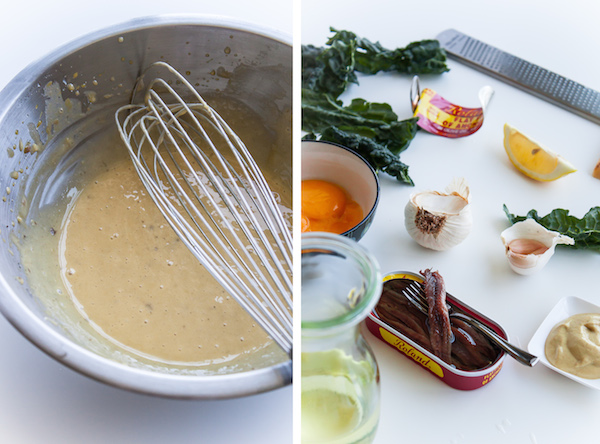 With that said, I'm definitely a purist when it comes to the dressing. It must have raw egg yolks. I know that thought makes some people squeamish (some grocery stores sell pasteurized eggs!), but the creaminess and richness they provide is irreplaceable.
Fresh garlic, Dijon mustard, lemon juice, anchovies, and lots of good quality parmigiano-reggiano are key components as well. The rest is up for interpretation in my book.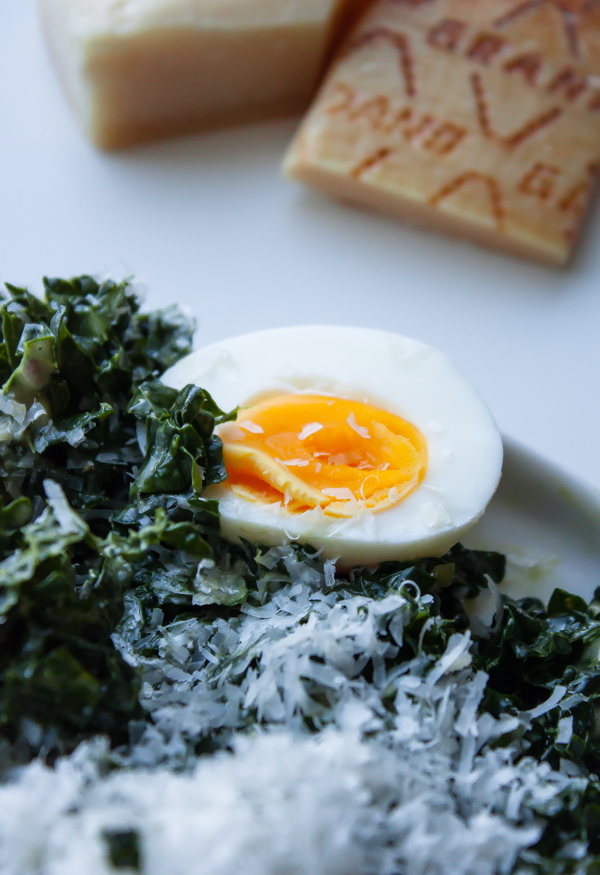 One of my favorite trends that has appeared within the last year or two is the kale Caesar salad. The heartier, earthy kale leaves hold up really well to the creamy dressing, and it is definitely a welcome change from the classic romaine (or even grilled romaine) lettuce standby. If you are a newbie to raw kale, I recommend using a combination of the two lettuces.
Despite being a relatively egg-heavy dressing, I love to pair this salad with perfectly cooked hard-boiled eggs for lunch. It keeps me full for hours!
Even though I make Caesar dressing every few months, I finally wrote down the recipe the other day (after having just eyeballed amounts for years) and am happy to finally share my version with you! Hope you guys like it!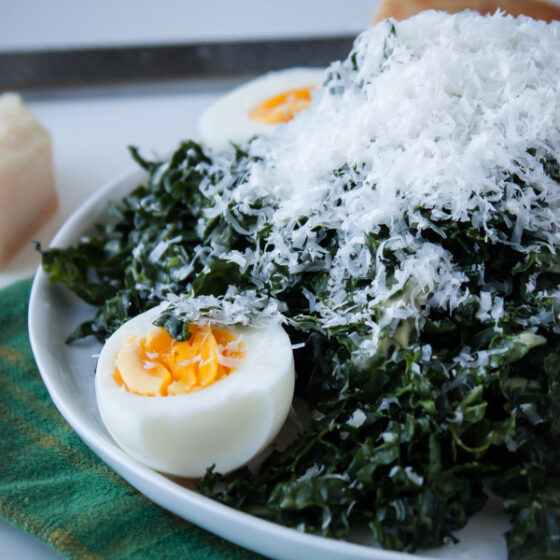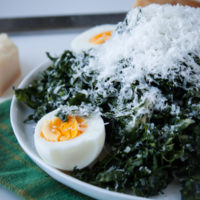 Kale Caesar Salad with Hard-Boiled Eggs
Yield: 4 Servings

Prep Time: 10 minutes

Cook Time: 10 minutes

Total Time: 20 minutes
Ingredients
2 large eggs
2 large bunches of lacinato kale
2 anchovy fillets (packed in olive oil)
1 medium garlic clove
3 large egg yolks
 1 tablespoon + 2 teaspoons fresh lemon juice
1 tablespoon Dijon mustard
1/3 cup canola oil
dash of Worcestershire sauce (optional)
 tablespoon grated parmigiano-reggiano cheese (plus more for garnish)
kosher salt
freshly ground black pepper
Instructions
Prepare Hard-Boiled Eggs:
Fill a small saucepan with water. Bring to low boil. Lower the eggs carefully into the water and immediately reduce heat to a low simmer (very small bubbles should be visible on the bottom of the pot).
Set a timer for exactly 10 minutes (this will result in a completely firm white, but slightly soft, yet still cooked inner yolk). Prepare an ice bath and set aside.
Once the eggs have cooked for exactly 10 minutes, use a spoon to remove the eggs from the pot and place them immediately in the ice bath.
Once the eggs are cool to touch, peel them by gently. Set them aside in a bowl (do not slice until the salad is ready to serve) and prepare the rest of the salad.
Kale Caesar Salad:
Strip off the leaves of the kale and discard the tough stems. Wash and dry the kale leaves thoroughly. Stack several kale leaves at a time and roll them into a cigar. Slice the kale into thin ribbons (roughly 1/2″ thick) and set them aside in a large bowl. Repeat with the remaining kale leaves, then cover the salad with a lightly damp paper towel and set aside.
Finely chop the anchovy fillets and garlic clove. Use the back of you knife to mash them together into a fine paste, and place in a bowl.
Whisk the egg yolks, lemon juice, and Dijon mustard into the anchovy-garlic paste. Gradually pour in the oil with one hand, while whisking vigorously with the other. The dressing should get thicker and be fully emulsified.
Stir in the grated cheese and season with salt and pepper to taste (add additional lemon juice if desired).
Dress the kale leaves with the dressing and season to taste. Slice the hard-boiled eggs in half. Serve the salad with a hefty dose of microplaned parmigano-reggiano cheese and a hard-boiled egg as desired.
Nutrition Information:
Yield: 4 Serving Size: 1
Amount Per Serving: Calories: 287Total Fat: 26gSaturated Fat: 4gTrans Fat: 0gUnsaturated Fat: 21gCholesterol: 282mgSodium: 446mgCarbohydrates: 4gFiber: 1gSugar: 1gProtein: 10g

A Beautiful Plate provides nutritional information, but these figures should be considered estimates, as they are not calculated by a registered dietician.
This post contains affiliate links, which means that I make a small commission off items you purchase at no additional cost to you. Please read my
privacy policy
for more information.