An easy, no-fuss tutorial on how to make crispy garlic chips at home, and ways to incorporate them into your cooking repertoire.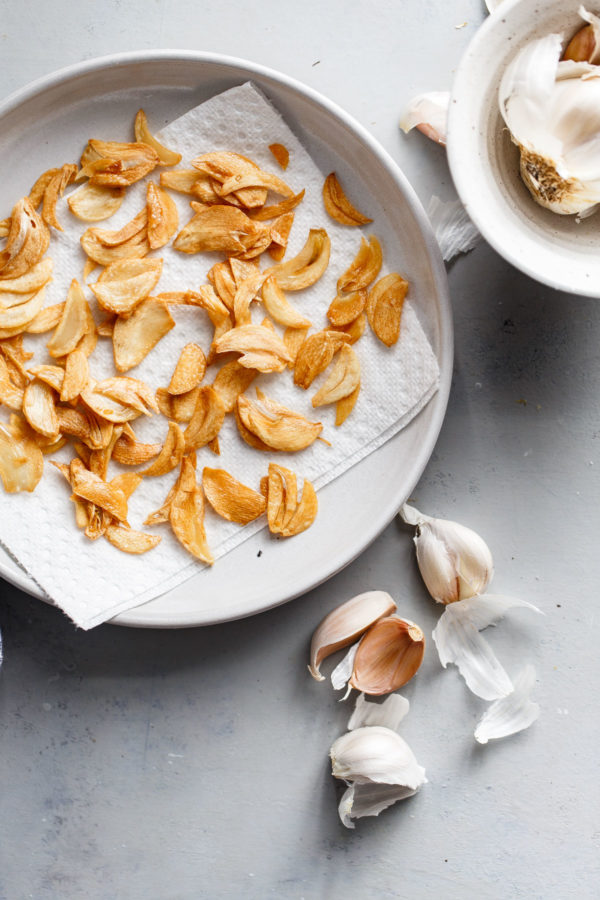 Garlic chips! Have you made them? More importantly, have you ever tasted one? If the answer is no, I'm here to rock your world. Once you get your hands on homemade garlic chips, you'll want to start sprinkling them on everything that comes out of your kitchen.
I like to think of them as savory fairy dust. Pure caramelized garlic flavor in a crispy, crunchy package. They provide fantastic texture, make everything taste ten times better, and you'll impress everyone in the process. It's a win-win situation.
I'm sharing an incredible recipe later this week that uses these crispy garlic chips, but in the meantime, I thought it would be fun to provide a quick recipe and cooking tutorial on how to make them at home.
After all, crispy garlic chips deserve their own time in the limelight. Your cooking repertoire will never be the same.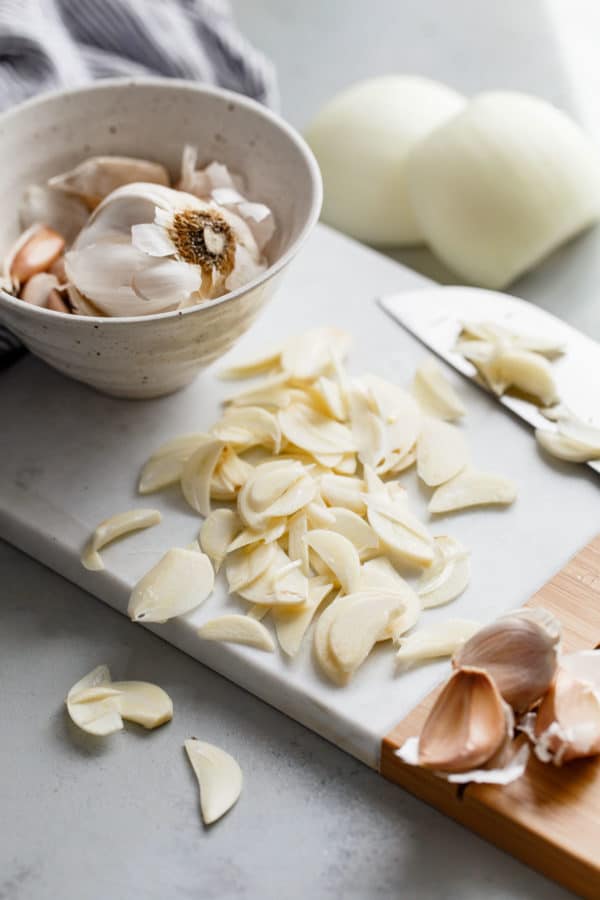 How to Make Garlic Chips:
Garlic chips are exactly what you expect them to be. Thinly sliced garlic that is cooked in oil until crispy, crunchy, and golden brown in color. In other words, fried garlic slices. The garlic slices should be very thin and uniform, so that they all cook evenly in the oil.
Yes, we're frying today. Please don't hate me. The good news? We're shallow frying in a small skillet and the entire process takes less than ten minutes start to finish. You won't need a ton of oil (this small-batch recipe only requires 1/4 cup total) or a frying thermometer to make these.
Even better news? There is minimal to zero clean up and you'll be rewarded with roughly 1/4 cup crispy garlic chips (a little goes a long way!) and a small, but practical amount of homemade garlic oil that can be used for low-heat cooking, salad dressings, drizzling and dipping, and everything in between.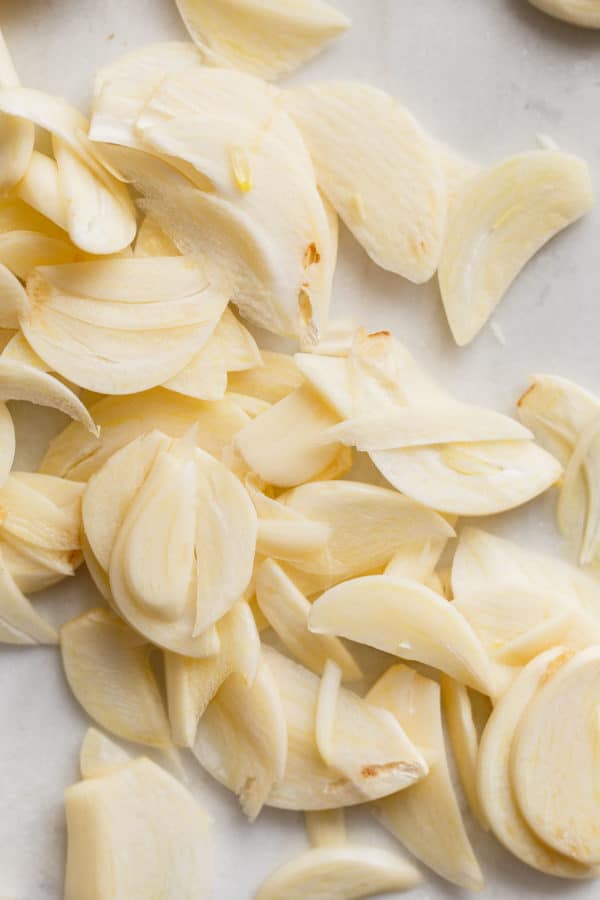 Here's What You'll Need:
6 large peeled garlic cloves, thinly sliced
small skillet (preferably 7″ to 8″ inches in diameter or smaller)
heat proof spatula
1/4 cup pure avocado oil (or olive oil) – see section below or recipe notes
fine-meshed strainer (or slotted spoon), for draining the garlic chips and reserving the oil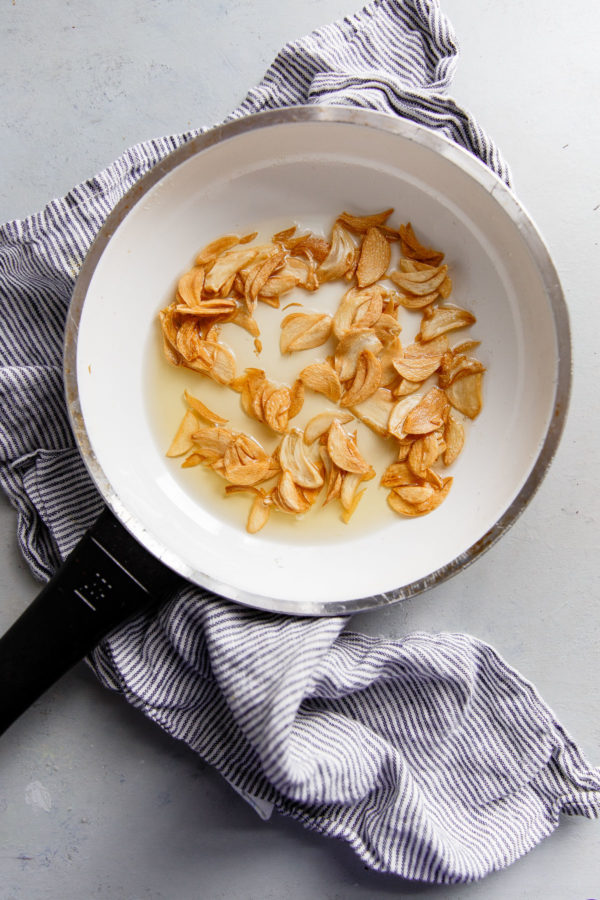 What Type of Oil Should I Use?
You'll want to use a high-quality oil to make garlic chips, particularly if you wish to reserve and use the garlic oil for other dishes. I recommend using avocado oil or olive oil.
Pure avocado oil has a very high smoke point and neutral flavor, and it is a healthier and lower processed alternative to other natural oils, such as canola, vegetable, etc.
I like to use avocado oil for this recipe, particularly if I'm using the garlic chips for a variety of dishes and prefer a more versatile cooking oil that can be re-heated at a higher temperature.
Olive oil has a lower smoke point, but is a great substitute for avocado oil for this recipe. It will produce a more flavorful and robust infused garlic oil that will lend itself better to Italian or Mediterranean dishes or dipping bread, drizzling, etc.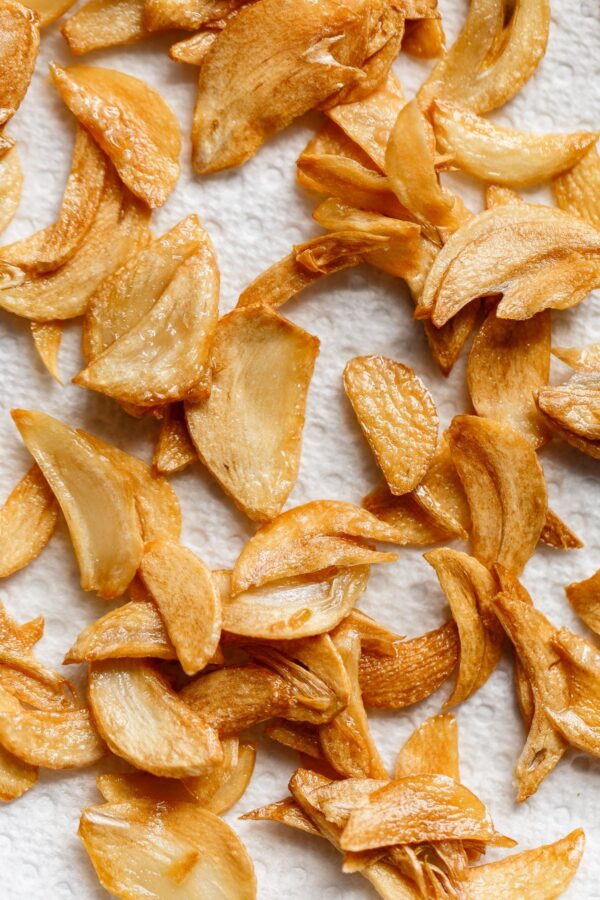 Ways to Use Garlic Chips:
sprinkled or crushed on salads, roasted or sautéed vegetables, mashed potatoes, etc.
as a garnish on homemade soups or dips
sprinkled on pasta dishes (this spaghetti amatriciana or spaghettini with roasted tomatoes are excellent choices, but the options are endless!)
topped on stir fries or rice pilafs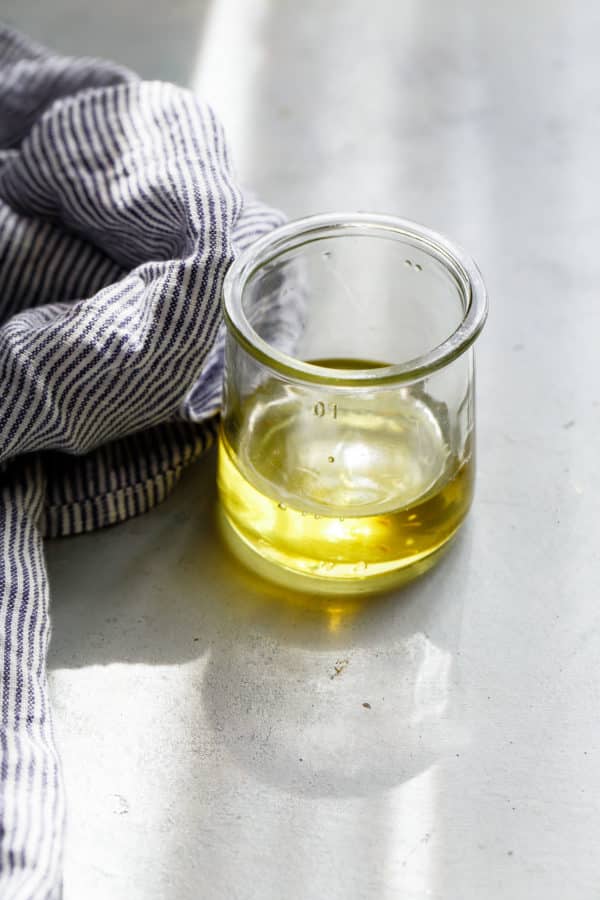 How to Store Garlic Chips and Garlic Oil: 
Like everything, garlic chips will be at their best the day of frying and immediately after they are made. However, they can be prepared ahead of time and stored in an airtight container at room temperature for up to a month.
Since oils are more prone to light and heat degradation, I recommend storing homemade infused oils in the refrigerator unless you're using them immediately. Garlic oil can be stored in the refrigerator for up to a month.