Ricotta Beignets with Lemon-Cardamom Sugar and Lemon Glaze
This post contains affiliate links.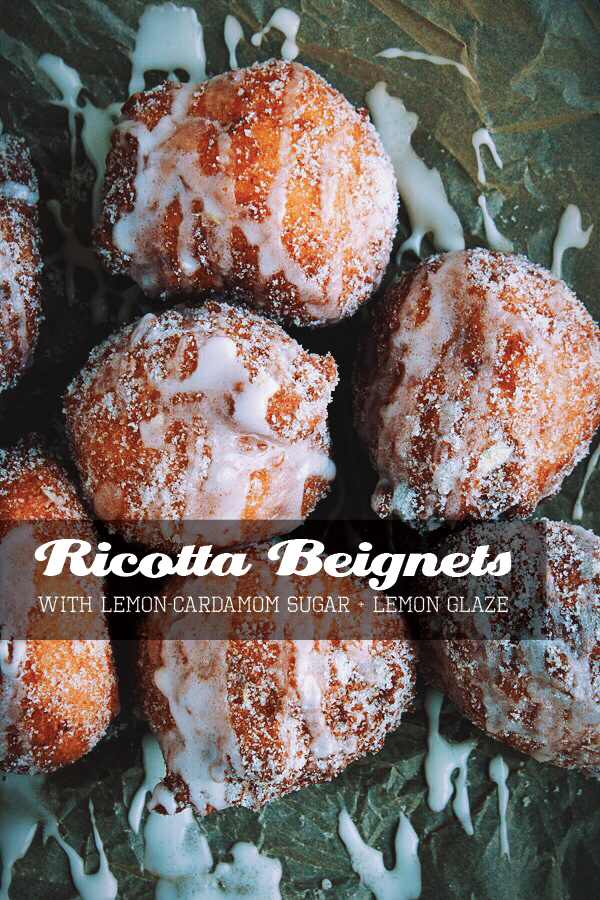 These ricotta beignets! I can barely contain my excitement. THEY ARE JUST SO DAMN FLUFFY. [Sorry, I'll stop yelling.]
I, like most of you, do not make fried beignets (doughnuts, whatever you want to call them!) all that often. I love them, don't get me wrong, but they are sort of a pain in the ass.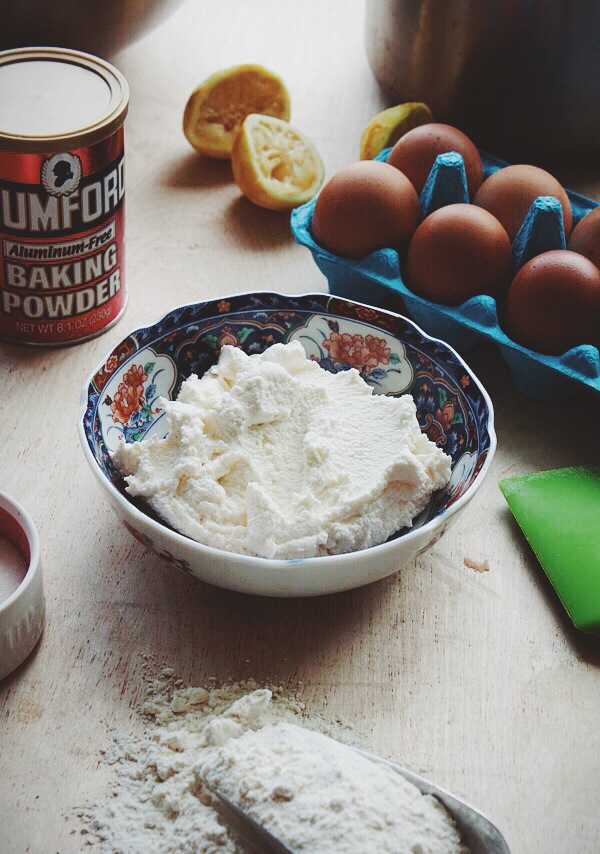 Yeast, resting, rolling of dough, cutting of dough, multiple risings. I'm tired just thinking about it all.
That being said, I'm firmly in the 'fried, not baked' doughnut camp. Don't get me wrong, I love a good baked doughnut every now and then, and would happily take some off of your hands if you're offering–but to me, baked doughnuts taste like cake.
Or a really delicious muffin…served up in the shape of a doughnut.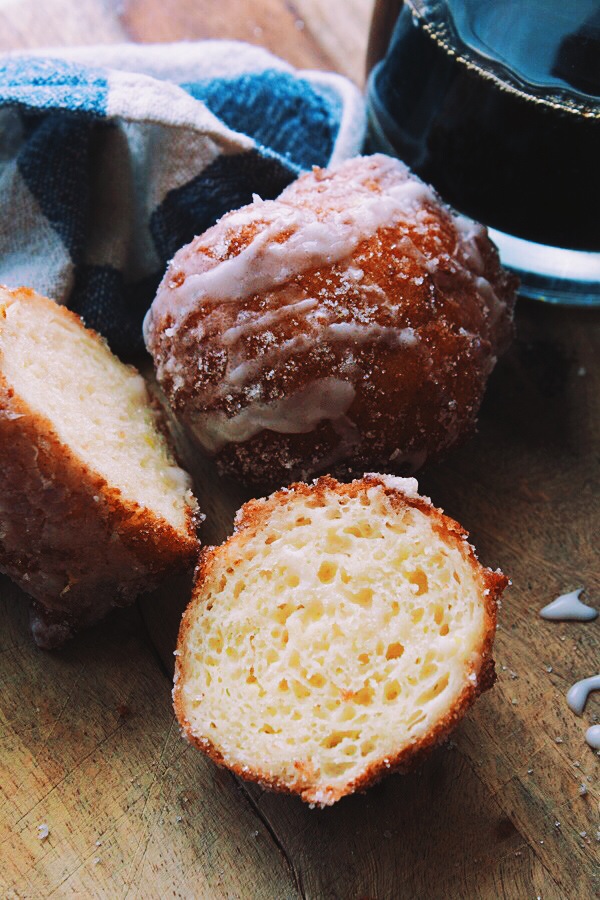 These ricotta beignets are the best of both worlds. You can now have your fried doughnuts and eat them too. But these guys are a million times more fluffy than regular doughnuts. I mean, look at that texture!
The batter can be thrown together in less than 5 minutes, and there is very little mess and absolutely no wait time involved. You know, besides the amount of time needed to heat the oil.  Unfortunately, that is one step that I can't eliminate no matter how hard I try.
Grab a container of whole fat ricotta at the store, and I'm fairly sure you will have already have everything else you need to make these.
Honestly, these ricotta beignets would work well with practically any glaze, dip, flavored sugar, or topping known to man! I have a running list of flavor combinations ingrained in my brain after making these (and might need to share some more renditions over the next few months!).
I had a hard time choosing, so I decided to do two things: roll them in lemon-cardamom infused sugar, and also drizzle them with a thick and tangy lemon glaze. In doing that, I learned a very important lesson: never choose one or the other, always do both!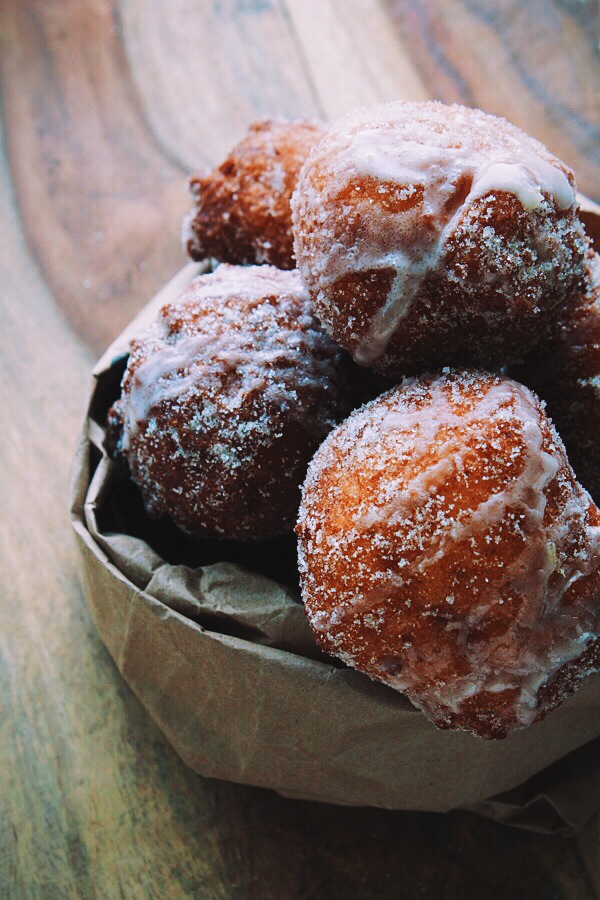 The addition of the lemon sugar and glaze helps make them bright and citrus-y, and perfect for these last few days of summer weather. The hint of cardamom (does anyone else feel like cardamom is the cable-knit sweater of all spices?) lends a warmth that makes me crave fall, cozy blankets, and that ingredient that starts with a 'p' and ends with an 'umpkin'.
Recipe Note: Try to keep the temperature of the oil as steady as possible (fry only a few doughnuts at a time), make sure your scoops of batter are on the smaller side, and only remove them from the oil when they are golden brown on all sides and relatively light in weight. Since the batter is relatively wet, these steps will ensure that they are cooked all the way through!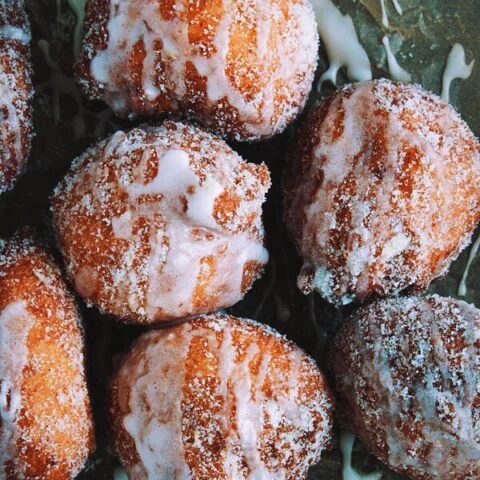 Ricotta Beignets with Lemon-Cardamom Sugar and Lemon Glaze
Yield: 4 Servings

Prep Time: 20 minutes

Cook Time: 20 minutes

Total Time: 40 minutes
Ingredients
Ricotta Beignets:
1 cup whole fat ricotta
2 whole eggs
1/8 cup sugar
zest of 1 lemon
3/4 cup all-purpose flour
2 teaspoons baking powder
pinch of salt
5 cups safflower or canola oil, for frying
Lemon-Cardamom Sugar:
1/4 cup sugar
zest of 1 lemon
1/4 teaspoon ground cardamom
Lemon Glaze:
1 cup powdered sugar
1 tablespoon + 2 teaspoons freshly squeeze lemon juice
2 tablespoons + 1 teaspoon heavy cream
Instructions
Prepare ricotta beignets: In a bowl, mix the ricotta, eggs, sugar and lemon until well combined. In a seperate bowl, whisk together the flour, baking powder, and salt. Using a spatula, fold the dry ingredients gently into the ricotta mixture until just combined. Refrigerate the batter while you prepare the lemon-cardamom sugar and lemon glaze.
Prepare lemon-cardamom sugar: Place the sugar in a bowl and add the zest of one lemon. Using your fingertips, rub the sugar and lemon zest together until very fragrant. Add the cardamom and mix until combined.
Prepare glaze: In a separate bowl, whisk together the powdered sugar, lemon juice, and heavy cream until smooth and thick. Set aside.
Line a baking sheet or large plate with paper towels. Using a candy thermometer, heat the oil in a medium (3-4 quart) saucepan over medium-high heat until the temperature reaches 350 degrees Fahrenheit. Remove the beignet batter from the fridge. Using a medium ice-cream or cookie scoop (and a spoon), scoop the beignet and drop the batter gently into the hot frying oil–frying only 2 to 3 beignets at a time (do not crowd the pan, as it will cause the frying oil temperature to drop quickly).
Fry the beignets, turning them once or twice, until they are golden brown on all sides, roughly 3-4 minutes–adjusting the heat as necessary. Remove the beignets from the oil (if they are cooked all the way through, they should be relatively light in weight) and place them on the paper-towels to soak up any excess oil. Repeat with the remaining batter.
Allow the beignets to cool until warm, but not hot. Roll them, one at at time, in the lemon-cardamom sugar until they are evenly coated. Drizzle them with the lemon glaze and go to town.
Notes
Beignet batter can be made up to a day in advance and kept stored in an airtight container the fridge. Doughnuts are best served immediately, but can be stored at room temperature for 1 to 2 additional days (drizzle with the lemon glaze before serving). The leftover frying oil can be poured through a fine-meshed sieve (to remove any fried bits) and used for another recipe.
Nutrition Information:
Yield: 4 Serving Size: 1
Amount Per Serving: Calories: 562Total Fat: 56gSaturated Fat: 5gTrans Fat: 0gUnsaturated Fat: 50gCholesterol: 23mgSodium: 75mgCarbohydrates: 14gFiber: 0gSugar: 9gProtein: 3g

A Beautiful Plate provides nutritional information, but these figures should be considered estimates, as they are not calculated by a registered dietician.
This post contains some affiliate links, which means that I make a small commission off items you purchase at no additional cost to you. Please read my
disclosure policy
for more information.