Kettle Chip and Dip Pairing Guide
Kettle Chip and Dip Pairing Guide – three quick and easy homemade dip recipes to serve at your next tailgating party!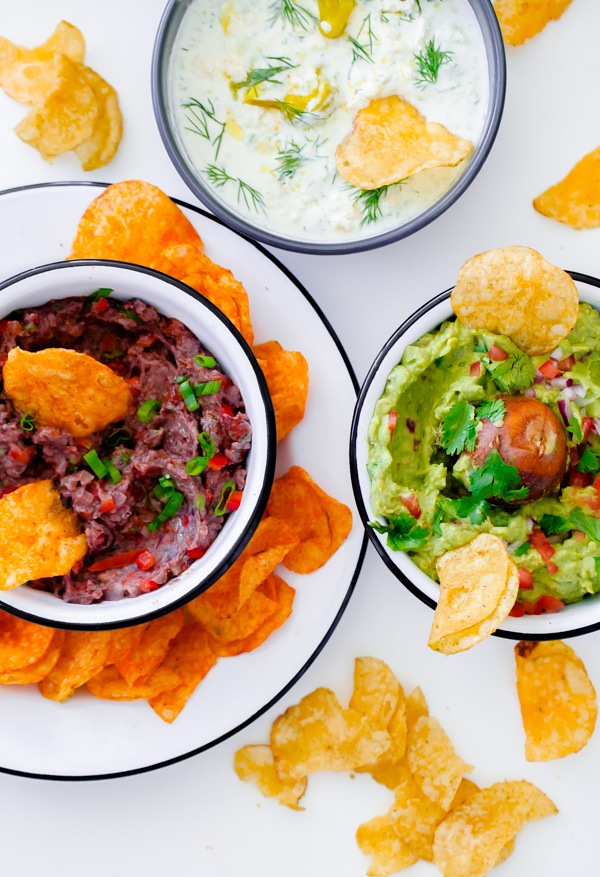 Grab your party hats and let's start dipping! We've got all sorts of fun things happening today.
First, let's talk potato chips. I don't think I've ever met anyone in my life that doesn't enjoy a good potato chip. They are one of life's greatest indulgences and I can't imagine a world without them.
With that being said, a great potato chip is serious business to me. They have to boast a certain level of thickness and crunch factor. They also have to be made with quality ingredients and actually taste like a potato. Potato chips should taste like a potato, am I right?
So when Kettle Chips asked if I'd be interested in creating a fun tailgating recipe to share with you, I was on board immediately! I've been a massive fan of Kettle Chips for years. Not only does Kettle Brand make the best tasting potato chip out there (in my humble opinion), but they are committed to sustainability and using only the best of the best ingredients. All of these things matter to me.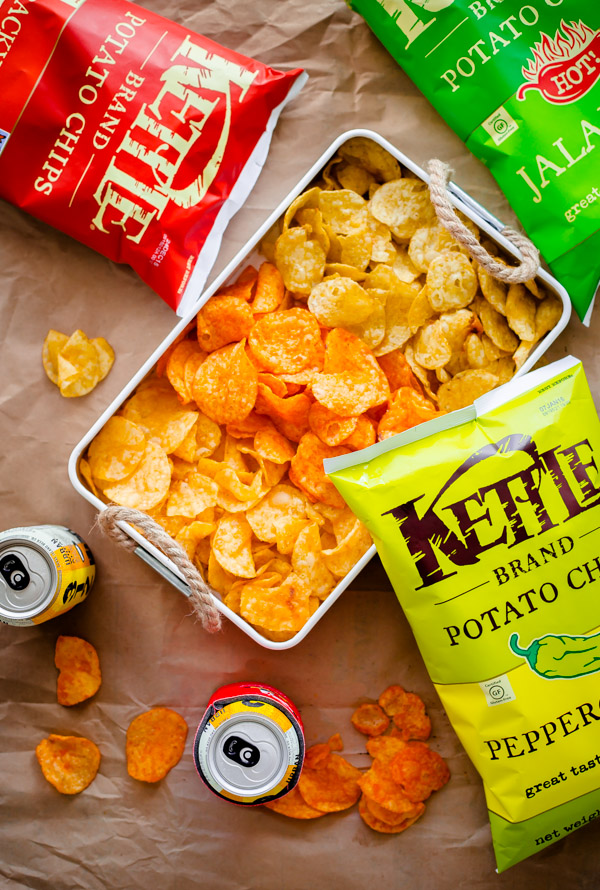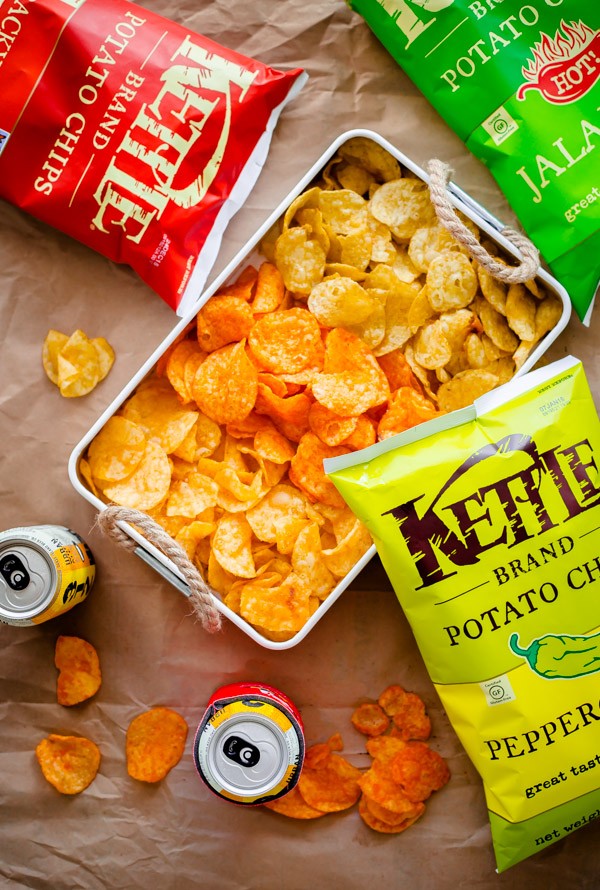 After brainstorming and snacking, I came up with the idea for this Kettle chip and dip pairing guide! The potato chip equivalent of a wine and cheese pairing, if you will.
If you've ever stumbled upon the snack aisle of your grocery store, you know that Kettle has some of the most creative potato chip flavors out there. I ended up choosing three for today's dip pairing guide, but it was a hard decision.
I felt like I was choosing a favorite child.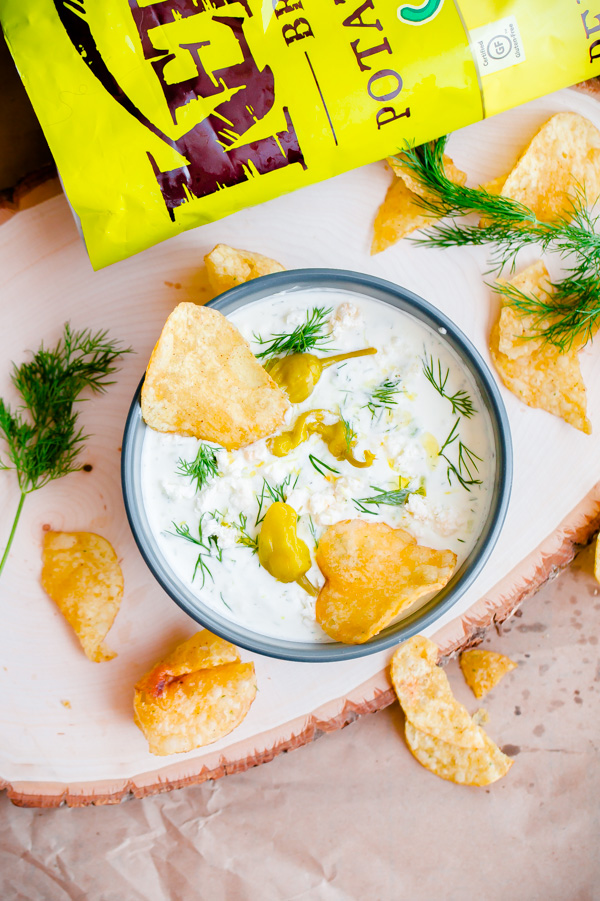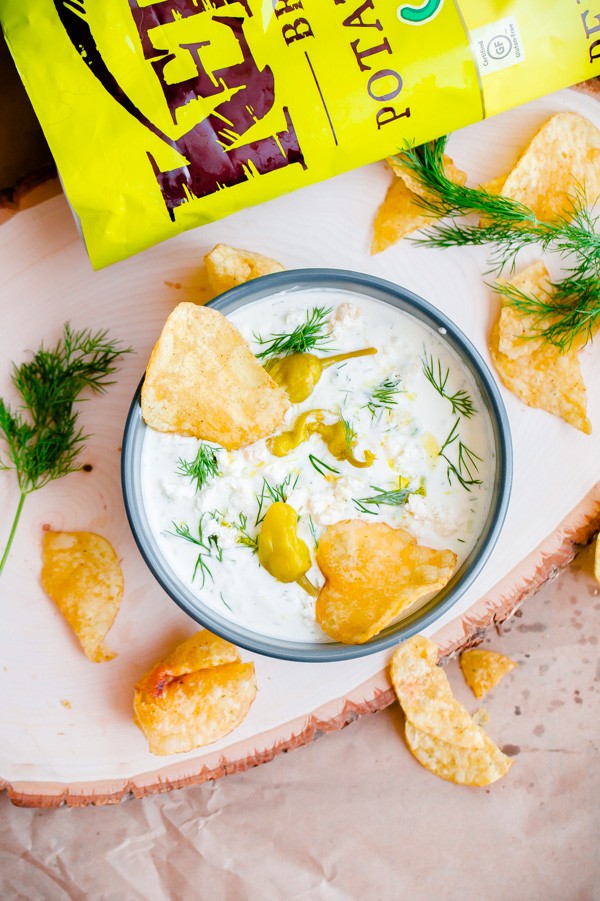 In the end, the following flavors jumped out at me: pepperoncini, backyard barbeque, and jalapeño.
I ended up developing three easy homemade dip recipes to compliment each chip. Each dip takes only 15 minutes (at most!) to prepare and there are several ingredient overlaps between all three:
15-Minute Black Bean Dip paired with the backyard barbeque chips! A fresh and light play off of classic barbeque beans.
Feta and Pepperoncini Tzatziki Dip paired with the pepperoncini potato chips! This yogurt-based dip is inspired by my favorite gyro ingredients.
Chunky Guacamole Dip to be pared with the (hot and spicy) jalapeno chips! I love a spicy homemade guacamole and this deconstructed version is so much fun.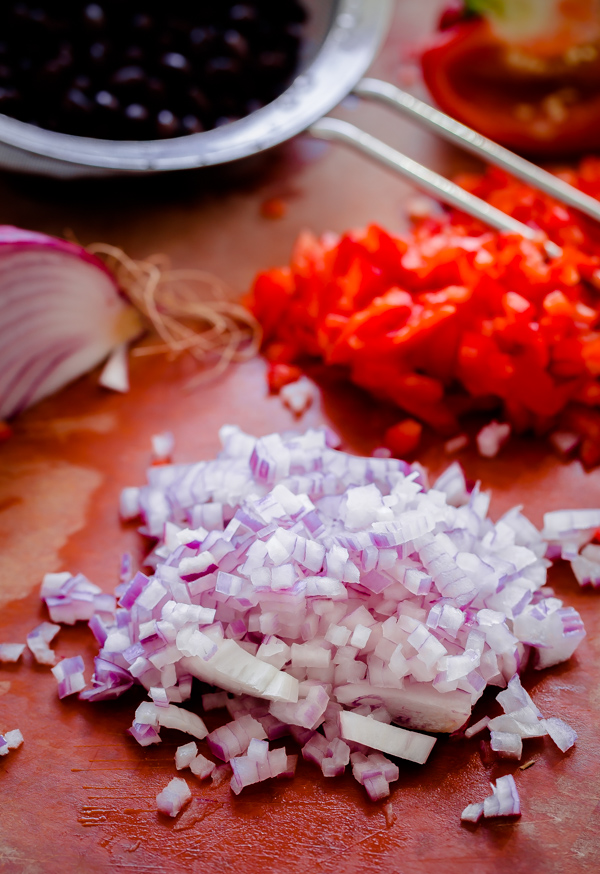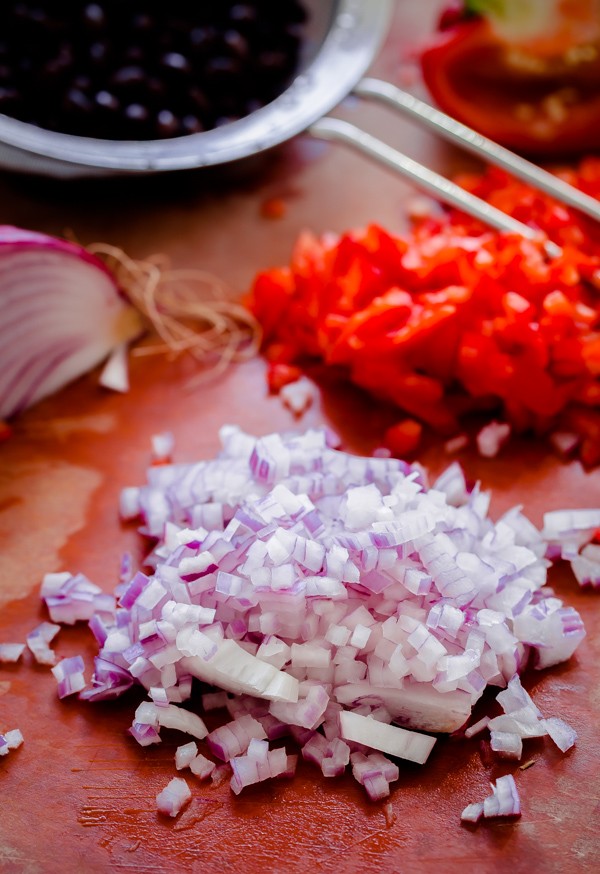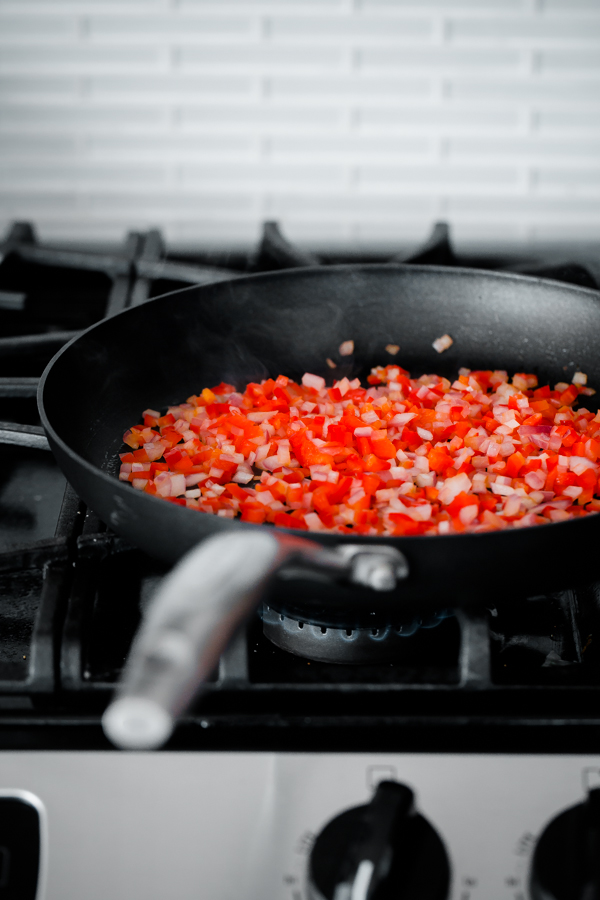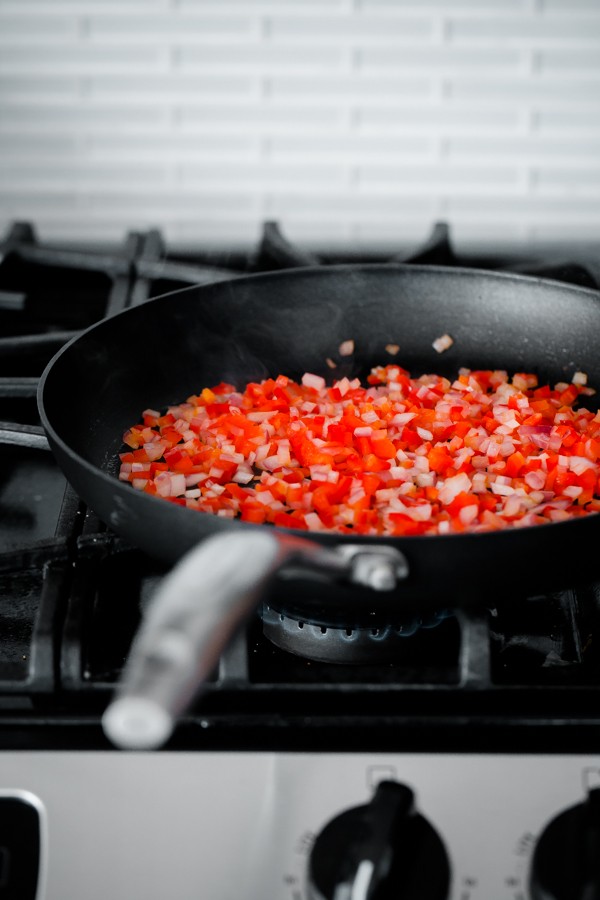 The most important part? Kettle Brand Chips are thick, crunchy, and sturdy enough to be dipped into each of these dips with absolutely no breakage. There is nothing worse than dipping a flimsy chip into a dip only for it to break halfway through the process, am I right?
Each of these potato chips have very different flavor profiles and are addictive in their own right, but even more special (f that's even possible) when paired with these dips.
I was particularly enamored with the pepperoncini potato chips, which reminded me of a subtle and more nuanced salt and vinegar chip (I'm a salt and vinegar fanatic, if you didn't know!).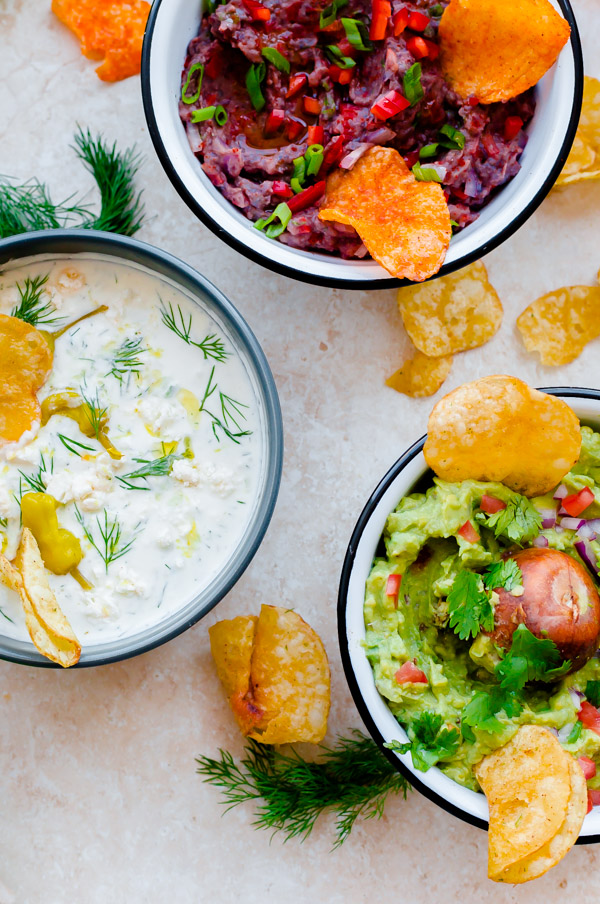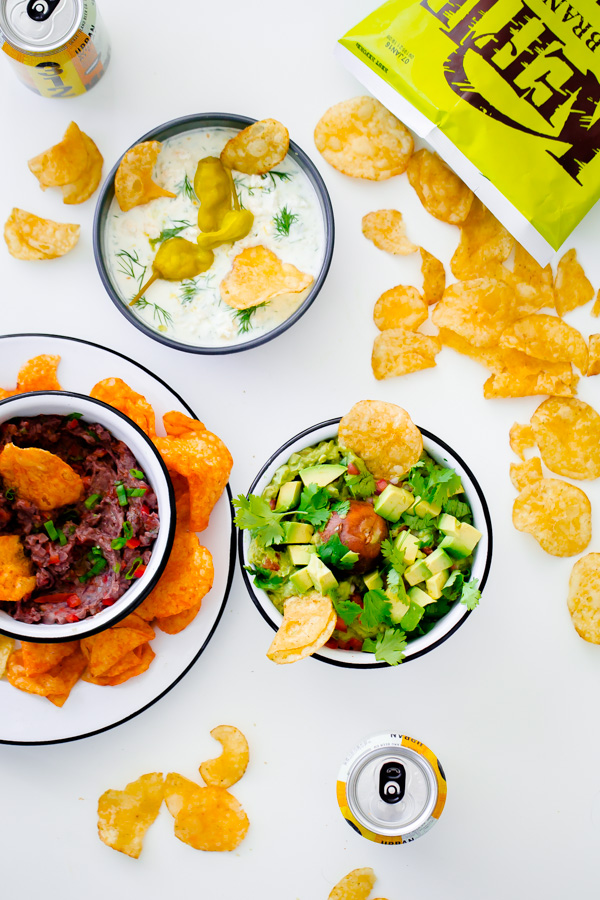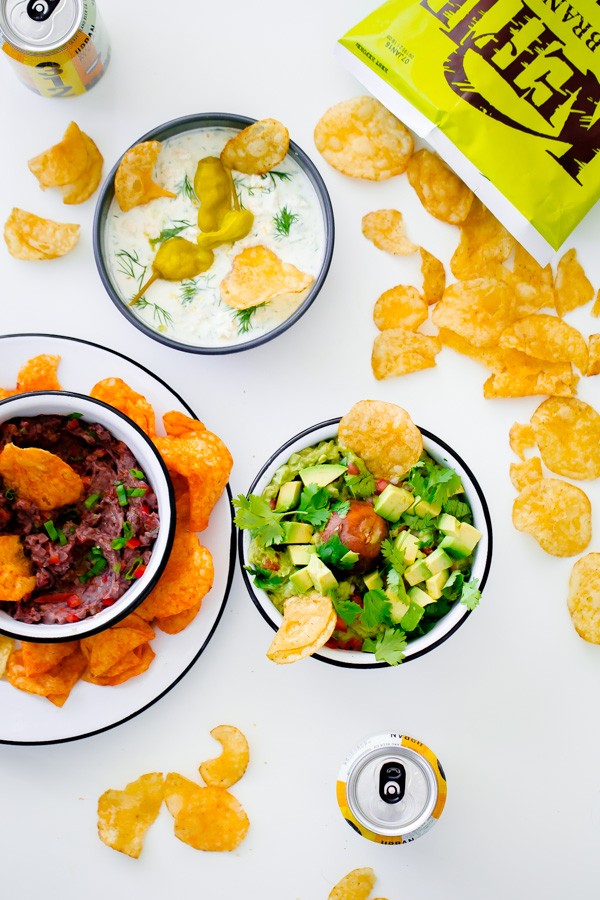 This chip and dip spread would be an amazing and impressive addition to your next tailgating party (or basically…any party)!
All of the homemade dip recipes are light and fresh, and can be prepped in advance (my only advice is squeeze a bit of lime juice and cover the surface of the guacamole in plastic wrap to reduce any oxidation).
Lastly if you are interested in making this chip and dip pairing spread, but want to lighten it up more, be sure to try Kettle Chip Baked Chips, which are absolutely fantastic (seriously, try these chips).
Happy dipping!
This post is brought to you by Kettle Brand Chips. Thank you for supporting brands that inspire me in the kitchen and allow me to share my passion for great food!