Weeknight Broiled Salmon with Chermoula Herb Crust
Broiled salmon is elevated with a chermoula herb crust. This recipe can be prepared in less than 20 minutes and makes a great, flavorful weeknight dinner!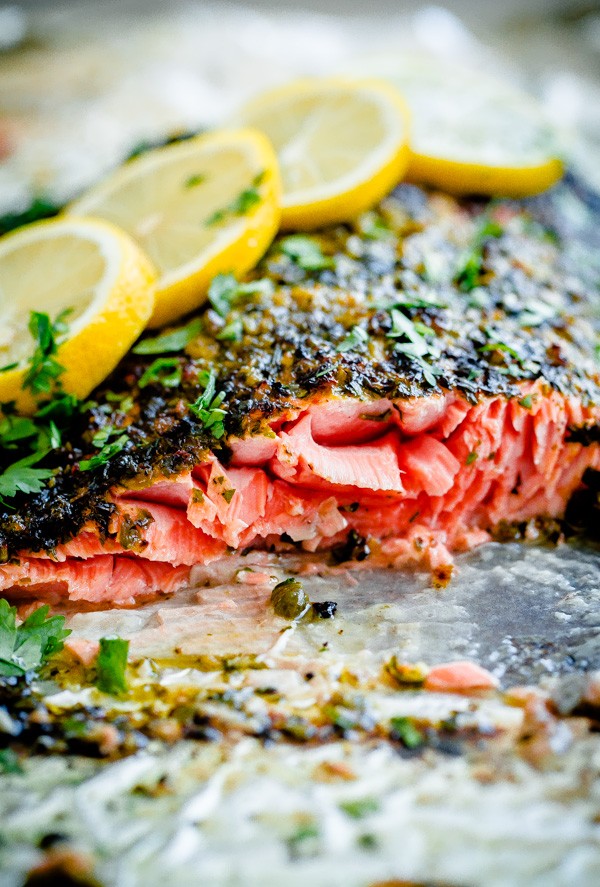 Weeknight Wednesday! Should that be a thing around here? Because I'm starting to like the idea: easy, flavor-packed dinners that can be thrown together on even the busiest weeknights (such as these 30-minute veggie quesadillas, these seared scallops, or this shrimp, snow pea, and ginger stir fry). Let me know!
Today's recipe is one of those incredibly easy dinners that requires minimal ingredients and comes together quickly. The kind that makes you wonder why you haven't been preparing it for years.
Those are the best!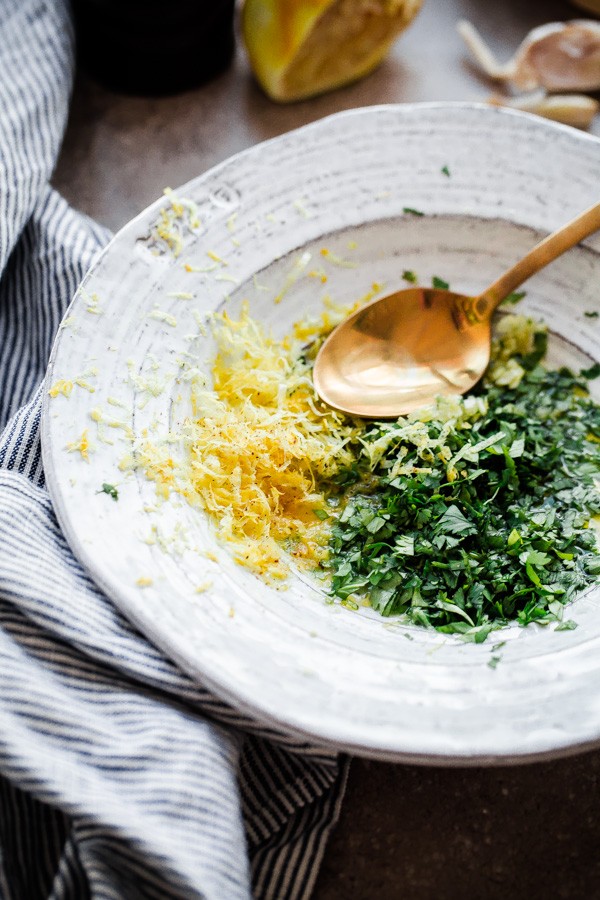 What is chermoula (pronounced: chur-moo-lah) exactly? I'll tell you! It sounds a lot fancier than it is and my version comes together in a few minutes.
Chermoula is actually a North African herb paste (similar in consistency to a thin pesto) traditionally made with a combination of chopped fresh herbs, garlic, lemon juice, and toasted spices. In many ways, it is similar to a fresh chimichurri sauce in that it is usually served with grilled meats or seafood.
The ingredients always vary a bit, but it has a fresh herb flavor with a little kick of fresh garlic and tart lemon juice. A few weeks ago for dinner, I decided to spread a layer of fresh chermoula on fresh salmon fillets before broiling them in the oven. It worked fantastically and gave a wonderful, healthier spin on a classic herb-crusted salmon, so I decided I had to share the recipe with all of you!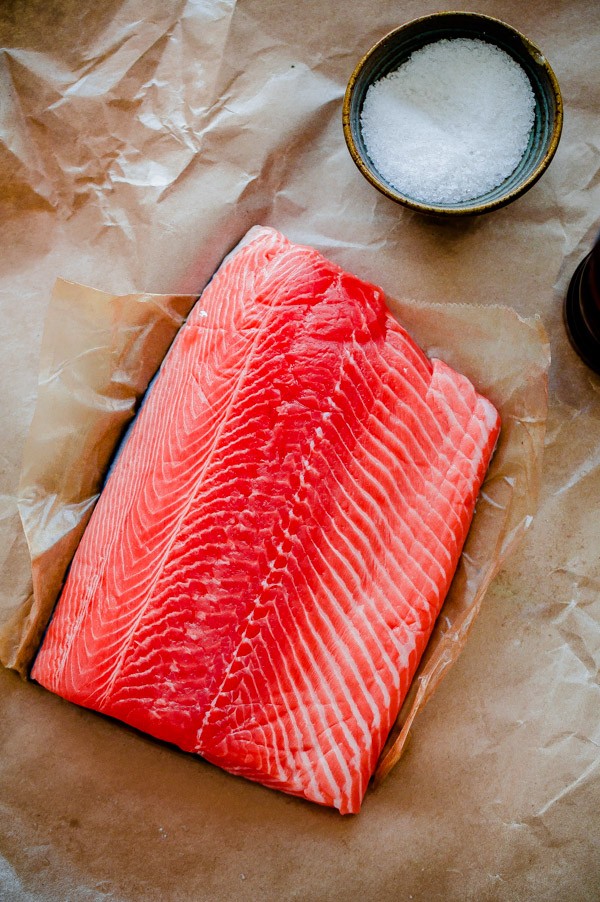 This chermoula recipe is a little bit different in that it doesn't contain any toasted whole spices. My version is made with lots of fresh cilantro, garlic, lots of fresh lemon zest, olive oil, and…chopped capers.
I couldn't help but give my chermoula a little bit of a Mediterranean twist with the addition of capers, because I love capers (they are salty, briny, and wonderful) and they are one of salmon's best flavor friends [did I just say that?].
If you're not a cilantro fan (I get it), you can absolutely substitute fresh flat-leaf parsley or even do a combination of various fresh herbs, such as parsley, dill, tarragon, etc. This recipe is flexible.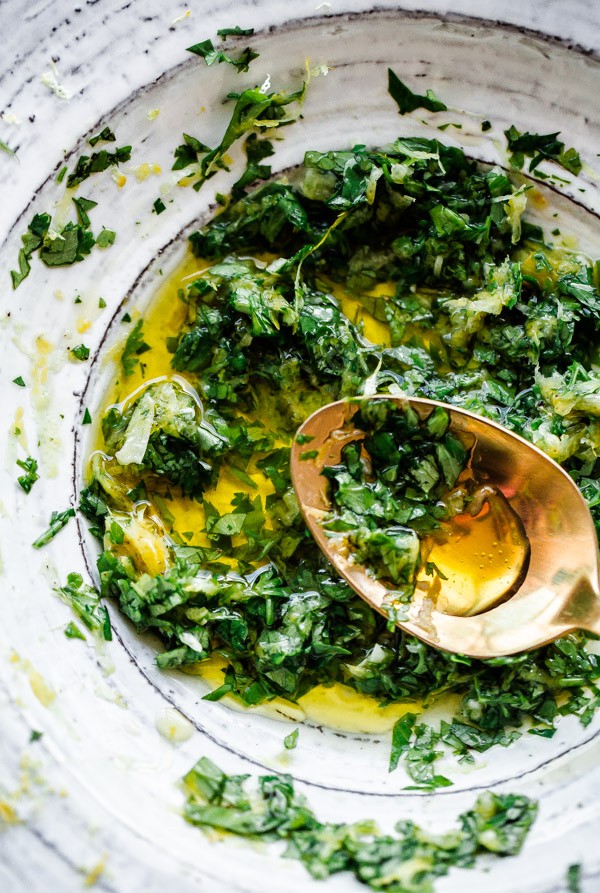 The biggest tip for this recipe that I have is to buy good-quality fresh salmon. If you're able to fit it into your budget, I highly recommend springing for Alaskan King salmon (it's flavor is unparalleled), but if you can't, try to find sustainably farmed Atlantic salmon.
I recommend asking your fish monger for a center-cut piece. I recommend counting on roughly 4 to 5 ounces per person. Preferably, you want the piece of salmon not to taper at either end, because this will result in the most consistently cooked piece of salmon.
Logically, if one end of the salmon fillet tapers, it will dry out and cook faster than the thickest piece. If worse comes to worse, you can always slice the salmon into individual fillets and adjust the cooking time (or better yet, remove the thinner pieces of salmon from the oven earlier).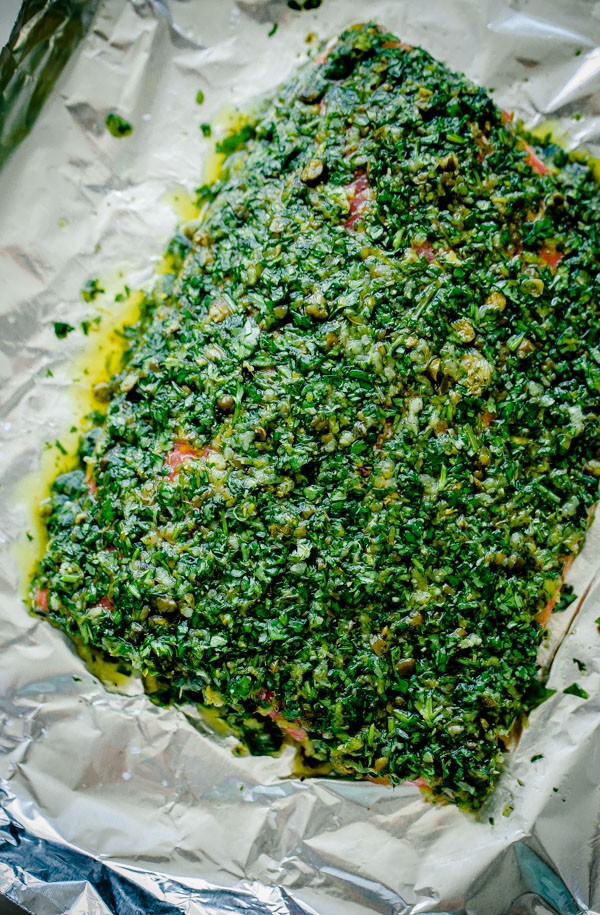 The next step is easy! Throw together the herb paste in a bowl, place the salmon fillet skin-side down in the center of a foiled-lined sheet pan, season it, slather the chermoula on top, and place under the broiler for 8 to 10 minutes (depending on thickness level).
In my opinion, the key to a great tasting piece of salmon is to slightly under-cook it. I prefer to cook my salmon so that it is slightly opaque in the center (roughly 125-135 F degrees), because this allows it to retain all of its juiciness. The last thing you want to do is spend a lot of money on a piece of salmon and overcook it.
If you've never enjoyed salmon before now, chances are that you've only had over-cooked, chalky, and dry salmon. Trust me, over-cooked salmon (or over-cooked seafood, in general) is a sad state of affairs. It's enough to turn you off for years…or ya know, a lifetime.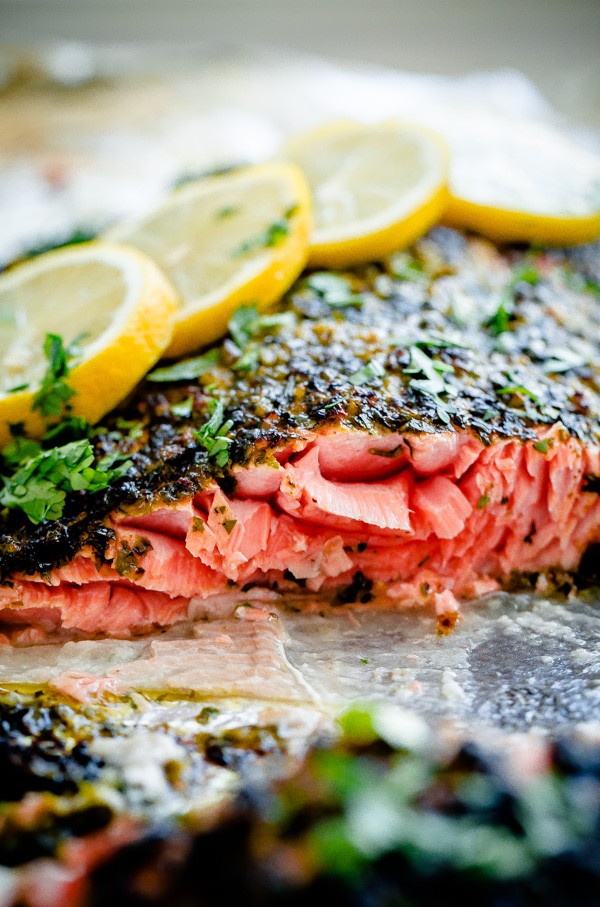 I love to serve this with fresh lemon wedges! For a light meal, you can serve it with a quick and easy tossed salad.
If you want to make it more substantial, a side of roasted fingerling potatoes (minus the tarragon-shallot butter) or this roasted carrot lentil salad would be excellent too!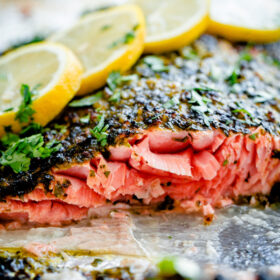 Weeknight Broiled Salmon with Chermoula Herb Crust
Ingredients:
1/2 cup packed fresh cilantro leaves, finely chopped (plus more for garnishing)
2 tablespoons extra virgin olive oil
2 large garlic cloves, pressed
zest of 1 lemon
1 tablespoon freshly squeezed lemon juice
1 tablespoon drained capers, finely chopped
1 to 1.25 lbs (roughly 16-20 ounces) center-cut piece of Alaskan King salmon (I highly recommend using the more expensive Alaskan King salmon over the more common Atlantic salmon, as the taste and quality is unparalleled)
kosher sea salt
freshly ground black pepper
fresh lemon wedges or slices, for serving
Directions:
Prepare the Chermoula Paste: In a medium bowl, combine the finely chopped cilantro, pressed garlic, lemon zest, lemon juice, and chopped capers with a fork until a smooth pesto-like paste forms.
Preheat the oven broiler to high and place the oven rack about 5-6 inches below the flame. Line a sheet pan with aluminum foil. Pat the salmon dry with a paper towel on both sides and place skin-side down on the center of the sheet pan. Season the salmon with salt and freshly ground black pepper. Spoon the chermoula paste on top of the salmon and using your spoon or hands, spread it into an even thick layer, so that it is coats the entire surface of the salmon.
Broil the salmon for 8 to 10 minutes (depending on the thickness of your piece of salmon, this time will vary) or until it flakes easily with a fork (I prefer to cook my salmon, especially when it is of such high quality, so that it is still slightly pink in the very center – medium well – but cook it according to your own preference!).
Using a sharp knife, slice and serve the salmon. Garnish with chopped cilantro and lemon wedges or slices.
If you don't like cilantro, I recommend using flat-leaf parsley or a combination of parsley, dill, tarragon, or other fresh herbs.
All images and text ©
.