Lebkuchen Cookies – traditional glazed German Christmas cookies made with warming spices, for a festive treat to enjoy around the holiday season!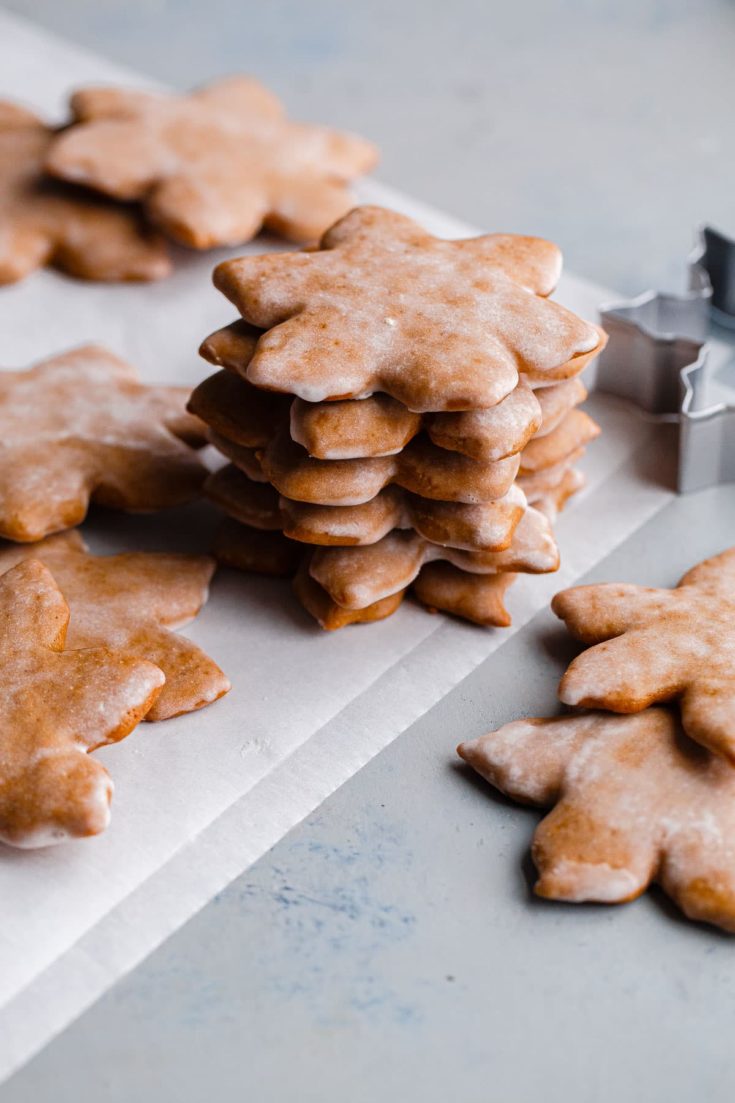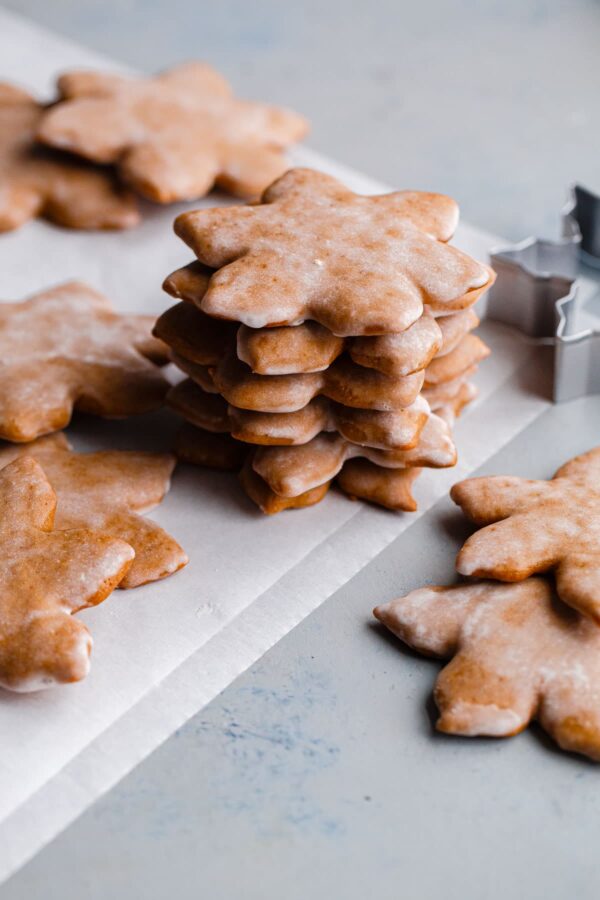 I love to have holiday-inspired baked goods around the house this time of year.
While I tend to crave the sweets of my childhood, like almond sugar cookies or my mom's best fruit cake recipe, I've also come to appreciate new traditions.
This year, it's all about lebkuchen cookies: a traditional German Christmas treat. These spiced cut out cookies are lightly glazed, soft and chewy, and a perfect treat for the winter holidays.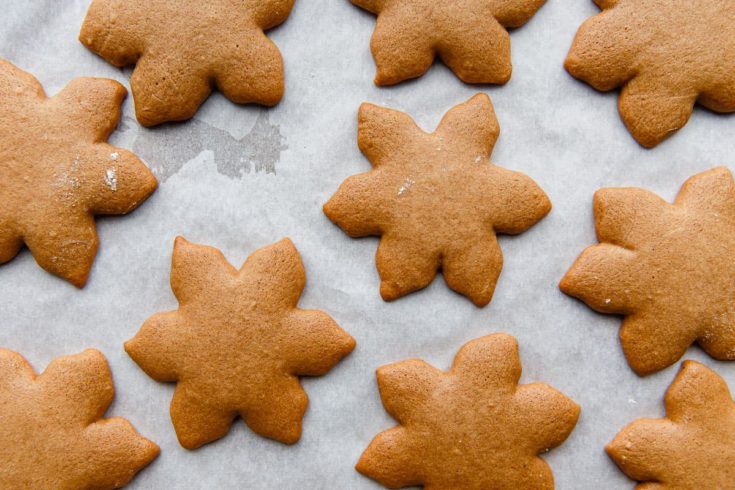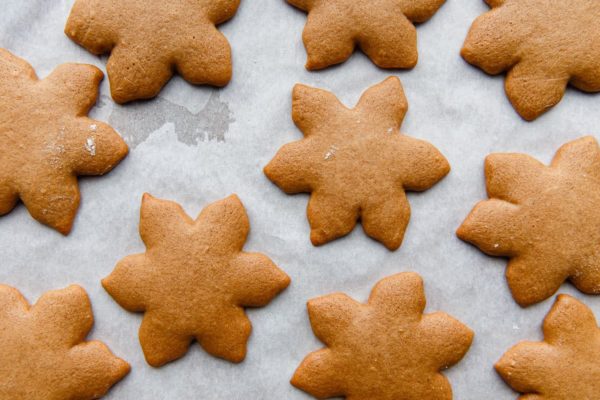 Midwest made: Big, Bold Baking from the Heartland
This Lebkuchen recipe comes from Shauna Sever's new cookbook Midwest Made: Big, Bold Baking from the Heartland (affiliate link). Her collection of over 125 recipes has both classic and comforting favorites.
I love this peek into Shauna's Midwest kitchen, as her recipes tell the rich history of how European immigrants influenced American baking.
Shauna's book is filled with old family baking secrets, but it's her recipe for iced lebkuchen that I knew I had to try.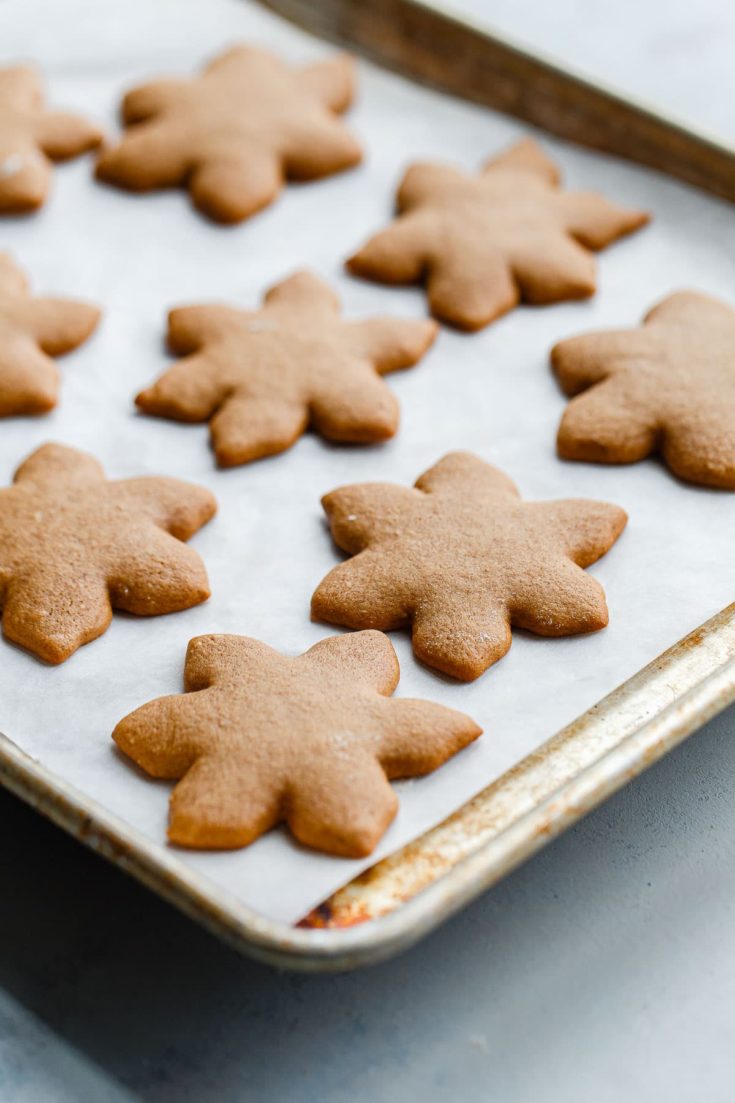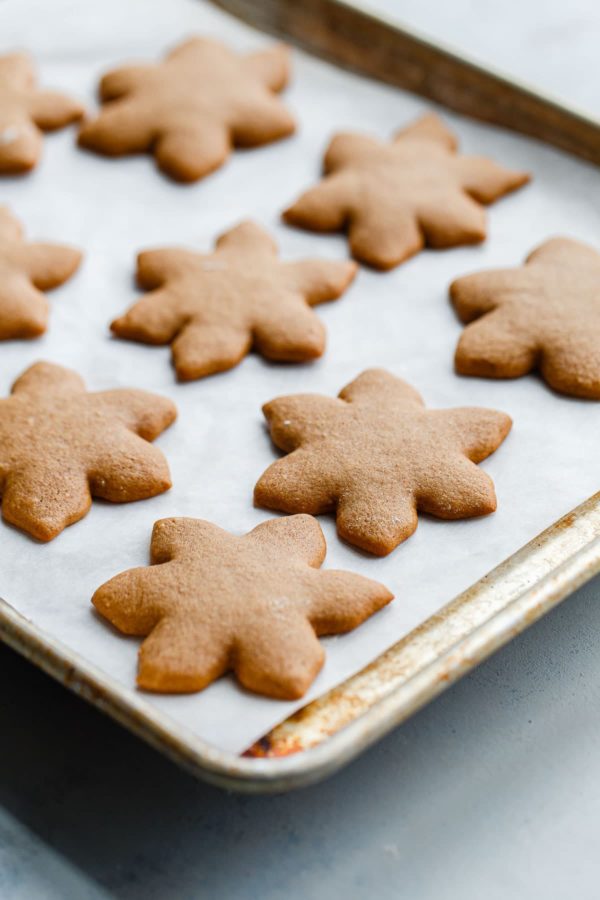 Holiday markets start to pop up all over the Midwest this time of year. Here in Chicago, one of my favorite activities is exploring the German inspired Christkindlmarket.
Lebkuchen cookies can be found at these traditional holiday markets as both edible treats and decorations.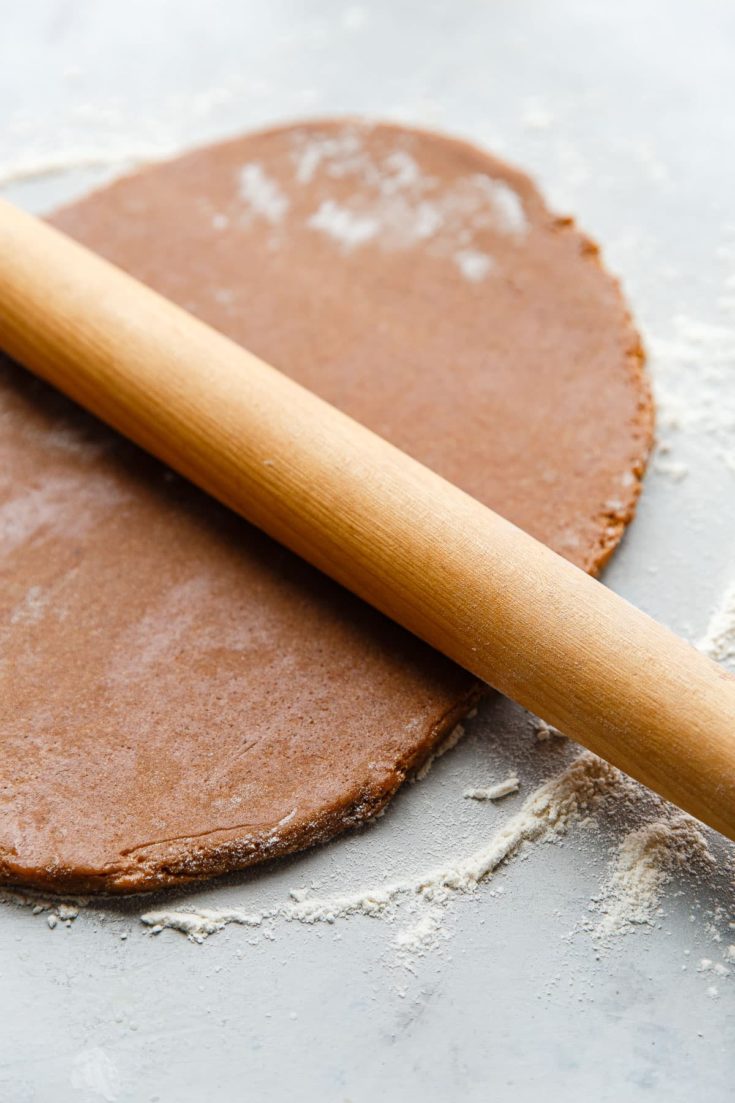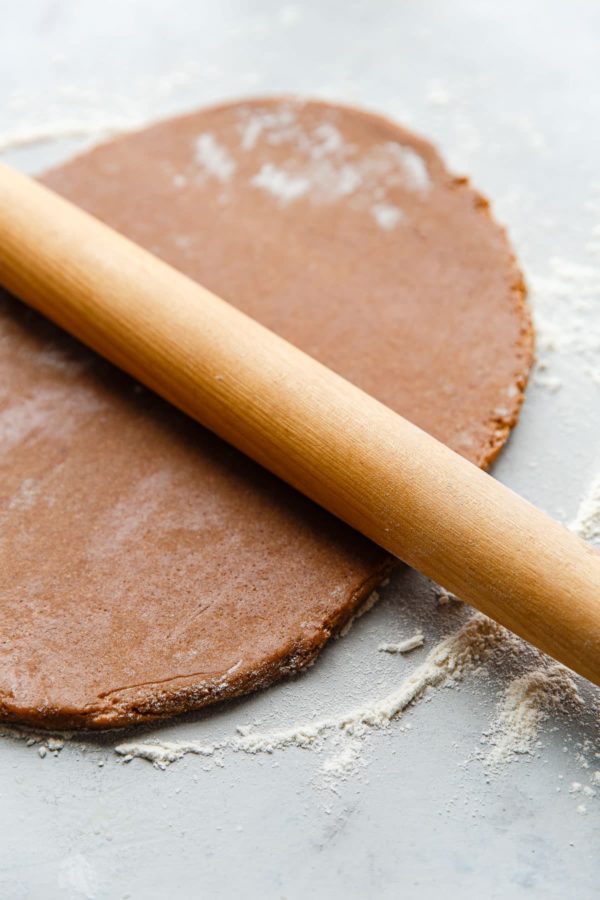 What are Lebkuchen Cookies?
These cookies date back to the German town of Nuremberg from the 14th century. As Shauna explains, to do the cookies justice, they require some planning.
Ideally, you should start the baking process for Lebkuchen at least a week (or two) before you plan to share or enjoy them. This might sound fussy, but I can assure you that it makes a big difference and these cookies are worth the effort.
They are gingerbread-like in flavor, but have a chewy and soft in texture thanks to a special storage trick. Once baked, they're brushed with a simple lemon glaze.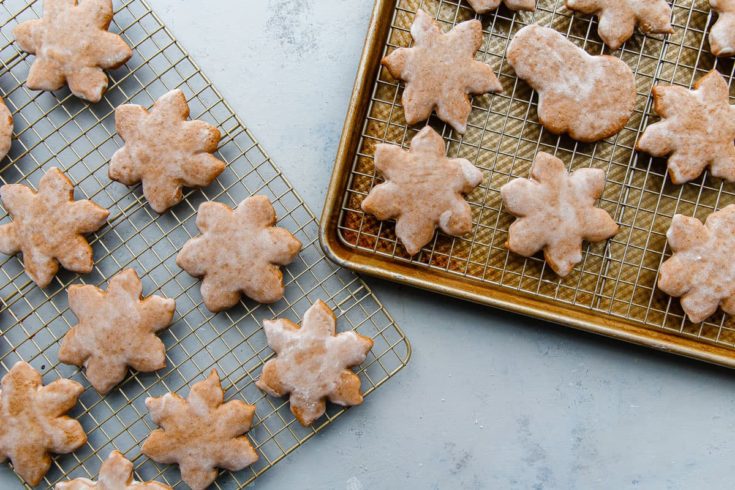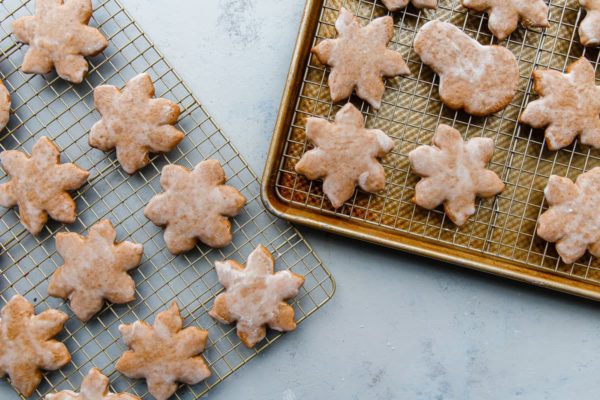 Ingredient Notes:
Lebkuchen cookies are simple to prepare and rely heavily on warming spices. Shauna highly recommends using dark muscovado sugar, which can be found in natural food stores.
Muscovado is unrefined cane sugar that contains natural molasses. It has a richer flavor than regular dark brown sugar. If do not wish to purchase it, substitute it with dark brown sugar.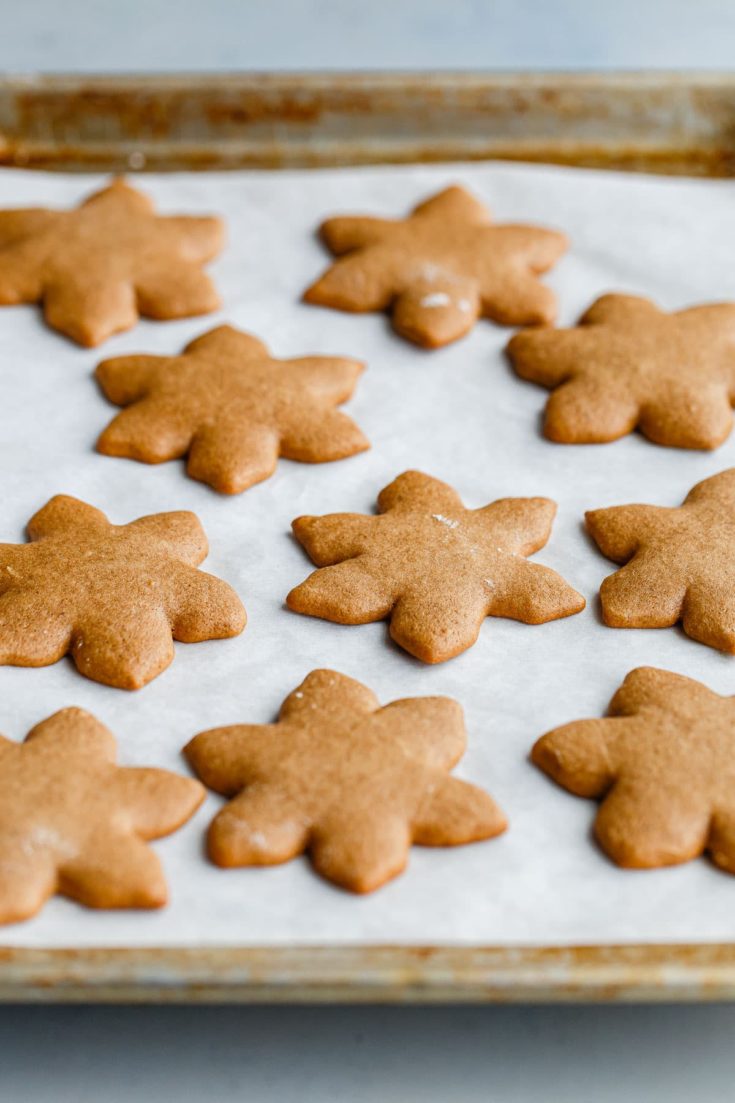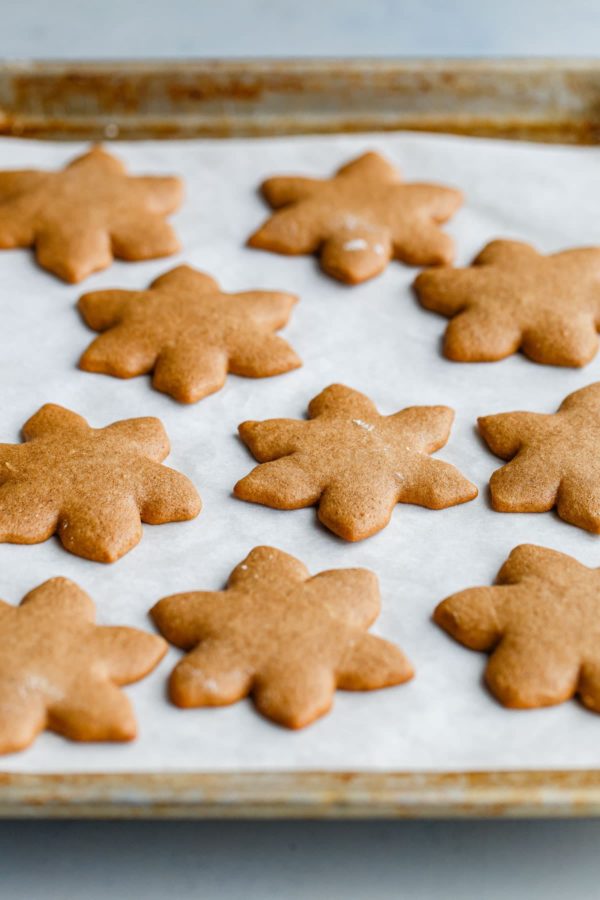 How to Make Lebkuchen:
Lebkuchen cookie batter comes together in one bowl. The secret is to let the batter "ripen" and sit for a day or two at room temperature.
Prepare the Dough in Advance: In a saucepan over a medium-high heat, heat until the sugar just dissolves and the mixture begins to simmer. Remove from heat and stir in the butter. Cool until warm to touch, then whisk in the egg, lemon zest, and juice.


2. In a stand mixer, combine the dry ingredients. On a low speed, stir in the wet ingredients until the mixture forms a very sticky, slack dough. It might appear too thin, but it will thicken and come together as the batter sits.


3. Rest the Dough: Transfer the dough to a bowl and allow it to sit at room temperature, covered with a plate, for 1 to 2 days. It will thicken and deepen in flavor as it sits. Don't be alarmed, Shauna explains that the honey and sugar keep bacteria from growing.


4. On a well-floured surface, roll out the dough, and cut into your favorite holiday shape. The dough will be soft. Laura's Baking Note: Use simple cookie cutters for these cookies, as intricate details will be lost in the baking process.
5. Bake the cookies until lightly brown, for about 12 minutes, rotating and flipping the pans halfway. Watch carefully as the honey in the batter can causes the edges to brown quickly.
6. Glaze: Prepare the simple lemon glaze, and brush on the cookies when they're still warm. Transfer to a wire rack to cool and set completely before storing.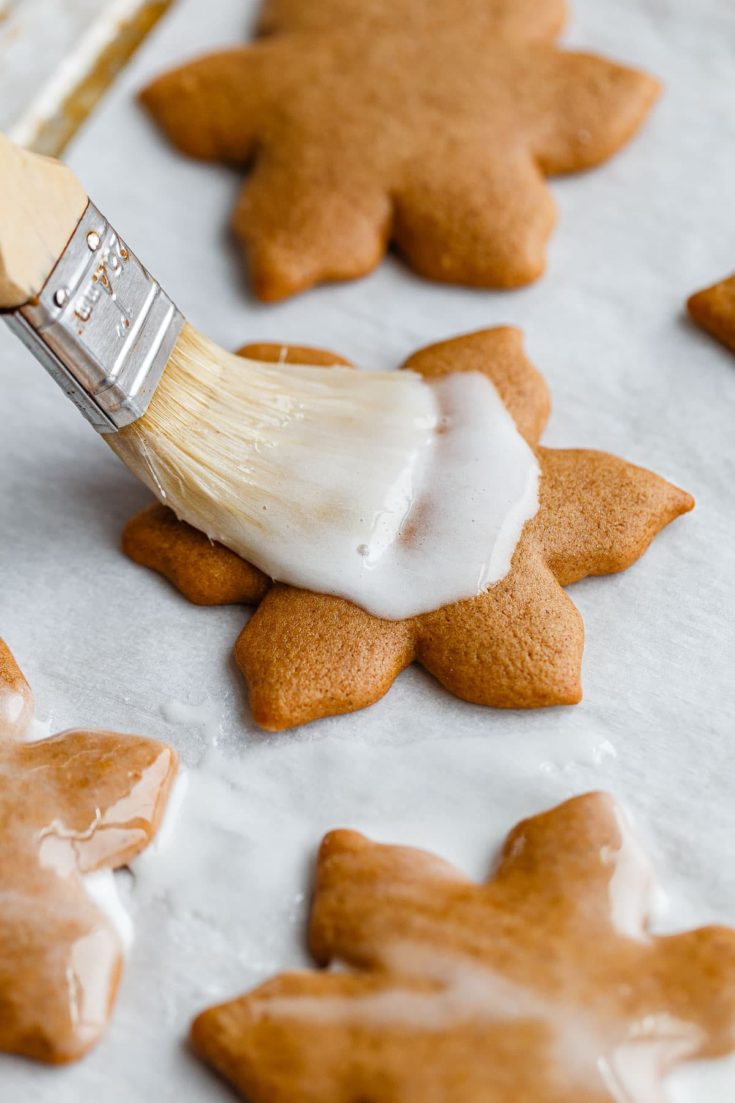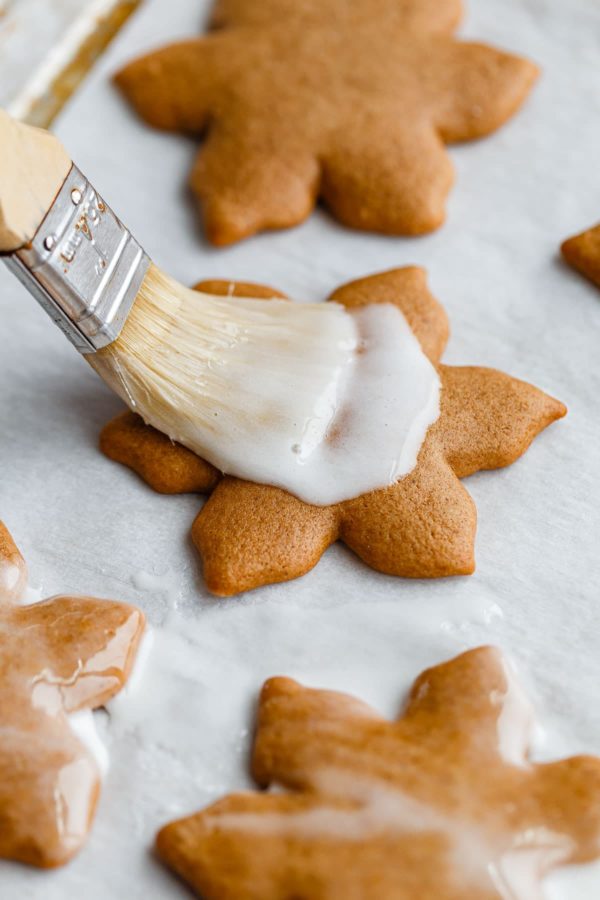 7. The next step is key! Position the cookies in an airtight container, separated by parchment paper. Tuck a wedge of apple in the container, and store in a cool place for at least 3 days or up to two weeks, to allow the cookies to soften.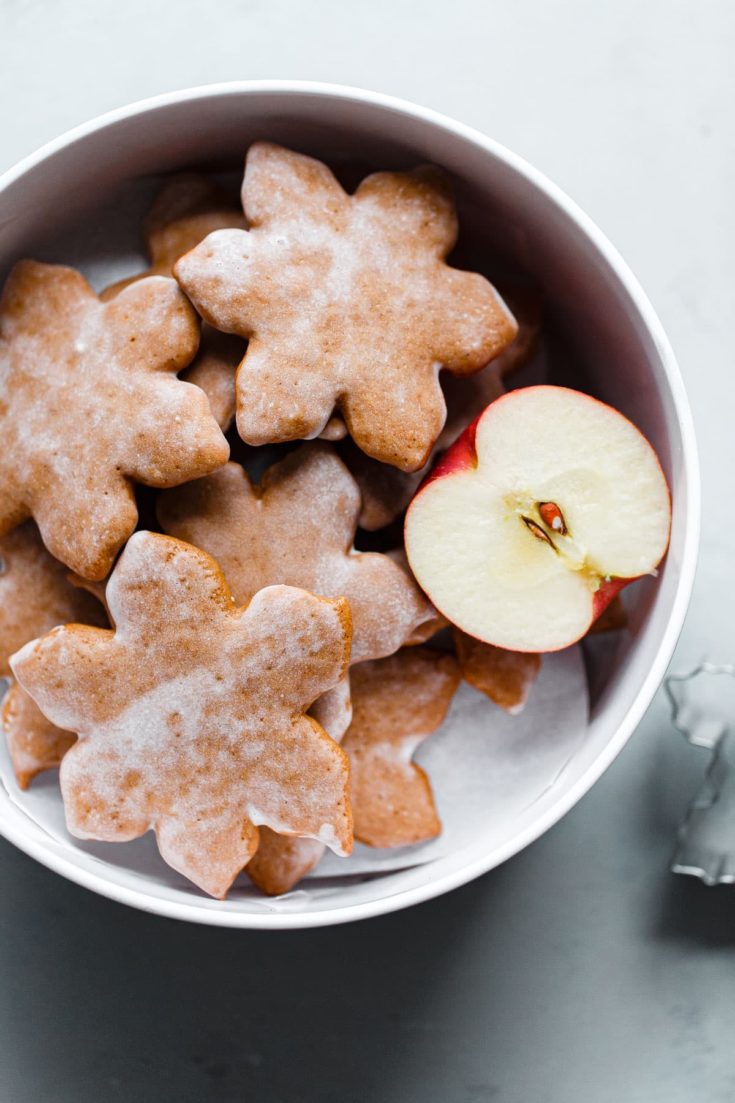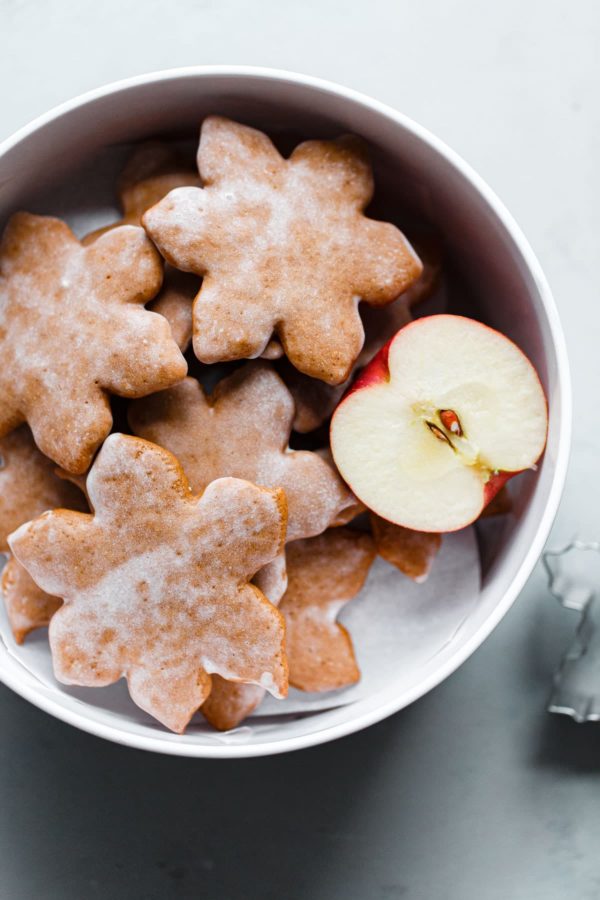 Lebkuchen: Tips for Success
There are two secrets to traditional lebkuchen, and they both involve a resting phase.
Once the cookies are baked, storing them with an apple wedge helps the cookies reach a perfectly soft texture.
The moisture in the apple provides humidity as well as some additional flavor. If the cookies become too hard or stale, replace with new apple pieces.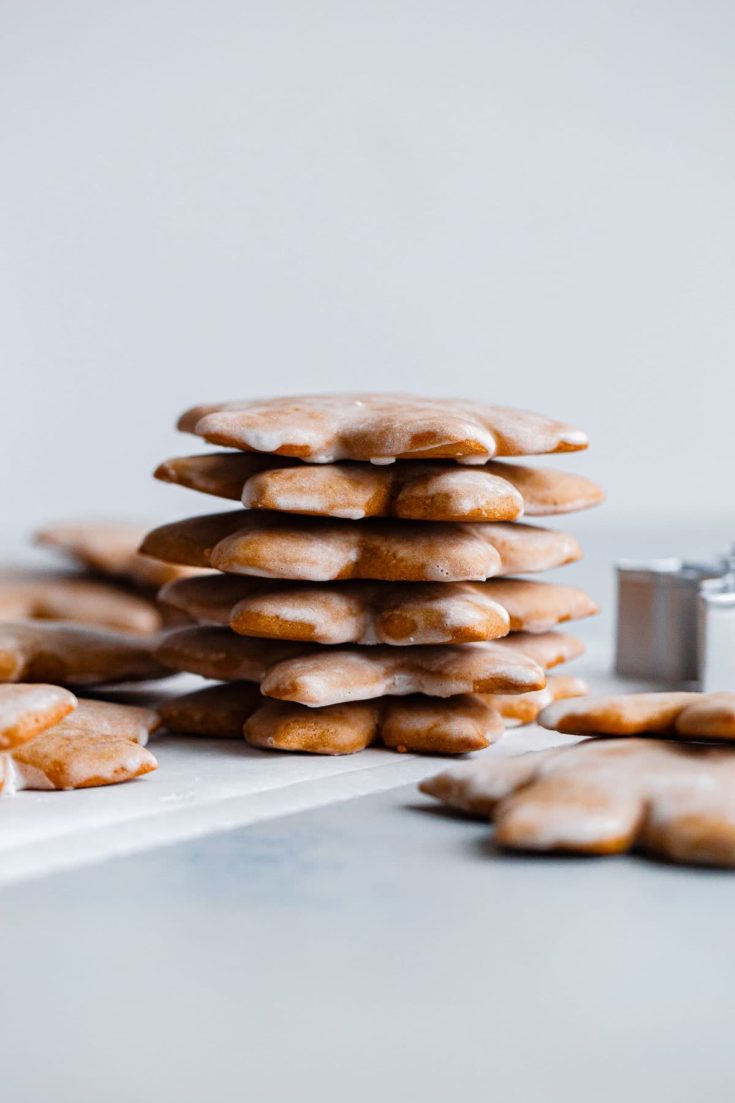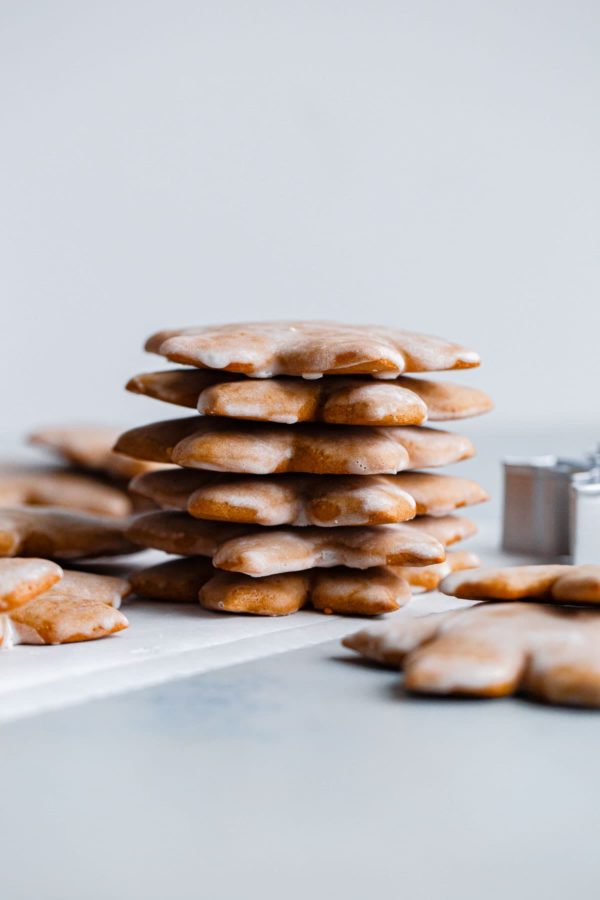 Perhaps what I love most about these cookies is how well they keep. Make them ahead of time, and enjoy them all season, should they last that long!
My favorite way to enjoy these cookies is with a cup of tea or coffee in hand. They're so easy to snack on!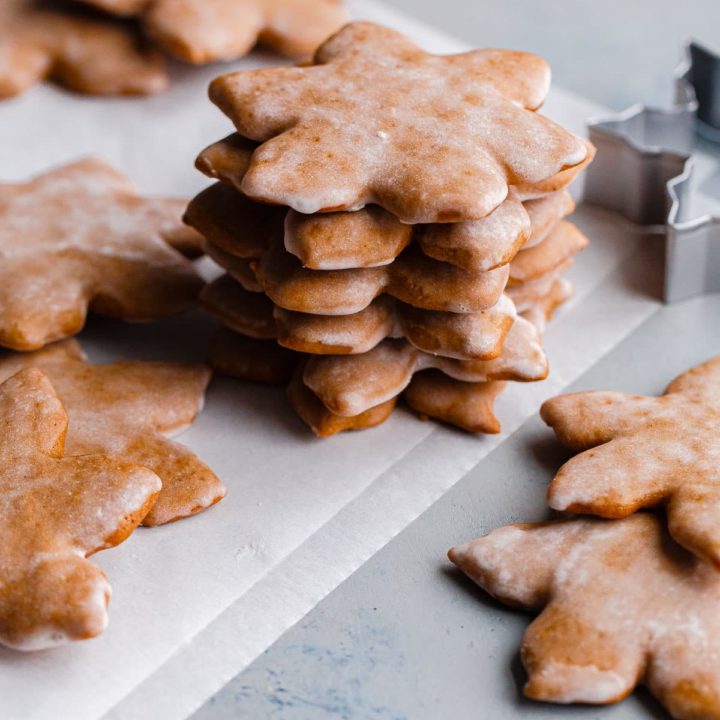 Lebkuchen Cookies
Yield: 3 Dozen Cookies (depending on size)
Classic lebkuchen cookies with a lemon glaze. Prepared in advance, these traditional German Christmas cookies are gingerbread-like in flavor and have a soft and chewy texture. These cookies are a great festive treat for the holiday season! Recipe featured from Midwest Made from Shauna Sever.
Prep Time: 2 days
Cook Time: 25 minutes
Additional Time: 3 days
Total Time: 5 days 25 minutes
Ingredients
Cookies:
3/4 cup (250 grams) clover honey
3/4 cup (170 grams) dark muscovado or organic dark brown sugar
4 tablespoons (57 grams) unsalted butter, cut into chunks
1 large egg, beaten
2 teaspoons finely grated lemon zest
1 tablespoon freshly squeezed lemon juice
3 cups (384 grams) unbleached all-purpose flour, spooned and leveled, plus more for dusting
3/4 teaspoon baking soda
1/2 teaspoon fine sea salt
2 teaspoons ground cinnamon
1/2 teaspoon ground allspice
1/2 teaspoon freshly grated nutmeg
1/4 teaspoon ground ginger
1/4 teaspoon ground cloves
oil for bowl
Glaze:
1 cup (120 grams) confectioner's sugar, sifted
1 large egg white
1 tablespoon freshly squeezed lemon juice
1/8 teaspoon fine sea salt
Instructions
Prepare the Cookies: In a 1.5 quart saucepan, combine the honey and muscovado sugar. Over medium-high heat, stir gently until the sugar begins to dissolve and the mixture just begins to come to a simmer. Remove the pan from the heat and stir in the butter. Let cool until warm to touch. Whisk in the egg and lemon zest and juice.
In the bowl of a stand mixer fitted with a paddle attachment, stir together the flour, baking soda, salt, and spices.
On low speed, stir in the west ingredietns until a smooth, sticky dough forms. Laura's Note: This will be slack and loose, don't worry! Scrape the dough into a lightly oiled ceramic bowl and cover with a plate - you want the dough to be able to breathe. Allow the dough to "ripen" at cool room temperature for 1 to 2 days - do not refrigerate. (The large amount of honey and sugar will keep bacteria at bay.)
Position racks to the upper and lower thirds of the oven and preheat it to 350°F/180°C. Line 2 baking sheets with parchment paper.
Turn out the dough onto a well-floured work surface. Roll it out to a 1/4-inch/6 mm thickness. Use a bench scraper or thin spatula to get under the dough and scoot it around in the flour occasionaly to prevent sticking. Cut shapes with 2-inch/5 cm cutters and place 1 inch/2.5 cm apart on the prepared baking sheets. Sweep away any excess flour with a pastry brush. Bake until fragrant and lightly browned, about 12 minutes, rotating the baking sheets from top to bottom and front to back halfway through the baking time. (Watch closely, as honey in the dough can make the edges catch and burn quickly.)
Prepare the Glaze: In a medium bowl, whisk together the confectioner's sugar, egg white, lemon juice, and salt for a smooth, thin, runny glaze. (Add a few drops of lemon juice, as needed, to achieve this consistency).
Let the cookies firm up and cool on the baking sheets for 5 minutes. Run an offset spatula under the cookies to gently looesn them from the parchment paper, leaving them on the sheets.
While still warm, brush the cookies with glaze and transfer to wire racks. Allow the cookies to cool and the glaze to dry completely.
The secret to a perfect lebkuchen texture is in the resting phase: place the cookies into airtight containers in layers, seperated by parchment or wax paper. Tuck a wedge of apple in the container before sealing. Store in a cool place for at least 3 days, or up to 2 weeks, to allow the cookies to ripen once more before serving.
Notes
Tips for Success:
The secret to a perfect lebkuchen texture is in the resting phase: place the cookies into airtight containers in layers, seperated by parchment or wax paper. Tuck a wedge of apple in the container before sealing. Store in a cool place for at least 3 days, or up to 2 weeks, to allow the cookies to ripen once more before serving.
Recipe reprinted with permission from Midwest Made: Big Bold Baking From the Heartland by Shauna Sever (Running Press 2019).
Recommended Products
As an Amazon Associate and member of other affiliate programs, I earn from qualifying purchases.
Nutrition Information:
Yield: 48
Serving Size: 1
Amount Per Serving:
Calories: 125
Total Fat: 11g
Saturated Fat: 1g
Trans Fat: 0g
Unsaturated Fat: 9g
Cholesterol: 10mg
Sodium: 58mg
Carbohydrates: 7g
Fiber: 0g
Sugar: 8g
Protein: 1g
A Beautiful Plate provides nutritional information, but these figures should be considered estimates, as they are not calculated by a registered dietician.