Overnight Vegetarian Breakfast Strata
Cheesy, pillowy, and deeply satisfying, this versatile breakfast strata is wonderful any time of year, but particularly ideal for holiday entertaining.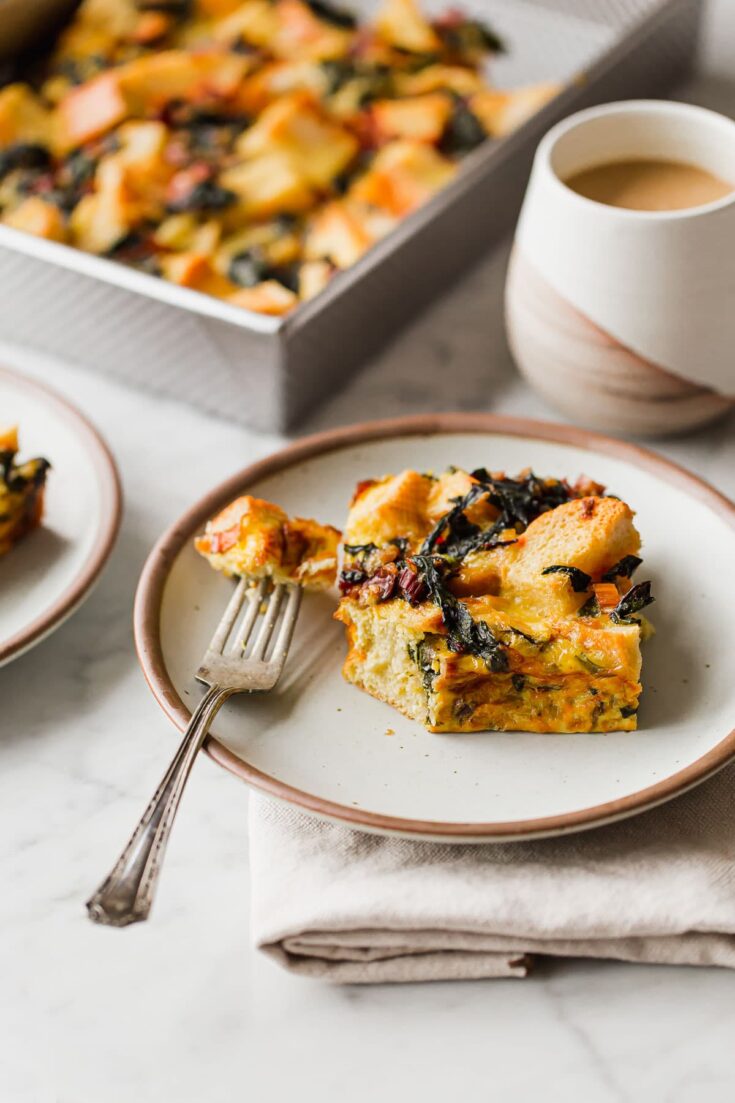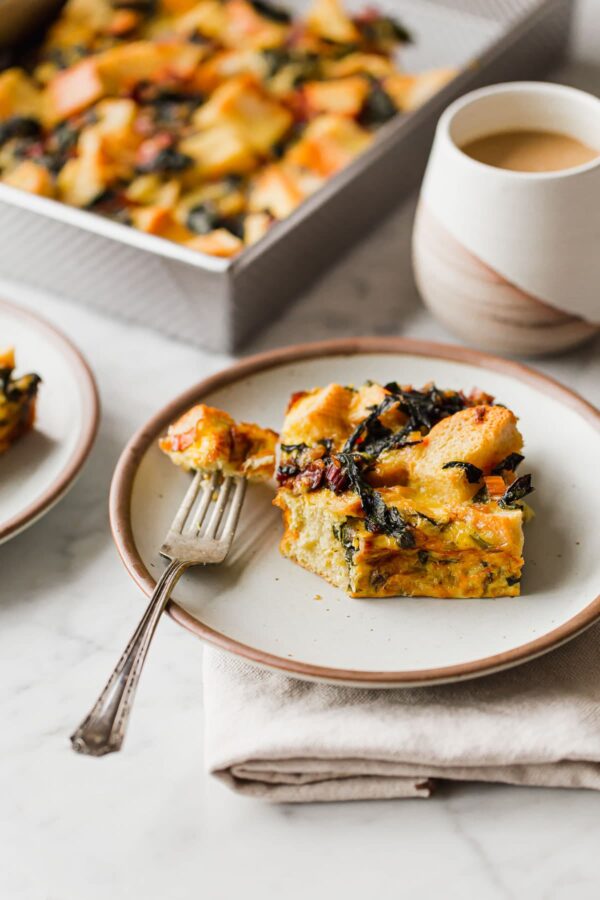 Everyone has their own traditions around the holiday season. But one thing I've learned is not to rush.
It's one of the few times of year that I'm able to slow down, appreciate time with family, and not have the entire day dictated by the clock.
As happy as I feel in the kitchen, during the winter months I really want to be able to step back and enjoy time with family and friends.
That's where this Overnight Breakfast Strata comes in.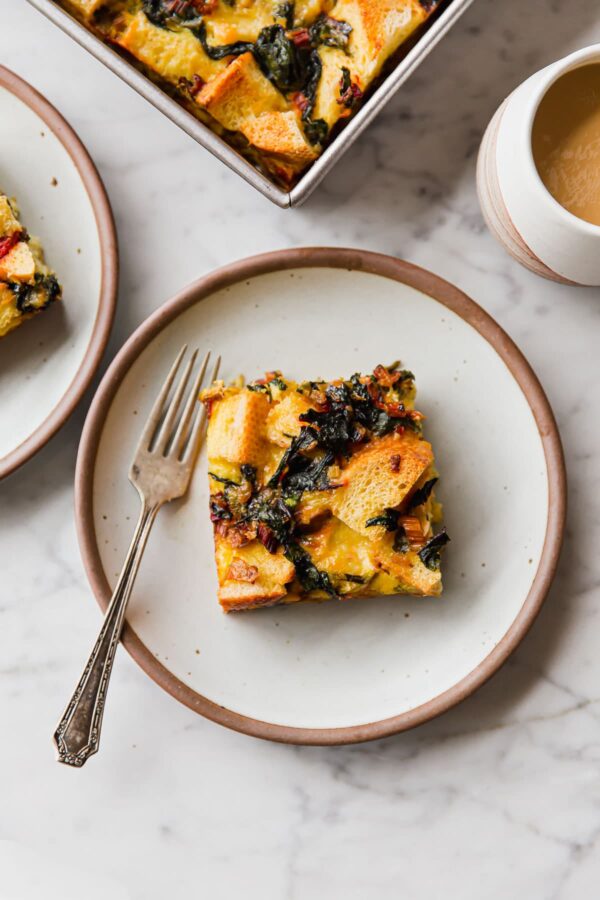 I've said it before, but I'm all about make ahead meals during the holidays. Of course, time will be spent in the kitchen, but my preference is to limit that time when guests and family are over.
In regard to prep, this strata recipe is nearly foolproof! In fact, it almost requires that you to prepare it ahead of time.
It s my answer to many things, including that burning question: How do you cook eggs for a crowd? This vegetarian breakfast casserole has it all. Bread, cheese, even some virtuous greens.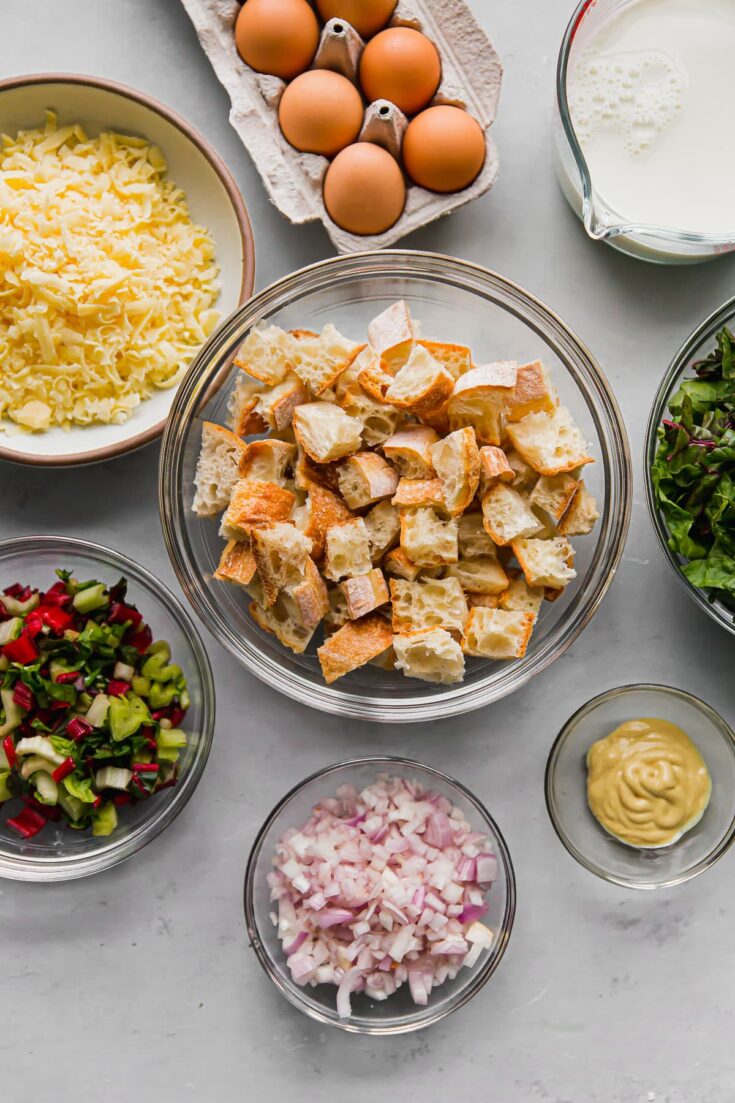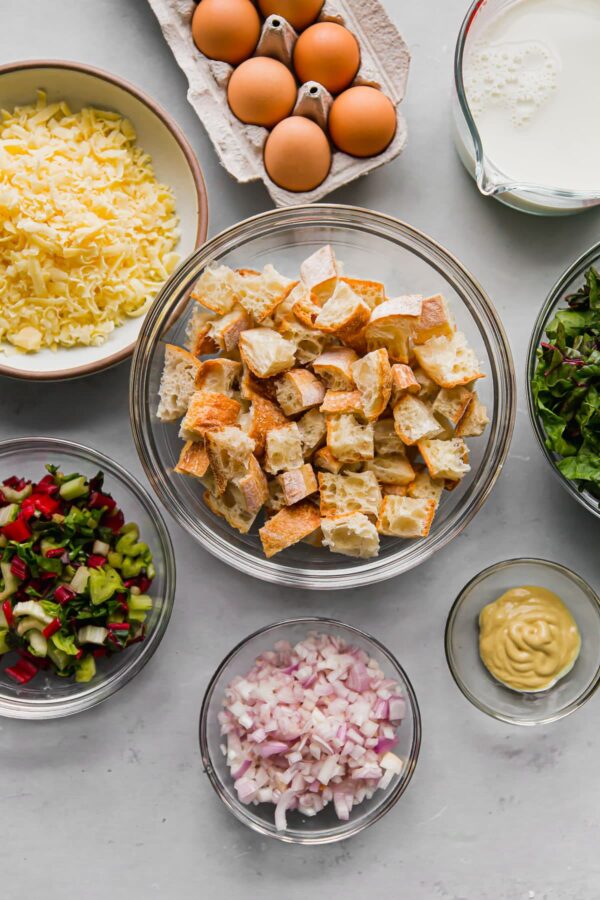 What is a Strata?
Strata can be translated to "layered," and the dish is essentially a savory bread pudding.
It's assembled the night prior, then allowed to sit at room temperature for 30 minutes before baking. It bakes for an hour or until it has risen substantially and the custard has cooked through.
Your house will smell amazing and you'll immediately become a brunch hero!


How to Make Strata:
Strata is generally made with equal parts eggs, milk, and cheese, to two parts day-old bread. As long as you stick to this basic ratio, you'll get a lovely, comforting custardy texture.
My preference is a higher egg to milk ratio, but this recipe is quite forgiving.
To assemble, pour the milk and egg mixture over the layered bread pieces, sautéed shallot and Swiss chard mixture, and shredded cheese. Ensure that all of the bread is submerged.
Cover tightly with foil and refrigerate for a minimum of 1 hour or preferably, overnight. Remove from the fridge as the oven preheats, then bake for 55 to 65 minutes until golden, puffed, and cooked through.


Swiss Chard and Cheese Strata:
The best part? This breakfast casserole is super adaptable. Today's vegetarian strata has sautéed shallot, Swiss chard, and shredded aged sharp cheddar or Gruyere cheese.
For the chard, I use both the leaves and the stems to reduce kitchen waste. You can substitute other hearty greens or spinach – just be sure to press out any excess water – and mix up the cheeses too.
Make this recipe your own! Add sautéed mushrooms, peppers, broccoli, or even cooked sausage or pancetta (just go easy on the salt quantities).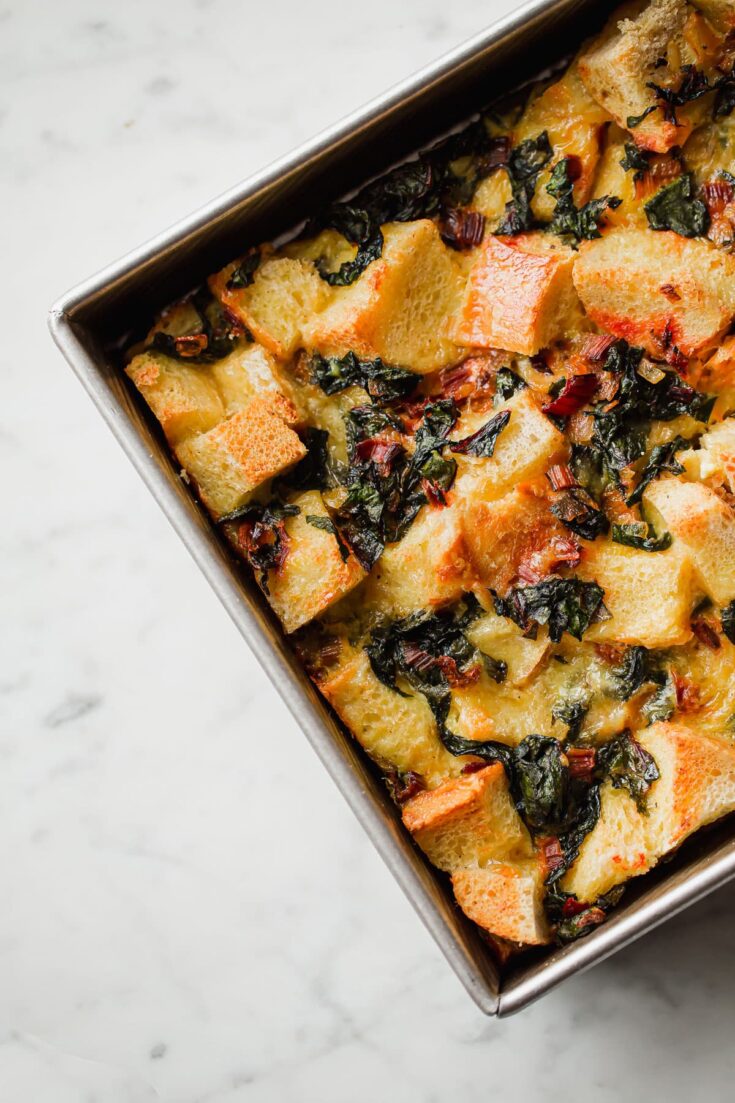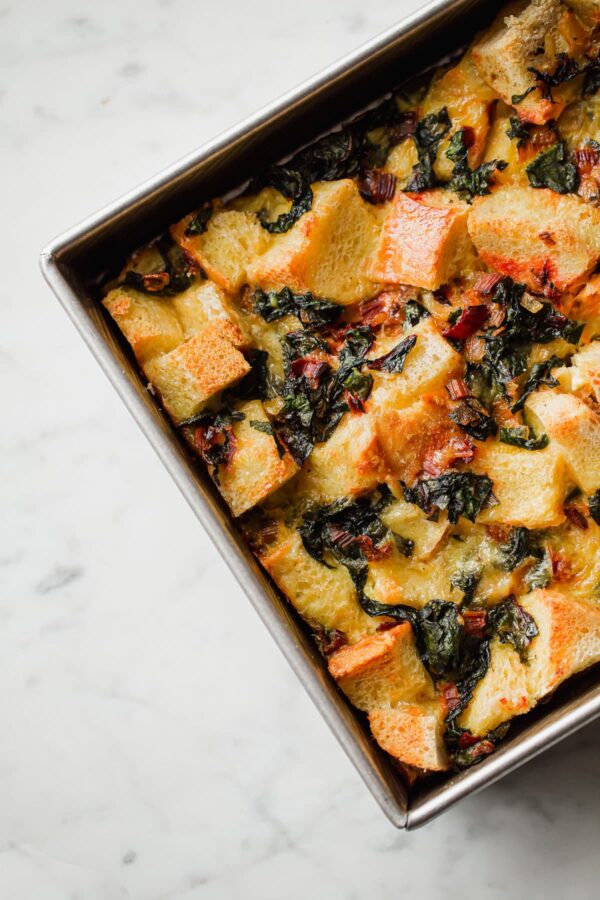 Here's What You'll Need:
BREAD: the perfect way to use that day-old crusty French baguette. If you do not have day-old bread, toast it lightly in a 200 F degree oven.
SHALLOTS: more delicate than onions, shallots add a touch of sweetness.
SWISS CHARD: I love this leafy green, as it's hearty and flavorful, but still tender once cooked through. Green, rainbow, or red chard will work here; colorful red stems add a festive holiday touch without transferring much color to the custard.
EGGS: this strata uses a dozen eggs for convenience; the eggs binds everything together.
MILK: whole milk is preferable to low-fat milk, as it will yield a better texture and flavor. I have not tested this recipe with dairy-free milks.
SEASONINGS: Dijon mustard, freshly grated nutmeg, salt, and pepper for added flavor.
AGED CHEDDAR: when it comes to cheddar, the sharper and more aged the better! Gruyere is another excellent choice, but pricier. Milder cheeses, such as fontina or mozzarella, will also work.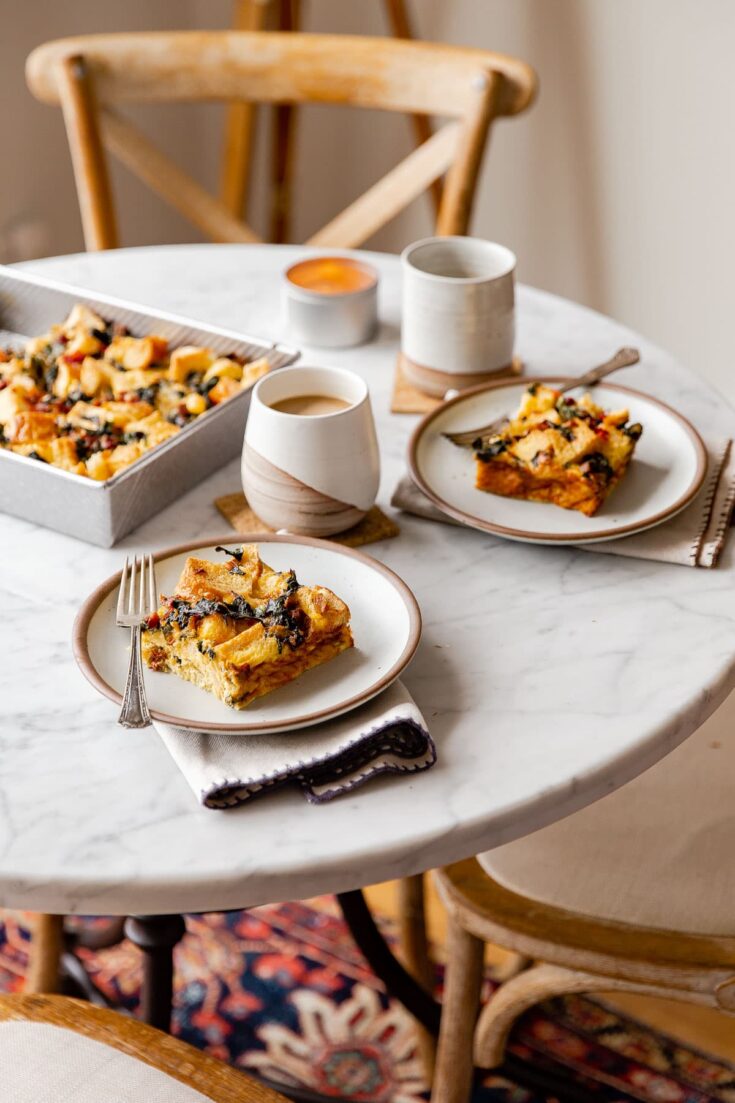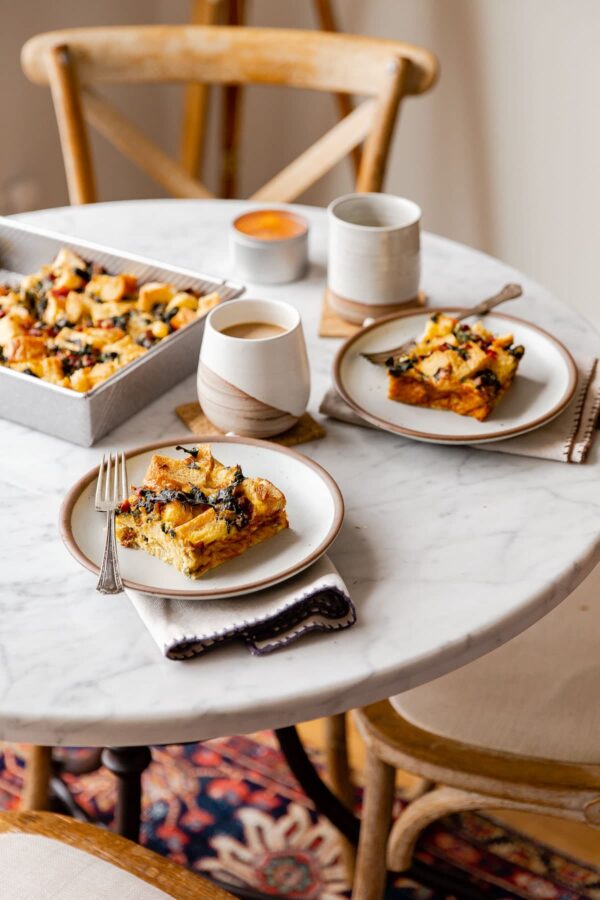 Example Timeline:
4:00 PM – 10:00 PM (Day Before): Prep and assemble the strata, cover tightly with foil, and refrigerate overnight.
7:30 AM (Day of Serving): Take the strata out of the fridge and allow it to sit at room temperature for 30 minutes as the oven preheats.
8:00 AM: Bake uncovered for 55 to 65 minutes, or until puffy, golden, and cooked through. Cool on a rack for 5 to 10 minutes.
9:15 AM: Slice and serve!
How to Serve This Strata:
This recipe yields 8 generous servings or 12 smaller portions, ideal for a larger brunch spread. It can be served for breakfast, brunch, or even dinner. Hot out of the oven or at room temperature, you can leave it out for guests to snack on throughout the day.
Wrap any strata leftovers and store in the refrigerator for up to 3 to 4 days.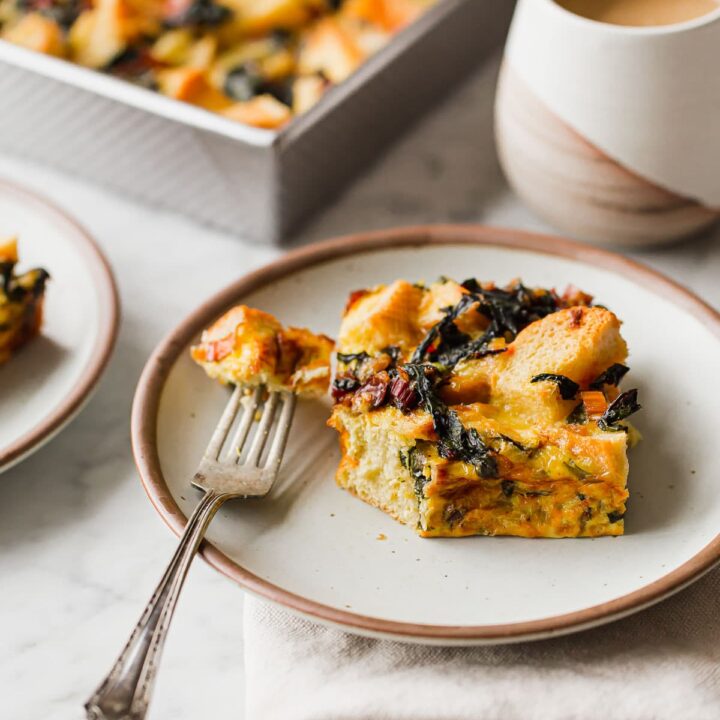 Overnight Vegetarian Breakfast Strata
Yield: 8 Large Servings; 12 Side Servings
Cheesy, pillowy, and deeply satisfying, this vegetarian breakfast strata, layered with sauteed shallots, chard, and aged cheddar or Gruyere, can be prepped and assembled the day before and popped into the oven the next morning. Baked in a 9 x 13-inch baking pan, this recipe yields 8 generous main course servings or 12 smaller portions. Perfect for holiday entertaining or serving a crowd!
Prep Time: 25 minutes
Cook Time: 1 hour
Chill Time: 1 hour
Total Time: 2 hours 25 minutes
Ingredients
1 large bunch Swiss chard, stems stripped and thinly sliced, and leaves cut into small pieces
4 tablespoons (2 ounces) unsalted butter, plus more for greasing
2 large shallots (6 ounces), finely chopped
kosher salt
freshly ground black pepper
12 large eggs
3 1/2 cups (28 ounces) whole milk
2 tablespoons (30 grams) Dijon mustard
1/2 teaspoon freshly grated nutmeg
1/2 teaspoon Diamond Crystal kosher salt
12 ounces day old good-quality bread (roughly 1 baguette), cut into 1-inch pieces
8 ounces (2 cups) sharp aged cheddar or Gruyere cheese
Instructions
Butter a 9 x 13-inch baking pan. Set aside.
Prepare the Day Before: Heat the butter in a 12-inch skillet over medium heat until melted and lightly bubbling. Add the shallots and pinch of salt and sauté, stirring frequently, until softened, 3 to 4 minutes. Add the chard stems and cook, stirring frequently, for an additional 4 to 5 minutes. Add the chopped chard greens and another pinch of salt, and sauté, flipping the greens with tongs, until wilted and tender, about 5 minutes. Remove from the heat and season to taste with salt and freshly ground black pepper. Cool to room temperature before using.
In a large bowl, whisk together the eggs, whole milk, Dijon mustard, nutmeg, and kosher salt. Distribute half of the bread cubes in the buttered dish, top with half of the cooked green mixture, and sprinkle with half of the shredded cheese. Repeat with the remaining bread, greens, and cheese to create two layers. Pour the egg custard evenly over the top. Cover tightly with foil and refrigerate overnight (or a minimum of 1 hour, if baking the day).
Bake the Strata: Remove the strata from the fridge and allow to sit at room temperature as the oven preheats or at least 30 minutes. It will have thickened considerably overnight.
Preheat oven to 350°F/176°C with a rack in the center position. Bake uncovered for 55 to 65 minutes or until puffed, golden, and cooked through. Allow the strata to cool on a rack for 5 to 10 minutes before serving.
Leftovers can be covered and refrigerated for 3 to 4 days. Serve cold, at room temperature, or reheat in short intervals in the microwave or in a 325°F/162°C oven.
Notes
Tips for Success:
Feel free to use other greens and cheeses! You can also add other ingreidents, such as cooked sausage, pancetta, peppers, mushrooms, etc.
If you're bread is not a day old, toast the cubes in a 200°F oven lightly.
Inspired and adapted from Smitten Kitchen (originally adapted from Gourmet Magazine, 2003).
Recommended Products
As an Amazon Associate and member of other affiliate programs, I earn from qualifying purchases.
Nutrition Information:
Yield: 12
Serving Size: 1
Amount Per Serving:
Calories: 309
Total Fat: 17g
Saturated Fat: 8g
Trans Fat: 0g
Unsaturated Fat: 7g
Cholesterol: 221mg
Sodium: 698mg
Carbohydrates: 21g
Fiber: 1g
Sugar: 3g
Protein: 19g
A Beautiful Plate provides nutritional information, but these figures should be considered estimates, as they are not calculated by a registered dietician.