2019 Favorite Things Gift Guide
My annual favorite things gift guide – a collection of my most loved items from the past year! For more favorites, check out last year's guide.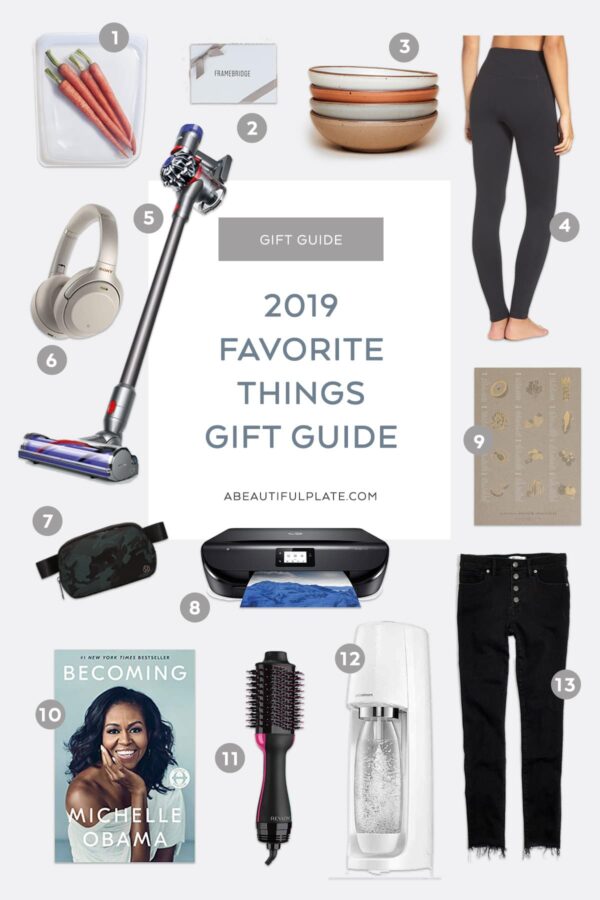 This post contains affiliate links. This means I may earn a small commission, at no cost to you, if you purchase items using these links.
I'm back with my annual
favorite things gift guide
! Below you'll find all of my most-loved items from the past year.
Find more of my favorites here.
We're covering a wide range of categories today: clothing, ceramics, appliances, houseware, and helpful tools. I tried my best to include affordable items, as well as some bigger ticket items to cover all bases.
---
Stasher Bags – I invested in a few more stasher bags this year and have eliminated nearly all of my Ziploc use as a result! They're easy to clean (just be sure to follow their instructions) and so helpful for food storage, travel, etc. My favorite sizes are the stand-up and 1/2 gallon, but the sandwich is great for small items like cheese, avocado halves, citrus, etc.
Framebridge Gift Certificate – we have several art pieces that have been framed by Framebridge and love each one. The shipping and design process is so easy and I love that the frames come with wiring and hardware. Such a useful and practical gift for anyone on your list!
East Fork Pottery – I invested in 4 dinner sets of East Fork Pottery this past year and absolutely love them. In fact, many of my recent photographs have featured these pieces. I'm a sucker for handmade ceramics and these are beautiful, timeless, and so versatile. The everyday bowl is my favorite size as it's perfect for salads, soups, pastas, and so much more. They make beautiful mugs too (my ceramic weakness)!
Zella Leggings – I live in these leggings all year long, but particularly in the winter months. They are high-waisted, have great compression, and aren't too thick. My pairs have held up for years too! Just check out those reviews if you're skeptical.
Dyson v8 – we invested in a Dyson cordless vacuum last Thanksgiving and I can't imagine living without this machine. We use it nearly every day for small and larger cleaning tasks and rarely, if ever, pull out our upright vacuum. I love that it's powerful enough to clean up big messes, but lightweight and easy to maneuver under furniture. If you've been considering one, this price is unbeatable! Newer models have a longer battery life, but I've never had regrets. Note: This vacuum does not work as well on high-pile rugs or carpets, so keep that in mind!
Sony Noise Cancelling Headphones – I got these for Connor's birthday last year and they are the absolute best. He loves them! They're insanely comfortable and the sound is incredible (I did a lot of research on headphones). Far better quality than my own Beats headphones (much to my dismay).
Lululemon Belt Bag – this was a spontaneous purchase for a good friend's bachelorette party last year and remains one of my most loved items from 2019. I'm as shocked as you are. I use it every day in the spring and summer months. So practical for dog walking, outdoor activities, the farmer's market, etc. It's really well designed and far more attractive than other belt bags, if I do say so myself!
HP Envy 5055 with Instant Ink – it might seem a bit odd to include a printer in this list, but it has quickly become one of my favorite investments (and it's actually very affordable!) in the the year. The printer itself is very straight-forward and simple, but the HP Instant Ink is life-changing. We use the free printing plan and pay for any additional pages (my recommendation). Seriously. If you hate buying printer cartridges, look into it.
Foil Press Produce Kitchen Poster – my sister gifted me this seasonal produce poster a few years ago and I love that it's both practical and functional and beautiful to look at. It comes in a variety of colors too.
Becoming – one of my favorite books that I've read this past year. This was a very fast read and so well-written!
Revlon One-Step Hair Dryer – I got suckered into buying this hair dryer after reading so many great reviews online (and also receiving the recommendation from my hair dresser). It works really well and is great for those of us who hate (or don't know how) to style their hair.
Sodastream Fizz – Sodastream sent me one of these machines over the summer and I'm shocked by how much I love this appliance. I am a huge sparkling water fan, but hate the waste involved in buying bottles (or cans) at the store. This gadget solves that problem and allows you to make soda water at the drop of a hat. The cartridge refill process is very easy and affordable too.
Madewell High Rise Jeans – these jeans were in last year's favorite things gift guide! That is how much I love these jeans. Insanely comfortable, flattering, and just so, so perfect. They've held up extremely well and are worth the price.
For more gift ideas, check out my favorite things gift guide from 2016, 2017, and 2018.
This post contains affiliate links, which means that I make a small commission off items you purchase at no additional cost to you. Please read my
privacy policy
for more information.