Lemon Coconut Cake with Cream and Berries
Lemon coconut cake topped with lightly sweetened whipped cream and fresh mixed berries. This simple celebration cake for spring is elegant, flavorful, and comes together quickly. Watch it come together in the video below!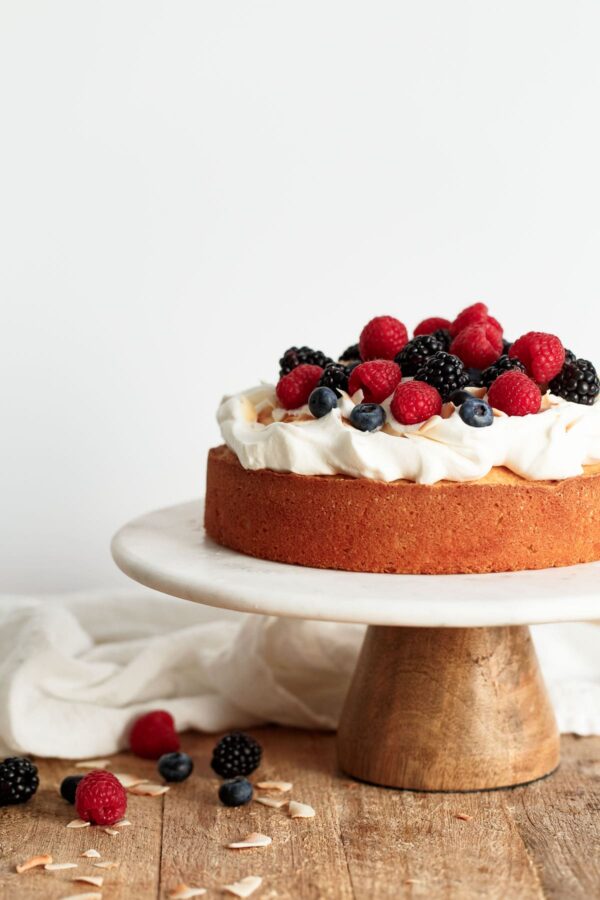 This post is sponsored by Bob's Red Mill.
If you're looking for a festive Easter celebration cake, look no further! This Lemon Coconut Cake is easy to assemble and comes together quickly!
While I love a good old-fashioned layer cake, this simple lemon coconut cake proves that you can create an equally elegant cake with just one cake layer.
We're pulling out all of the stops with a simple whipped cream frosting and a generous sprinkling of mixed berries, toasted coconut flakes, and grated lemon zest.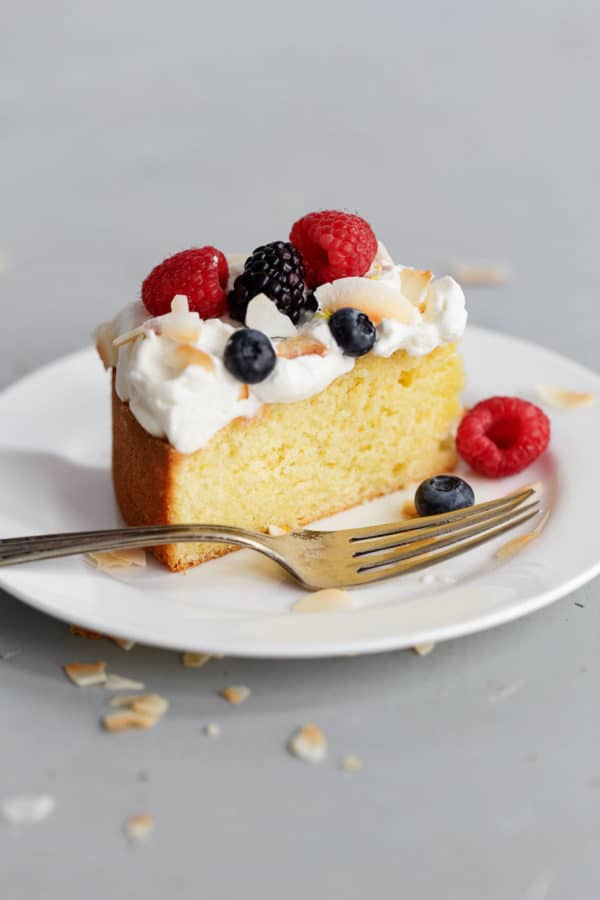 I have always loved the delicate sweetness and texture of whipped cream frosting.
It provides just a touch of sweetness (traditional frosting would be far too sweet for this particular cake!) and complements the fluffy, yet slightly denser crumb. It also allows the fresh lemon and coconut flavor to remain front and center.
The fresh mixed berries, while slightly out of season, add a fresh and tart element that can't be beat. My infatuation with these types of desserts knows no bounds. Remember this raspberry roll cake and berry pavlova? I just can't quit.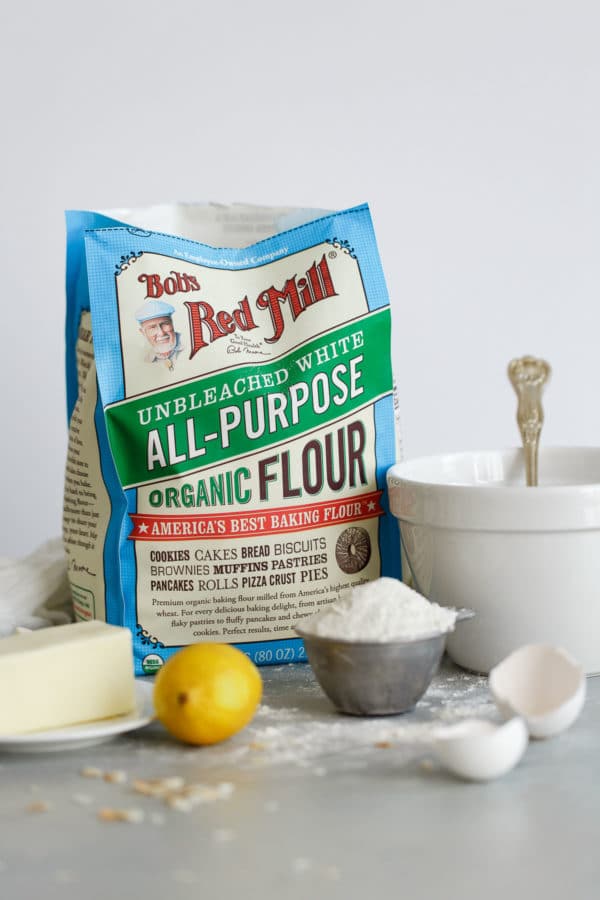 Lemon Coconut Cake: Ingredient Breakdown
To achieve a delicate, tender crumb, this lemon coconut cake is made with unbleached all purpose flour. You won't need to run out to buy any specialty flours for this recipe. While I love to work with whole grain flours, you'll always find unbleached all purpose flour in my pantry.
As the name suggests, all purpose flours are designed to be used for all types of baking. It produces incredibly consistent results. My favorite brand is Bob's Red Mill Organic Unbleached All Purpose Flour, because it is always unbleached (did you know that most flour bleaching chemicals are banned outside the United States?) and is produced from certified organic red wheat. In other words, wheat that has not be treated with any chemical pesticides.
Unbleached all purpose flour is refined, which means that the bran and germ are removed during milling. This produces a flour that has a longer shelf life, is lighter in color, delicate in flavor, and has a mid-level protein amount that lends itself well to most baking applications. You can read more about the different types of baking flour here.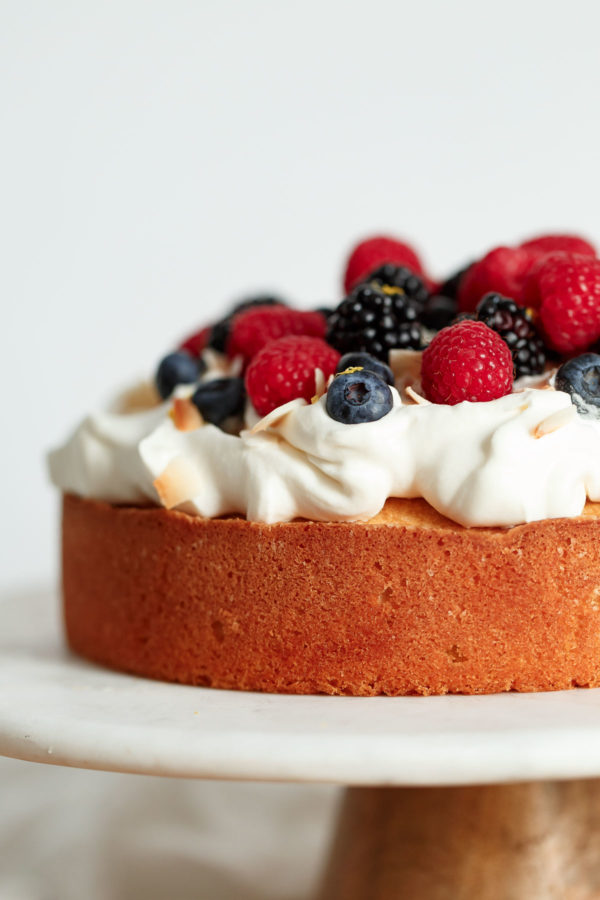 Lemon is the dominant flavor in this cake with coconut playing a supporting role. The lemon flavor comes from fresh lemon zest, which is infused in the granulated sugar. The coconut flavor comes from full-fat coconut milk, as well as a touch of coconut extract.
The cake is garnished with toasted unsweetened coconut flakes and fresh lemon zest for texture, color, and as a way to provide a visual clue to the flavor of the cake.
I love to use a mixture of various berries, including blueberries, blackberries, and raspberries, but feel free to decorate this cake with just one, two, or some other combination of fresh fruit.
Try your best to avoid fruit (such as strawberries) that have higher moisture levels and might lead to seeping.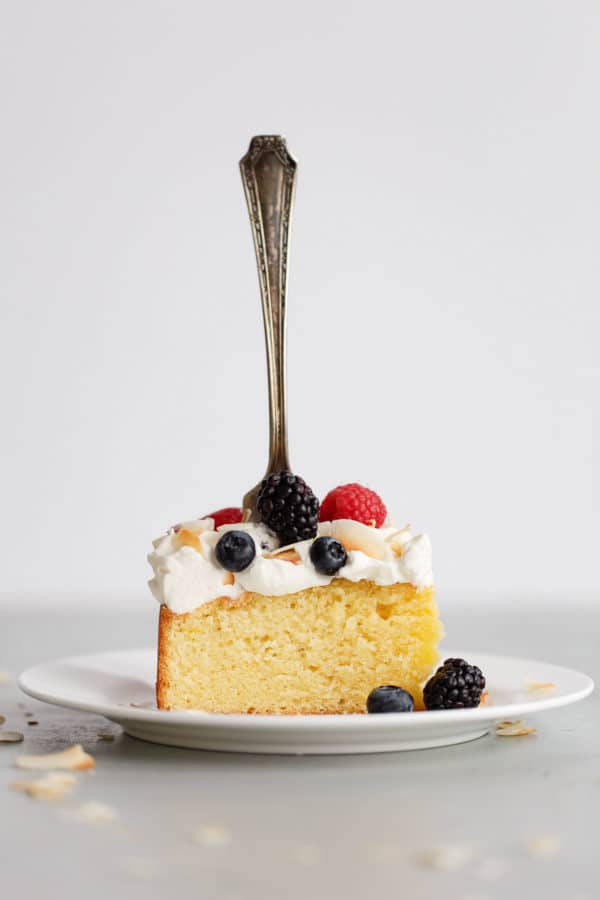 Tips for Success:
This cake is an all-butter cake, which means that it has incredible flavor, but is best served the day it is baked. As with all cake recipes, it is very important that your ingredients be at room temperature before starting.
If any of your ingredients are too cold (eg. the unsalted butter, eggs, etc.), they will not incorporate evenly and this will result in a denser cake.
Be sure to cream the butter and sugar for the time listed in the recipe. This physical beating helps incorporate air into the final cake batter, which helps produce a light and delicate cake.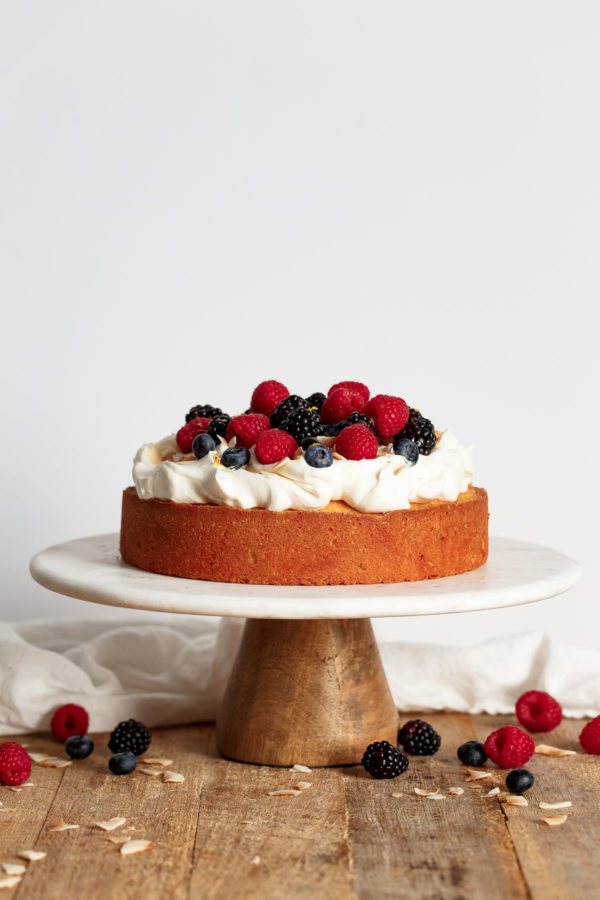 This post is sponsored by Bob's Red Mill. Thank you for supporting brands I love and use in my kitchen. Check out more delicious healthy recipes, snag coupons, and find stores near you at BobsRedMill.com!