Potato Leek Cornish Pasty
This cheater Cornish Pasty recipe is made easy with store-bought puff pastry sheets. The creamy potato leek filling is roasted on a sheet pan with fresh thyme, and tossed with heavy cream and layered with cheddar cheese. A modern twist on an English classic!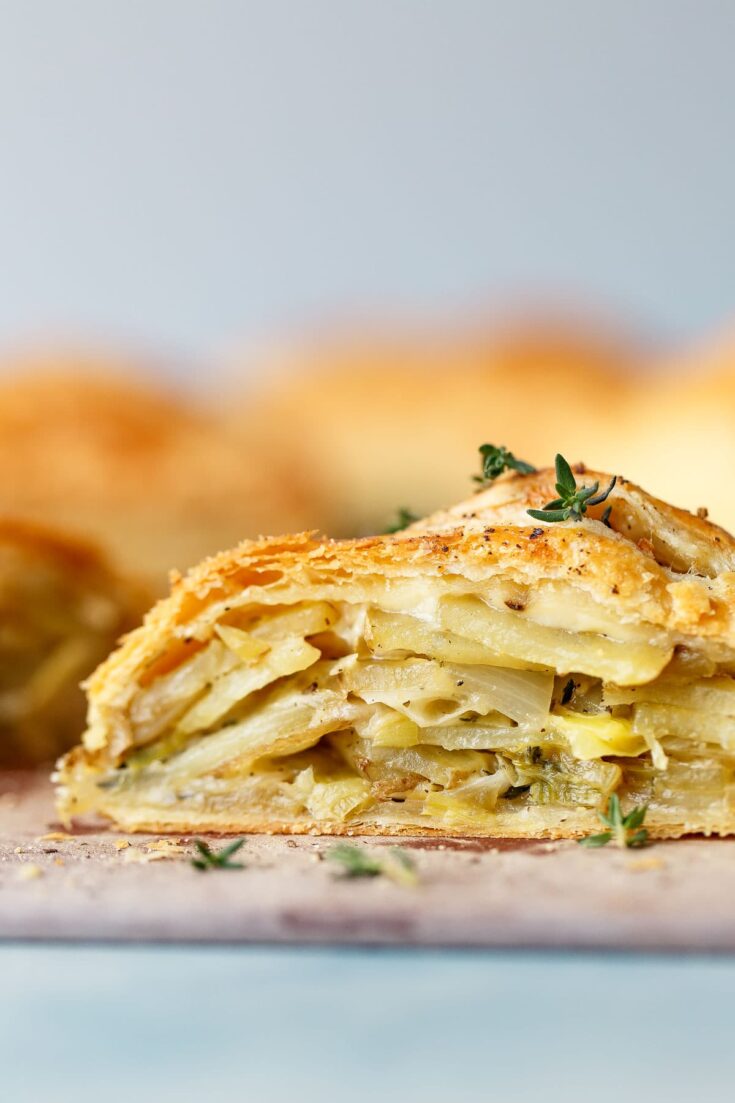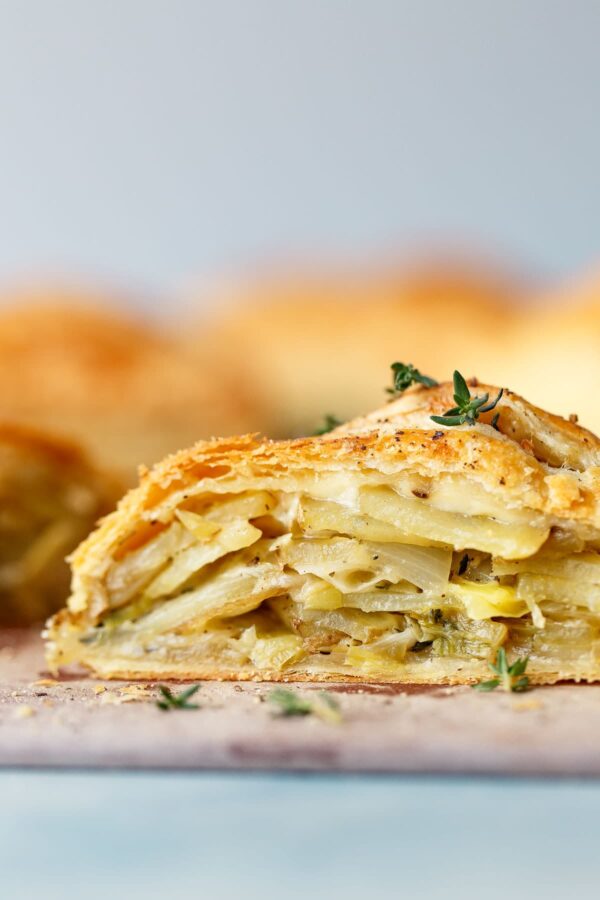 Potato Leek Cornish Pasty
A Cornish Pasty (pronounced PASS-tee) is one of my all-time favorite comfort foods. If you've never heard of them before today, you're in for a treat!
Pasties are a traditional savory British pastry originating from Cornwall, England, where I used to visit my late grandmother every single summer as a kid. It is a staple food of the region and no summer would be complete without me eating as many of them as possible.
Most traditional Cornish pasties are semicircular in shape, prepared with a crimped shortcrust pastry dough, and filled with meat and vegetables. They're essentially the British version of meat pies.
For whatever reason, my family always preferred the equally as popular vegetarian pasty filled with cheese, onions and potatoes.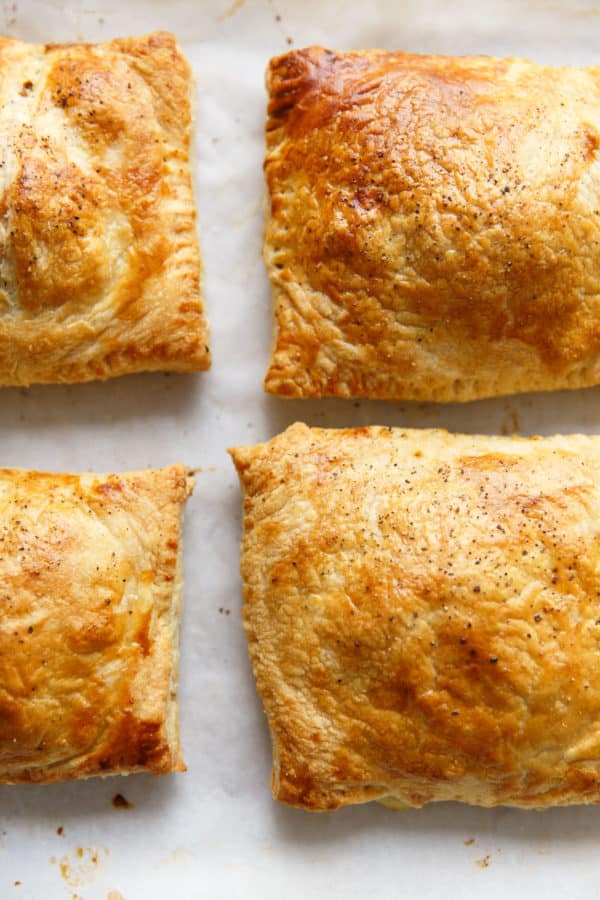 The Trick To Easy Homemade Pasties:
Using this flavor base as my source of inspiration, I've created a cheater Cornish pasty recipe that tastes nearly identical, but can be prepared in a fraction of the time. The trick? Store-bought puff pastry sheets, which allow these flaky pastries to be prepared in just over an hour with half the effort.
These might not look traditional, but their flavor is spot on! They've been given an elegant modern twist with the addition of buttery Yukon gold potatoes, leeks, and fresh thyme.
Despite how indulgent and carb-heavy these pasties sound, they're somehow ethereally light, flaky, and just downright delicious! You'll quickly become a pasty convert.


How to Assemble Cornish Pasties:
To make these pasties relatively time-friendly, this recipe uses store-bought frozen puff pastry sheets instead of traditional shortcrust dough. It also cuts the total cook time to just over an hour.
To keep them simple, these Cornish pasties are rectangular in shape, making them even easier to assemble.


The puff pastry yields a Cornish pasty that is lighter and even flakier than the original. It also eliminates the need to make your own dough from scratch or chill it in stages.
Frozen puff pastry typically thaws in about 45 minutes time, which works perfectly for this recipe, because this is roughly the amount of time that it will take to prepare the potato leek filling. Note: You can even make these pasties hours or days ahead, wrap and store them in the refrigerator, and reheat them in the oven just before serving! [See recipe notes for more details.]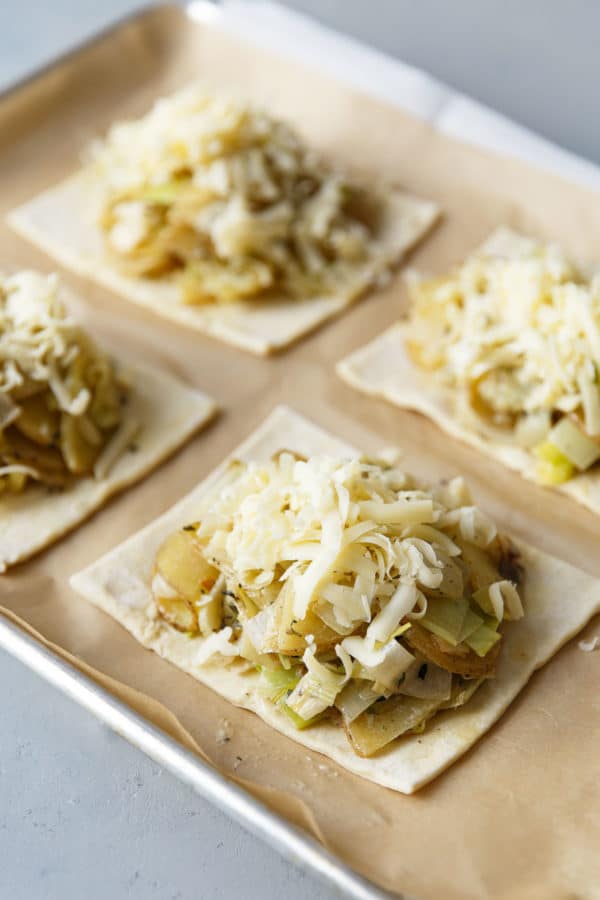 Potato Leek Filling: Ingredient Breakdown
The filling for these Cornish pasties consists of thinly sliced Yukon gold potatoes, leeks, diced onion, fresh thyme, heavy cream, sharp cheddar cheese, salt and a generous amount of black pepper. Why yes, I literally could not have stuffed more carbs into this if I had tried.
The potato, leek, and onions are tossed together with fresh thyme and olive oil, spread into a thin layer on a half sheet pan, and par-cooked in the oven. This helps soften the leeks and onion and prevents anyone from biting into undercooked potato.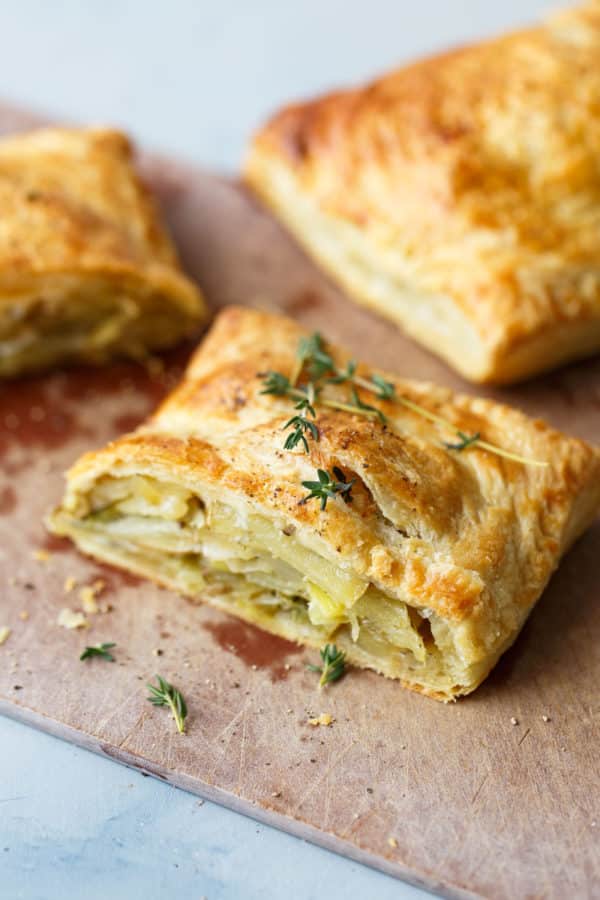 The warm potato-leek-onion mixture is then tossed in a large mixing bowl with a touch of heavy cream, before being evenly distributed on the puff pastry rectangles, layered with sharp cheddar cheese, and sealed with another top layer of puff pastry. It is similar to the process of making homemade hand pies.
These pasties only require a bake time of 25 to 30 minutes total and should be served warm from the oven. A light egg wash before baking helps produce an extra golden and crisp flaky pasty crust.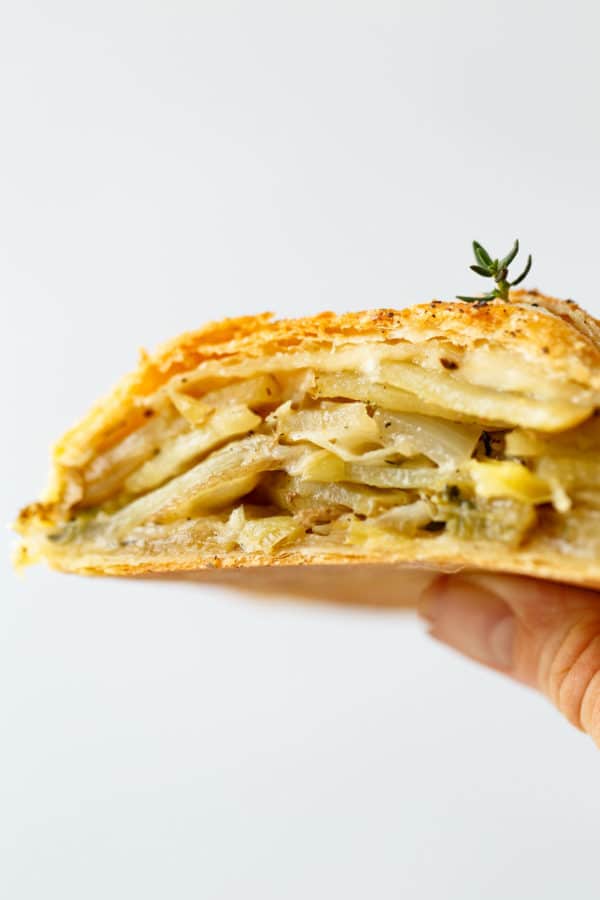 Once baked, the leeks, onions, and cheese melt into the sliced potatoes and produce an incredibly delicious pastry that you won't be able to stop eating!
Serve them straight from the oven as a main course with a large simple salad (tossed with an acidic lemon vinaigrette to cut the richness) on the side.
This recipe produces four large pasties. You could also slice them in half to produce eight smaller servings and serve them alongside another more substantial vegetable side dish or soup.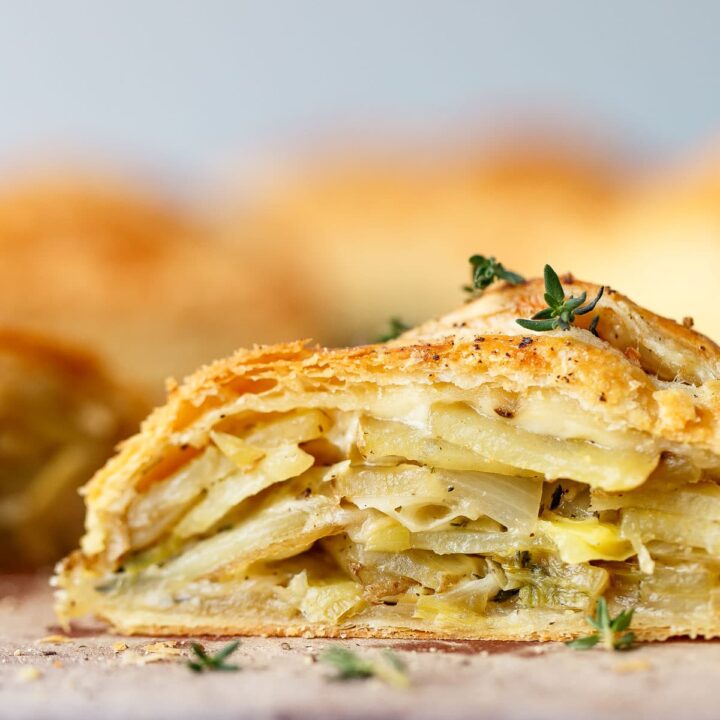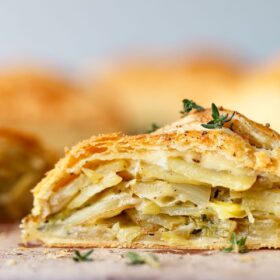 Potato Leek Cornish Pasty
This Cornish pasty recipe is made easy with store-bought puff pastry sheets. The potato leek filling is roasted on a sheet pan with fresh thyme, and tossed with heavy cream and layered with cheddar cheese. A delicious, comforting, and modern twist on an English classic! Serve with a simple green salad. 
Ingredients
1 (17.3 ounce) box frozen puff pastry, both sheets thawed according to package instructions I used Pepperidge Farm brand
1 egg, plus 1 teaspoon milk for the egg wash
unbleached all-purpose flour for dusting
Potato Leek Filling:
2-3 medium Yukon gold potatoes roughly 1 lb (16 oz)
1 large leek, white and light green parts only roughly 1/2 lb (8 oz)
1 small yellow onion cut into ¾-inch dice
2 tablespoons extra virgin olive oil
2 teaspoons chopped fresh thyme leaves or 1 teaspoon chopped dried thyme
1¼ teaspoons freshly ground black pepper
1 teaspoon kosher salt
3 tablespoons heavy cream
3½ ounces (heaping ¾ cup) freshly grated sharp white cheddar cheese
Instructions
Thaw both sheets of frozen puff pastry according to the package instructions. Preheat the oven to 375°F (190°C) with a rack in the center position. Combine the egg and milk in a small bowl, whisk together, and set aside.

Prepare the Filling: Cut the potatoes in half lengthwise. Using a mandolin, slice the potatoes into ¼-inch thick half-moon slices. Slice the leek lengthwise and rinse well under cold water, separating the leaves with your fingers to remove any sand or grit. Pat dry. Slice the leek halves crosswise into ½-inch slices.

Place the sliced potatoes, leeks, and diced onion on a half sheet pan and toss with the olive oil, dried thyme, freshly ground black pepper, and salt. Spread into a thin, even layer (the mixture will overlap slightly). Roast for 20 to 25 minutes, carefully flipping the mixture every 10 minutes or so, or until the potatoes, leeks, and onions are lightly caramelized and the potatoes are mostly cooked through.

Remove from the oven and transfer the mixture to a large mixing bowl. Add the heavy cream and gently toss with a spoon to coat. Season to taste with salt and pepper.

Line a second sheet pan (alternatively, you can cool the previous sheet pan under very cold water several times, rinse, dry well, and re-use) with parchment paper.

Assemble: Increase the oven temperature to 400°F (204°C). On a well-floured surface, unfold one piece of puff pastry sheet. Using a floured rolling pin, roll the sheet into a 10-inch-wide (25 cm) by 12-inch-long (30 cm) rectangle. Using a sharp knife, cut into four equal-sized rectangles (these will serve as the bottom half of each pastry). Repeat with the remaining piece of puff pastry and set aside.

Set the bottom pastry rectangles on the parchment-lined sheet pan. Distribute the potato-leek filling evenly into a thick, even layer onto the bottom half of each pastry rectangle, leaving a ½-inch border on all sides. Distribute the grated cheddar evenly on top of each potato-leek filling. Brush the borders lightly with the egg wash.

Using the rolling pin, roll the remaining rectangles so they are slightly larger in size than the bottom pastry rectangles. Place each piece on top of the potato and cheese filling, lining up the edges (avoid stretching the dough if possible). Crimp the borders of each pastry by pressing with a lightly floured fork to seal. Arrange the pasties on the sheet pan, spacing them evenly apart. Brush the top of each pasty with egg wash. Sprinkle lightly with salt and black pepper. Note: If the dough has warmed or softened too much during assembly, allow the pasties to chill in the refrigerator for 15 minutes before baking.

Bake for 25 to 30 minutes, rotating the pan halfway through, or until the pasties are deep golden brown in color. Allow to cool for a few minutes before serving. Best served hot. °
Tips for Success:
These Cornish pasties can be prepped, baked ahead, and stored in the refrigerator for easy reheating. Once the pasties have cooled from the oven, wrap them tightly with plastic wrap or aluminum foil, and refrigerate for up to 2-3 days.
Reheat the chilled pasties, uncovered, on a sheet pan at 375ºF (190ºC) or in a toaster oven for 1o to 20 minutes or until completely heated through.
Serving: 1serving, Calories: 1080kcal, Carbohydrates: 112g, Protein: 20g, Fat: 62g, Saturated Fat: 12g, Polyunsaturated Fat: 47g, Cholesterol: 66mg, Sodium: 924mg, Fiber: 6g, Sugar: 4g
This post contains affiliate links, which means that I make a small commission off items you purchase at no additional cost to you. Please read my
privacy policy
for more information.