London Fog Cake with Earl Grey Buttercream
London Fog Cake from Tessa Huff's Layered cookbook. Moist, decadent chocolate layer cake filled with earl grey buttercream and topped with homemade salted caramel!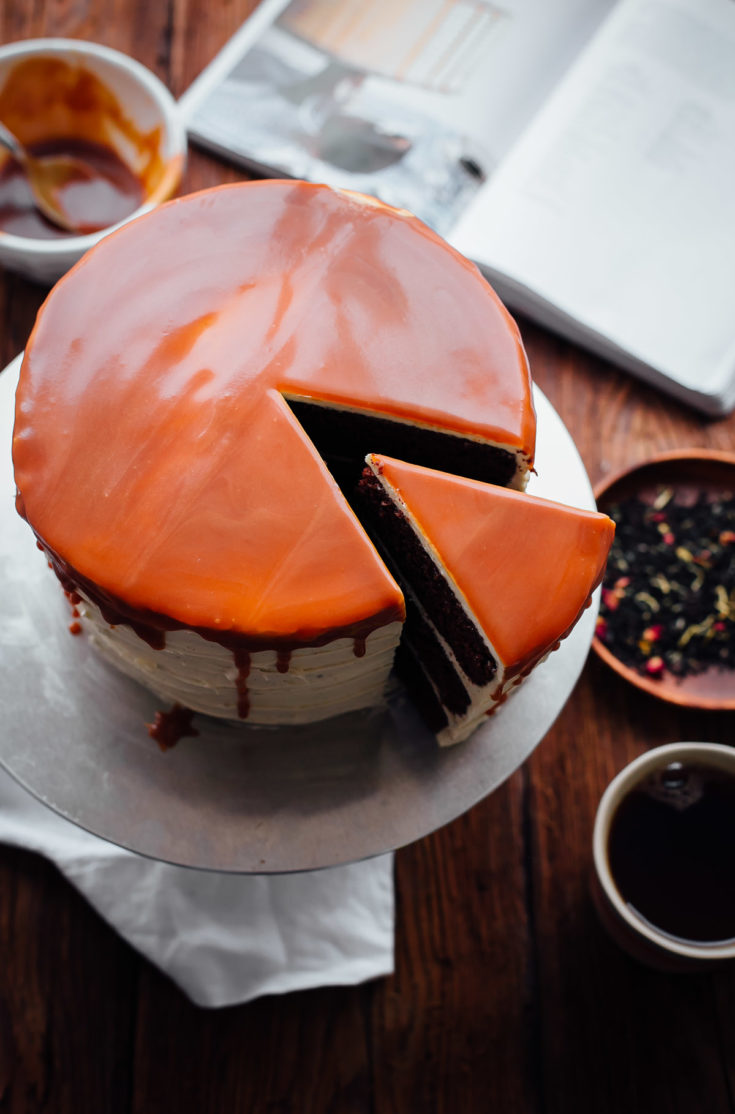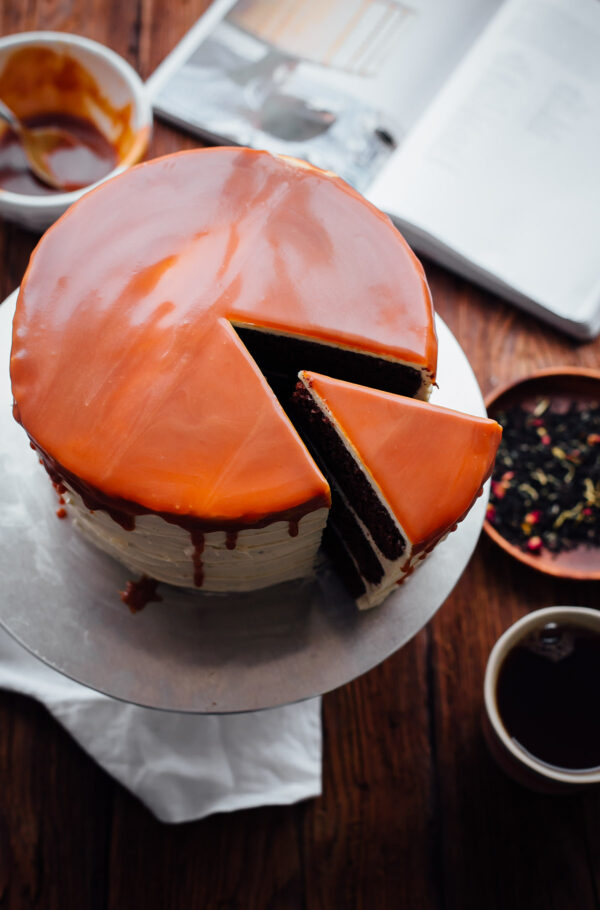 London Fog Cake
I know I use this word a lot, but I'm in love with this cake. Both the cake and its name. London fog cake. So dreamy and romantic, right? This cake unequivocally lives up to each of those standards.
In fact, I was so in love with this cake that I didn't trust myself around it at all. I had to give most of it away to friends. Otherwise, I might have slowly consumed the entire thing by myself. The words 'everything in moderation' and 'three layer 8-inch chocolate cake' aren't mutually compatible in a household of two, as much as I would like to pretend that they are.
So, here's the deal. I can't take credit for this cake. I mean, I happily baked, photographed, and ate it, but that's about it. The recipe is from my friend Tessa Huff's incredibly impressive new cookbook, Layered, which comes out tomorrow!
Tessa is the former bakery owner, talented baker, and writer behind Sweet Style CA, a blog dedicated to cakes and pastries. She makes some of the prettiest, most impressive cakes on the internets (you've probably come across a link to her blog in The Sunday Thymes!). I've admired her work for a long time!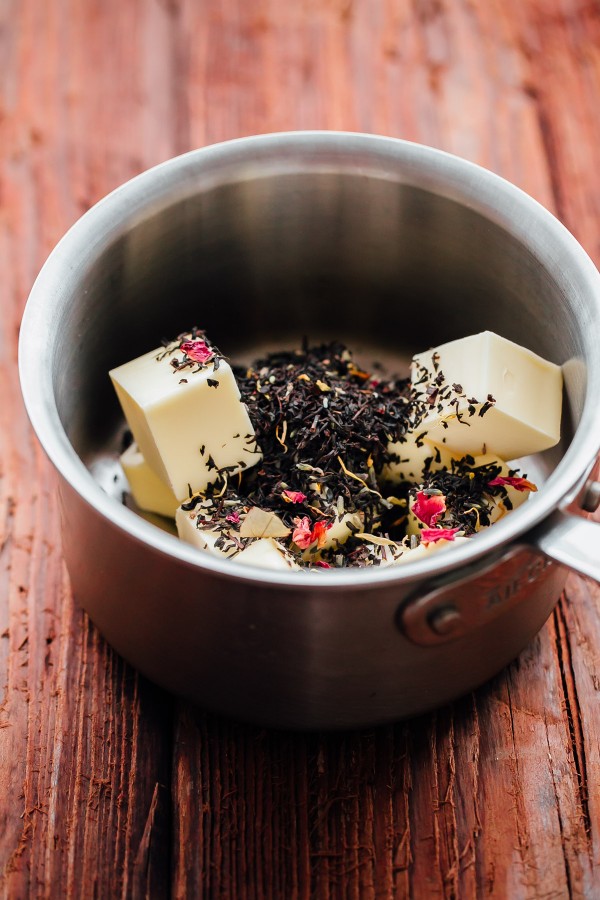 Layered, is all about baking, building, and styling spectacular cakes from start to finish. Everything from two layer cakes to six layer cakes, and everything in between. It is perfect for beginners looking to get their feet wet, as well as more experienced bakers.
So, I was incredibly honored and excited when Tessa reached out and asked if I would be interested in sharing a recipe from the book with you guys! Excited and slightly nervous.
Excited, because it meant that I finally had an excuse to bake that fancy layer cake that I've been dying to make. Nervous, well, because she sets a high bar and I don't really consider myself an experienced cake decorator by any means. It's not the baking that intimidates me, it's the assembly. I can decorate as many cupcakes as you put in front of me, but layer cakes? Smooth sides, leveling, and super even layers?! Hi, I'm scared.
Thankfully, Tessa removes all anxiety and intimidation from the equation with her incredible step-by-step instructions and photos, as well as comprehensive recipes and tips. The recipes are detailed and thorough, and incredibly easy to follow! I can't tell you how excited I am to bake more cakes from this book.
The cookbook itself has more than 150 recipes! There is everything from classics to cakes infused with riesling or pink peppercorns, and the book inspires you to mix and match various frostings and cake recipes together to make your own masterpiece. Today's London Fog Cake with Earl Grey Buttercream stood out immediately, and I knew I had to make it!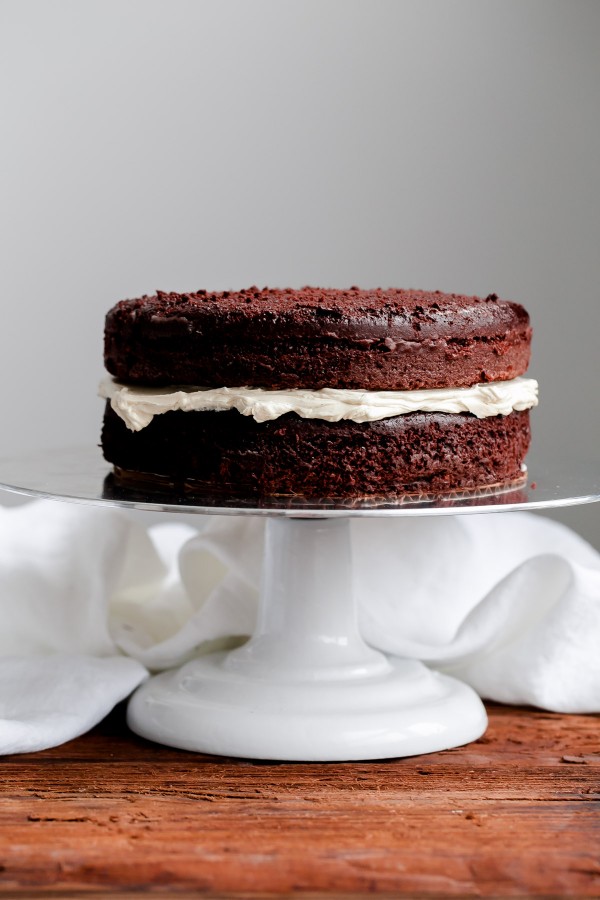 For starters, I love, love, love tea (my English roots) – particularly earl grey – so the flavors were immediately up my alley. If you're not familiar with the drink, a London Fog is basically a tea latte. Strangely enough, I'd never had one before I made this cake!
And it doesn't stop there…
This London fog cake consists of three-layers of chocolate cake (the batter uses both freshly brewed coffee and oil, which keeps it extra moist!). It is then filled with an earl grey infused swiss meringue buttercream (YES), and finally topped with a generous layer of homemade salted caramel.
See those little specks in the frosting below? You also put some vanilla bean paste in the buttercream. It's basically a dream come true.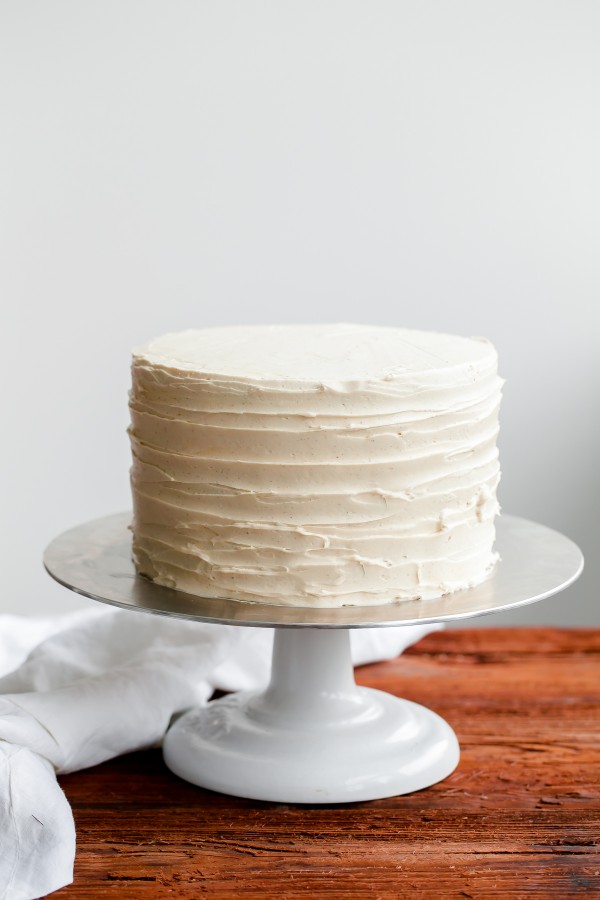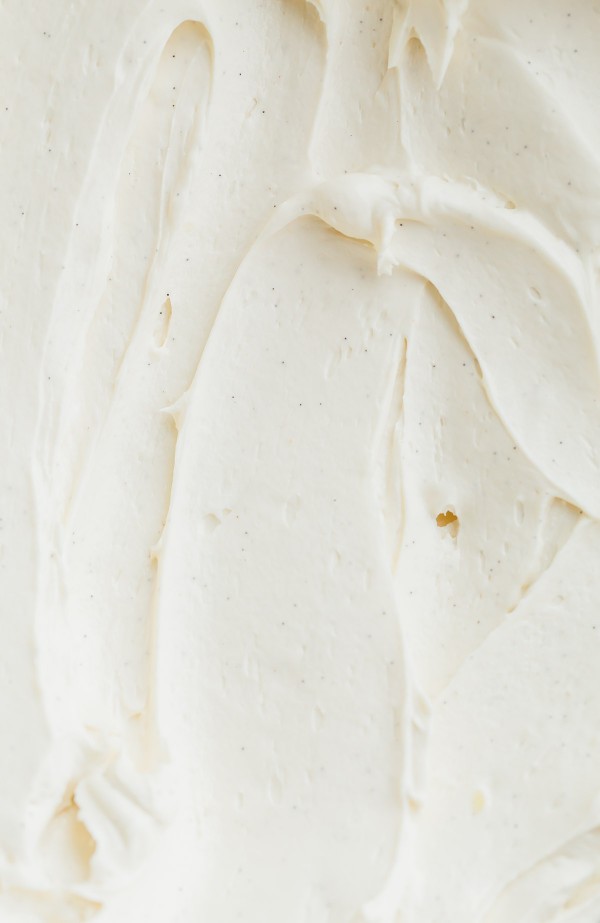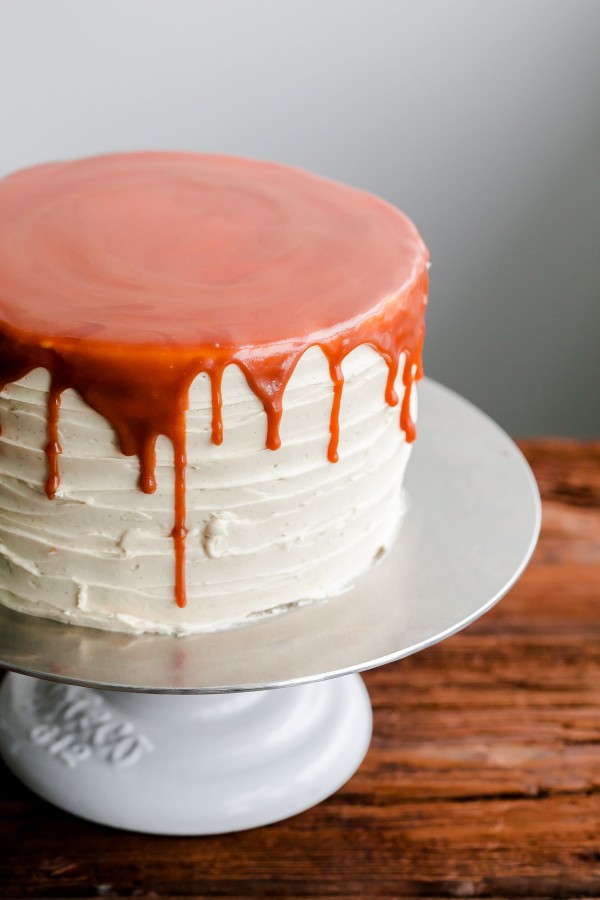 This cake truly blew me away! As I've told you guys on multiple occasions, I'm way more of a fruit dessert person (crisps, pies, etc.) than a cake person – so the fact that I could not stop eating this cake says a lot. The earl grey buttercream had a very distinct, yet not at all overpowering flavor – and the salted caramel took it over the top. I can't wait to make it again.
It also stored incredibly well. I actually baked the cake layers two days before I assembled it, and the cake still tasted great four or five days later.
If you are intimidated by layer cakes (I promise, it's not as complicated as it appears!), I highly recommend preparing this cake in stages. You can make and prepare the salted caramel days (or up to 2 weeks!) in advance, and the cake layers can be baked ahead of time as well.
Just remember to allow the cakes to cool completely and then individually double-wrap them in plastic wrap for storing in the fridge (you could also freeze and defrost them).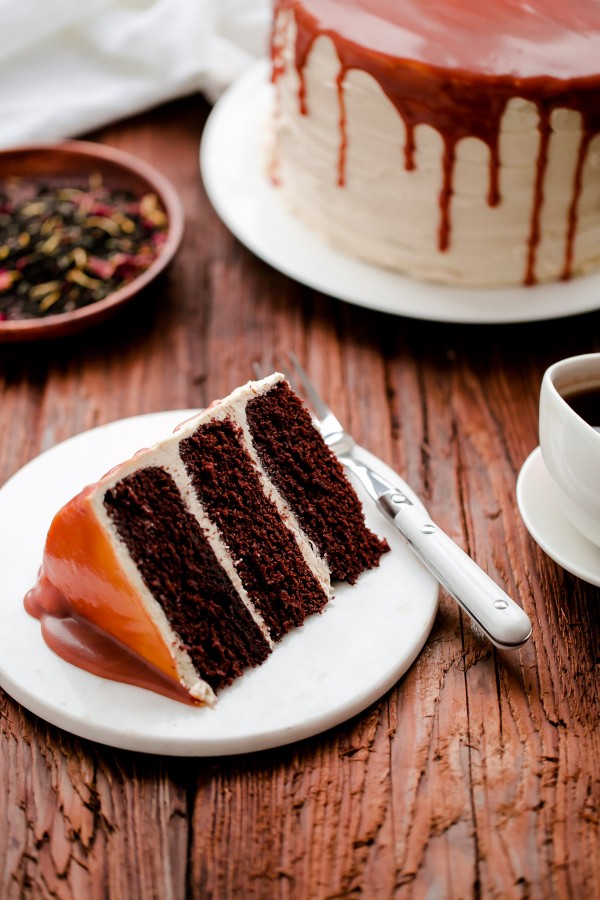 I highly, highly recommend picking up a copy of Tessa's cookbook, especially if you've wanted to improve your cake decorating or baking skills!
It is such a wealth of information – and beautifully organized – and truly one of the most comprehensive cake baking cookbooks I've ever come across. Here's to many more cake baking adventures in the future!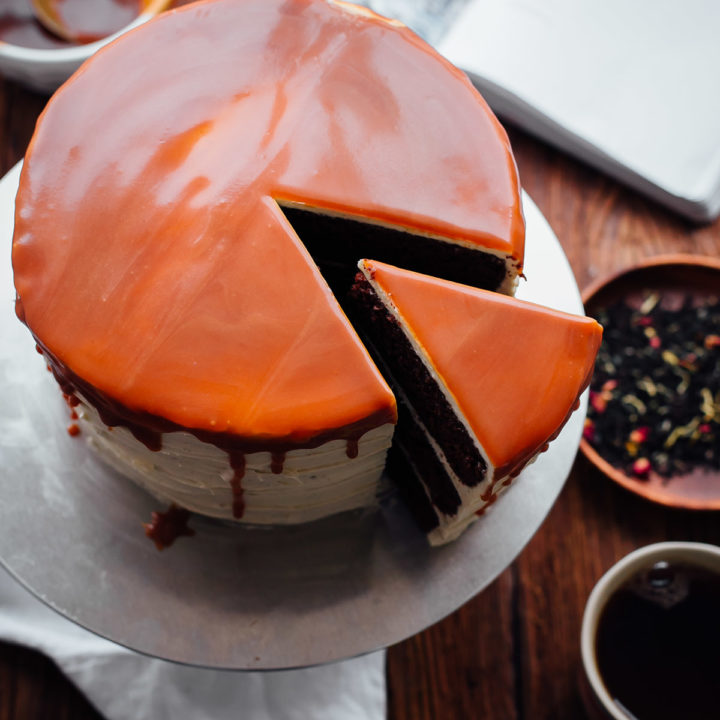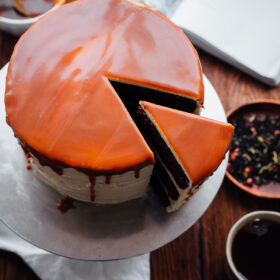 London Fog Cake with Earl Grey Buttercream
London Fog Cake from Tessa Huff's Layered cookbook. A moist, decadent chocolate layer cake filled with a earl grey Swiss Meringue buttercream and topped with homemade salted caramel! This stunning and flavorful cake is perfect for special occasions!
Ingredients
For the Cake Pans:
butter or nonstick cooking spray for greasing
unbleached all-purpose flour for dusting
Classic Chocolate Cake:
2½ cups (315g) unbleached all-purpose flour
1 cup (95g) unsweetened non-alkalized cocoa powder
2½ teaspoons baking powder
¾ teaspoon baking soda
1 teaspoon Diamond Crystal kosher salt
½ cup + 2 tablespoons (150 mL) canola or vegetable oil
2 cups (400g) granulated sugar
2 large eggs room temperature
1 large egg yolk room temperature
2 teaspoons pure vanilla extract
½ teaspoon pure almond extract
1½ cups (360 mL) whole milk room temperature
1 cup (240 mL) hot strong-brewed coffee
Salted Caramel Sauce:
¾ cup (150g) granulated sugar
2 tablespoons (30 mL) light corn syrup
½ cup (120 mL) heavy cream room temperature
2 tablespoons (30g) unsalted butter diced
¾ teaspoon Diamond Crystal kosher salt
1 teaspoon pure vanilla extract
Earl Grey Buttercream:
2 cups (16 oz; 450g; 4 sticks) unsalted butter room temperature
¼ cup (12g) loose Earl Grey tea leaves
½ cup + 2 tablespoons (150 mL) large egg whites
1¼ cups (250g) granulated sugar
1½ teaspoons vanilla bean paste
Instructions
Prepare the Cake:
Preheat the oven to 350°F (175°C) with a rack in the center position. Grease and flour three 8-inch (20-cm) cake pans and set aside (*see the note section for tips if you do not own three pans).

Sift together the flour, cocoa powder, baking powder, baking soda, and salt and set aside .

In a bowl of a stand mixer fitted with a paddle attachment, beat together the oil and sugar on medium speed for 2 minutes. With the mixer on, add the eggs, egg yolk, vanilla, and almond extract. Stop the mixer and scrape down the bowl.

Turn the mixer to low and add the flour mixture in three batches, alternating with the milk, beginning and ending with the flour mixture. Stop the mixer and scrape down the bowl. With the mixer on low, stream in the coffee. Mix on medium-low for no more than 30 seconds, or until combined.

Evenly divide the batter (*see recipe notes for tips on how to do this!) among the prepared pans. Bake for 23 to 25 minutes, or until a toothpick inserted into the center of the cake comes out clean. Let them cool on a wire rack for 10 to 15 minutes before removing the cakes from their pans. Allow to cool completely.
Prepare the Salted Caramel:
Place the sugar, corn syrup, and 2 tablespoons water in a heavy-bottomed small or medium saucepan. Stir to combine.

Heat over high heat, occasionally swirling the pan, until it turns a medium golden amber color, 8 to 10 minutes. The sugar mixture will begin to rapidly boil before slowing down and darkening in color. Remove the saucepan from the heat once the correct color is reached and the bubbles start to subside.

Slowly and very carefully whisk in the room temperature cream. The mixture will foam up and sputter, so stand clear and keep stirring.

Add the butter and continue to stir until melted. Add the salt and vanilla and stir to combine. Pour the caramel into a heat-safe container and let it cool until it reaches the desired consistency or refrigerate it until ready to use. It will thicken as it cools.

The caramel should be room temperature for cake assembly, but any leftover caramel can be stored in an air-tight glass jar in the refrigerator for up to 10 days.
Earl Grey Buttercream:
Place 2 sticks (1 cup;225 grams) of the butter in a saucepan with the loose tea. Heat over medium heat until the butter melts, then reduce the heat to low and simmer for 5 minutes. Remove from the heat and let the tea steep for 5 minutes more. Strain the butter through a fine-meshed sieve set over a bowl and refrigerate it until it reaches the same consistency as softened butter, 20 to 30 minutes. Small bits of tea may remain in the butter.

Place the egg whites and sugar in the bowl of a stand mixer. Whisk them together by hand to combine. Fill a medium saucepan with a few inches of water and place it over medium-high heat. Place the mixer bowl on top of the saucepan to create a double boiler. The bottom of the bowl should not touch the water. Whisking intermittently, heat the egg mixture until it reaches 160°F (70°C) on a candy thermometer or is hot to the touch. Carefully fit the mixer bowl onto the stand mixer.

With the whisk attachment, beat the egg white mixture on high speed for 8 to 10 minutes, until it holds medium stiff peaks. When done, the outside of the mixer bowl should return to room temperature and no residual heat should be escaping from the meringue out of the top of the bowl. Stop the mixer and swap out the whisk attachment for the paddle.

With the mixer on low speed, add the vanilla, tea infused butter, and remaining 2 sticks (1 cup; 225 grams) butter, a couple tablespoons at a time. Once incorporated, turn the mixer to medium high and beat until the buttercream is silky smooth, 3 to 5 minutes.
Assemble the Cake:
Once the cakes have completely cooled, level them and choose which layer will be the bottom (tip: pick the sturdiest layer). Place it on a cake plate, turning table, or serving dish. Spread on ½ cup (120 mL) of the buttercream with an offset spatula. Top with the next layer of cake and repeat, ending with the third layer (tip: pick a level, attractive layer for the top). Frost the cake with the remaining buttercream and refrigerate it until set, 15 to 20 minutes.

Pour the caramel onto the top of the cake, letting it drip over the edges. Begin by adding ½ cup (120 ml) of caramel to the center of the cake and then smooth it out with an offset spatula. Add more caramel as necessary until desired look is achieved.

The cake will keep in the fridge for up to 4 days; it may also be frozen. Store any remaining caramel sauce separately in the fridge for up to 2 weeks.
Equipment Note: 
If you do not own three cake pan (I only own two), you can bake two layers at a time – and finish with one final layer. The batter will hold. Wash and cool the cake pan before using again with the remaining batter.
Tips for Success:
To make very even, flat cake layers, I like to use these cake strips, which prevent most doming .
To Ensure Even Cake Layers: I recommend weighing your empty stand mixer bowl in grams before you start baking this cake. Note the weight on a piece of paper. Weigh the final, prepared cake batter (in the bowl) and subtract the weight of the empty stand mixer bowl. This is the total batter weight. Divide this number by three. This final number is the weight of batter you want in each cake pan before it goes into the oven.
Reprinted with permission from Layered: Baking, Building, and Styling Spectacular Cakes by Tessa Huff.
Serving: 1serving, Calories: 635kcal, Carbohydrates: 62g, Protein: 5g, Fat: 42g, Saturated Fat: 24g, Polyunsaturated Fat: 15g, Cholesterol: 163mg, Sodium: 450mg, Fiber: 1g, Sugar: 54g
This post contains affiliate links, which means that I make a small commission off items you purchase at no additional cost to you. Please read my
privacy policy
for more information.