London Fog Cake with Earl Grey Buttercream
London Fog Cake from Tessa Huff's Layered cookbook. Moist, decadent chocolate layer cake filled with earl grey buttercream and topped with homemade salted caramel!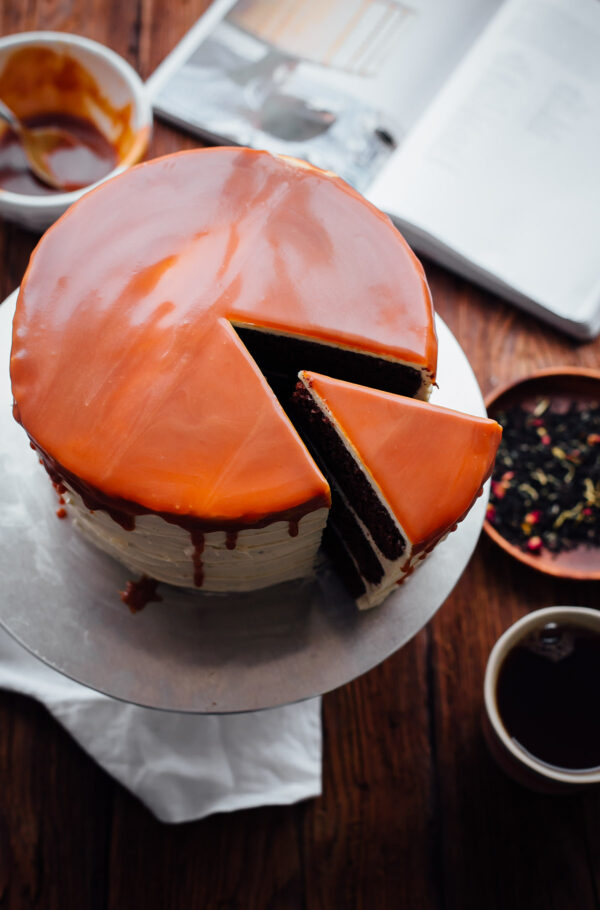 I know I use this word a lot, but I'm in love with this cake. Both the cake and its name. London fog cake. So dreamy and romantic, right? This cake unequivocally lives up to each of those standards.
In fact, I was so in love with this cake that I didn't trust myself around it at all. I had to give most of it away to friends. Otherwise, I might have slowly consumed the entire thing by myself. The words 'everything in moderation' and 'three layer 8-inch chocolate cake' aren't mutually compatible in a household of two, as much as I would like to pretend that they are.
So, here's the deal. I can't take credit for this cake. I mean, I happily baked, photographed, and ate it, but that's about it. The recipe is from my friend Tessa Huff's incredibly impressive new cookbook, Layered, which comes out tomorrow! 
Tessa is the former bakery owner, talented baker, and writer behind Sweet Style CA, a blog dedicated to cakes and pastries. She makes some of the prettiest, most impressive cakes on the internets (you've probably come across a link to her blog in The Sunday Thymes!). I've admired her work for a long time!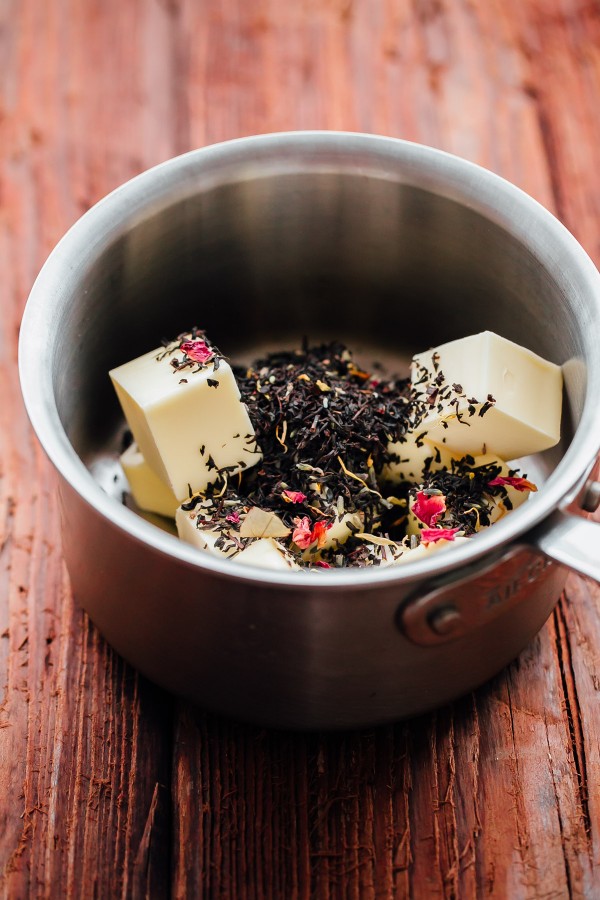 Layered, is all about baking, building, and styling spectacular cakes from start to finish. Everything from two layer cakes to six layer cakes, and everything in between. It is perfect for beginners looking to get their feet wet, as well as more experienced bakers.
So, I was incredibly honored and excited when Tessa reached out and asked if I would be interested in sharing a recipe from the book with you guys! Excited and slightly nervous.
Excited, because it meant that I finally had an excuse to bake that fancy layer cake that I've been dying to make. Nervous, well, because she sets a high bar and I don't really consider myself an experienced cake decorator by any means. It's not the baking that intimidates me, it's the assembly. I can decorate as many cupcakes as you put in front of me, but layer cakes? Smooth sides, leveling, and super even layers?! Hi, I'm scared.
Thankfully, Tessa removes all anxiety and intimidation from the equation with her incredible step-by-step instructions and photos, as well as comprehensive recipes and tips. The recipes are detailed and thorough, and incredibly easy to follow! I can't tell you how excited I am to bake more cakes from this book.
The cookbook itself has more than 150 recipes! There is everything from classics to cakes infused with riesling or pink peppercorns, and the book inspires you to mix and match various frostings and cake recipes together to make your own masterpiece. Today's London Fog Cake with Earl Grey Buttercream stood out immediately, and I knew I had to make it!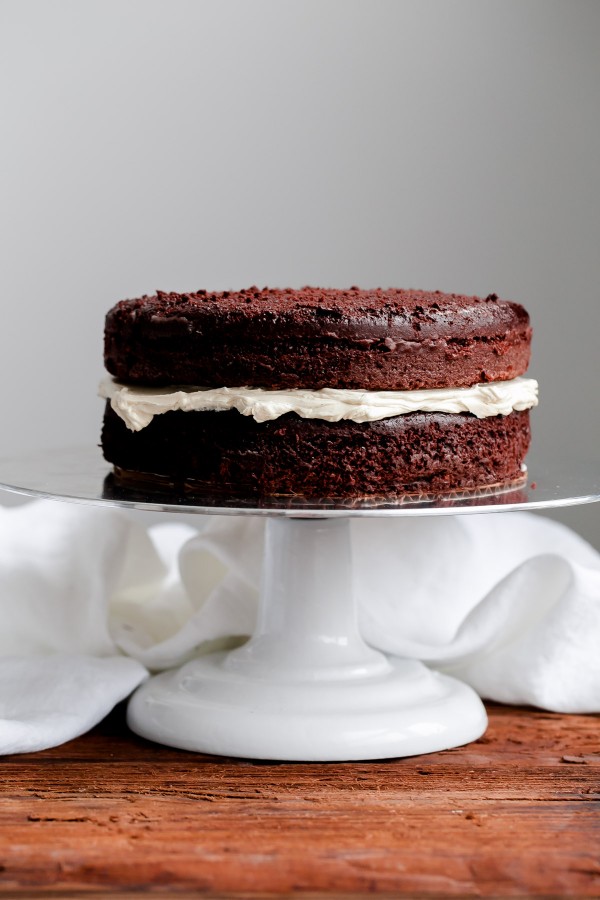 For starters, I love, love, love tea (my English roots) – particularly earl grey – so the flavors were immediately up my alley. If you're not familiar with the drink, a London Fog is basically a tea latte. Strangely enough, I'd never had one before I  made this cake!
And it doesn't stop there…
This London fog cake consists of three-layers of chocolate cake (the batter uses both freshly brewed coffee and oil, which keeps it extra moist!). It is then filled with an earl grey infused swiss meringue buttercream (YES), and finally topped with a generous layer of homemade salted caramel.
See those little specks in the frosting below? You also put some vanilla bean paste in the buttercream. It's basically a dream come true.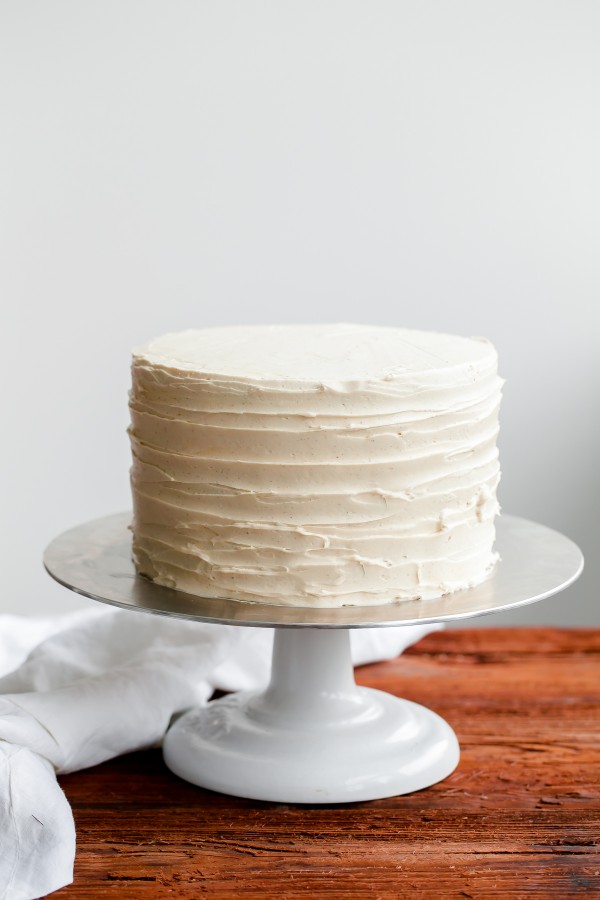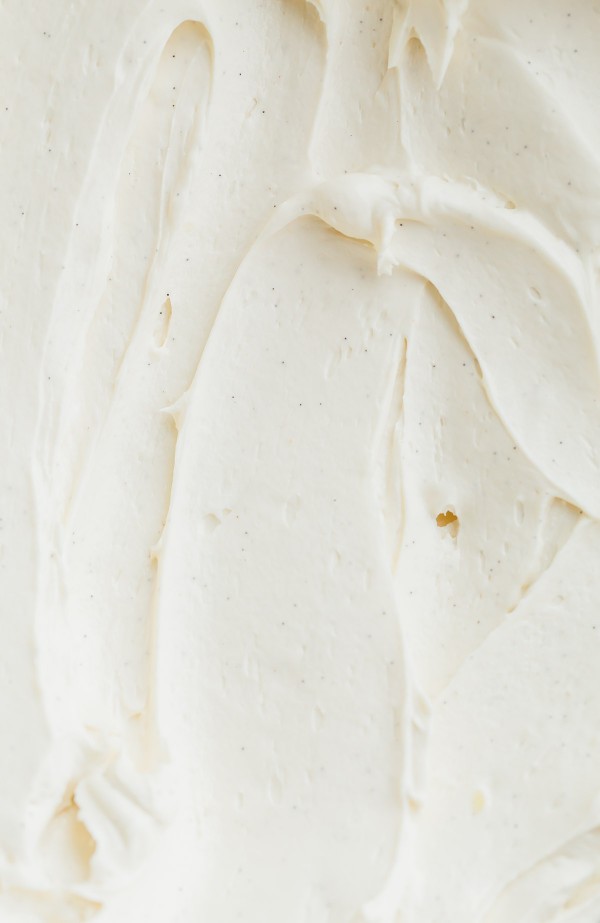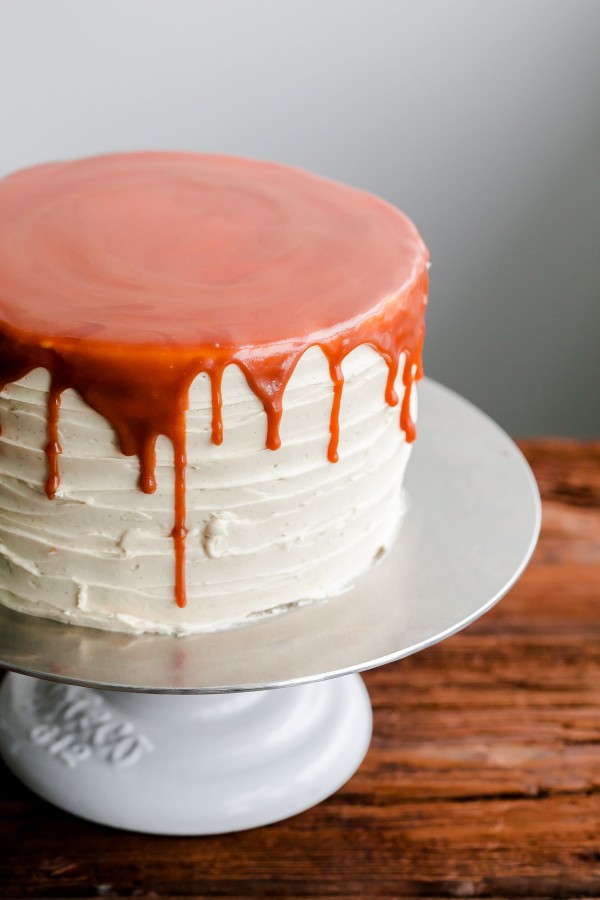 This cake truly blew me away! As I've told you guys on multiple occasions, I'm way more of a fruit dessert person (crisps, pies, etc.) than a cake person – so the fact that I could not stop eating this cake says a lot. The earl grey buttercream had a very distinct, yet not at all overpowering flavor – and the salted caramel took it over the top. I can't wait to make it again.
It also stored incredibly well. I actually baked the cake layers two days before I assembled it, and the cake still tasted great four or five days later.
If you are intimidated by layer cakes (I promise, it's not as complicated as it appears!), I highly recommend preparing this cake in stages. You can make and prepare the salted caramel days (or up to 2 weeks!) in advance, and the cake layers can be baked ahead of time as well.
Just remember to allow the cakes to cool completely and then individually double-wrap them in plastic wrap for storing in the fridge (you could also freeze and defrost them).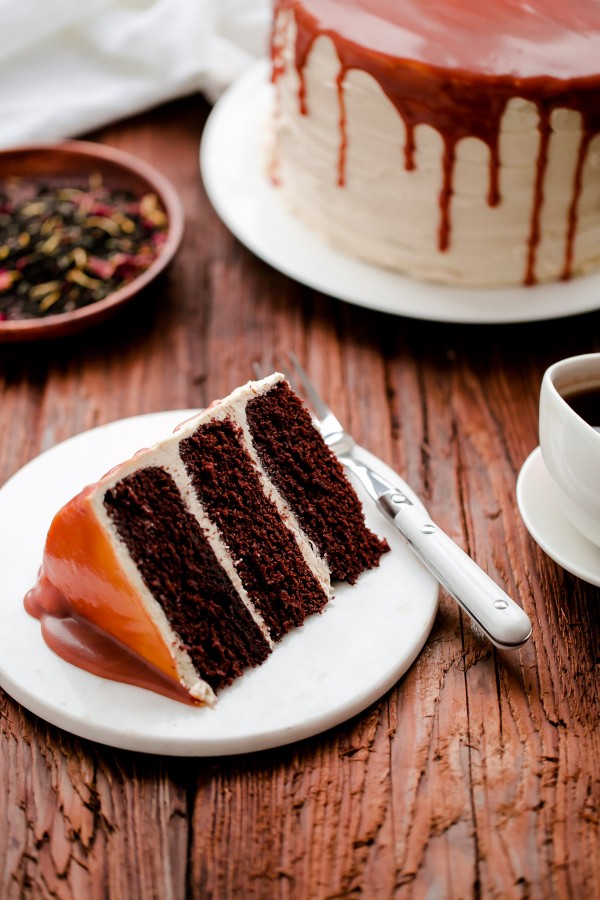 I highly, highly recommend picking up a copy of Tessa's cookbook, especially if you've wanted to improve your cake decorating or baking skills!
It is such a wealth of information – and beautifully organized – and truly one of the most comprehensive cake baking cookbooks I've ever come across. Here's to many more cake baking adventures in the future!
Products Used for this recipe:
(may include affiliate links)