Middle Eastern Roast Chicken with Vegetables
Flavorful roast chicken rubbed with a homemade Middle Eastern spice blend and roasted alongside vegetables and potatoes. This one-pot dinner is packed with flavor!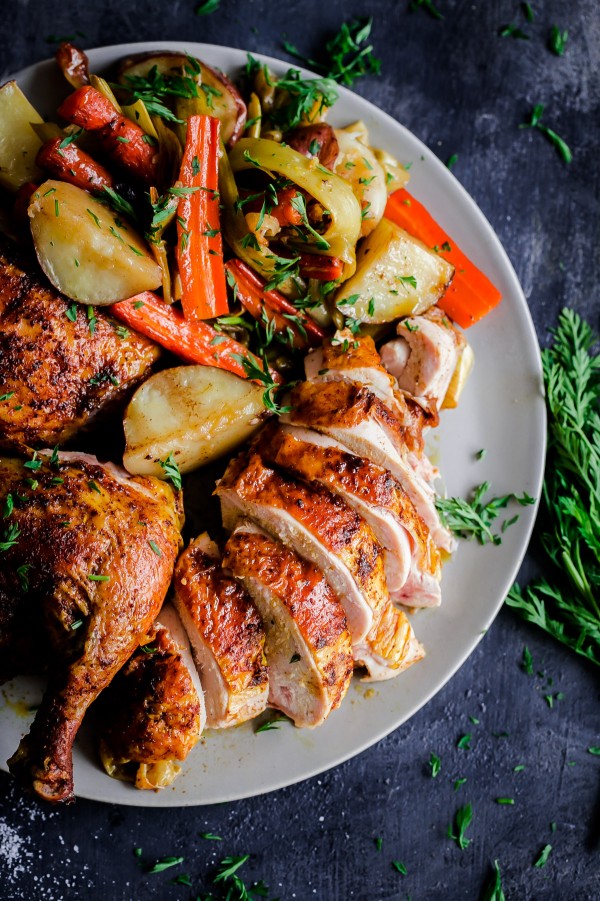 I'm back! I'm back! This post is more delayed than I initially intended. Yikes. We just adopted a new furry friend, who has unequivocally (and self-admittedly) captured all of my attention and love these past few days. I'll do a formal introduction soon, promise.
First. Spatchcocked chicken! I told you guys all about how to spatchcock a chicken on Friday. It didn't take long, because it really is that easy. It has easily become my new (most favorite) way to roast a whole chicken.
It is just one of those techniques that you try and wonder why you haven't been doing forever, you know? Saves time and produces even better results. What's not to like, right?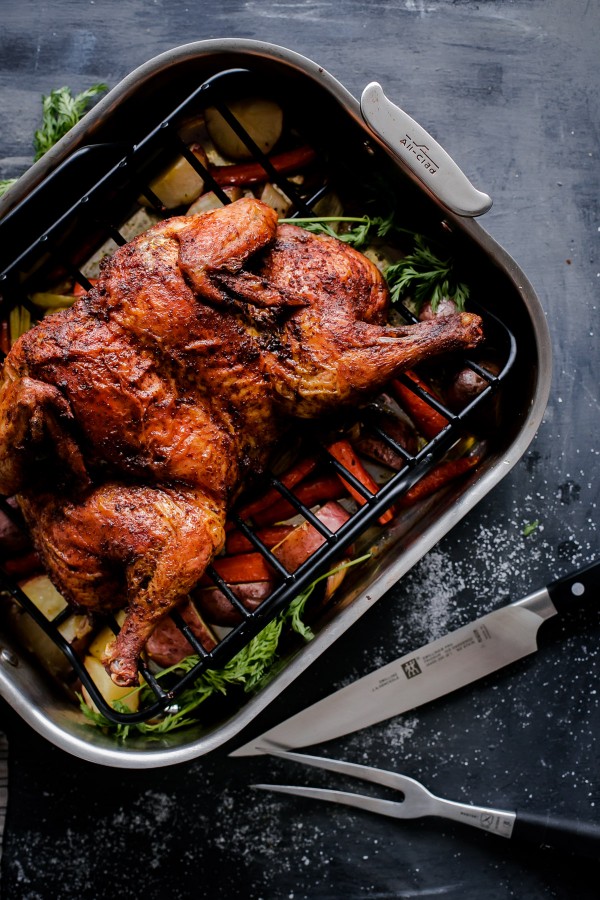 Truthfully, you could spatchcock a chicken, rub some olive oil on it, season it liberally with kosher salt and pepper, stick it in the oven, and stop right there. I'm a big fan of seriously simple roast chickens. But I'm an even bigger fan of this Middle Eastern spatchcocked roast chicken complete with roast potatoes, caramelized leeks, and carrots.
It's one of those dinners that just takes care of itself. Everything comes together in one roasting pan with minimal clean up and effort.
Add a side salad (or loaf of crusty, good-quality bread) and you're good to go.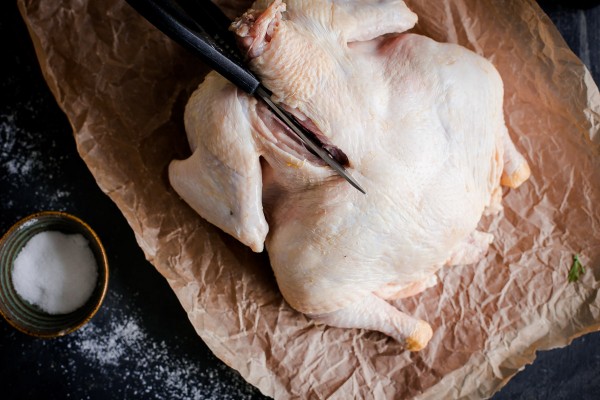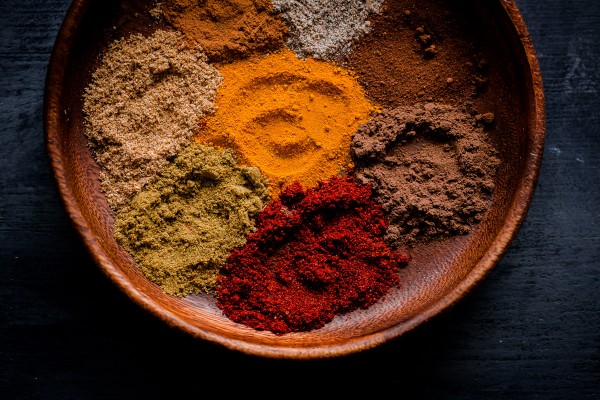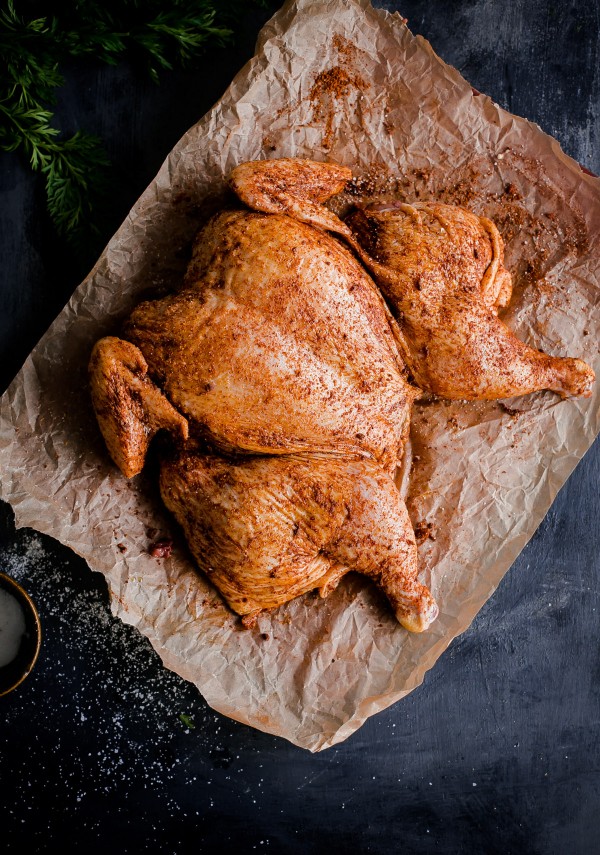 The trick to this recipe is the spice rub. This Middle Eastern spice rub is everything. It's delicate, warm, and incredibly tasty – and was inspired and adapted from this cookbook.
It does require quite a few spices (nine in total!), but these are everyday spices that I (and most likely you) keep on hand already. Ground cumin, coriander, cinnamon, nutmeg, cardamom, paprika, allspice, cloves, and turmeric.
Nothing too complicated or difficult to find.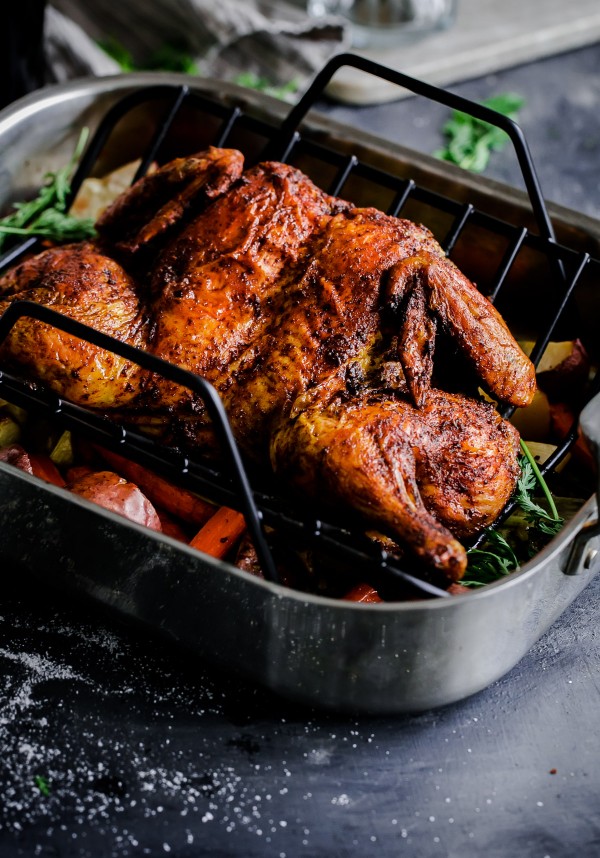 I've literally been putting a version of this spice mixture on almost everything that comes out of my kitchen lately. The recipe below makes just enough for this roast chicken recipe, but I highly recommend making a double, triple, or quadruple batch of it.
I keep a little bag of it in my spice drawer for roast vegetables, chicken, and all sorts of things. I also made a version of these chicken pitas with simple, grilled chicken breasts (sprinkled with this rub) – and it was perfection. It's incredibly versatile, and is such an easy way to add depth of flavor to all sorts of dishes.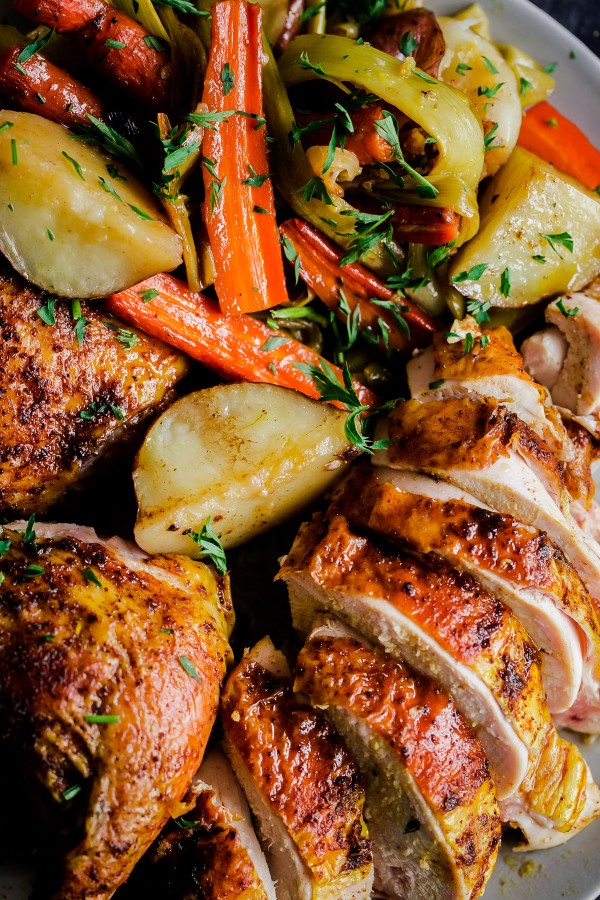 Tender leeks, carrots, and red potatoes are tossed in the bottom of the roasting pan to make the meal even more complete. I don't even peel the carrots. Just a little bit of a scrub under the sink, and they're good to go. The vegetables and potatoes become perfectly tender in the amount of time it takes to roast the chicken (this recipe calls for a 4.5 to 5 lb bird – if you use a smaller chicken, simply cut the potatoes or carrots into smaller or pieces).
Lastly, I remove the roasting rack with the chicken, and allow the vegetables to finish roasting and caramelizing as the chicken rests. The leeks become silky and soft, the potatoes are creamy and tender, and the carrots are sweet and concentrated. Doesn't get better than that, right? Dinner is served.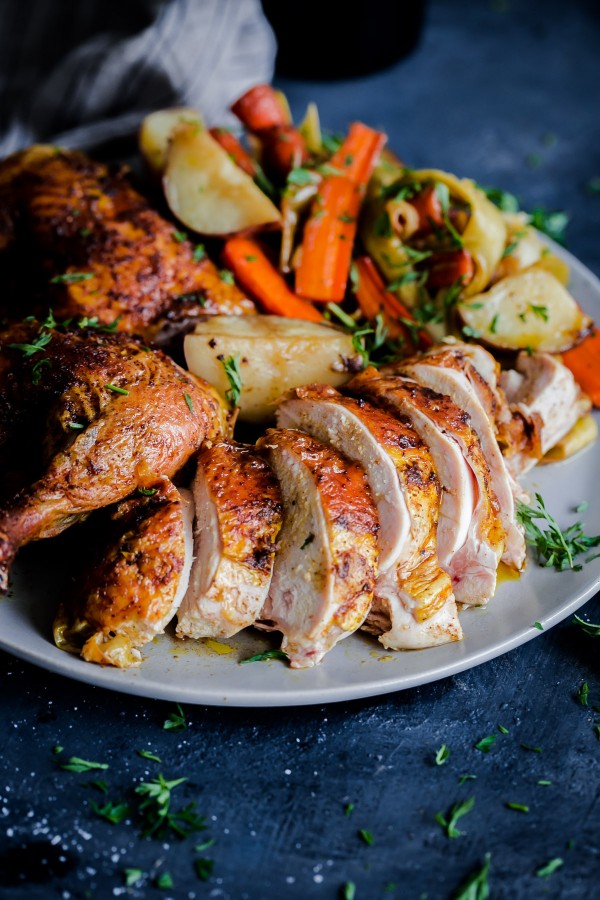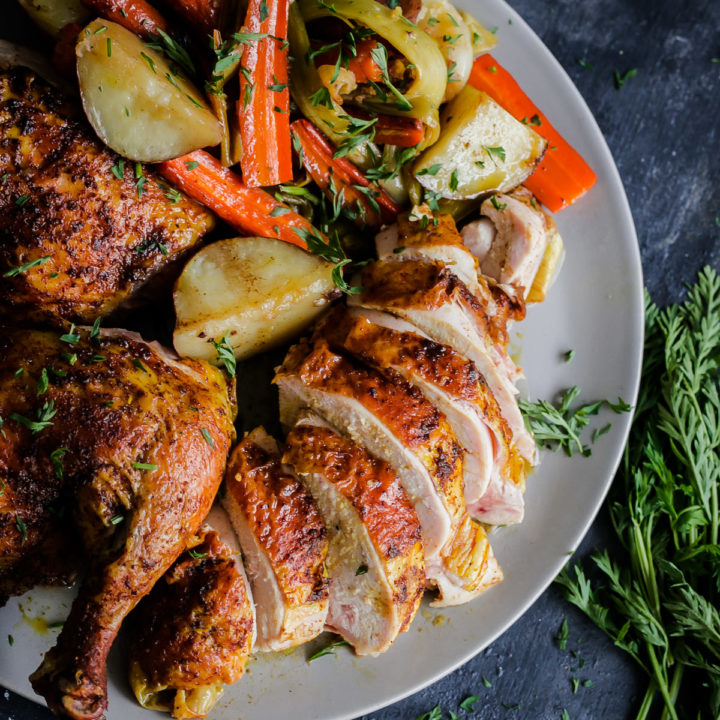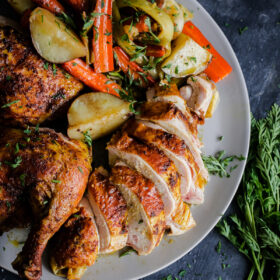 Middle Eastern Roast Chicken
Flavorful roast chicken rubbed with a homemade Middle Eastern spice blend and roasted alongside vegetables and potatoes. This one-pot dinner is packed with flavor! 
Ingredients
Middle Eastern Spice Rub:
½ teaspoon ground sweet paprika
½ teaspoon ground cumin
½ teaspoon ground coriander
½ teaspoon ground allspice
¼ teaspoon ground cinnamon
¼ teaspoon ground nutmeg
¼ teaspoon ground cloves
¼ teaspoon ground cardamom
¼ teaspoon ground turmeric
Roast Chicken and Vegetables:
1 (4½-5 lb) organic whole chicken, without giblets see recipe notes
extra virgin olive oil for brushing
1 batch of Middle Eastern spice blend see recipe above
kosher salt
freshly ground black pepper
3 medium red potatoes quartered (roughly 1 lb)
4-5 medium carrots scrubbed well, sliced lengthwise, and cut into 3-4 inch pieces (roughly ½ lb)
2 medium leeks, white and light green parts only sliced lengthwise in half
¾ cup (180 mL) low-sodium chicken broth plus more if needed
Instructions
Preheat the oven to 425°F (220°C) with a rack in the center position. Combine the spice blend ingredients in a small bowl and set aside.

Remove the chicken from its packaging and pat dry with paper towels. Spatchock the chicken using this guide. Place the chicken, skin side up, on a large cutting board. Drizzle the chicken with olive oil and rub on the skin. Sprinkle and rub the Middle Eastern spice blend (reserving 1 teaspoon for the vegetable mixture) over the chicken and season it liberally on both sides with salt and pepper. Note: It is best to remove the chicken from the fridge at least 1 hour before roasting, this will help produce crispier skin.

Combine the vegetables in a small to medium roasting pan. Drizzle them lightly with olive oil and sprinkle with the remaining teaspoon of the spice blend. Pour the chicken broth over the vegetables, and spread the vegetables and potatoes into an even layer. Set a roasting rack on top of the vegetables, and place the spice-rubbed chicken, skin-side up, on the rack. It should lay mostly flat.

Roast until the skin is crispy and golden brown, and the thickest part of the breasts and legs read 157°F (70°C) with an instant thermometer. The temperature will increase 8°F to 10°F as the chicken rests.

Carefully remove the roasting rack with the chicken and set on top of a large, clean cutting board. Stir the vegetables and place the roasting pan back in the oven to roast for an additional 12 to 15 minutes as the chicken rests or until caramelized and fork tender. Note: If the pan looks too dry, add an additional ¼ cup (60 mL) to ½ cup (120 mL) of chicken broth before putting back in the oven.

Once the vegetables are nearly done roasting, carve the chicken. Using a sharp carving knife, remove the legs. Using the breastbone as a guide, remove each chicken breast from the bone. Slice each breast against the grain into ½-inch to ¾ inch-thick pieces. Serve hot with the warm roasted vegetables on the side.
Spice mixture inspired and heavily adapted from
An Edible Mosaic
by Faith Gorsky.
Serving: 1serving, Calories: 372kcal, Carbohydrates: 25g, Protein: 31g, Fat: 16g, Saturated Fat: 4g, Polyunsaturated Fat: 11g, Cholesterol: 88mg, Sodium: 322mg, Fiber: 4g, Sugar: 3g
This post contains affiliate links, which means that I make a small commission off items you purchase at no additional cost to you. Please read my
privacy policy
for more information.