Middle Eastern Roast Chicken with Vegetables
Middle Eastern Roast Chicken – a flavorful middle eastern spice rubbed roast chicken served alongside roasted vegetables.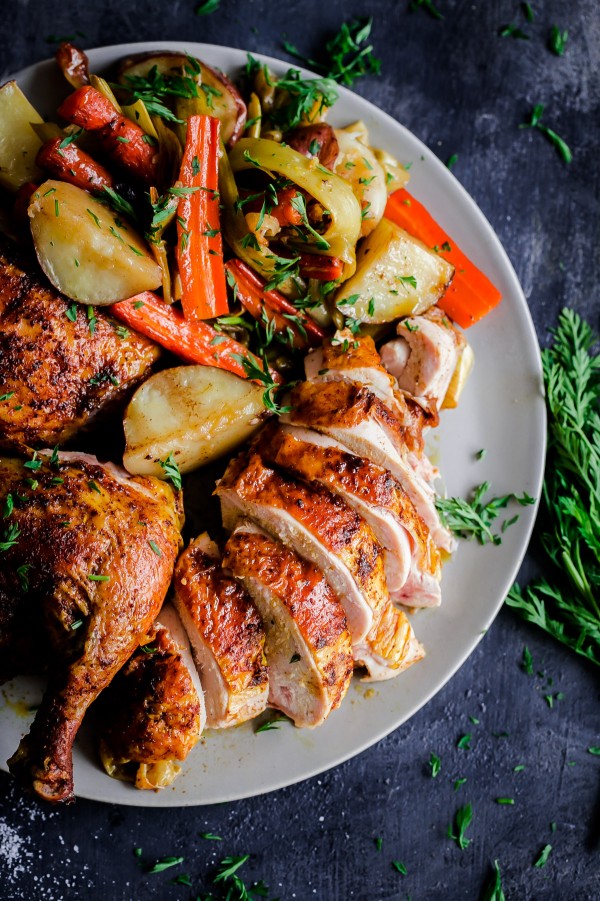 I'm back! I'm back! This post is more delayed than I initially intended. Yikes. We just adopted a new furry friend, who has unequivocally (and self-admittedly) captured all of my attention and love these past few days. I'll do a formal introduction soon, promise.
First. Spatchcocked chicken! I told you guys all about how to spatchcock a chicken on Friday. It didn't take long, because it really is that easy. It has easily become my new (most favorite) way to roast a whole chicken.
It is just one of those techniques that you try and wonder why you haven't been doing forever, you know? Saves time and produces even better results. What's not to like, right?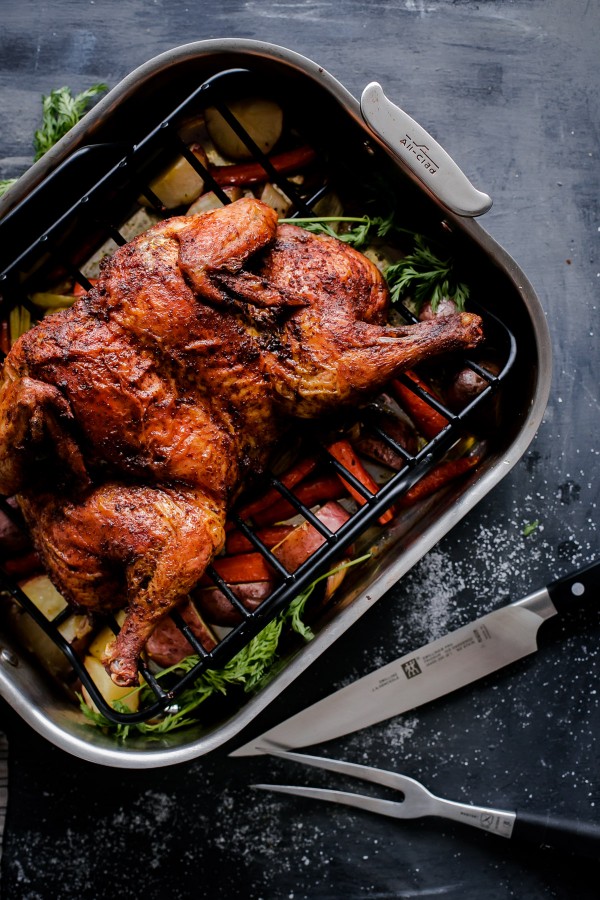 Truthfully, you could spatchcock a chicken, rub some olive oil on it, season it liberally with kosher salt and pepper, stick it in the oven, and stop right there. I'm a big fan of seriously simple roast chickens. But I'm an even bigger fan of this Middle Eastern spatchcocked roast chicken complete with roast potatoes, caramelized leeks, and carrots.
It's one of those dinners that just takes care of itself. Everything comes together in one roasting pan with minimal clean up and effort.
Add a side salad (or loaf of crusty, good-quality bread) and you're good to go.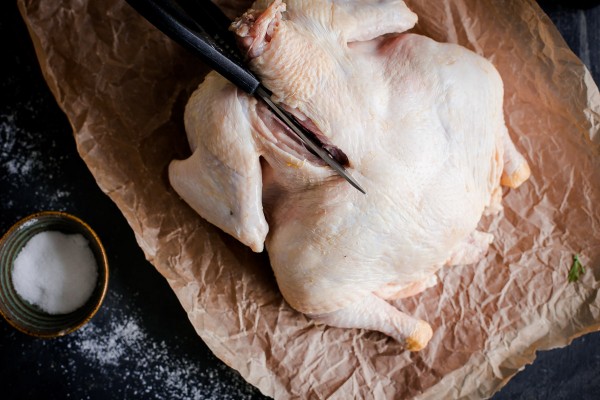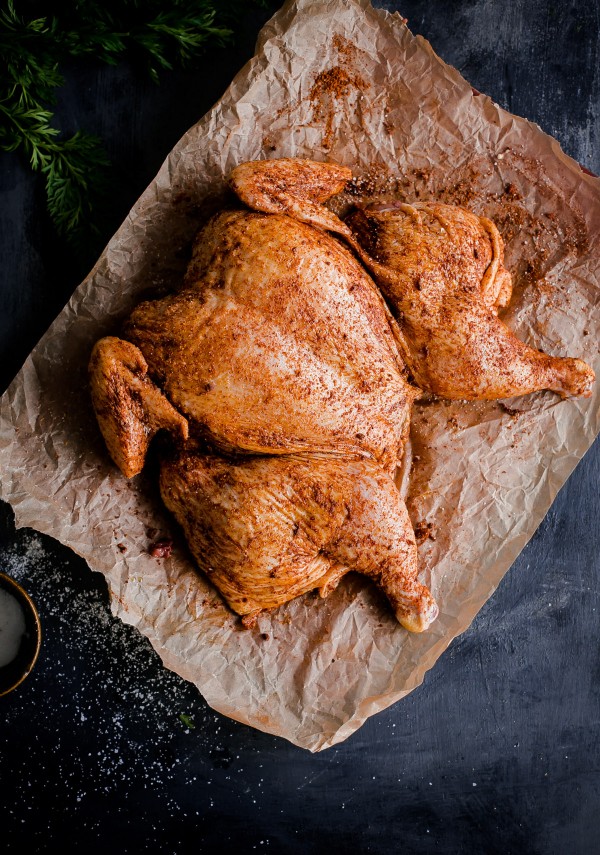 The trick to this recipe is the spice rub. This Middle Eastern spice rub is everything.  It's delicate, warm, and incredibly tasty – and was inspired and adapted from this cookbook.
It does require quite a few spices (nine in total!), but these are everyday spices that I (and most likely you) keep on hand already. Ground cumin, coriander, cinnamon, nutmeg, cardamom, paprika, allspice, cloves, and turmeric.
Nothing too complicated or difficult to find.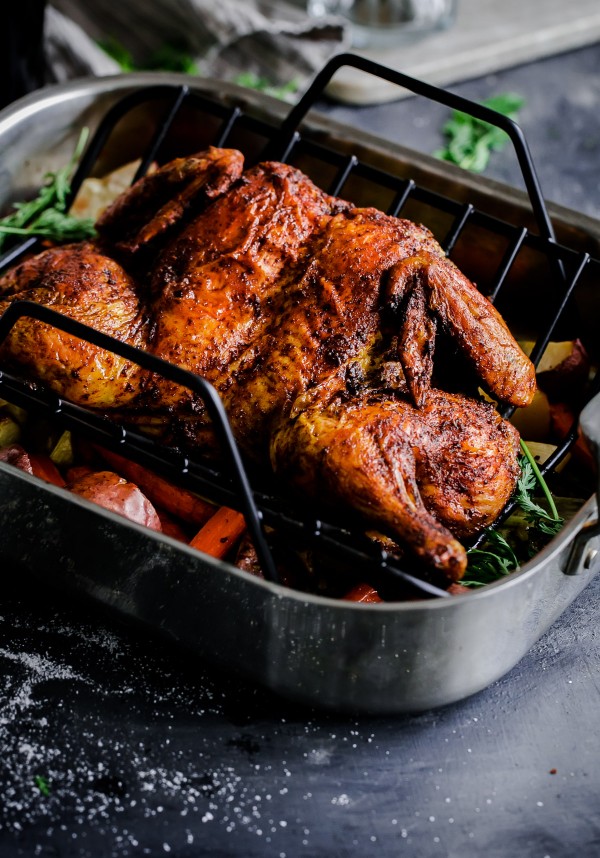 I've literally been putting a version of this spice mixture on almost everything that comes out of my kitchen lately. The recipe below makes just enough for this roast chicken recipe, but I highly recommend making a double, triple, or quadruple batch of it.
I keep a little bag of it in my spice drawer for roast vegetables, chicken, and all sorts of things. I also made a version of these chicken pitas with simple, grilled chicken breasts (sprinkled with this rub) – and it was perfection. It's incredibly versatile, and is such an easy way to add depth of flavor to all sorts of dishes.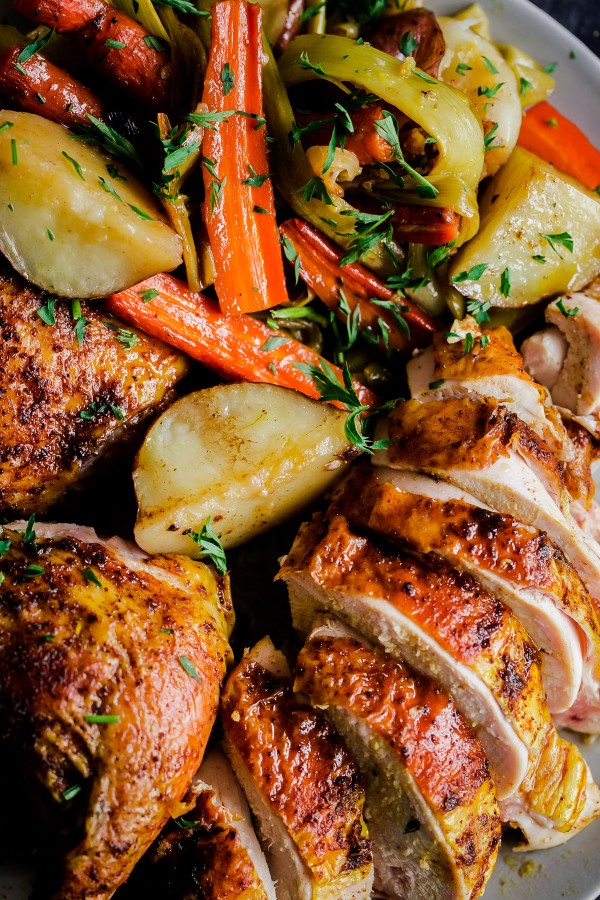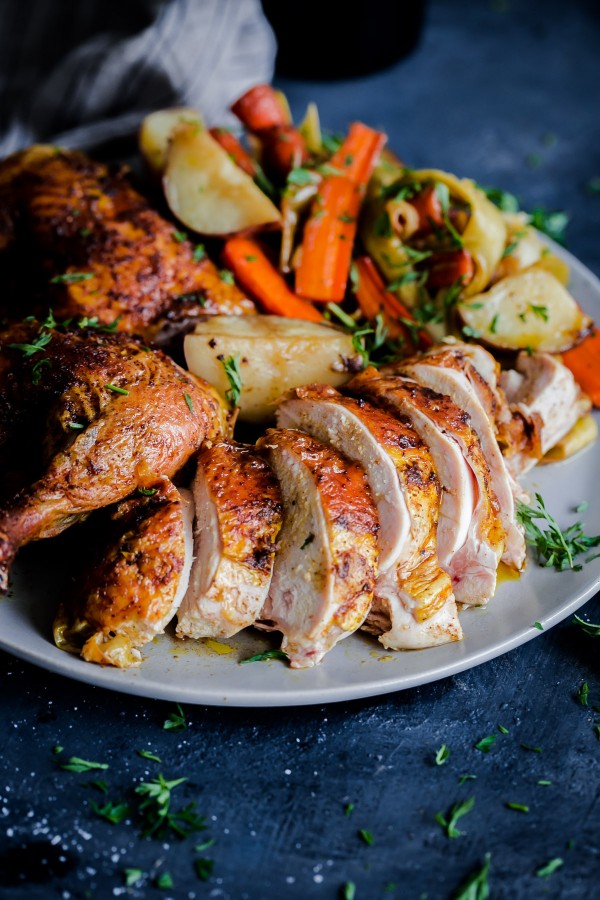 Tender leeks, carrots, and red potatoes are tossed in the bottom of the roasting pan to make the meal even more complete. I don't even peel the carrots. Just a little bit of a scrub under the sink, and they're good to go. The vegetables and potatoes become perfectly tender in the amount of time it takes to roast the chicken (this recipe calls for a 4.5 to 5 lb bird – if you use a smaller chicken, simply cut the potatoes or carrots into smaller or pieces).
Lastly, I remove the roasting rack with the chicken, and allow the vegetables to finish roasting and caramelizing as the chicken rests. The leeks become silky and soft, the potatoes are creamy and tender, and the carrots are sweet and concentrated. Doesn't get better than that, right? Dinner is served.
[P.S. If you're looking for ways to use up leftover ground cardamom, you should definitely make this bundt cake, this other cake, these beignets, this ice cream, or these baked doughnuts. I love cardamom.]
Products Used for this recipe:
(may include affiliate links)