Easy Lemon Tahini Sauce
This easy lemon tahini sauce is made with just two ingredients and is the perfect accompaniment to grilled vegetables, chicken, meat, seafood, or greens. You can even thin it down and use it as a salad dressing. Naturally vegan, gluten free, and dairy free.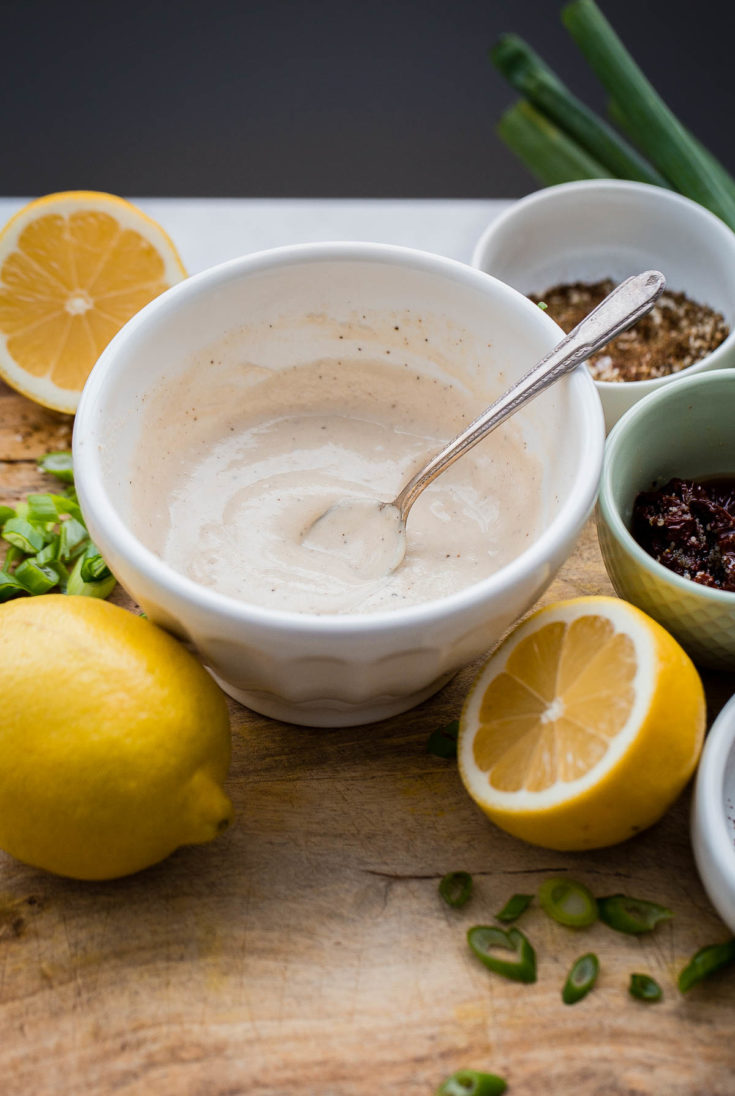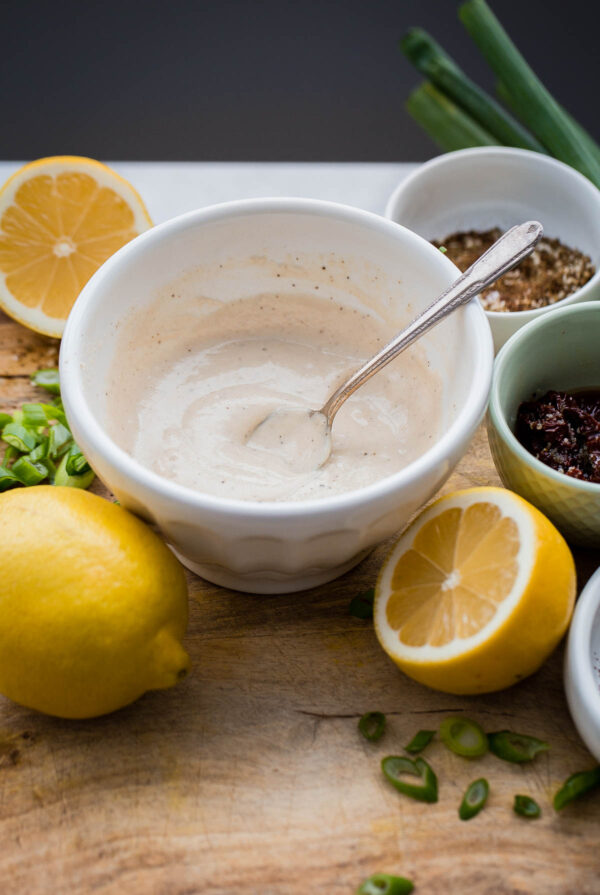 Easy Lemon Tahini Sauce
If I've learned anything from my time spent in the kitchen, it's that one should never underestimate the power of a good sauce. A good sauce can make or break a dish.
A great sauce can turn even the most basic dishes from good to fabulous with very little extra effort. Tahini sauce is a
Tahini Sauce Ingredients:
This easy lemon tahini sauce is made with just two ingredients: tahini paste and lemon juice. You'll also need basic kitchen staples like salt and pepper.
Depending on the flavor that you're trying to achieve, you can customize or tweak this tahini sauce with any number of additions: fresh herbs, fresh garlic, etc.
What is Tahini?
Pure tahini is sesame seed paste. White sesame seeds that have been ground down until smooth, similar to nut butters. It is a staple in Middle Eastern cuisine – most commonly associated with hummus – and I always store a jar of tahini in my refrigerator. It is one of my favorite kitchen staples.
Tahini paste has a rich, savory, and slightly bitter flavor. While you can make tahini from scratch, I recommend buying the store-bought tahini pastes to save time and hassle.
Any store-bought pure tahini paste will work in this recipe, but I have a particular infatuation with Soom tahini (affiliate link). Ethiopian tahini, such as Soom tahini, is generally considered the best. I strongly recommend this brand, particularly if you have been disappointed with other store-bough tahini pastes, but have also been impressed with Trader Joe's tahini as well.
How to Make Tahini Sauce:
This tahini sauce recipe can be prepared in a small bowl with just a whisk or spoon. No need for a blender or food processor (unless you are adding herbs or other ingredient that require processing).
If you wish to achieve an extra fluffy, smooth whipped texture, I recommend using a small food processor or my favorite immersion blender and attachment.
Tahini paste is by nature very thick, so we'll be thinning the mixture down to a sauce consistency by adding cold water. Tahini will naturally seize up at first, but just keep adding water and mix until it reaches the desired consistency.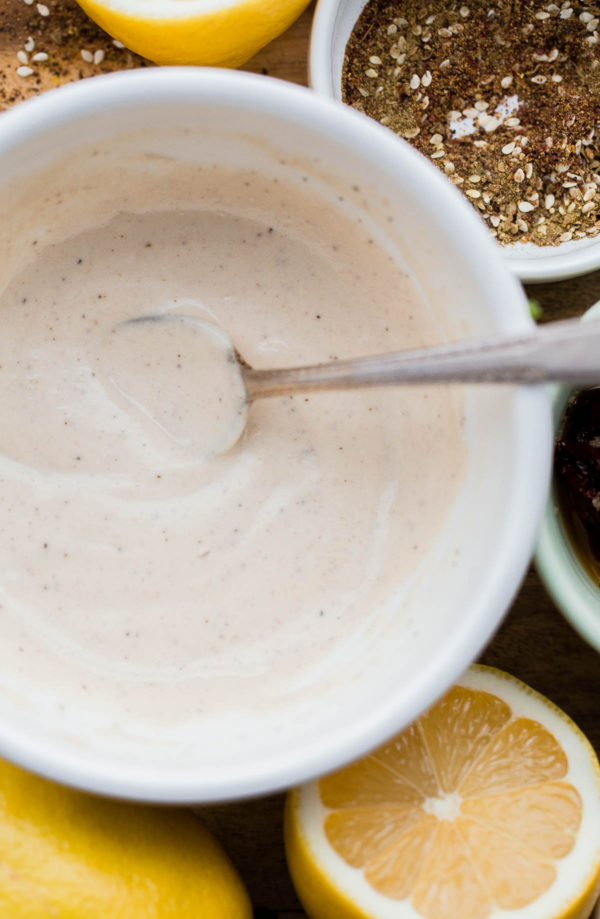 Ways to Use Tahini Sauce:
Tahini sauce can be used on any number of dishes. Drizzle tahini sauce on:
roasted vegetables (zucchini, eggplant, bell peppers, cauliflower, etc.)
grilled chicken (this Middle Eastern roast chicken or these chicken bulgur bowls are a perfect choice!),
seafood, lamb, or beef
salad (thinned down with water)
thick tahini sauce also makes a great dip for vegetables, crackers, etc.
Tahini Sauce Variations:
This tahini sauce recipe can be customized in a variety of ways:
fresh garlic (microplaned or pressed)
very finely chopped flat leaf parsley, cilantro, dill, or mint (if adding fresh herbs, prepare the tahini sauce in a small food processor to ensure the herbs blend evenly)
ground spices additions, such as cumin, za'atar spice blend, or sumac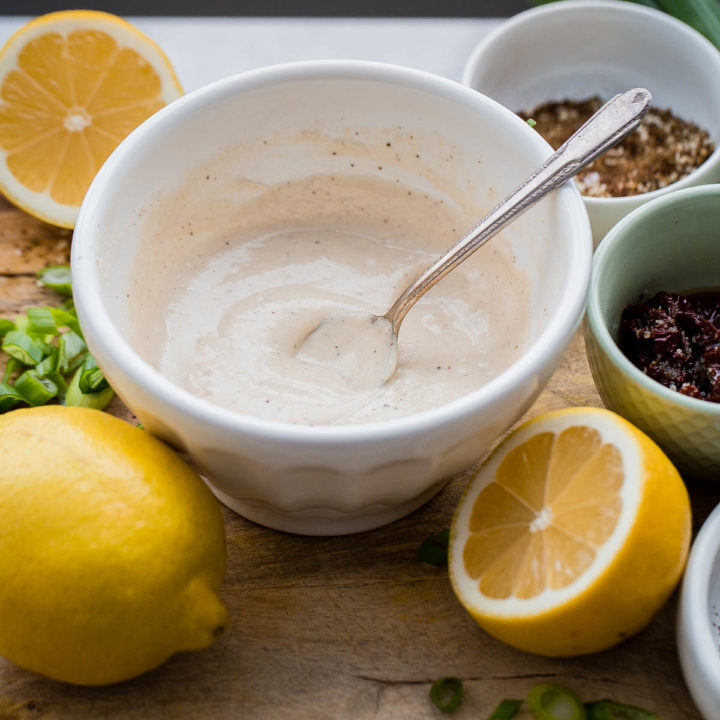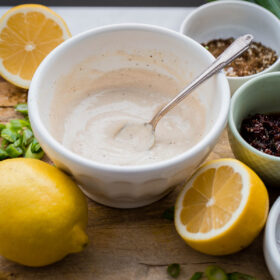 Easy Lemon Tahini Sauce
This delicious two ingredient tahini sauce is savory, zesty, and goes well with everything! Drizzle on grilled vegetables, chicken, meat, seafood, or thin it down and use as a simple salad dressing. This recipe yields ½ cup; double or triple the recipe to make your desired quantity. Customize or adapt with fresh herbs, ground spices, or fresh garlic!
Ingredients
¼ cup (64 g) tahini paste I recommend Soom brand
2 tablespoons freshly squeezed lemon juice roughly 1 juicy lemon
2 to 3 tablespoons cold water
½ teaspoon Diamond Crystal kosher salt
¼ teaspoon freshly ground black pepper
Optional Additions:
1 garlic clove grated with a microplane
very finely chopped flat leaf parsley cilantro, dill, or mint
za'atar spice blend or ground sumac
Instructions
This recipe can be prepared using a bowl and whisk, or the ingredients can be combined in a small food processor. I prefer the latter, because it produces an extra smooth, whipped texture.

In a small bowl, whisk together the tahini paste and lemon juice. It will be become thick. Slowly whisk in the water until the sauce can drizzle from a spoon. Add the salt and pepper, (and grated garlic and additional spices, if using) and and adjust to taste. If the sauce is too thick, add another teaspoon or so of water as needed. Stir in any optional additions, if using.

Leftover sauce can be placed in a covered container and refrigerated for up to a week. The dressing will thicken in the refrigerator. Add a touch of water to thin it down if necessary, and adjust seasonings to taste.
Tips for Success:
when using a fresh jar of tahini sauce, be sure to stir it well with a knife as oil has a tendency to seperate.
this tahini sauce goes well with so many things! Drizzle on roasted or grilled vegetables, seafood, chicken, meat, or thin it down and use it as a simple salad dressing.
reduce the water to make a thick dip; increase the water to turn it into a light salad dressing.
Serving: 1serving, Calories: 95kcal, Carbohydrates: 8g, Protein: 3g, Fat: 8g, Saturated Fat: 1g, Polyunsaturated Fat: 13g, Sodium: 176mg, Fiber: 1.5g
This post contains affiliate links, which means that I make a small commission off items you purchase at no additional cost to you. Please read my
privacy policy
for more information.