This easy lemon tahini sauce is made with just two ingredients, and is the perfect accompaniment to grilled vegetables, chicken, meat, seafood, or greens. Naturally vegan, gluten-free, dairy-free, paleo, and Whole30 compliant.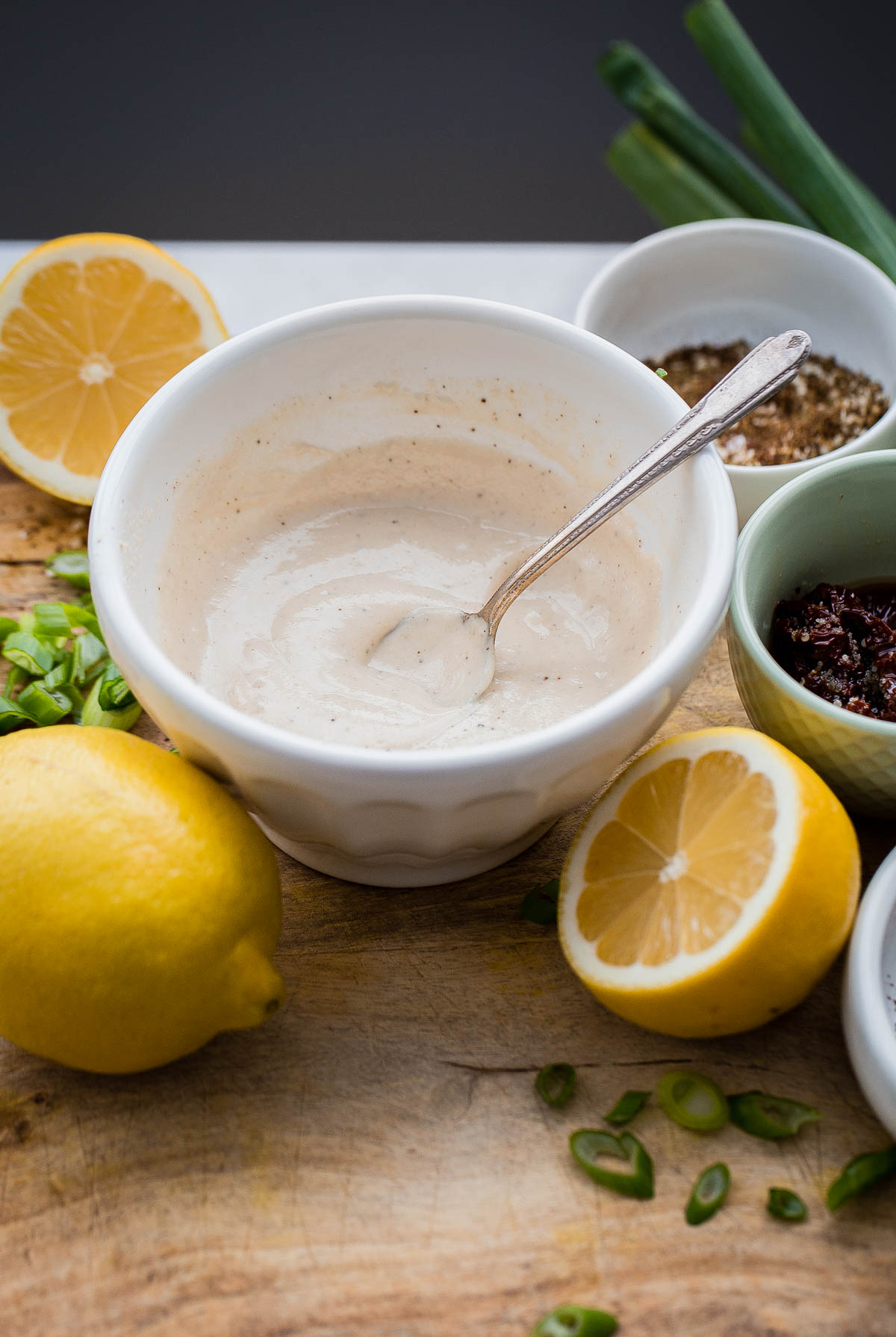 If I've learned anything from my time spent in the kitchen, it's that one should never underestimate the power of a good sauce. A good sauce can make or break a dish. A good sauce can turn even the most basic dishes from good to fabulous with very little extra effort.
This easy lemon tahini sauce is one of those types of sauces. It uses just two ingredients and it can be customized and tweaked in so many ways (several of which I share below!). Despite being simple in concept, this tahini sauce is so creamy and flavorful.
It works fabulously on vegetables (zucchini, eggplant, bell peppers, cauliflower, etc.) and is also amazing drizzled on grilled or roasted chicken, seafood, lamb, or beef. When thick, it makes a delicious tahini dip that can be used for any number of purposes (vegetables, crackers, etc.). You can even thin it down and use it as a simple salad dressing.
Pure tahini paste (ground sesame seed paste) has become one my go-to kitchen staples in the past few years. It is a staple of Middle Eastern cuisine – most commonly associated with hummus – and I always keep a jar of it in my refrigerator. I love it! Any store-bought pure tahini paste will work in this recipe, but I have a particular infatuation with this brand.
Versions of this tahini sauce have appeared in a handful of recipes (this chicken bulgur bowl jumps to mind!), but I felt that it necessitated it's own post. This way you can easily find it on the blog and turn to it time and time again.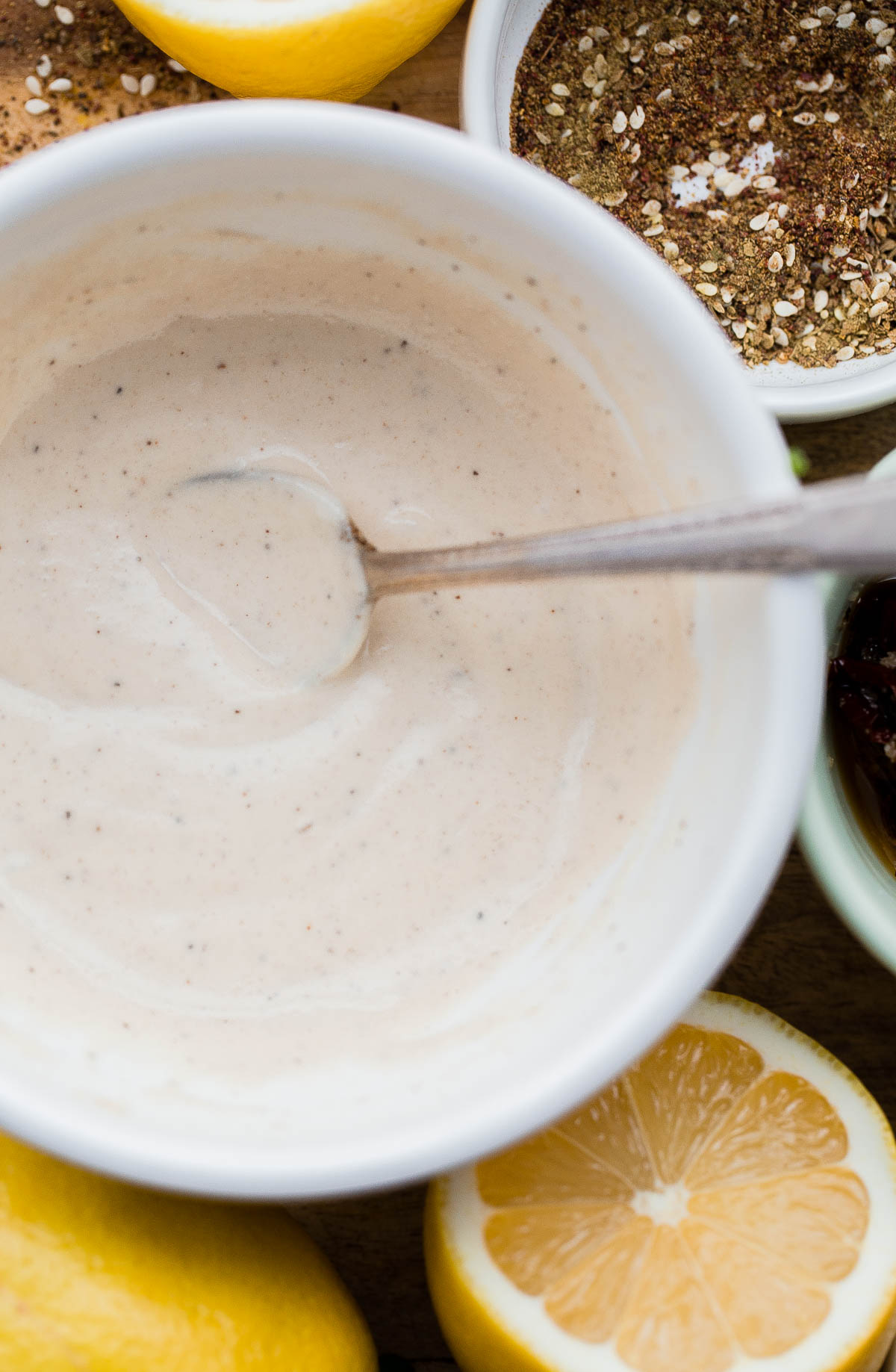 It bears repeating that this lemon tahini sauce is so simple that it barely necessitates a recipe. I provided one all the same, because sometimes it is nice to have basic proportions when first experimenting with anything. After you've made this once, you'll be able to eyeball the proportions and make it on a whim at anytime. I love those types of recipes!
This simple tahini sauce can be prepared in a small bowl with just a whisk or spoon. No need for a blender or food processor. You'll need pure tahini paste, freshly squeezed lemon juice, water, salt, and freshly ground pepper. That's it!
Depending on the flavor that you're trying to achieve or herbs that you have on hand, customize or tweak it with my favorite optional additions:
1 small pressed garlic clove
very finely chopped flat leaf parsley, cilantro, dill, or mint
sprinkling of za'atar spice blend or sumac
In a pinch, Trader Joe's sells a very similar, yet thicker tahini sauce that can be substituted for this. However, I prefer the fresher flavor of homemade! I'll be sharing a recipe utilizing this sauce later this week – look out for it soon!
P.S. I've been turning to this sauce time and time again during my Whole30 challenge.