Olive Oil Stracciatella Ice Cream
A twist on a classic Italian stracciatella ice cream. Creamy olive oil ice cream made with extra virgin olive oil and flecked with semi-sweet chocolate bits!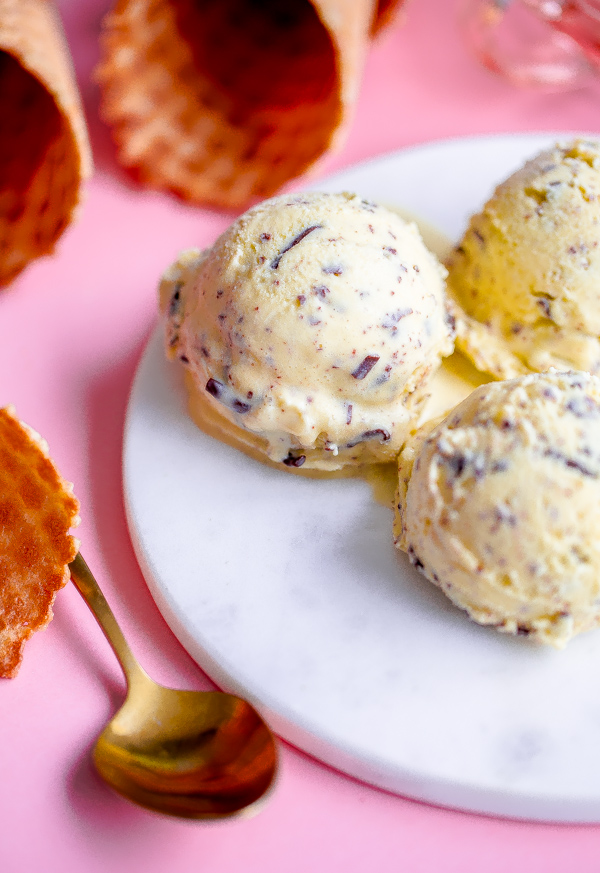 It has been over six months since I last shared an ice cream recipe and it's about time that we do something about that. Don't you think? After all, it's August. One the of year's prime ice cream eating months.
To be fair, I actually had plans to share an equally as fun ice cream recipe with you months ago, but thanks to a few epic and frustrating fails, that didn't end up happening. Before long, I was wrapping my ice cream maker (I use this one and really like it!) in bubble wrap and packing it up for our move.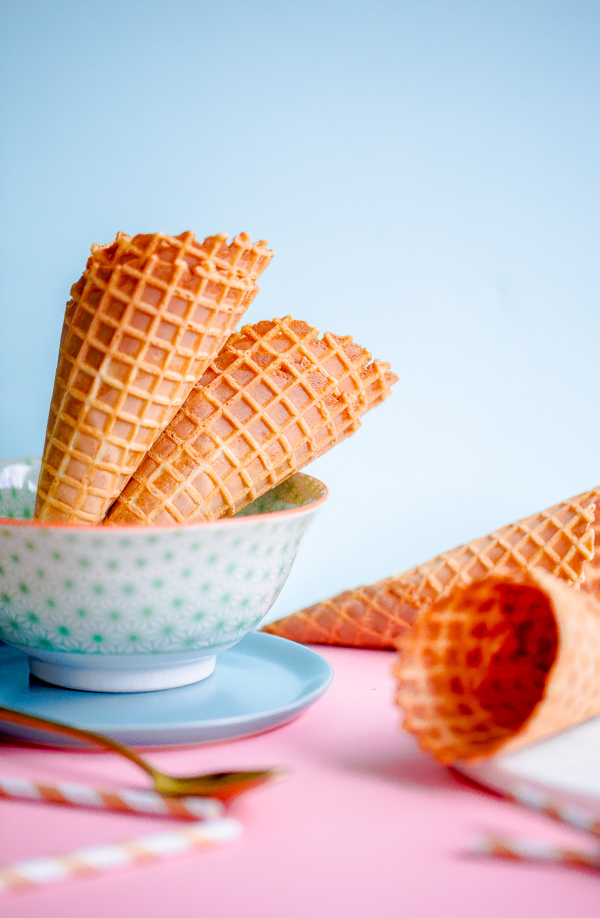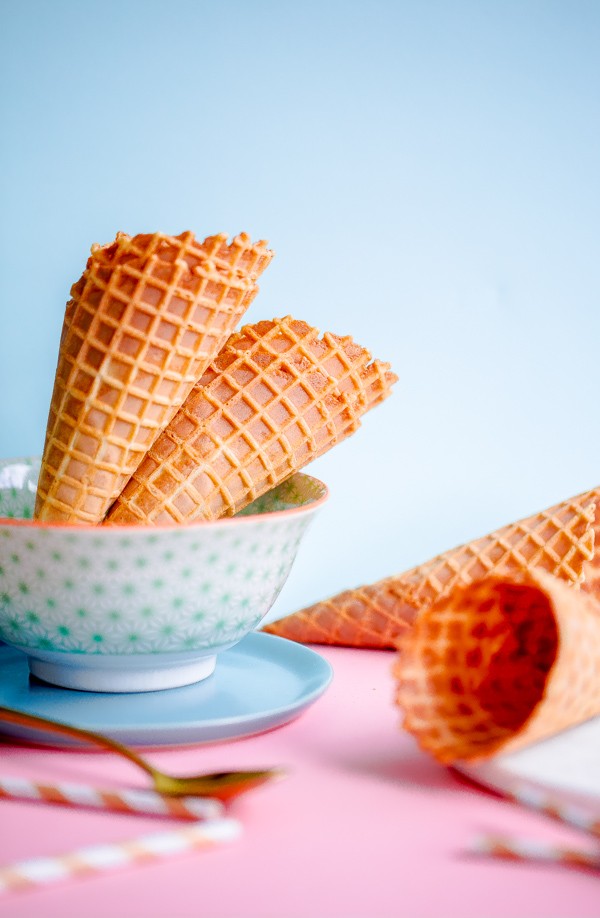 So, as I was organizing our new kitchen, I immediately searched out the ice cream maker and popped it into our freezer. It has a permanent home there at the moment.
There's nothing worse than having an urge (or burst of creative energy!) to make ice cream and realizing that your ice cream bowl has not sufficiently chilled and you will have to wait over 24 hours–at minimum–to accomplish that goal. Really, that is the worst.
You want ice cream = the bowl is never chilled. You don't particularly feel like ice cream = your bowl has been occupying your freezer for months. Isn't that a law or something?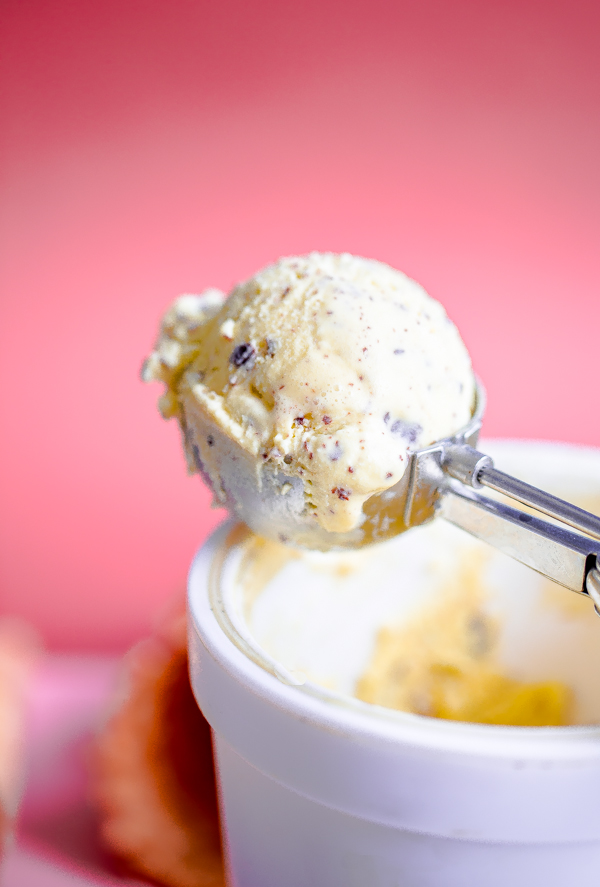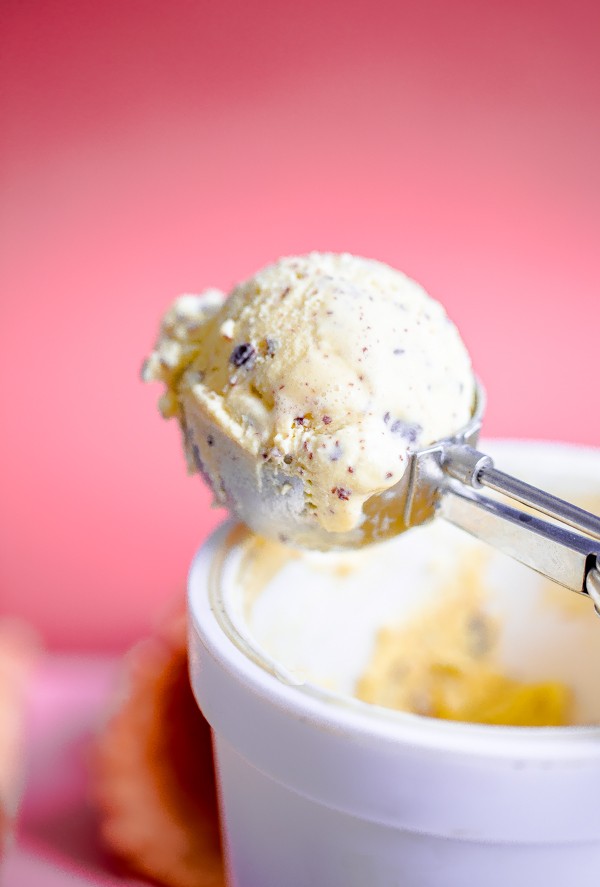 Anyway, this ice cream will continue to be a regular in my ice cream rotation, because it is that good! You might be thinking: "I'm not sure if I want my ice cream to taste like olive oil though."
Ok, hear me out. It is really, really good. Have you ever made an olive oil cake, or better yet, a chocolate olive oil baked good? They always have a subtle sweet, yet grassy flavor that makes you want to come back for more.
Let me preface this by saying that this ice cream is not overwhelmingly strong at all. Think of it as an elevated vanilla ice cream (without the vanilla). It is a blank canvas that can be tweaked and tankered with in so many ways.
Plus, olive oil has so many great health benefits, which definitely gives you an excuse to have an extra scoop…or two!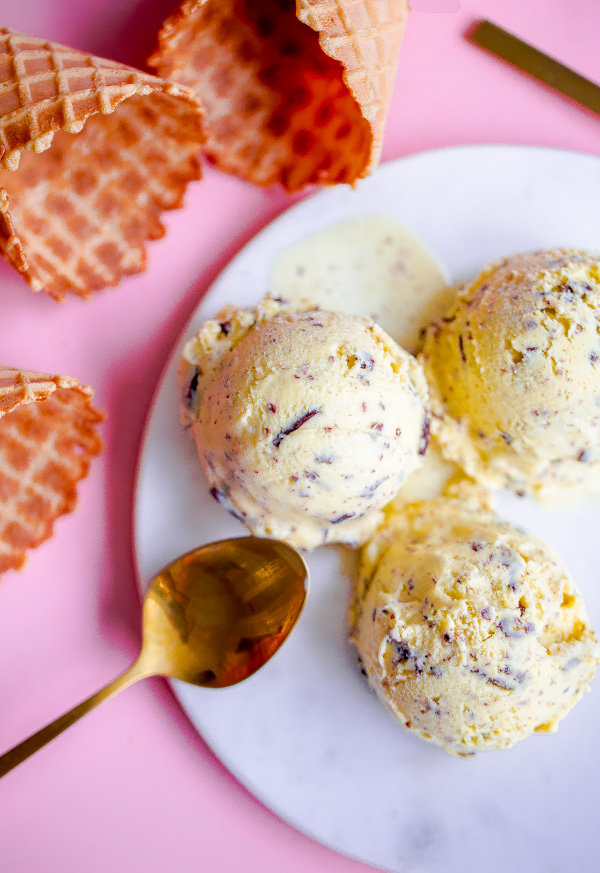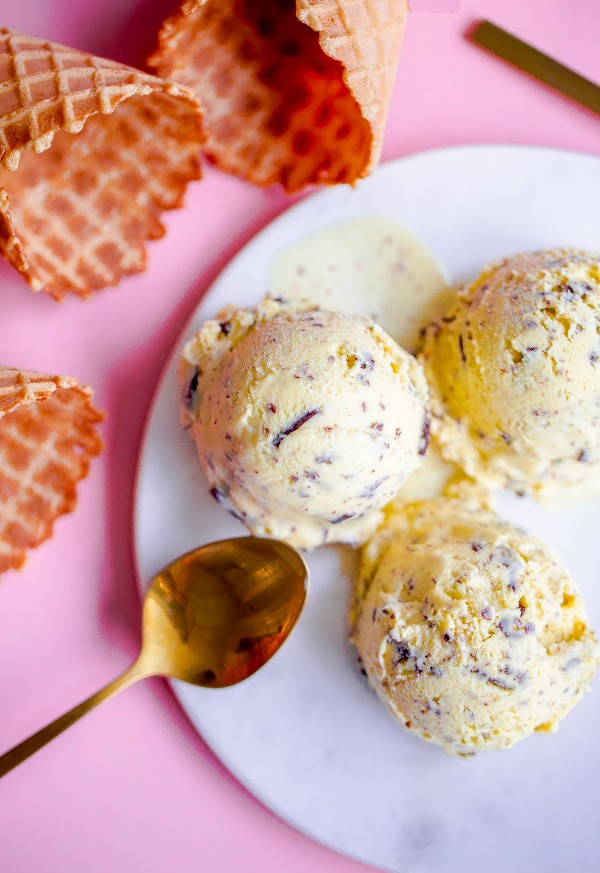 The base olive oil ice cream was barely adapted from David Lebovitz's The Perfect Scoop, and I decided to twist it into an Italian stracciatella with the addition of melted semisweet chocolate. The chocolate and olive oil pair extremely well together and just makes the ice cream a bit more exciting.
If you make this, be sure to use a high-quality olive oil! Don't skimp, otherwise the olive oil flavor will be lost [I included my recommendation in the recipe below].
The Italian word, stracciatella, means "little shreds" and describes the chocolate incorporated into the ice cream. You achieve this by slowly drizzling melted chocolate into the ice cream just before it is finished churning. As the melted, slightly warm chocolate hits the frozen ice cream, it immediately sets and hardens into small little flakes. It sounds complicated, but it is easy and straight-forward.
The recipe instructions walk you through it every step of the way! No fear.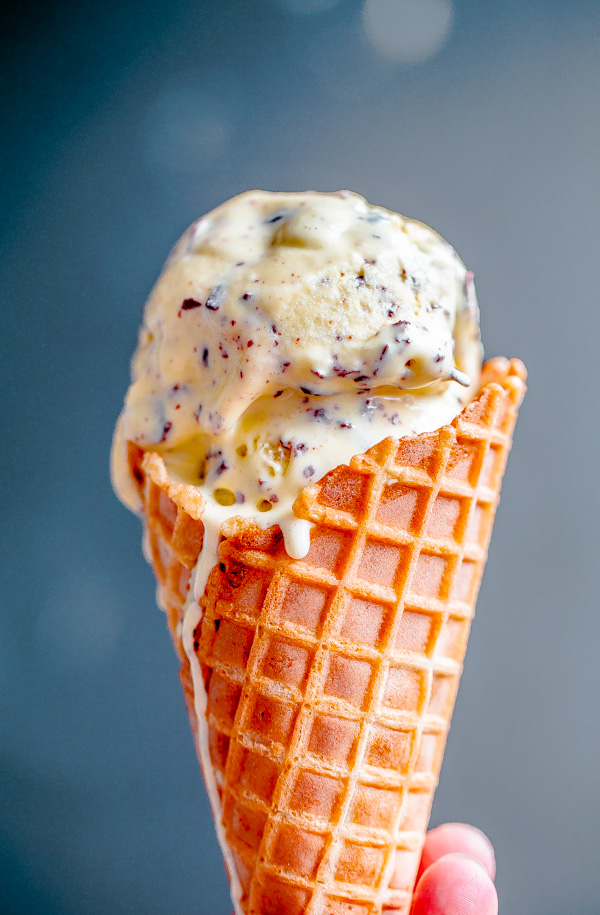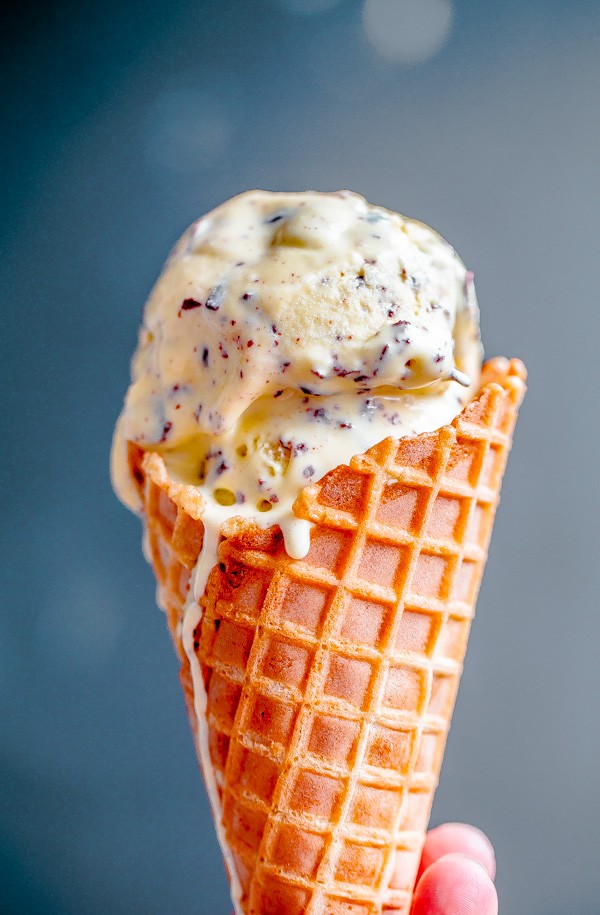 This method is the best way of incorporating chocolate into any ice cream–as it lends itself to the best texture. The dark chocolate is distributed evenly into the entire batch of ice cream, and since it is finely shredded, it melts into every bite or lick–if you're serving this on waffle cones–which is highly recommended.
You know, without having to bite down on one, random large chunk of frozen chocolate, which is not nearly as enjoyable! Hope you love this ice cream as much as I do!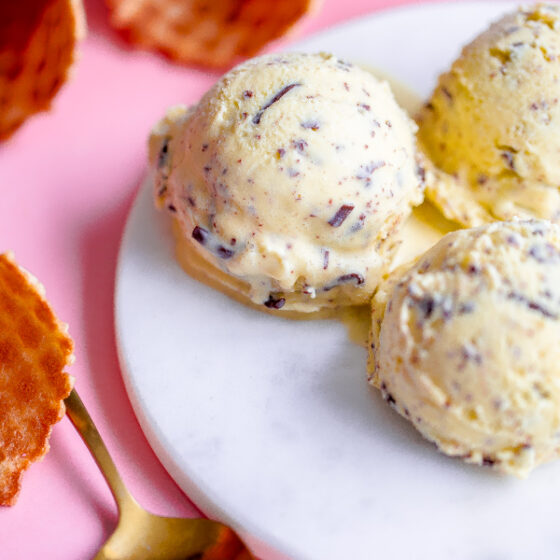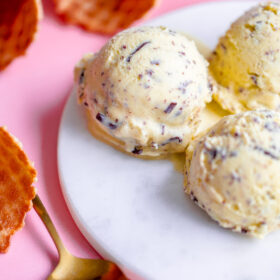 Olive Oil Stracciatella Ice Cream
A twist on classic Italian stracciatella ice cream. Creamy olive oil ice cream made with extra virgin olive oil and flecked with semi-sweet chocolate bits!
Ingredients
1⅓ cups (320 mL) whole milk
½ cup (100 g) granulated sugar
pinch kosher salt
1 cup (240 mL) chilled heavy cream
6 large egg yolks
½ cup (120 mL) high-quality extra virgin olive oil
2 ounces semi-sweet chocolate broken into small pieces
1 tablespoon (15 g) unsalted butter
Optional Toppings:
high-quality extra virgin olive oil for garnishing
flaky salt for garnishing
Instructions
Combine the whole milk, granulated sugar, and salt in a medium saucepan. In a large separate bowl, whisk together the egg yolks. Set aside.

Place the milk mixture over medium-low heat and heat until just beginning to simmer. Remove from the heat and slowly temper the milk mixture into the egg yolks, whisking continuously as you pour. Place the ice cream base back in the saucepan, and heat over medium-low heat, stirring continously, until the mixture coats the back of a wooden spoon.

Place the heavy cream in a seperate large bowl or container that can easily be set over an ice bath. Strain the hot ice cream base over a fine-meshed sieve set over the chilled heavy cream. Whisk the mixture together until smooth. Slowly whisk the olive oil into the ice cream base - pouring the oil in a very thin stream with your other hand as you whisk. Set mixture over an ice bath, stirring every 10 minutes or so, until the base has cooled completely. Place ice cream base in an airtight container and set in the refrigerator until it is chilled through. Churn the ice cream mixture in an ice cream maker according to the manufacturer's instructions.

As the ice cream is churning, prepare the chocolate: Combine the chopped chocolate and butter in a small microwave-safe bowl. Microwave in 15 second increments, stirring between each interval, until the chocolate and butter have melted and the mixture is smooth. Be careful not to over-heat, as it will cause the chocolate to get grainy. Transfer the melted chocolate into a small Ziploc bag. You want the chocolate to stay warm (if necessary, set the sealed bag in a bowl of warm water to keep warm as the ice cream finishes churning).

In the last few minutes of churning, snip a very small hole from the bottom of the bag of chocolate and slowly drizzle it into the ice cream in a very thin stream as it is churning. For garnishing, I like to reserve a small quantity of melted chocolate for drizzling over the surface of the ice cream for storing.

Transfer the ice cream to a container, cover the surface of the ice cream lightly with parchment paper or plastic wrap. Freeze for a minimum of 4 to 6 hours, or until firm enough to scoop. Serve and, if desired, drizzle the ice cream with a small drizzleof high-quality extra virgin olive oil and a sprinkle of sea salt.
Serving: 1serving, Calories: 382kcal, Carbohydrates: 19g, Protein: 7g, Fat: 32g, Saturated Fat: 12g, Polyunsaturated Fat: 18g, Cholesterol: 201mg, Sodium: 85mg, Sugar: 18g
This post contains affiliate links, which means that I make a small commission off items you purchase at no additional cost to you. Please read my
privacy policy
for more information.