Strawberry Shrub Cocktail
How to make strawberry shrub and a simple recipe for strawberry shrub cocktail made with homemade syrup, alcohol, and seltzer.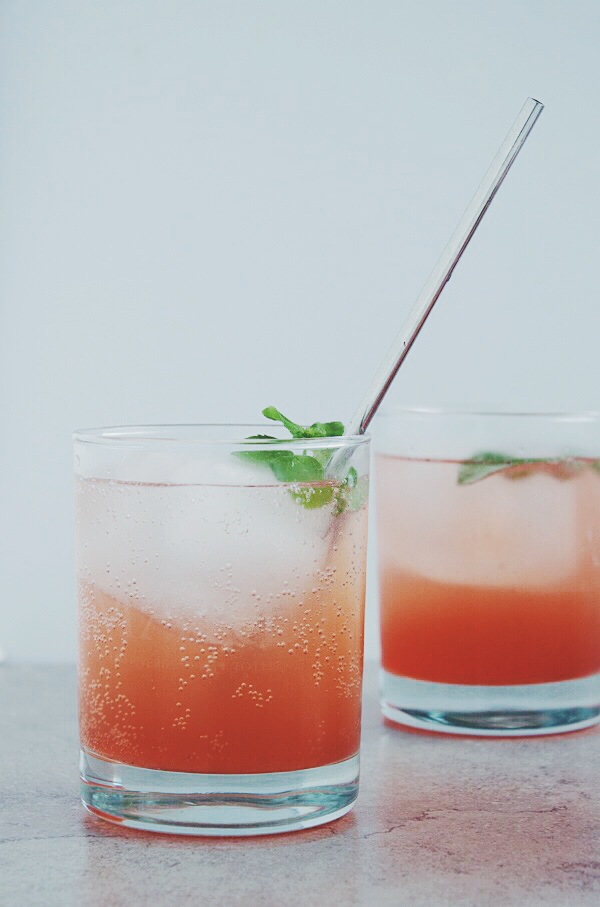 We're doing something a bit different today. Have you guys heard of a shrub syrup? Don't worry, it's not a syrup made out of garden shrubs. That sounds horrible.
I've officially ruined it for you, haven't I?
I have to admit, I'm not a huge fan of the name, but I am a new fan of this ingredient. Also–I made a cocktail! That almost never happens. Seriously, check the recipe archive.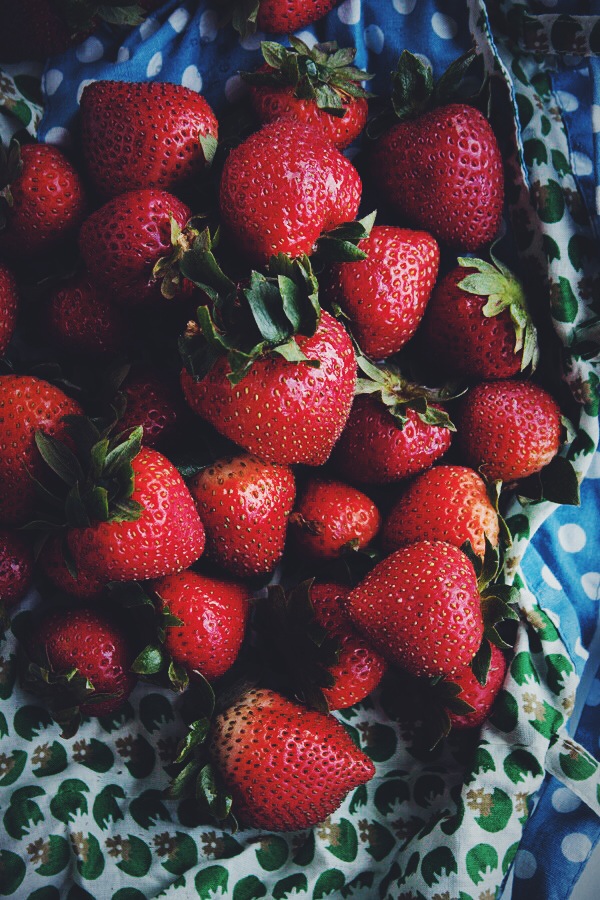 I've waxed poetic about my wimpiness (according to the red squiggly line showing up on my computer screen, wimpiness isn't a word) when it comes to cocktails. Or practically any drink that involves hard alcohol.
I can handle a girly margarita, mojito, Moscow mule, and am always down for a glass of wine or beer, but I can't handle much more than that.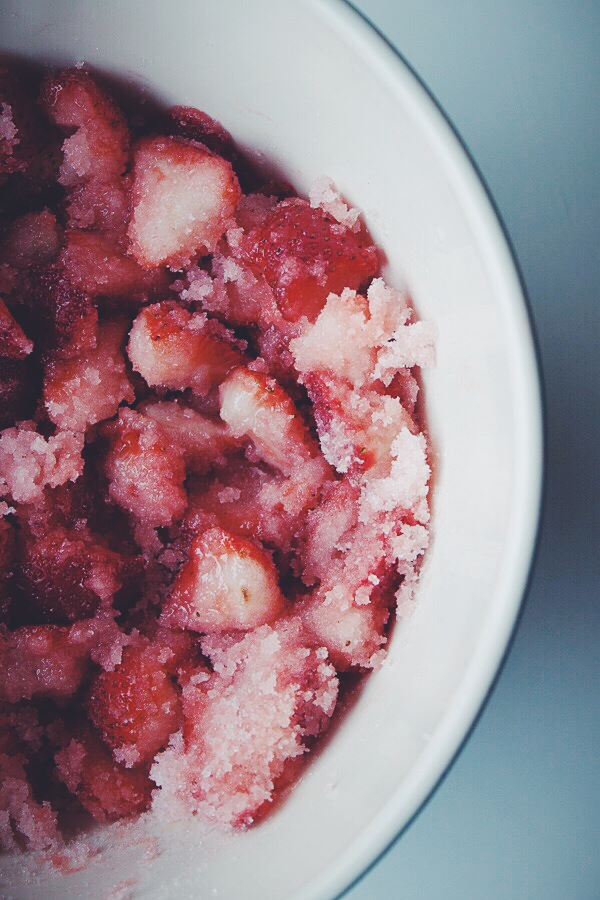 [Strawberries + Sugar = Day 1, right after combining!]
Anyway, so you can imagine my excitement when I tried a cocktail made with shrub syrup a few weeks ago, and I actually enjoyed it! Since I had no idea what a shrub syrup was until I tried one, I did a little research and learned more about them.
Shrub syrups originated hundreds of years ago, when the only method to prevent the spoiling of fresh fruit was to mix it with lots of sugar and store it in old crocks. After some time, the liquid released from the fruit and sugar mixture would begin to ferment and turn into a vinegar.
A fruity vinegar, if you will.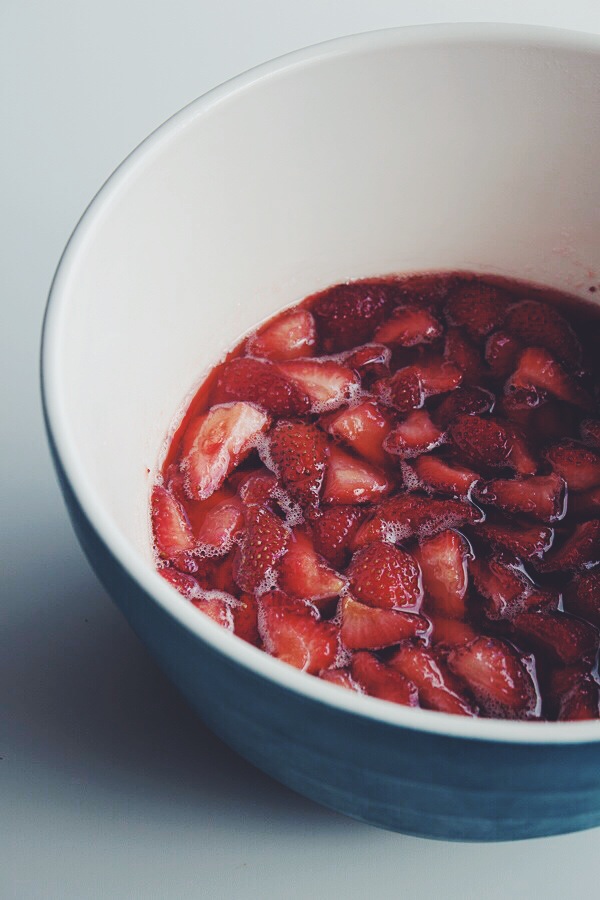 [Strawberries + Sugar = 12 + hours later!]
Nowadays, the most common method of making a shrub is to make an old-fashioned simple syrup by mixing fruit (practically any fruit or berry will work!) with equal parts sugar, and allowing this mixture to sit for a minimum of 8 hours or up to 2 days. Instead of allowing this mixture to ferment, you simply add in equal parts vinegar.
Red wine vinegar or apple cider vinegar are great options, traditional white vinegar will also work (but is less ideal). You can even experiment with a touch of balsamic!
Using a pound of strawberries, I was able to yield roughly two cups of simple syrup. Note: This recipe yields roughly one quart of shrub syrup total. It can be stored in the refrigerator for up to a month, but feel free to halve or quarter the recipe below.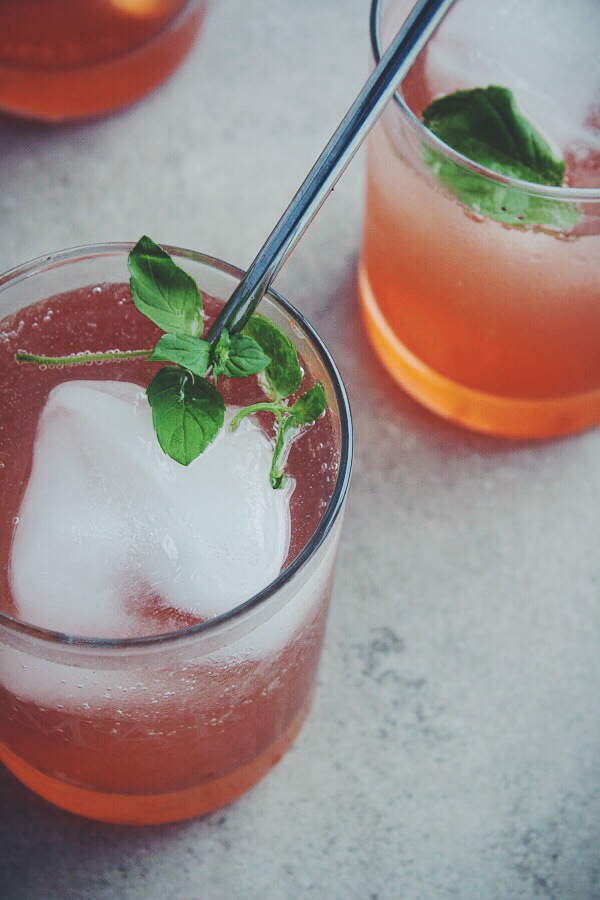 The next step is to mix a small amount of shrub syrup with a hard alcohol of choice (I used dry gin, but you could also try it with brandy, rum, or even vermouth and sherry), pour it over ice, and top this off with seltzer water.
As you can imagine, the shrub syrup is very vinegary and pungent. You don't want to drink the shrub straight up, but it will mellow slightly with time. If you're not into briny or vinegar-y things, I'm going to be completely honest…a shrub cocktail will most likely not be your thing. It is definitely different and reminds me a little bit of kombucha.
But this drink is also very refreshing! And a fantastic way to preserve a little piece of summer. Now go make a cocktail. You deserve it.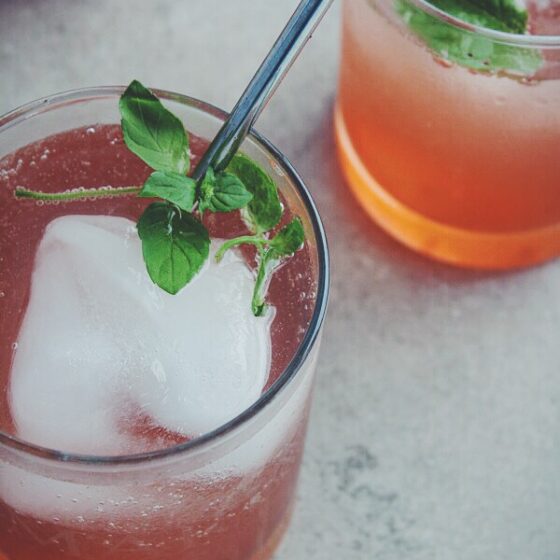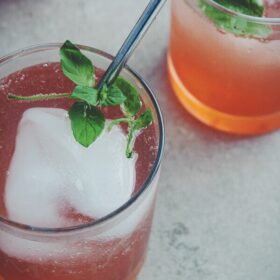 Strawberry Shrub Cocktail
Shrub syrups originated hundreds of years ago, when the only method to prevent the spoiling of fresh fruit was to mix it with lots of sugar and store it in old crocks. This easy shrub is made with fresh strawberries and combined with hard liquor, ice, and seltzer for a refreshing, vinegar-y cocktail drink.
Ingredients
Strawberry Shrub Syrup:
1 lb (16 oz) fresh ripe strawberries cored and quartered (about 2½ cups)
2½ cups (500 g) granulated sugar
1½ - 2 cups (360 mL - 480 mL) unfiltered apple cider vinegar to taste
Strawberry Shrub Cocktail:
ice cubes
1 ounce dry gin
1-2 ounces strawberry shrub syrup to taste, see recipe above
4-5 ounces seltzer or soda water
fresh mint sprigs for garnish
Instructions
Prepare Strawberry Shrub Syrup: Combine the hulled and quartered strawberries and sugar in a large bowl. Stir together. Cover the bowl with plastic wrap and refrigerate for a minimum of 8 hours (or as long as 48 hours), stirring once or twice to mix any sugar that settles at the bottom of the bowl. As the mixture sits, it will become more and more syrupy and liquidy in texture.

Once the syrup is ready, stir the mixture once again, scraping the bottom of the bowl. Using a slotted spoon, remove the solid strawberry pieces, pressing them against the side of the bowl to release any additional juice. This should yield roughly 2 cups of strawberry shrub simple syrup. Don't worry if all the sugar has not dissolved.

Whisk the vinegar (depending on taste preference, add between 1½ to 2 cups vinegar into the strawberry syrup). Place the shrub syrup in a glass or plastic bottle, including any undissolved sugar, seal, and shake well. Store in the fridge for up to 1 month.

Prepare Cocktail: Fill a tumbler glass halfway with ice cubes. Using a cocktail shaker, combine the gin and shrub and shake well. Pour over the ice and top with seltzer. Stir and serve, and garnish with fresh mint sprigs.
Serving: 1serving, Calories: 160kcal, Carbohydrates: 38g, Sodium: 10mg, Fiber: 1g, Sugar: 33g
This post contains affiliate links, which means that I make a small commission off items you purchase at no additional cost to you. Please read my
privacy policy
for more information.