Prosciutto Egg Cups with Pesto
This post contains affiliate links.
This post is sponsored by Parma Ham and Honest Cooking magazine.  Thanks for your support!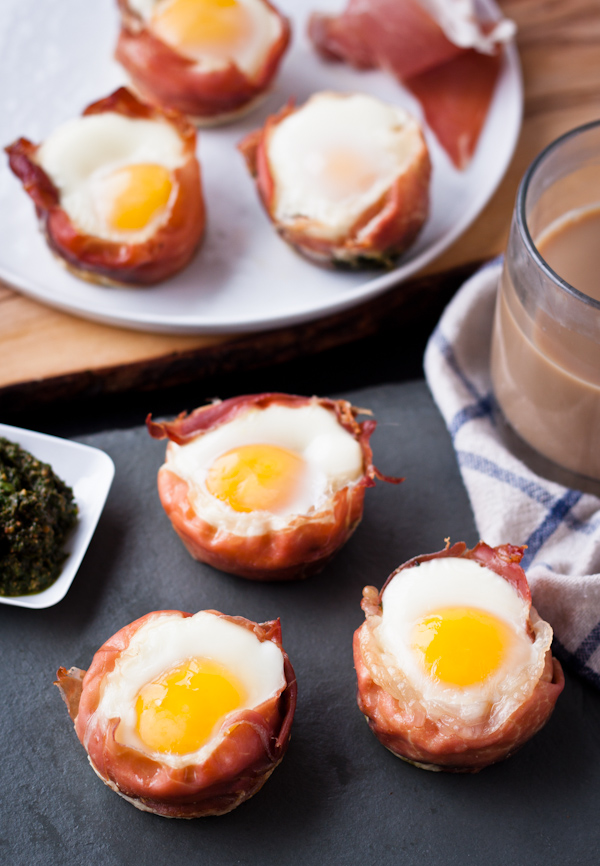 Remember when I told you that fresh bread and olive tapenade are two of my favorite foods ever?  Well…proscuitto de parma is another one that is close to the top of my list.
So when I was offered the opportunity to work with this product, create a holiday-inspired recipe, and help celebrate the 50th anniversary of the creation of the Consorzio del Prosciutto di Parma–I was pretty excited.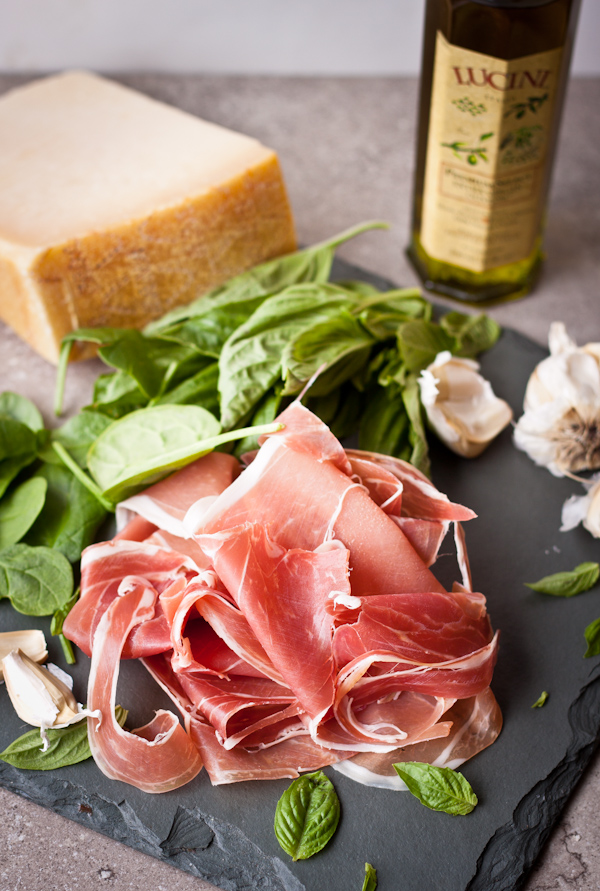 Prosciutto de parma is thin and delicate, but deliciously salty and oh so flavorful.  I sort of look at it like the "better bacon" of the food world.  Yes, I went there.
It is great as an antipasto or accompaniment to almost anything and everything–cheese or fruit, sandwiches (like that massive one I ate in Italy that was the size of my head!), pizzas, or crisped up and used as a garnish or topping.
It can do it all–and then some.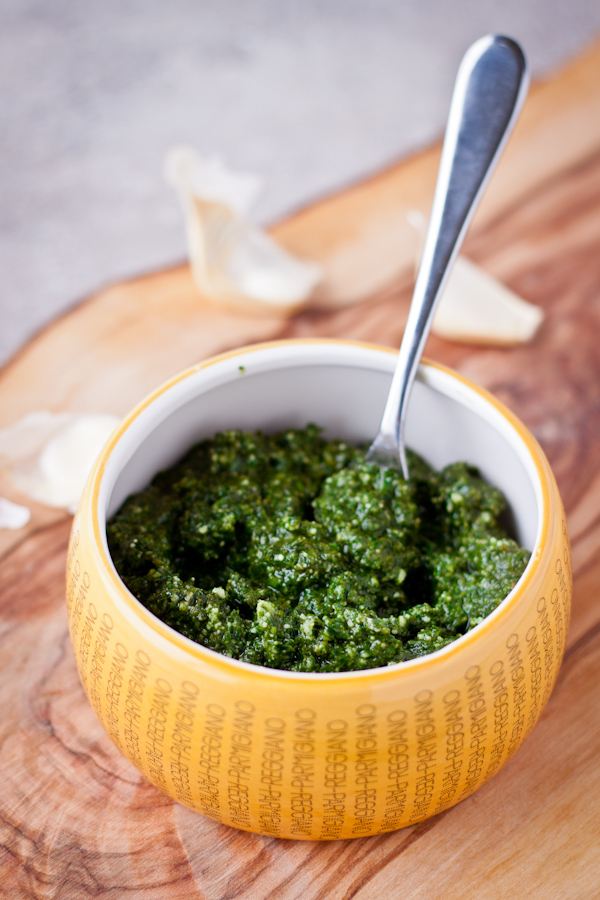 I'm usually more than happy to eat prosciutto plain by its own, slice by slice, but I figured that wasn't incredibly creative.
So instead I came up with these fun prosciutto egg cups, inspired by similar ideas I've seen done with traditional bacon.  To add an extra element of surprise, I added a layer of homemade basil pesto.  Prosciutto and basil are meant to be together.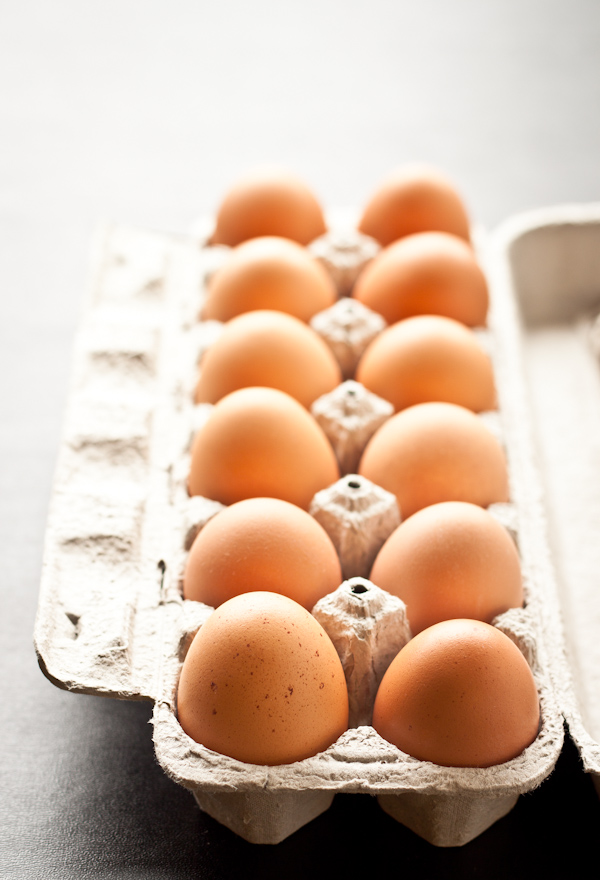 Despite appearing a bit complicated, this recipe is very straight-forward.  It's all about the assembly.  The first step is cutting and toasting small rounds of sandwich bread, which form the base and first layer of the egg cups.
Prosciutto is then lined very thinly around the edges to form the sides and hold everything together.  Top with a spoonful of pesto, add an egg, and throw them in a 350 degree oven until the whites are just set and the yolks are still soft and runny.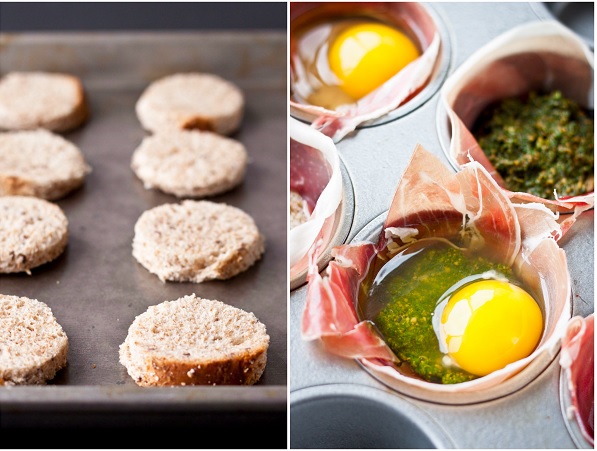 Important to note: Although you might be tempted (and it does indeed work) to make the entire "cup" out of prosciutto–and skip the bread layer altogether–avoid doing this as the salt in the prosciutto will concentrate once baked and the final dish will be too salty.
Instead, try to use roughly half a slice of prosciutto per egg cup.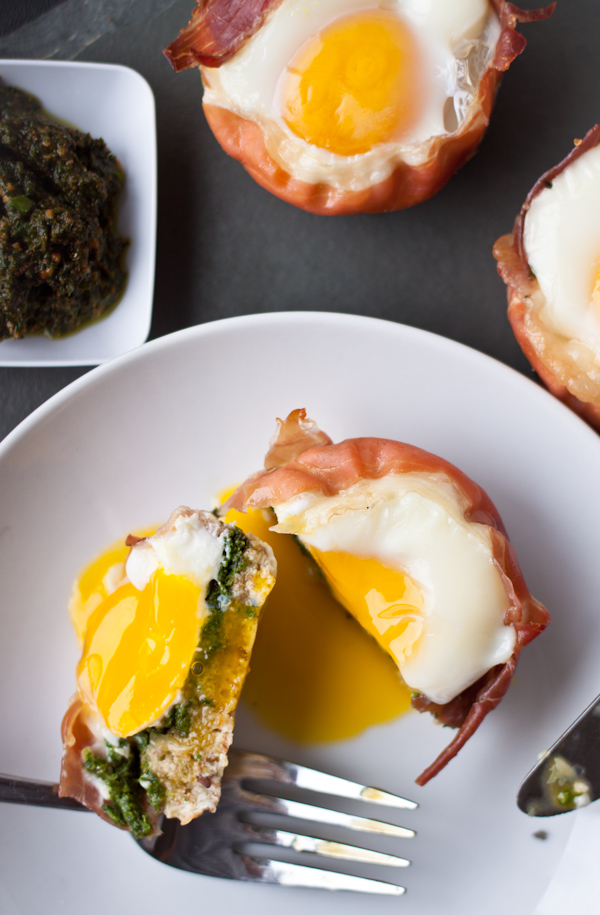 These would be perfect to serve at a festive breakfast or brunch spread over the upcoming holidays–but you could easily downscale the recipe and serve them for yourself any day of the week.
Not a shabby weekday breakfast, huh?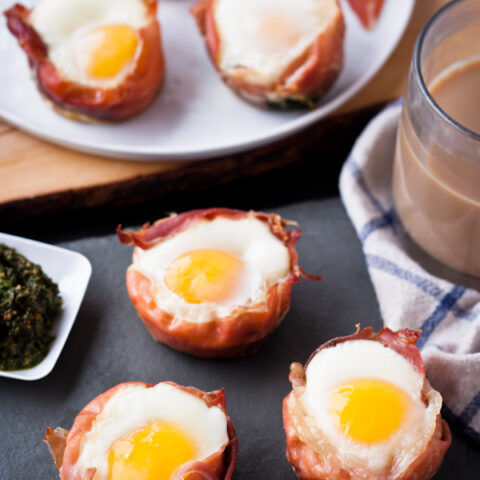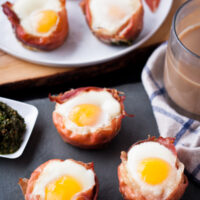 Prosciutto Egg Cups with Pesto
Yield: 6 Servings
Prep Time: 20 minutes
Cook Time: 30 minutes
Total Time: 50 minutes
Ingredients
Basil Pesto:
2 medium garlic cloves
2 heaping cups of fresh basil leaves
1/4 cup extra virgin olive oil
1/4 cup grated Parmigiano-Reggiano cheese
kosher salt
freshly ground black pepper
Egg Cups:
3-4 slices of whole wheat, white, or gluten-free sandwich bread
basil pesto (see above)
4-6 ounces thinly sliced prosciutto de parma
12 whole eggs
Instructions
Prepare Bread: Preheat the oven to 350 degrees.
Using a two-inch biscuit cutter, cut the bread into 12 rounds–you will need about 3-4 slices, depending on their size. Place the bread on a small baking sheet and toast for 5 minutes.
Prepare Pesto: Place the garlic in the bowl of a food processor and pulse several times until fincely minced. Add the basil. While pulsing, slowly add the olive oil until the pesto is smooth.
Remove and set aside in a bowl, stir in the cheese, and season with pepper (do not add salt–this step is important as the prosciutto is already quite salty).
Assemble Egg Cups: Grease a standard muffin tin with olive oil or another neutral oil spray. Line the bottom of each cup with the toasted bread round.
Slice each prosciutto slice lengthwise–and line the sides of the each muffin cup with prosciutto. The prosciutto should be touching the bottom of each cup and just be level with the top or slightly above (try to avoid overlapping multiple layers, as it will get too salty once baked).
Spread a small spoonful (teaspoon or so) of pesto to the top of the bread layer. Crack one egg into each cup. Do not season with additional salt.
Bake for 17-22 minutes at 350 degrees, or until the white has just set, but the yolk is still soft.
Allow to cool in pan on rack for 5 minutes, before carefully removing and setting on a large platter. Serve hot.
Notes
Pesto can be made up to a day or two in advance, covered with a light layer of olive oil, and kept in an airtight container in the fridge.
Nutrition Information:
Yield: 6
Serving Size: 1
Amount Per Serving:
Calories: 320
Total Fat: 18g
Saturated Fat: 5g
Trans Fat: 0g
Unsaturated Fat: 12g
Cholesterol: 229mg
Sodium: 1724mg
Carbohydrates: 14g
Fiber: 2g
Sugar: 0g
Protein: 26g
A Beautiful Plate provides nutritional information, but these figures should be considered estimates, as they are not calculated by a registered dietician.
Follow Parma Ham on Twitter for a chance to win $50 worth of the world's most famous ham. Click on the banner below to participate. This post is a collaboration between the blogger and Parma Ham.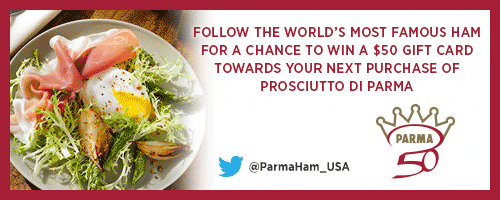 This post contains some affiliate links, which means that I make a small commission off items you purchase at no additional cost to you. Please read my
disclosure policy
for more information.