Spiced Sweet Potato Fries with Garlic Aioli
Crispy baked sweet potato fries with garlic aioli. A comforting fall appetizer or snack for everyone to enjoy!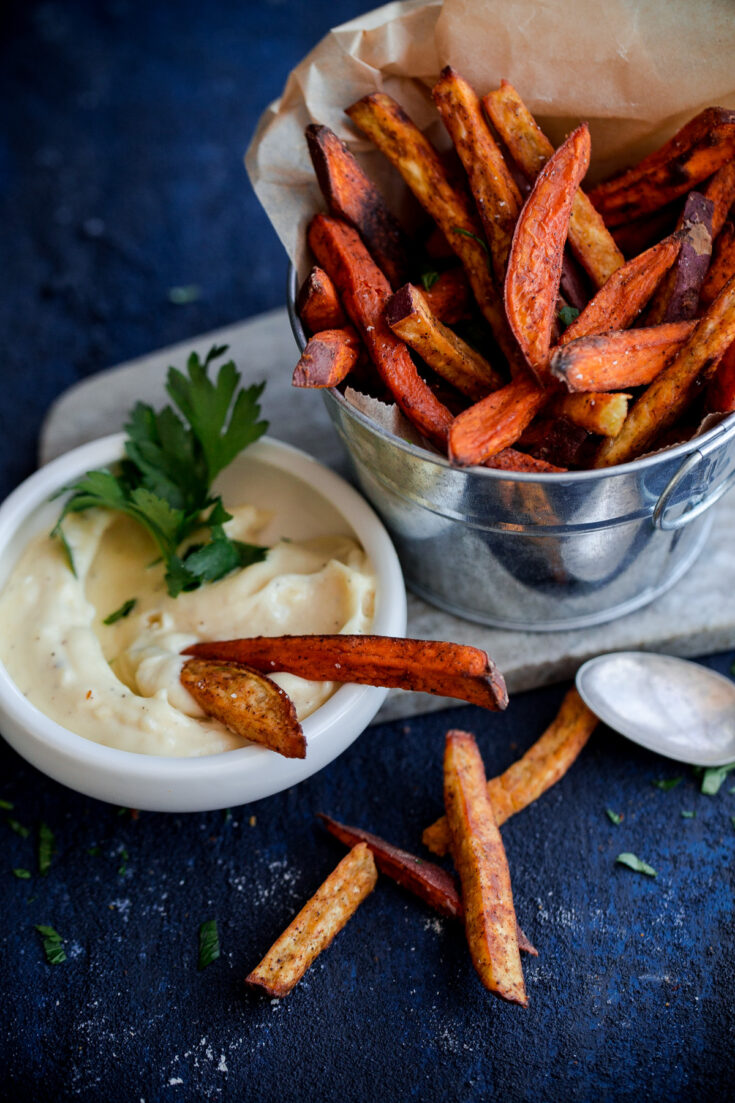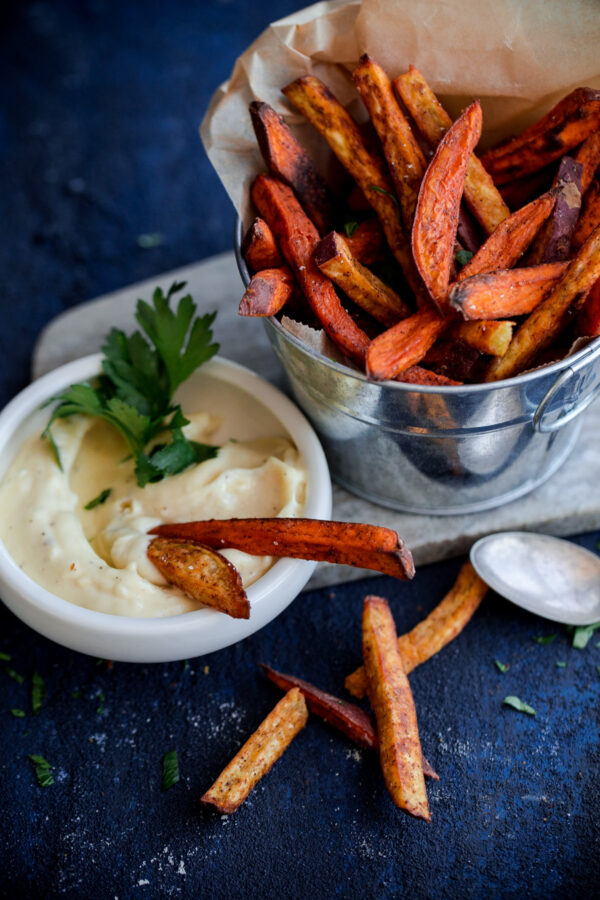 This post is brought to you by Safest Choice eggs.
What a whirlwind of a week! I'll be the first to admit that last week was a rollercoaster for me. This election year has produced so much anxiety and unease for the country, and the results seem to have heightened that feeling for so many of us. I try my best to leave all of that off this space.
I want this place to be a community where everyone can be heard and respected. I want you to be able to visit and escape the daily stresses of life through pretty food pictures and random ramblings, even if just for a few moments. One of the reasons why I love cooking so much is that it helps bring us together.
We might not agree over who should run the country, but we can damn well agree that Brussels sprouts should be roasted, avocados belong on everything, and sweet potato fries should be crispy.
You feel me?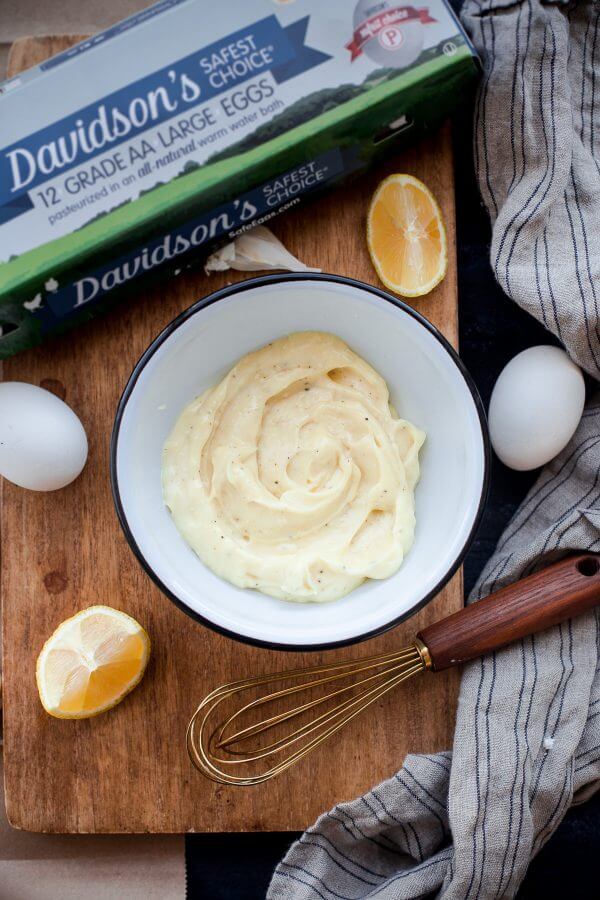 Spiced Sweet Potato Fries:
In the spirt of moving forward, let's talk about sweet potato fries. Fries are the ultimate comfort food in these situations, and I have a feeling many of us could use a batch (or two!) this week.
The good news? These sweet potato fries are baked not fried, so you can leave the guilt behind. As much as I love fried sweet potato and regular fries, the last time that I made a batch of them from scratch was in culinary school. Baking is so much easier, healthier, and more practical.
The sweet potatoes are flavored with fall warming spices, including cumin, paprika, and chili powder, and paired with homemade aioli. They are a perfect match.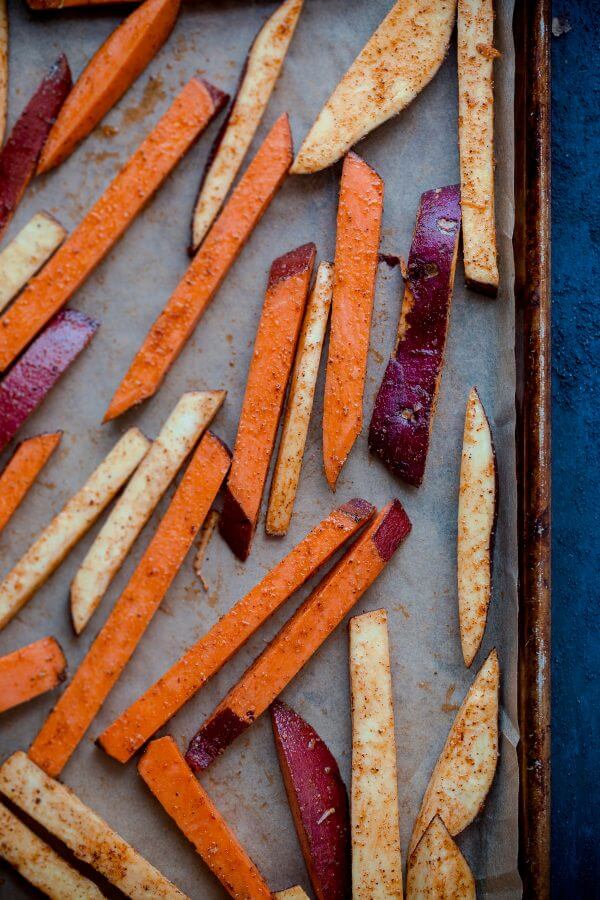 What is Aioli?
Aioli is essentially Mediterranean mayonnaise, an emulsion of raw egg yolks, olive oil, lemon juice, and garlic. Aioli can be flavored with any number of ingredients, but I decided to keep this version simple and classic!
Whenever I'm preparing raw or undercooked egg applications, such as aioli or mayonnaise, salad dressing, or egg based ice cream, I always turn to Davidson's Safest Choice pasteurized eggs.
Unlike other grocery store eggs, Safest choice eggs are submerged in an all-natural water bath within hours of being laid. The combination of time and temperature heats the eggs in their shells to the exact temperature needed to destroy all bacteria – without cooking the actual egg! Very, very cool.
I love the peace of mind this product provides, particularly when entertaining larger groups of people around this time of year.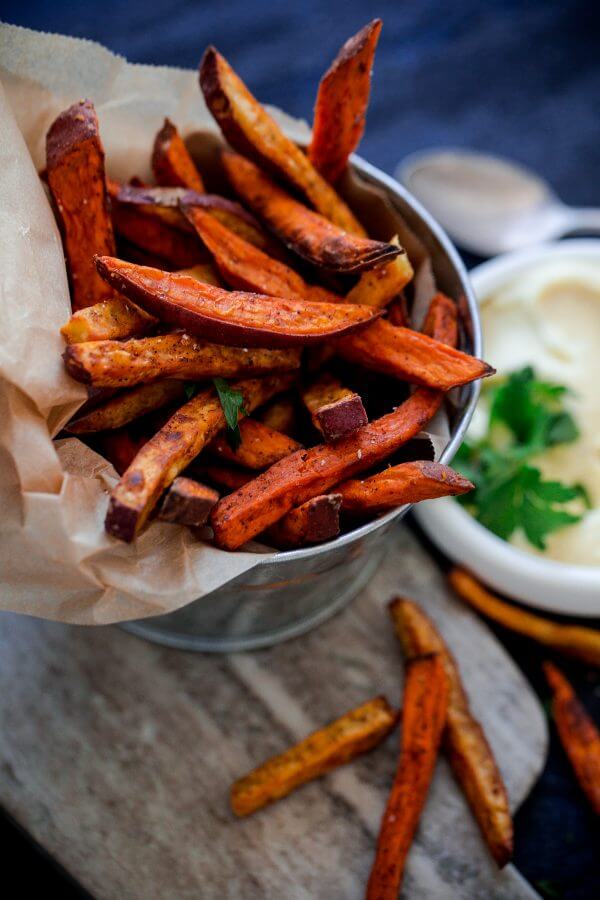 How to Make Crispy Baked Sweet Potato Fries:
One important thing to note: it can be difficult to achieve crispy baked fries, particularly sweet potato fries. Several factors can play a role in the texture of baked fries, including starch content, over-crowding, and moisture.
After making countless batches of non-crispy baked fries over the year and trying various unsatisfactory methods (soaking, not-soaking, etc.), I came across this recipe, by Foodie with Family, which recommended soaking the sweet potato fries in water and lightly tossing them in cornstarch.
The combination of soaking the potatoes (to remove any excess starch), cornstarch (which helps absorb any excess moisture and crisp them up), and cooling them slightly before serving (this helps for all variety of baked fries) is the winning trick to crispy baked sweet potato fries.
Happy dipping!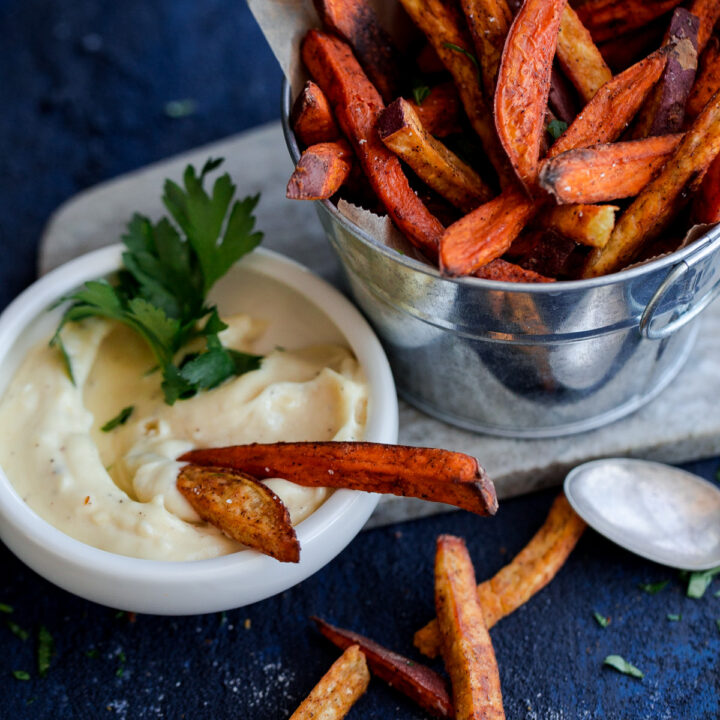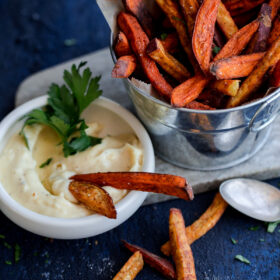 Spiced Sweet Potato Fries with Garlic Aioli
Crispy baked sweet potato fries with a homemade garlic aioli. A comforting fall appetizer or snack for everyone to enjoy! 
Ingredients
Homemade Garlic Aioli:
1 Davidson's Safest Choice® pasteurized egg yolk
1 teaspoon Dijon mustard
1 large garlic clove grated with a microplane
⅔ cup (160 mL) extra virgin olive oil or vegetable oil
2 teaspoons fresh lemon juice
freshly ground black pepper
Spiced Sweet Potato Fries:
2 small to medium sweet potatoes well scrubbed
1 tablespoon corn starch
2 tablespoons vegetable oil
½ teaspoon ground paprika
¼ teaspoon ground cumin
¼ teaspoon ground chili powder
¼ teaspoon garlic powder
⅛ teaspoon ground cayenne pepper
chopped flat-leaf parsley leaves optional
Instructions
Prepare the aioli: In medium bowl, whisk together egg yolk, Dijon mustard, and garlic until slightly thick and smooth. Slowly pour oil into egg yolk mixture - start with small drops, while whisking continuously with the other hand, then you can increase to a very slow thin stream - until the aioli is thick and emulsified. Slowly whisk in lemon juice until smooth. The aioli should be smooth, thick, and pale yellow in color. Season with salt and pepper to taste. Refrigerate until ready to serve.

Prepare the sweet potato fries: Using a large chef's knife, carefully slice the potatoes into ¼-inch-wide matchsticks. Place in large mixing bowl and cover with cold water. Allow the potatoes to soak (to remove excess starch) for at least one hour or overnight. 

Preheat the oven to 425°F (218°C) with rack in the center top position. Line a large sheet pan with heavy duty foil (dull side facing up) and lightly spray with cooking spray. Set aside. Drain potatoes in colander and pat dry with paper towels. Place potatoes in large, clean mixing bowl and toss with corn starch until they are very lightly coated. Drizzle with canola oil and toss. 

In small bowl, combine paprika, cumin, chili powder, garlic powder, cayenne pepper, and kosher salt; sprinkle mixture over potatoes and toss until evenly coated. 

Spread the sweet potato fries in an even thin layer (do not allow the fries to touch each other, if necessary use two sheet pans and rotate the pans halfway through cooking) and bake for 15 minutes. Flip fries halfway through and bake for an additional 12 to 15 minutes, or until caramelized. 

Turn off oven heat, prop the oven door slightly, and allow fries to cool for 5 to 10 minutes; this will help crisp them up. Season fries with salt, garnish with chopped parsley (if using), and serve warm with the garlic aioli for dipping.
Serving: 1serving, Calories: 178kcal, Carbohydrates: 11g, Protein: 3g, Fat: 14g, Saturated Fat: 2g, Polyunsaturated Fat: 12g, Cholesterol: 47mg, Sodium: 526mg, Fiber: 2g, Sugar: 2g
This post was created in partnership with Safest Choice eggs.
This post contains affiliate links, which means that I make a small commission off items you purchase at no additional cost to you. Please read my
privacy policy
for more information.