Pumpkin Cupcakes with Marshmallow Frosting
Lightly spiced pumpkin cupcakes topped with a homemade marshmallow frosting and drizzled with homemade caramel. A decadent and portable fall dessert sure to impress!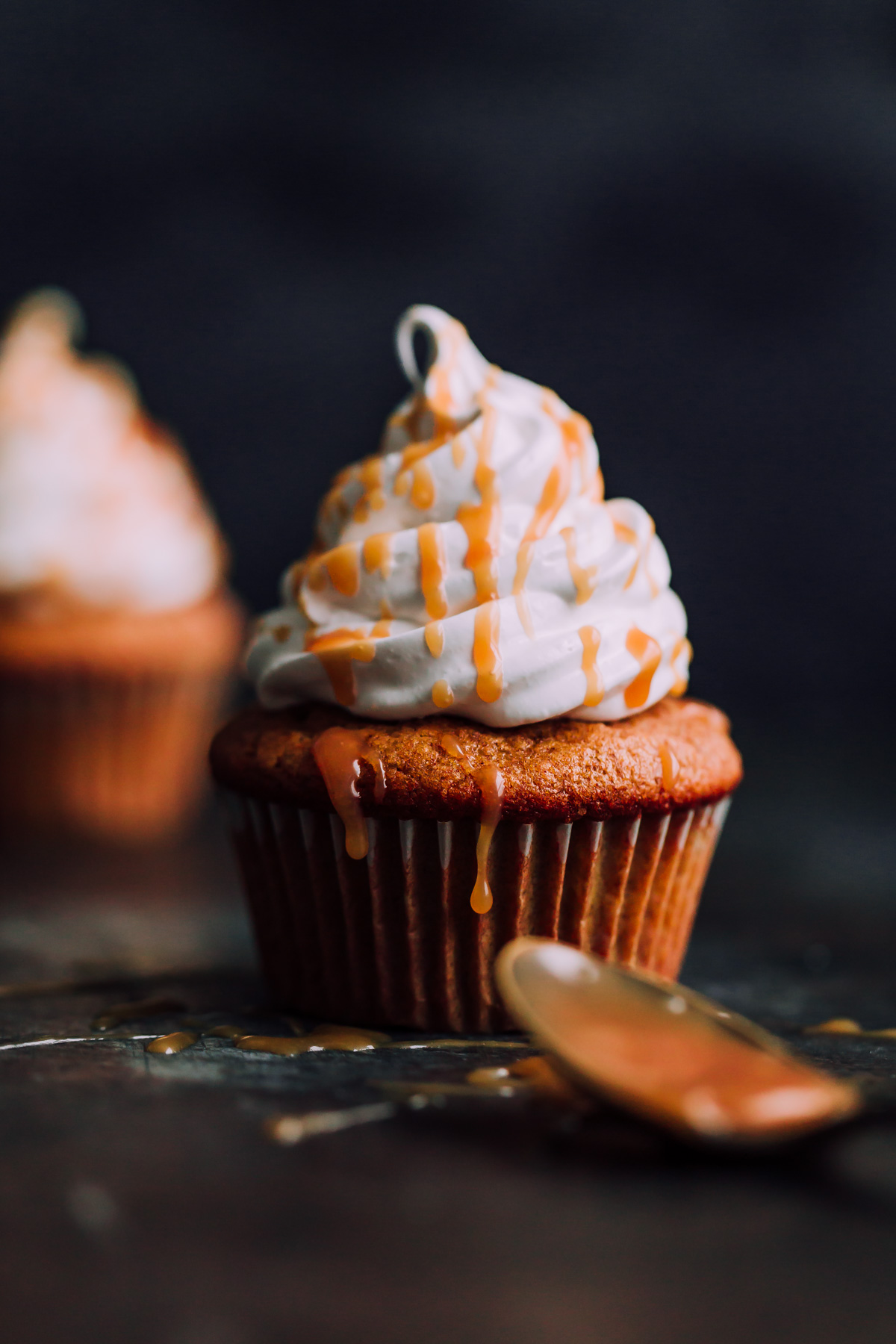 After taking a break these past two weeks to focus on behind-the-scenes website stuff, I'm here with a new recipe! We're going all out today in lieu of tomorrow's Halloween festivities and the beginning of the holiday season, which is already upon us. How is that possible?!
I know that many of you have been battling crazy hot temperatures these past couple weeks. Meanwhile, we've been bundling up here in Chicago. Hopefully neither scenario will stop you from cranking up your oven and making a batch of these cupcakes.
Inspired by classic sweet potato casserole with marshmallows (and these gingerbread cupcakes from years ago!), these pumpkin cupcakes are topped with a light and fluffy marshmallow frosting and drizzled with homemade caramel.
They're indulgent, fun to decorate, and very festive.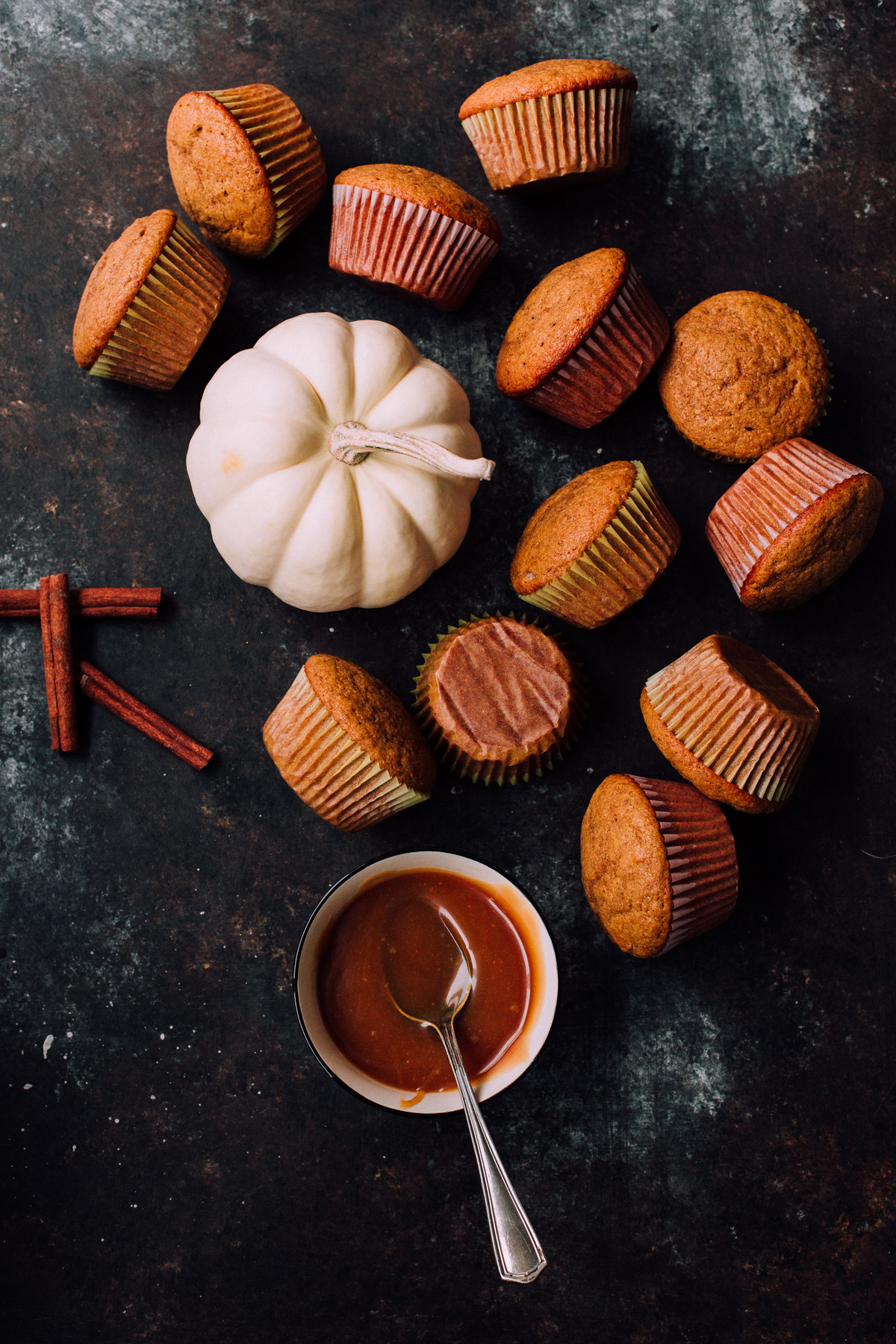 As most of you know, I spent the better half of my early twenties working as a baker for a dessert food truck. I've literally made thousands upon thousands of cupcakes. They might have started as a food trend but, in my humble opinion, they're here to stay.
While I'm all for pairing pumpkin cake with cream cheese frosting (this pumpkin sheet cake is proof of that), there's something particularly fun and whimsical about marshmallow frosting. This version does not turn to the cloyingly sweet marshmallow fluff found in the grocery store, but is prepared similarly to homemade meringue.
You'll need just a handful of ingredients: egg whites, very fine granulated sugar, cream of tartar, salt, and pure vanilla extract. The cream of tartar acts as a stabilizer for the egg whites and helps produce a frosting that can hold its shape once piped. It's important not to skip it.
This simple mixture produces an exceptionally fluffy, cloud-like marshmallow frosting that is incredibly fun to bite into! Just look at that pillow of sweetness. The dark caramel drizzle adds a fun decorative element, as well as a touch of bitterness to help balance the cupcake's sweetness.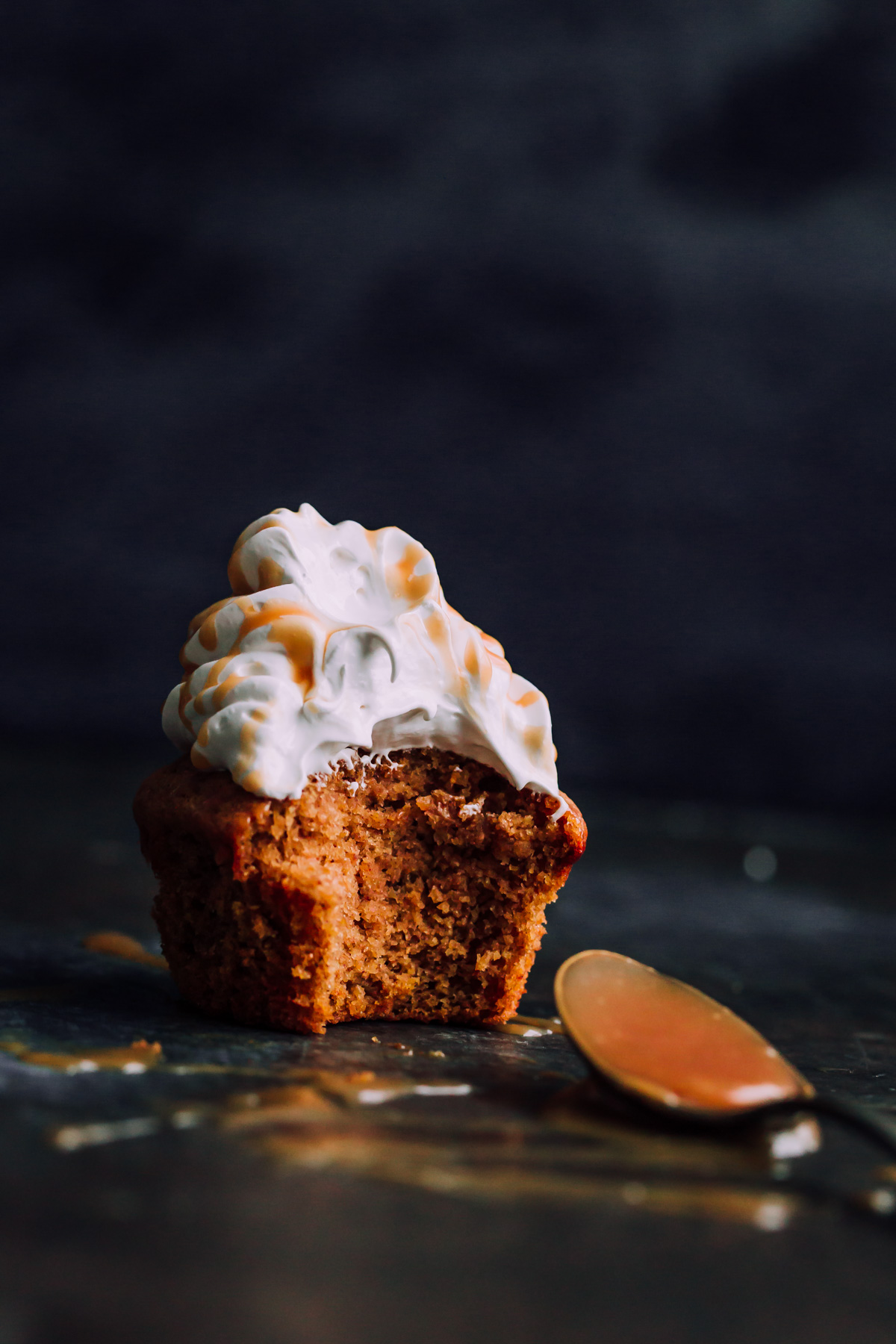 I can't think of a better way to celebrate the fall holidays.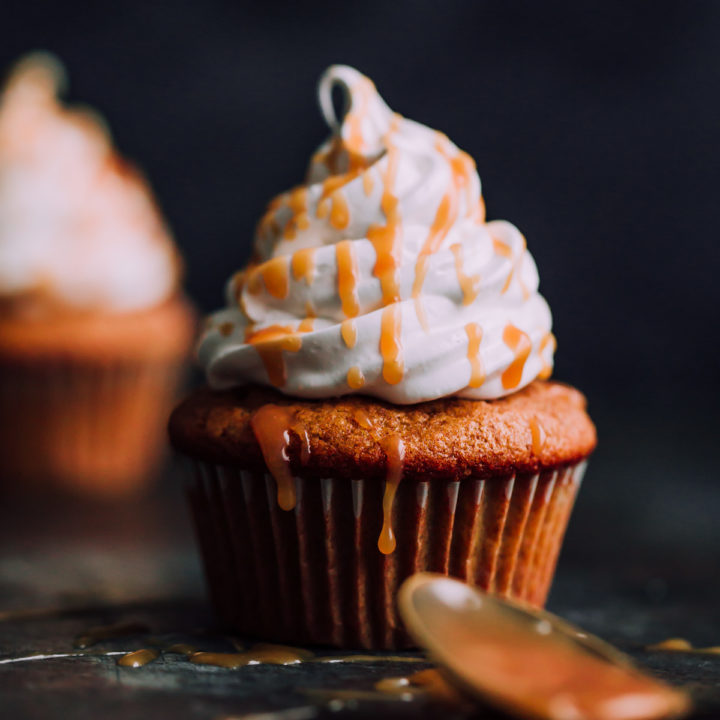 Pumpkin Cupcakes with Marshmallow Frosting
Yield: 12 Cupcakes
Lightly spiced pumpkin cupcakes topped with a homemade marshmallow frosting and drizzled with homemade caramel. A decadent and portable fall dessert sure to impress!
Prep Time: 30 minutes
Cook Time: 45 minutes
Total Time: 1 hour 15 minutes
Ingredients
Pumpkin Cupcakes:
1 and 1/2 cups (180 grams) unbleached all-purpose flour
1 teaspoon baking soda
1/4 teaspoon baking powder
1 and 1/2 teaspoon ground cinnamon
1/2 teaspoon ground ginger
1/4 teaspoon ground cloves
3/4 teaspoon kosher salt
1/3 cup (80 mL) milk
3/4 teaspoon pure vanilla extract
6 tablespoons (90 grams) unsalted butter, softened
1 cup (200 grams) granulated sugar
2 large eggs, room temperature
1 cup (240 grams) pure pumpkin purée
Marshmallow Frosting:
4 large egg whites
1 cup (200 grams) super-fine granulated sugar (or caster sugar)
1/4 teaspoon cream of tartar
pinch kosher salt
1/4 teaspoon pure vanilla extract
Caramel Drizzle:
1/2 cup (100 grams) granulated sugar
2 tablespoons (30 mL) light corn syrup
1 tablespoon water
1/3 cup (80 mL) heavy cream, room temperature
1 tablespoon (15 grams) cold unsalted butter, cubed
large pinch kosher salt
Instructions
Make the cupcakes: Preheat the oven to 350 degrees (176 C) Fahrenheit with a rack in the center position. Line a standard 12-cup muffin tin with cupcake liners and set aside.
In a medium bowl, whisk together the flour, baking soda, baking powder, cinnamon, ginger, cloves, and salt.. In a small measuring cup, combine the milk and vanilla extract.
In the bowl of a stand mixer, fitted with a paddle attachment, beat the butter at medium speed until creamy, about 30 seconds. Add the granulated sugar and beat until light and fluffy, about 1 to 2 minutes. Over low speed, add one egg at a time and mix until each egg is incorporated. Add the pumpkin puree and mix until combined. The batter will look slightly broken.
Over low speed, add the flour mixture in three parts, alternating with two additions of milk, until the ingredients are just combined. Using a spatula, scrape down the bottom of the bowl to ensure all of the ingredients are incorporated evenly.
Using a spoon or large scoop, divide the batter evenly among the muffin tin cups – filling the cups three quarters of the way. Bake for 22 to 24 minutes or until a toothpick inserted into cupcake center comes out clean.
Place the muffin tin on a cooling rack and allow the cupcakes to cool in the pan for 5 minutes. Remove the cupcakes from the pan and place directly on the rack. Cool completely before frosting.
Prepare the caramel: In a medium saucepan, combine the super-fine sugar, corn syrup, and water. Bring to a boil, without stirring, until the sugar mixture reaches a dark amber color or a candy thermometer reaches 350 degrees Fahrenheit (176 C). Remove the pan from heat and whisk in the heavy cream – the mixture will bubble and spit, so be very careful. Add the butter and salt, and whisk until smooth. Transfer the caramel to a heatproof bowl and chill in the refrigerator. The caramel will thicken considerably as it cools. Sit at room temperature for 10 to 15 minutes before using.
Prepare the frosting: Fill a small saucepan with roughly 1 inch of water. Bring to a low simmer. Combine the egg whites, sugar, cream of tartar, and salt in a stand mixer bowl. Place over the saucepan (ensuring that the simmering water does not touch the bottom of the bowl). Using the stand mixer whisk attachment, whisk the mixture constantly until the sugar has completely dissolved – grab a tiny bit between your thumb and forefinger and rub it together in your fingers to test this – and the egg whites are very warm to the touch – about 5 minutes.
Transfer the bowl to the stand mixer and beat over medium speed for 1 minute. Increase the speed to high and beat for 5 to 6 minutes, or until the frosting is thick, shiny, and holds its peak. Add the vanilla extract and whisk until just combined.
Add the frosting to a piping bag fitted with a large star or round tip. Frost each cupcake. Decorate and drizzle with (room temperature) caramel as desired. Serve immediately.
Notes
Tips for Success:
I highly recommend seeking out super fine granulated sugar (eg. Baker's brand sugar) or caster sugar for the marshmallow frosting, as it dissolves much more readily and will produce a much finer, smoother textured frosting. Any extras can be used in lieu of traditional sugar (1:1 replacement) in other baked goods.
Cream of tartar, a byproduct of wine and grape juice processing, is an acidic salt and acts as a stabilizer for whipped egg whites in baked goods.
Marshmallow frosting recipe adapted slightly from Chowhound.
Nutrition Information:
Yield: 12
Serving Size: 1
Amount Per Serving:
Calories: 321
Total Fat: 10g
Saturated Fat: 6g
Trans Fat: 0g
Unsaturated Fat: 3g
Cholesterol: 57mg
Sodium: 310mg
Carbohydrates: 55g
Fiber: 1g
Sugar: 45g
Protein: 4g